Indian Skirmish n.d.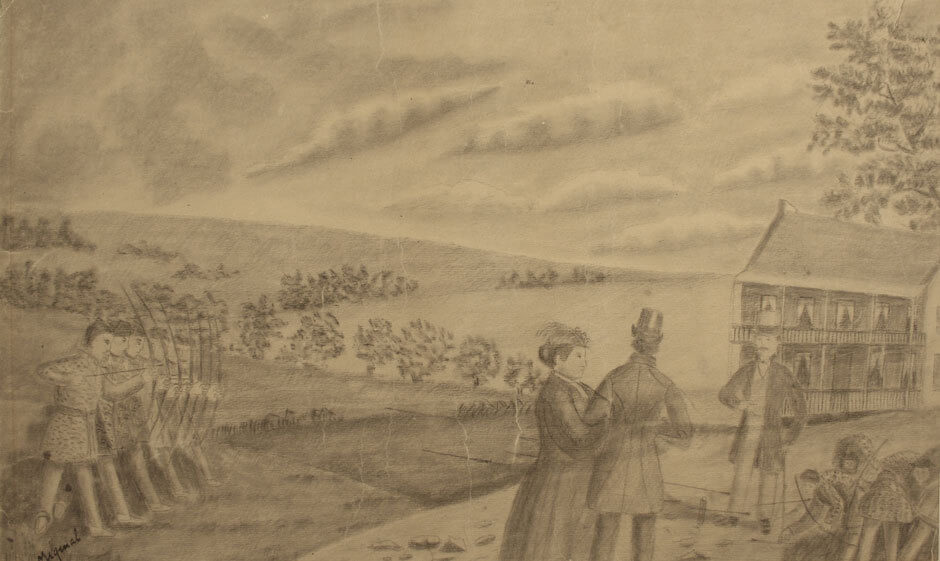 In Indian Skirmish the Native archers on the left project an image of unity and order that completely contradicts the reputation for poor discipline they had acquired during the colonial period. The community of Jeune-Lorette is known to have given displays of its prowess in archery to tourists and visiting dignitaries, in performances inspired by military exercises like these.
Marius Barbeau, the Canadian anthropologist known primarily for his studies of indigenous peoples in the first half of the twentieth century, quotes a Huron informant who told this story about the games played on such occasions: "While the delegates were here, part of the entertainment was a contest of skill with the bow and arrow. The best among the delegates was chosen to compete against the best Huron. Bets of 25 to 50 sous would then be placed. Generally, we Hurons were the winners. Nobody lost much money on those wagers."
The children to the right, carrying bows and arrows, seem to be playing a similar game, challenging the visitors, standing in the middle, to bet on their skills. This staging of the scene offers a synthesis of the complex transformation the Huron community was undergoing as they negotiated a changing power relationship with the dominant culture; while the Huron-Wendat wanted to collaborate, they also wanted to claim their own identity, and they needed to find a way to stop their political and territorial losses.