Cape Dorset Freezer 2005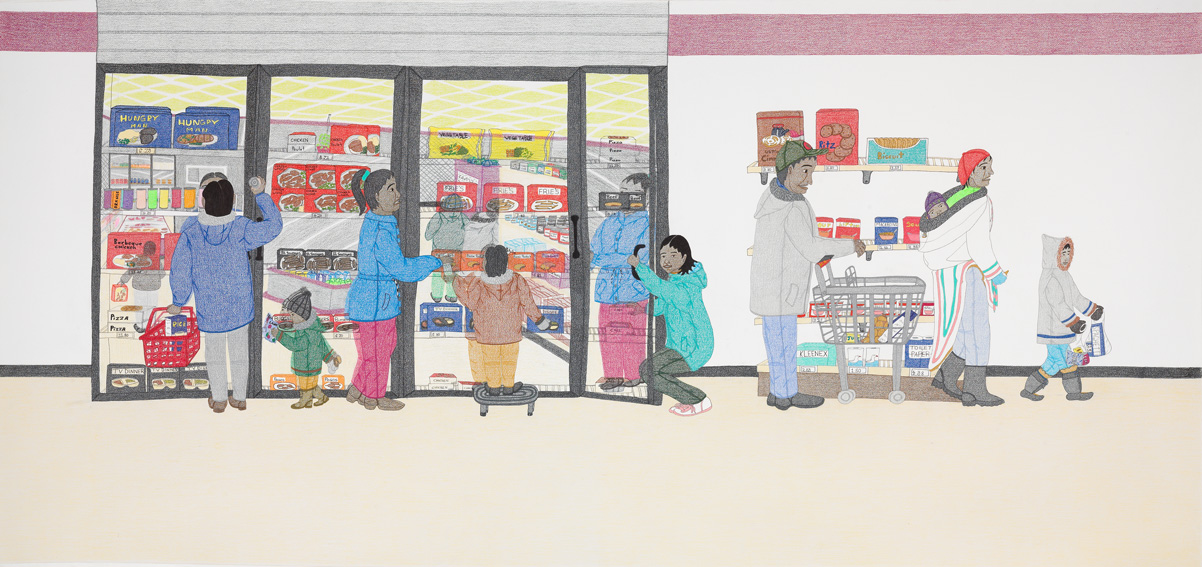 In Cape Dorset Freezer, Annie Pootoogook's bold undertaking to use reflections in plate glass to show the activity in her town's co-op store pushed her drawing skills to new heights. The glass doors delicately reveal the reflections of the shoppers and children admiring the contents, demonstrating Annie's mastery of coloured pencil. One shopper wears an amauti, a parka with a large hood in which mothers carry their babies, and, behind her, another is pushing a grocery cart. A man holding a shopping basket looks intently through the glass at offerings that include Hungry-Man dinners, frozen vegetables, and other packaged products. The scene subtly reveals the collision of tradition and modern convenience that typifies communities across the North, and it cleverly plays on the oddity of bringing frozen goods up to the Arctic.
Annie made this drawing for her 2006 exhibition at The Power Plant Contemporary Art Gallery. It was the first time she had worked at this scale, and to achieve this feat she was helped by the team at Kinngait Studios. According to William (Bill) Ritchie, Annie found working at this scale difficult and grew tired of the other artists gathering around to watch her. Ritchie took the panel to Annie's apartment and set it up for her to work on at home.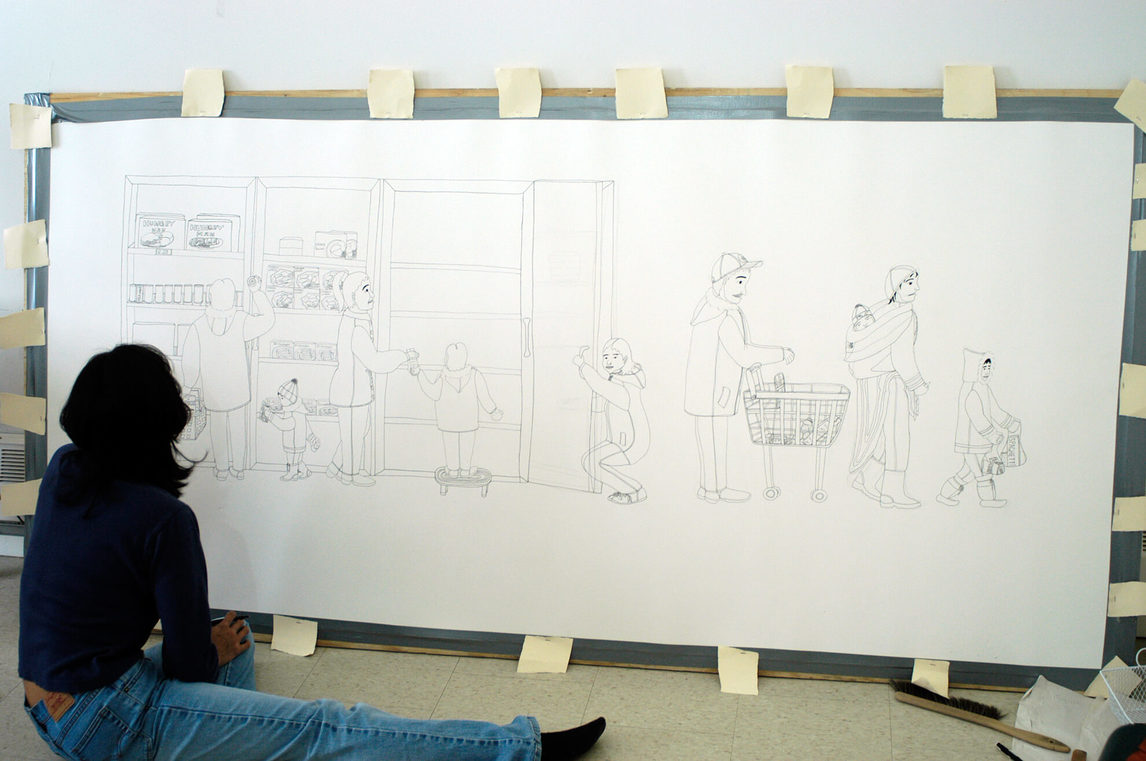 Ever since the studios began operating in 1959, the artists have typically done their drawings on 51 x 66 cm paper. This more compact size served many purposes. Finished pieces were easy to ship, the paper fit the studio printing presses, and the drawings were portable if artists wanted to work on them at home. This size also suited the walls of collectors' homes. Eventually, however, some of the artists felt its limitations—their drawings were diminutive compared to many contemporary drawings created by artists in the South. Fortunately, Kinngait Studios easily accommodated the production of larger formats, as the drawing studio was a large, communal working space.
Over the last fifteen years, large-scale drawings coming out of Kinngait Studios have attracted ever greater interest from collectors and museums. Annie was at the forefront of this sea change with the production of Cape Dorset Freezer, which was immediately purchased by the National Gallery of Canada, Ottawa. Beyond the satisfaction of taking on new artistic challenges, the positive response art museums gave these large-format works is one of the reasons that some other artists, notably Tim Pitsiulak (1967–2016) and Shuvinai Ashoona (b.1961), adopted the size for their own drawings. Cape Dorset Freezer announces a new, large-scale direction for contemporary Inuit art being produced out of Kinngait Studios, and Annie's intention to create art outside the tradition.