Home Environment 1968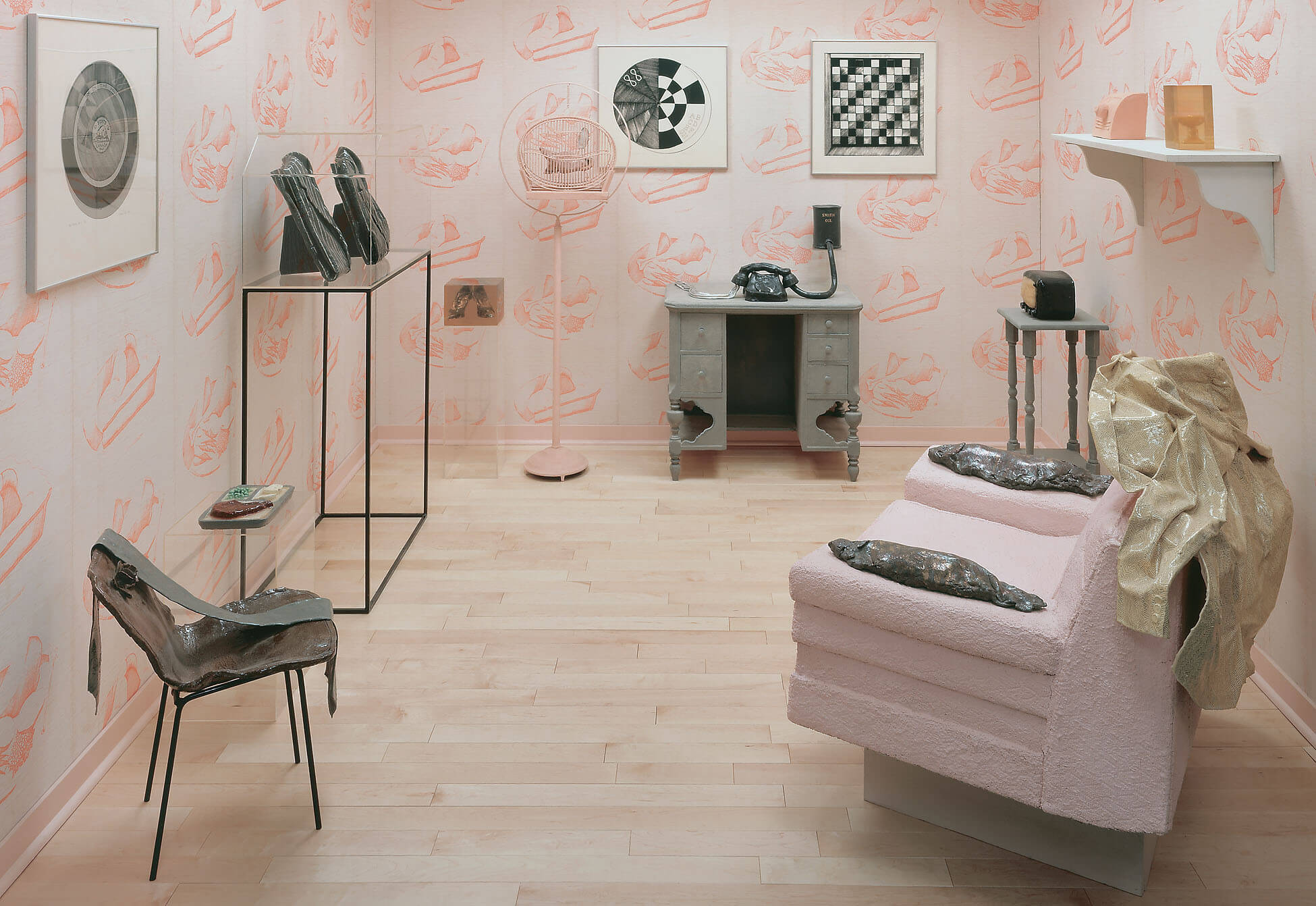 Home Environment is a room-sized installation that combines found objects with Gathie Falk's ceramic renderings of domestic items. Thrift-store armchairs are flocked and painted pale pink; one has a ceramic men's jacket and tie strewn on the back and a large ceramic fish resting on each arm. Other pieces of found furniture—a sideboard, dresser, piano stool, and occasional table—are painted grey, flocked, or lacquered red. A birdcage on a stand is painted pale pink, which is the predominant colour of the room thanks to silkscreened wallpaper decorated with repeated images of dinner on a plate. A found metal frame and parts made of glazed ceramic form a dining chair and television table. Falk also fashioned a ceramic phone, a radio, a TV dinner, and furniture. There are framed prints on the walls and clothing—such as a pair of folded men's suit jackets and a pair of women's shoes encased in resin—on display. First presented to the public in the artist's 1968 exhibition at Vancouver's Douglas Gallery (later renamed the Ace Gallery), Living Room, Environmental Sculpture and Prints—retitled Home Environment at the time of Falk's 1985 retrospective at the Vancouver Art Gallery—was, arguably, the work that established her reputation as a serious artist working with a visual language and concepts that were on par with some of the most avant-garde artists of the day. Though she had started her career as a painter, she had begun working in ceramic around 1965 and with the creation of Home Environment, she became known for her work in this medium.
Ann Rosenberg, writing for the Vancouver Sun upon the opening of the exhibition, heeded those interested in art not to miss it, insisting that they would be "losing out on a fresh experience offered by an artist who has put every ounce of creativity into a first one-[person] show."  Falk was subsequently invited to mount a version of Home Environment in The New Art of Vancouver at the Newport Harbor Art Museum, Balboa, California, and at the art gallery of the University of California at Santa Barbara in 1969. As Falk herself notes, with the exhibition of this work at Douglas Gallery, "[she] was launched."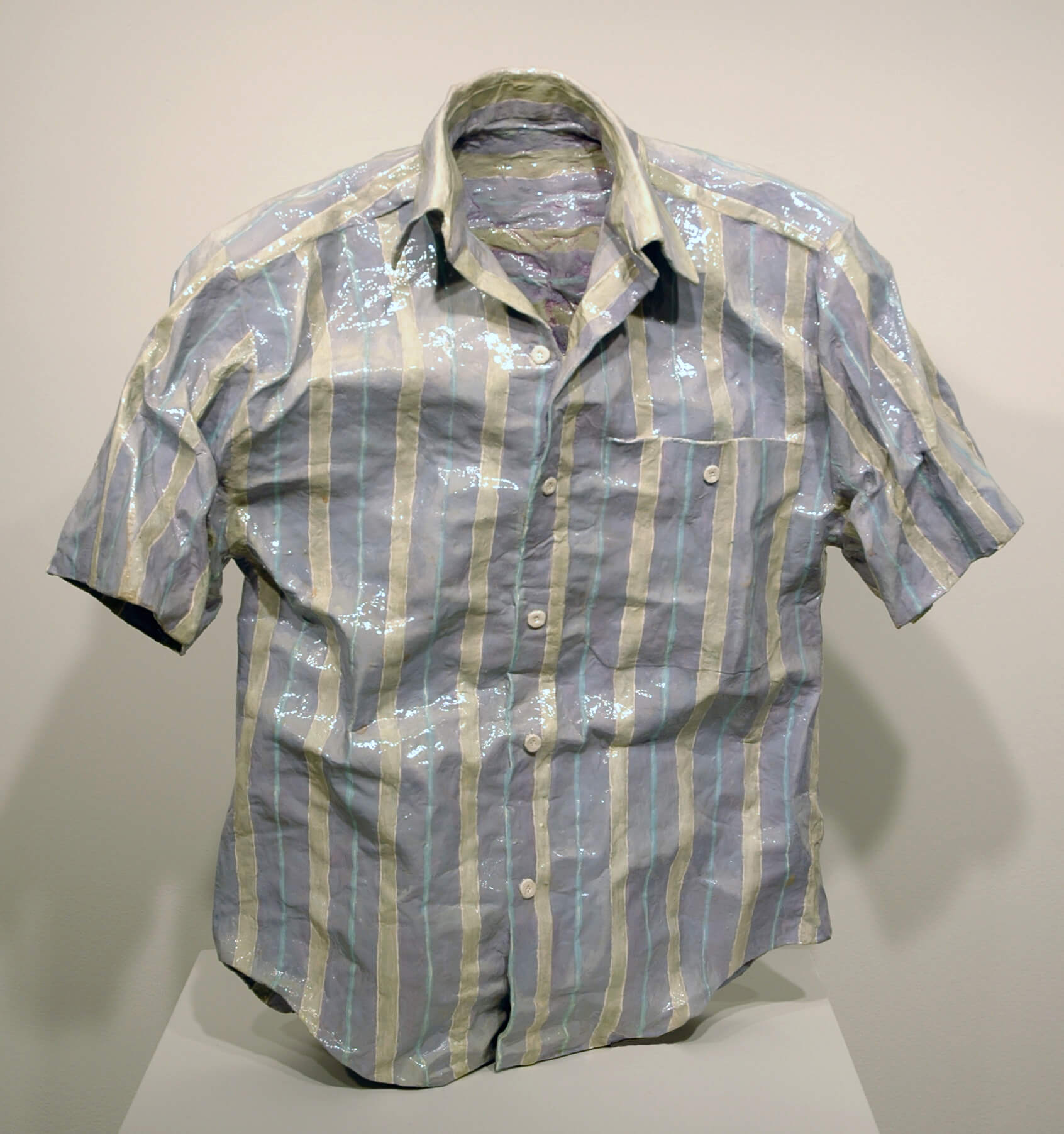 When Falk created Home Environment, Pop artists Claes Oldenburg (b.1929) and George Segal (1924–2000) had already achieved recognition for their environmental installations, such as Oldenburg's Bedroom Ensemble, 1963, and Segal's The Butcher Shop, 1965. The American Pop artists had wide influence, and Falk would have been familiar with the movement through exhibitions such as 11 Pop Artists: The New Image at the Fine Arts Gallery (now the Morris and Helen Belkin Art Gallery) at the University of British Columbia in 1967.
In 1968, Falk's work would have stood apart for its combination of found and handcrafted pieces. While her decision to work in this way was very personally motivated, and she has distanced herself from the label of feminist art, her incorporation of ceramic and everyday items into her installations is in keeping with feminist strategies. Many artists in the 1960s used found objects and craft to challenge art world hierarchies, including Faith Ringgold (b.1930), Joyce Wieland (1930–1998), and Yayoi Kusama (b.1929). Despite Pop's positioning of itself in opposition to the definition of high art, art world hierarchies persisted in the work of Falk's male peers.
Falk has described her intuitive process: "It originates in my surroundings, in my house, in my garden, my neighbourhood. More importantly, it jumps out of my imagination."  The combination of the everyday and the imagined results in an element of the surreal, and Falk has noted that the iconic artwork Object, 1936, by Meret Oppenheim (1913–1985) resonated with her.
The room-sized installation, or environment, would appear again in Falk's oeuvre, with works such as Herd I, 1974–75, and 150 Cabbages, 1978, but Home Environment is also fundamental in that some of its elements would come to be recurring images in her interdisciplinary production. Men's clothing is represented in works such as Single Right Men's Shoes: Blue Running Shoes, c.1973, and Antony, 2001; fish appear in Picnic with Fish and Ribbon, 1977; and armchairs feature in Soft Chair with Pants and Hammer Heads, 1986, and Chair with Plastic Christmas Tree, 1985.