Soft Couch with Suit 1986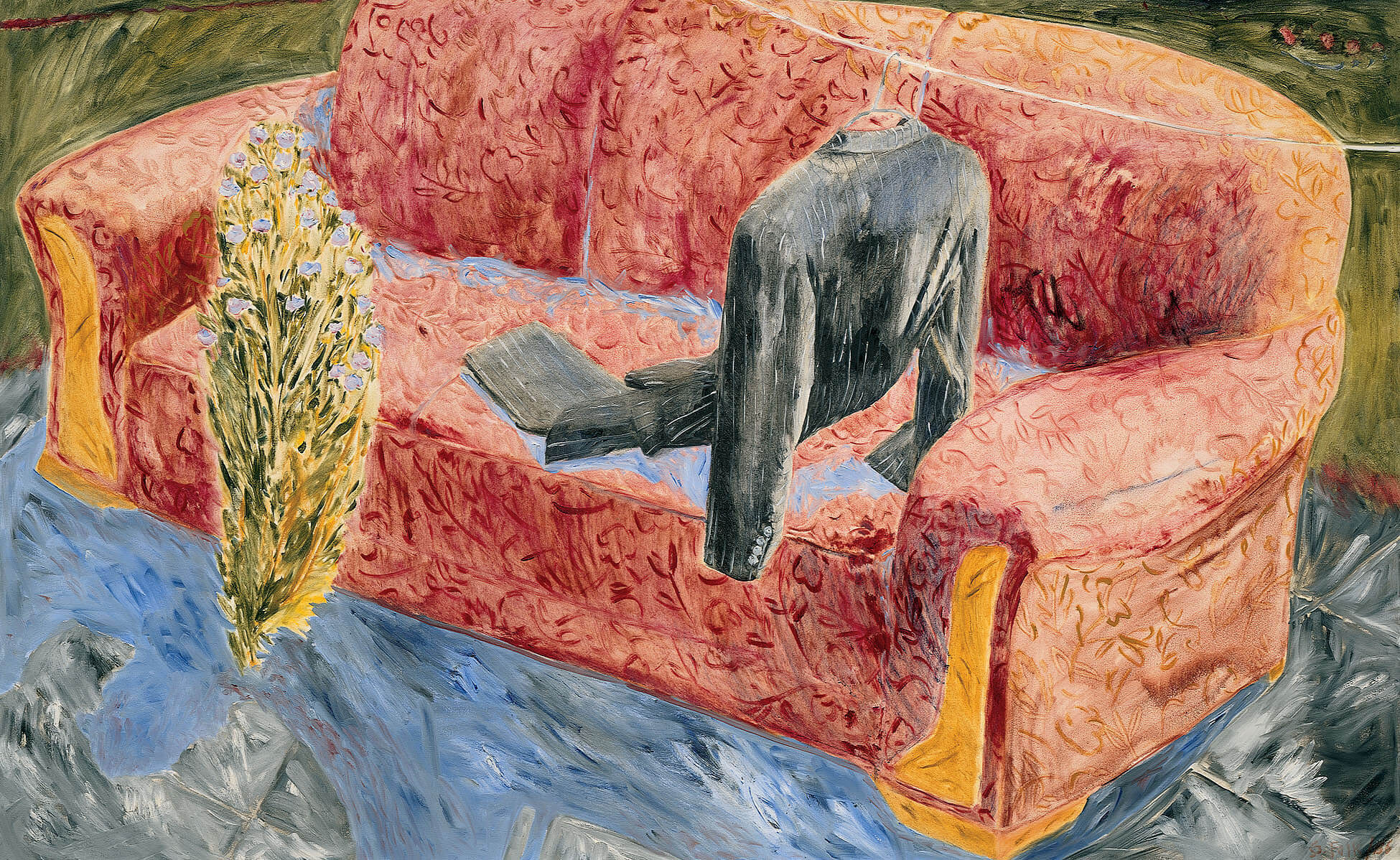 At 2 metres wide, Soft Couch with Suit by Gathie Falk is a large painting in which almost the entire span of the canvas is occupied by a salmon-pink couch with a prominent but ambiguous decorative pattern adorning the upholstery. It has golden-yellow shapes on the face of each arm—perhaps intended to depict wooden insets—and is set against what appears to be an outdoor background: there is a blue expanse, perhaps a body of water, at its base, and the green of what might be a lawn at its back. In front of the couch is a small, elongated bush. However, what really shares the stage with the couch is a grey men's suit. It gives the impression that it is sitting down from the manner in which it hangs from a clothesline suspended above the couch.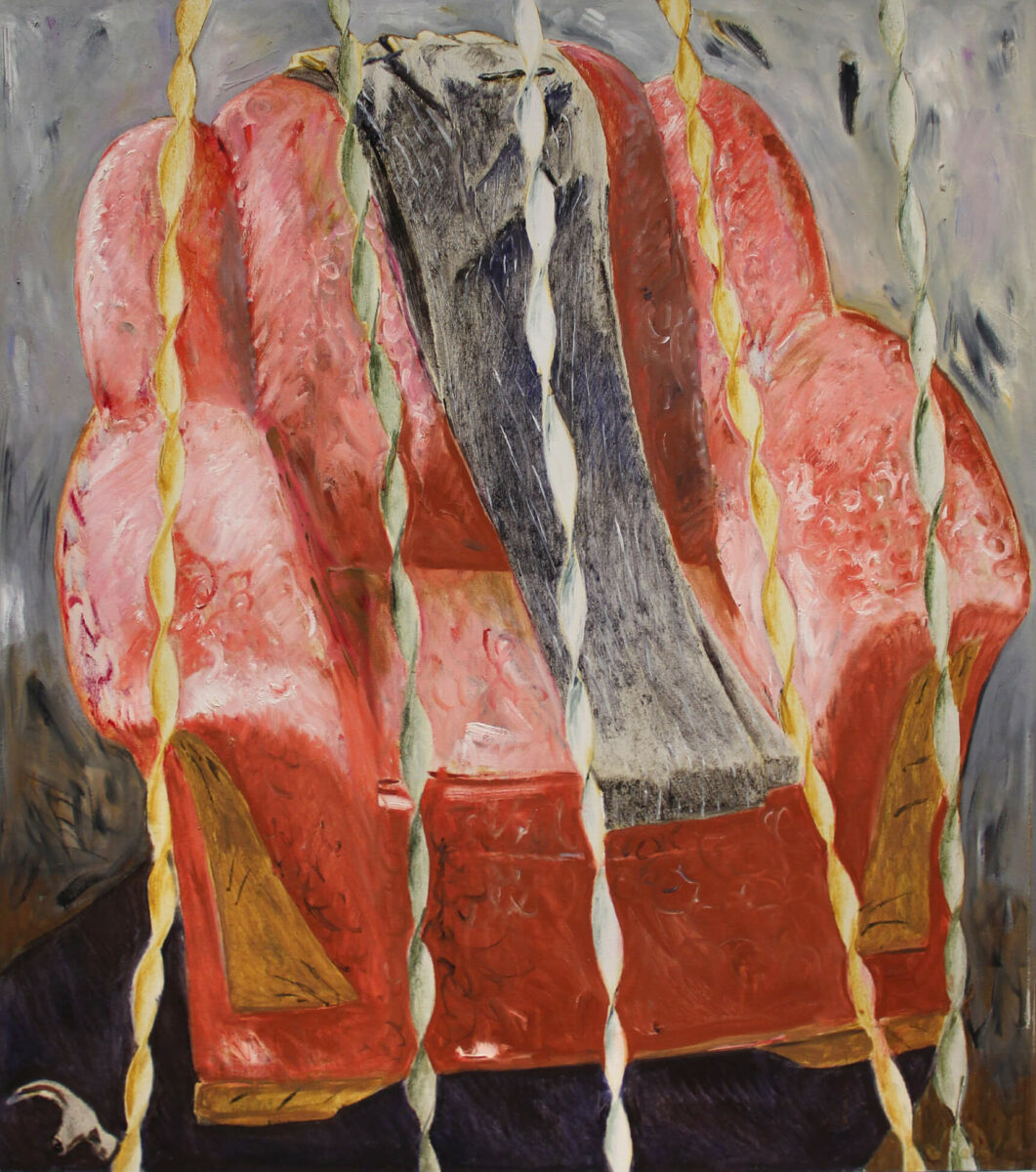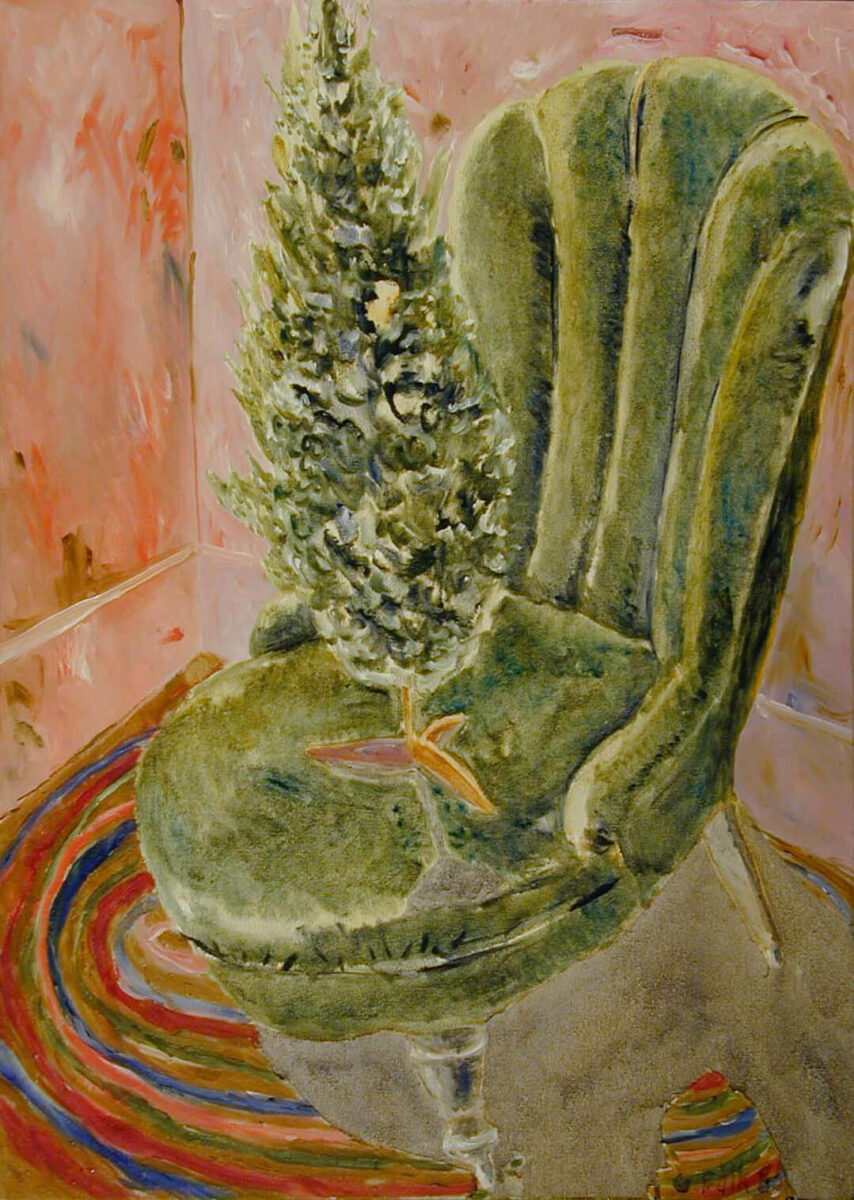 Working with the subject of wooden chairs in the Chairs series of 1985 allowed Falk to explore the intricate tracery of shadow and light. Meanwhile, Soft Chairs, the series that she turned her attention to in 1986, represents an exploration of the sculptural volume of upholstered furniture and symbolic connotations of their plush, comfortable forms. Falk has said, "All that lacework on the legs and backs probably urged the subconscious to direct my attention to a bulkier object. During the painting of the forty chairs, the blurry, bulky image became the strongly-sculptured soft chair."
Soft Chairs, like Chairs, hearkens back to Falk's breakthrough work, Home Environment, 1968. Falk describes the series originating with a cloudy image in her mind. In retrospect, she came to understand the upholstered furniture as embodying the narrative of the working-class aspiration to own furniture emblematic of comfort and financial stability. She noted that "above all else, this living-room suite meant there was a father in the house." In Soft Couch with Suit, the notion of household economic security is emphasized through the hint at the father's presence represented by the inclusion of the pinstriped attire that seems to be approaching a state of repose on the settee.
While the Soft Chairs series has come to be quite clearly interpreted within this narrative of domesticity and fiscal dependability, it is also important to consider "the blurry, bulky image" that appeared in Falk's mind's eye even before she settled on the soft chair as her subject. As art critic Robin Laurence shares in "To Be a Pilgrim," paraphrasing Falk's thoughts from an undated artist's statement, "[Falk] also, for reasons she can't entirely explain, is 'thrilled' by the bulky presence of bushes, hedges and trees… 'Bulk seizes me… the substantial weight, the massiveness, the shape.'"