Homage to the R 34 [the Dorval mural] 1967–68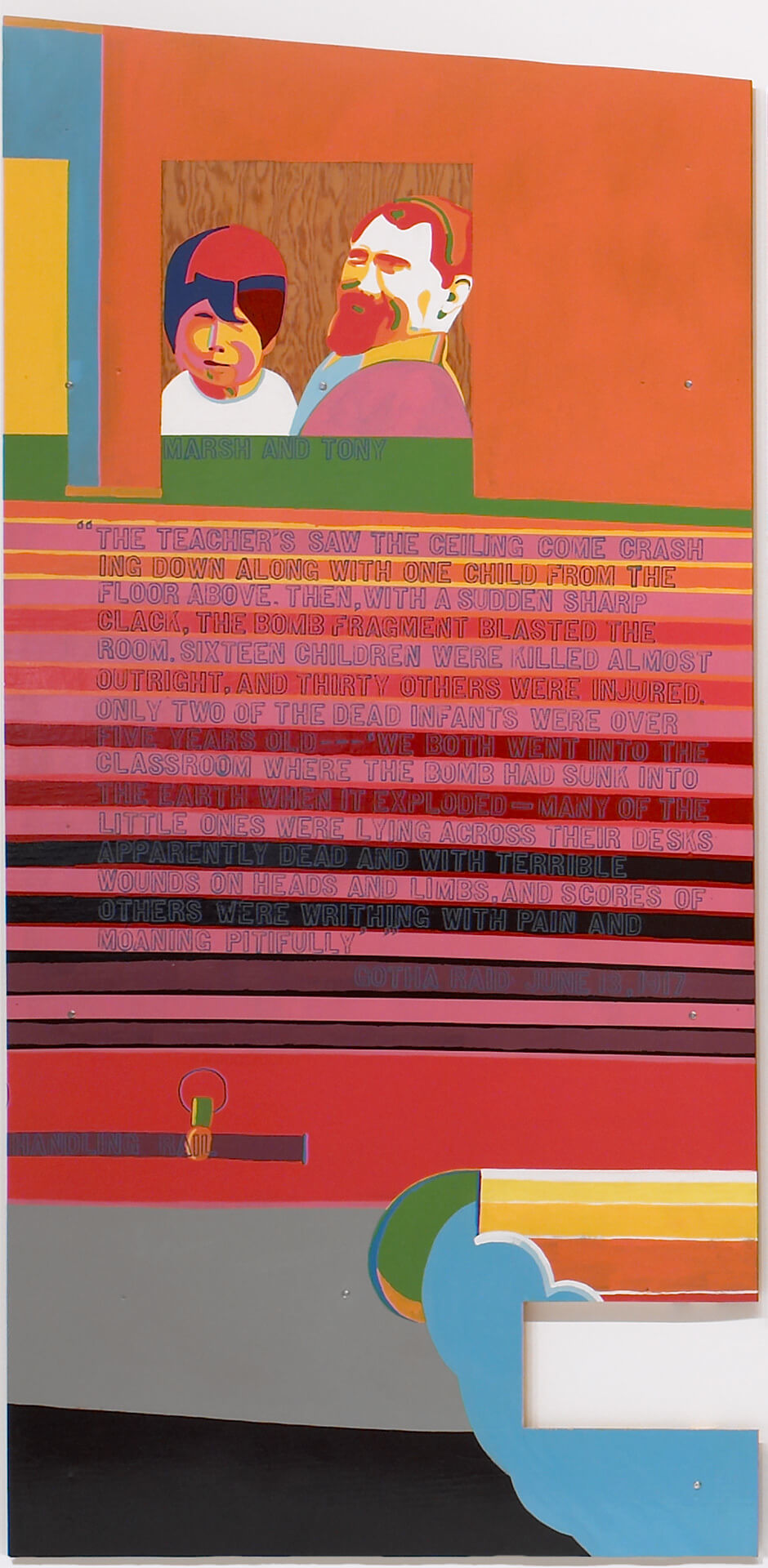 Homage to the R 34 is the largest work Greg Curnoe produced. Part of a program to "decorate" airports across Canada, it was commissioned for the international arrivals tunnel at Montreal International Airport in Dorval, Quebec. Curnoe's proposal to depict the life-sized gondolas that carried passengers and crew under the R 34 airship, the first dirigible to cross the Atlantic non-stop in 1919, was accepted by the jury of five art experts, including Jean Boggs, the director of the National Gallery of Canada. The R 34 appears in Curnoe's earlier work The Camouflaged Piano or French Roundels, 1965–66, and fellow artist Jack Chambers (1931–1978) made a film entitled R 34, about Curnoe, his life, and the making of this work.
Curnoe created twenty-six panels, some with cut-out edges, and applied bright colours in his characteristic large, flat, comic-book style, overlaid with his trademark stripes. The "passengers" in the gondolas are portraits of friends, family, and the family cat, juxtaposed with historic figures such as the captain of the R 34, Major G.H. Scott; Louis Riel, the leader of two Métis resistance movements; and Paul Joseph Chartier, the mad bomber who failed in his attempt to blow up the Canadian House of Commons in 1966.
This work would have been visually disconcerting at the time, especially compared with the other, mostly abstract works that were also commissioned for Canadian airports from more senior artists, including Jean-Paul Riopelle (1923–2002), Ronald Bloore (1925–2009), Brian Fisher (1939–2012), and Fernand Leduc (1916–2014). When installation of the work began on March 20, 1968, complaints from the RCMP and airport personnel about the content ensued almost immediately. Texts referencing the draft-dodger Muhammad Ali, the bombing of a British kindergarten during the First World War, and a page from Curnoe's journal were viewed as anti-American or inappropriate for the location. Moreover, Curnoe's depiction of a man falling out of the second gondola with his hand severed by the propeller bore an uncanny likeness to U.S. president Lyndon Johnson, though Curnoe claimed it was of a neighbour. Conceived in the middle of the Vietnam War, the work was an anti-war statement according to Curnoe. After four days of discussion, however, the jury recommended the mural be removed and stored at the National Gallery of Canada.
In a final quirk of fate, Curnoe's mural, in the collection of the National Gallery since 1998, is one of the few artworks commissioned in the 1960s for Canadian airports that still exists. The others met a variety of fates, from vandalism to mysterious disappearance to being gifted to a foreign government. The Dorval mural remains an important example of art censorship.