Myself Walking North in the Tweed Coat 1963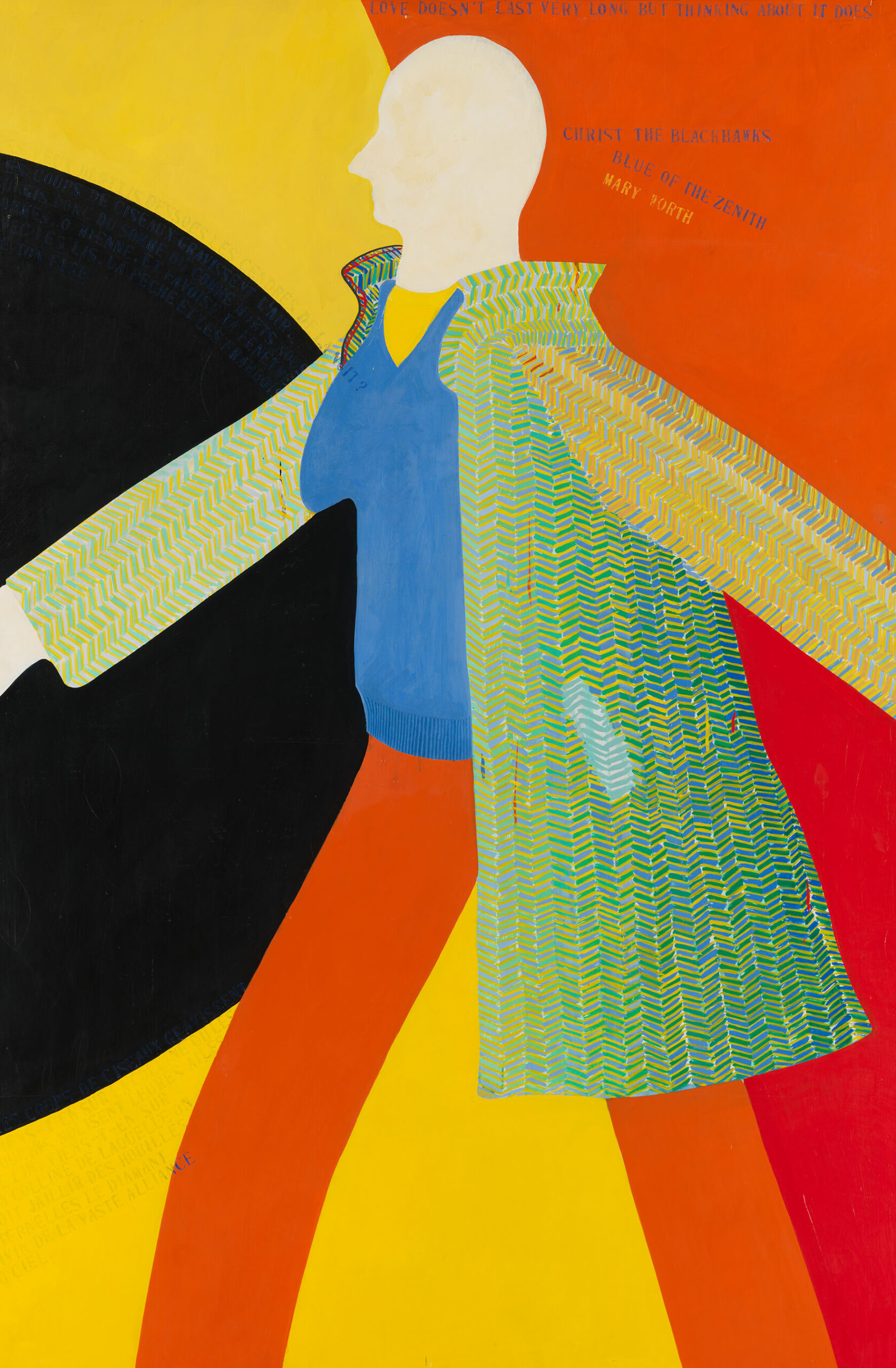 Greg Curnoe's self-portraits are a pictorial diary. Whereas his journals are the notes of an observer, without introspection or emotion, in his self-portraits we find more self-scrutiny. This life-sized, full-length self-portrait from early in Curnoe's career is an example of his signature style, a style with affinities to American and British Pop art, yet Curnoe's own. The flat, vivid colours; schematic outlines; and text all come from his love of the comic book. In contrast, the pattern of the tweed coat is detailed, with strands of colour carefully applied in small stripes, a direct reference to Hilda and I at Burghclere, 1955, a painting by Stanley Spencer (1891–1959). This juxtaposition of pattern, especially stripes and checks, to flat shapes is a hallmark of Curnoe's work in the 1960s.
Also representative of his work are the stamped texts. To the right of the head, like thoughts in a speech balloon, Curnoe lists "CHRIST THE BLACKHAWKS" (referring to the Chicago hockey team), "BLUE OF THE ZENITH" (the name of his favourite intense blue hue), and "MARY WORTH" (the title of a long-running comic strip). The words "LOVE DOESN'T LAST VERY LONG BUT THINKING ABOUT IT DOES" appear across the top, the statement of a young man infatuated with women. The lines in French around the edge of the black semi-circle are from the poem "Alouettes" by Symbolist poet Saint-Pol-Roux (1861–1940). Although they are a surprising choice for a unilingual Londoner, the lines attest to Curnoe's deep interest in poetry.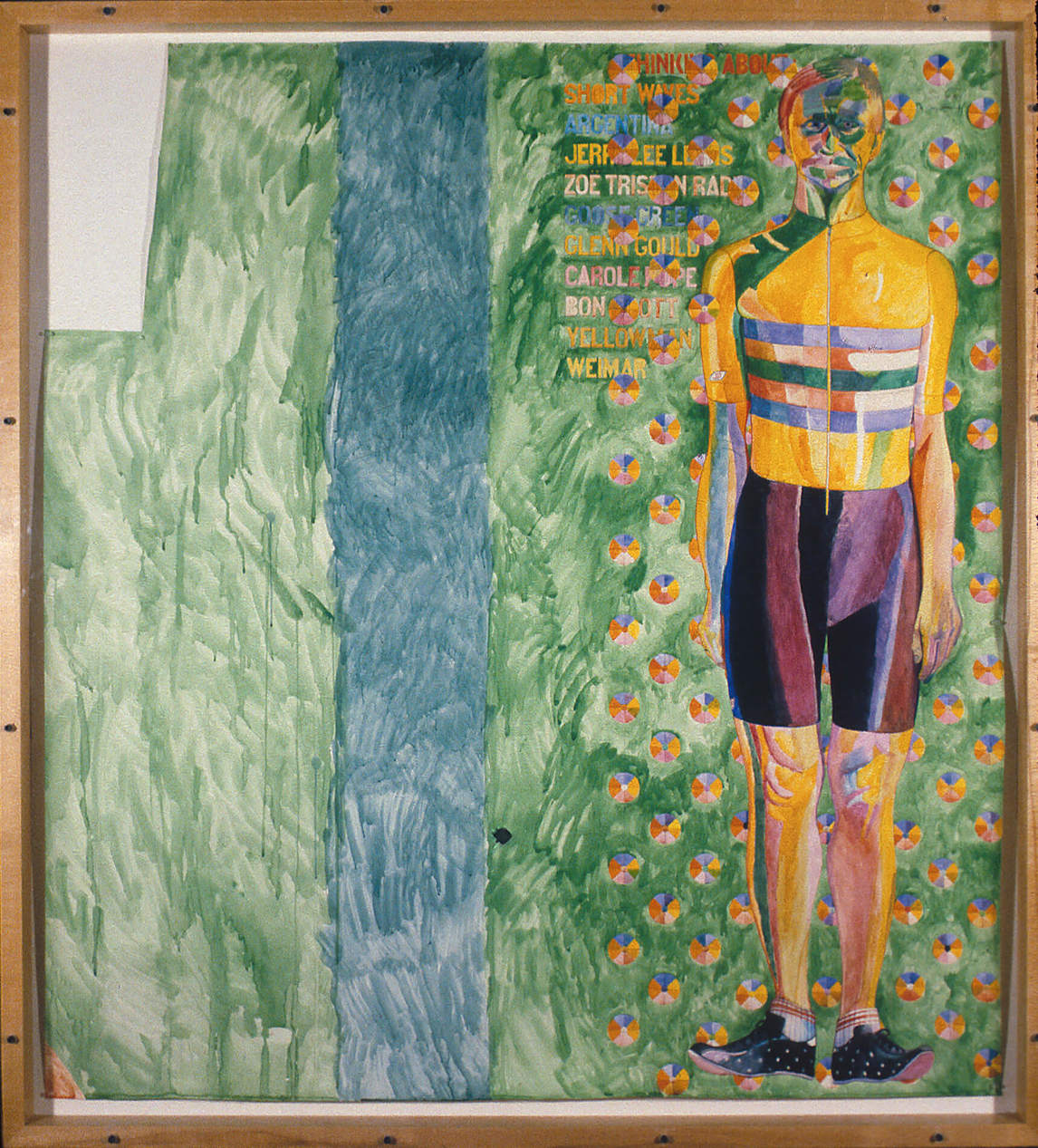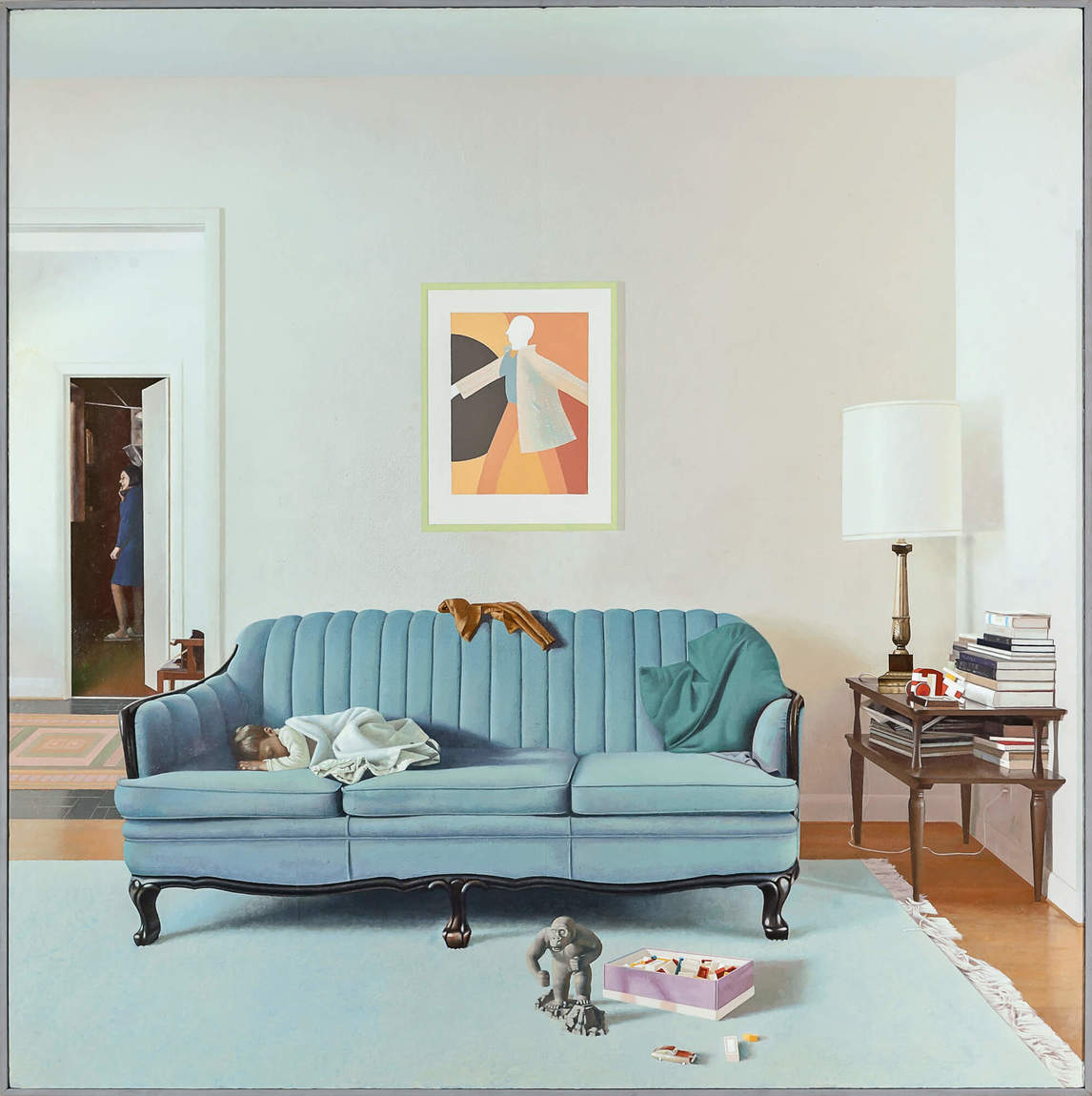 Here Curnoe exudes a brash, youthful self-confidence. He wears his customary orange pants and a complementary blue sweater—a colour combination he returned to frequently in his work—set off by a stylish sixties tweed coat. The mannequin-like profile with no modelling is characteristic of his figure work in the early 1960s, a striking contrast to his later, more representational, portraits, including two full-length self-portraits made when he felt his career and his marriage were in trouble. Middle-Aged Man in LCW Riding Suit, 1983, and What's Good for the Goose Is Good for the Gander, 1983, show a man ill at ease with himself.
The Vancouver Art Gallery purchased this painting in 1964, just after Lacrosse at Talbot Street School, 1963, was acquired by the Montreal Museum of Fine Arts, and validated Curnoe's choice of art as a career. A framed poster of this work can be seen in the painting Diego Sleeping No. 2, 1971, by his close friend Jack Chambers.