Flowers with Candle Lantern c.1943

In the early 1940s an American family with a holiday home in Yarmouth County commissioned a series of shutters from Maud Lewis, and Flowers with Candle Lantern was among the set. Doing commissions was not unusual for her, as she sometimes created paintings in response to requests, such as her portrait of a young boy and his grey cat, or her painting of The Bluenose, c.1960s. This shutter, though, and the other seven she completed for the Chaplins, was the biggest commission of her career, and as a group the shutters represent the largest work she ever undertook, barring her painted house. She never made paintings again at this scale, each of which, at over five feet in height, was taller than her.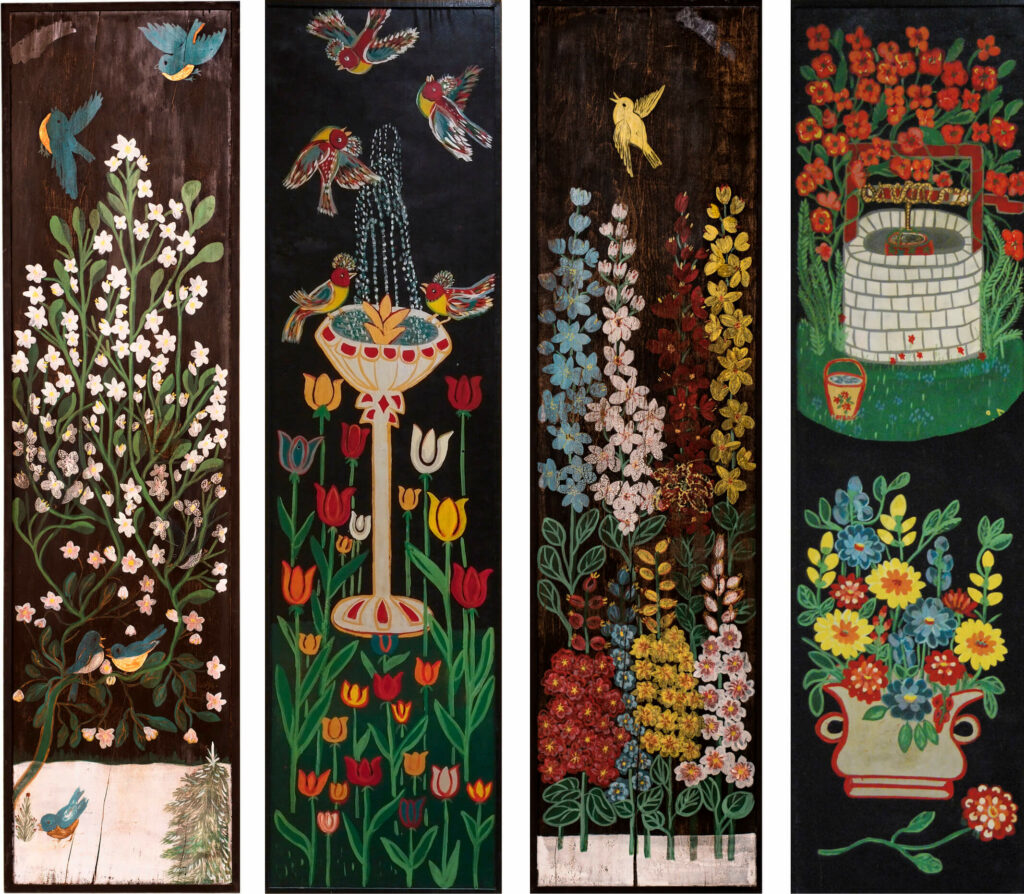 The Chaplin family had been steady customers for her greeting cards, and they commissioned two sets of shutters, one with a wintry Christmas theme, and the other featuring spring and summer scenes. This painting of flowers climbing a candle lantern on a post would have graced the Chaplins' home in the summer months. The shutters for this season feature flowering plants with butterflies and songbirds.
The family would change the shutters when they visited for Thanksgiving and Christmas. All of the winter shutters also have a black background. This set features Christmas themes, such as an image of Santa Claus, or figures carolling and cycling in a wintry landscape.
The shutters were among the only vertical works Lewis made. It was not a lucrative endeavour: as author Lance Woolaver recounts, "the price as paid by the Chaplins was seventy cents per shutter, barely enough to cover the paint which covered the shutters."  Interestingly, she repeated many of the themes from the summer shutters in the painted storm door and front door on her own house. The format she used in the shutters of black backgrounds and colourful images, while not repeated in any of her stand-alone paintings, does reappear in at least one of her many "paintings for sale" signs, which adorned her house in the 1950s.
Because the shutters spent so much time out of doors, they needed extensive restoration work, carried out at the Art Gallery of Nova Scotia. A selection are on long-term loan there, and hang in the Maud Lewis Gallery.