Molly Lamb Bobak (1920–2014) is best described as a painter of modern life. Her favourite subjects were vibrant crowd scenes, domestic interiors, and fresh flowers. Born into an unusual but stimulating cultured family, she trained at the Vancouver School of Art and, in 1945, became the only woman to be appointed as an official Canadian war artist. Later that year she married fellow painter Bruno Bobak and, in 1961, the couple settled in Fredericton. A professional artist and teacher, she occupies a secure position as a popular painter with works in major collections across Canada.
Bohemian Beginnings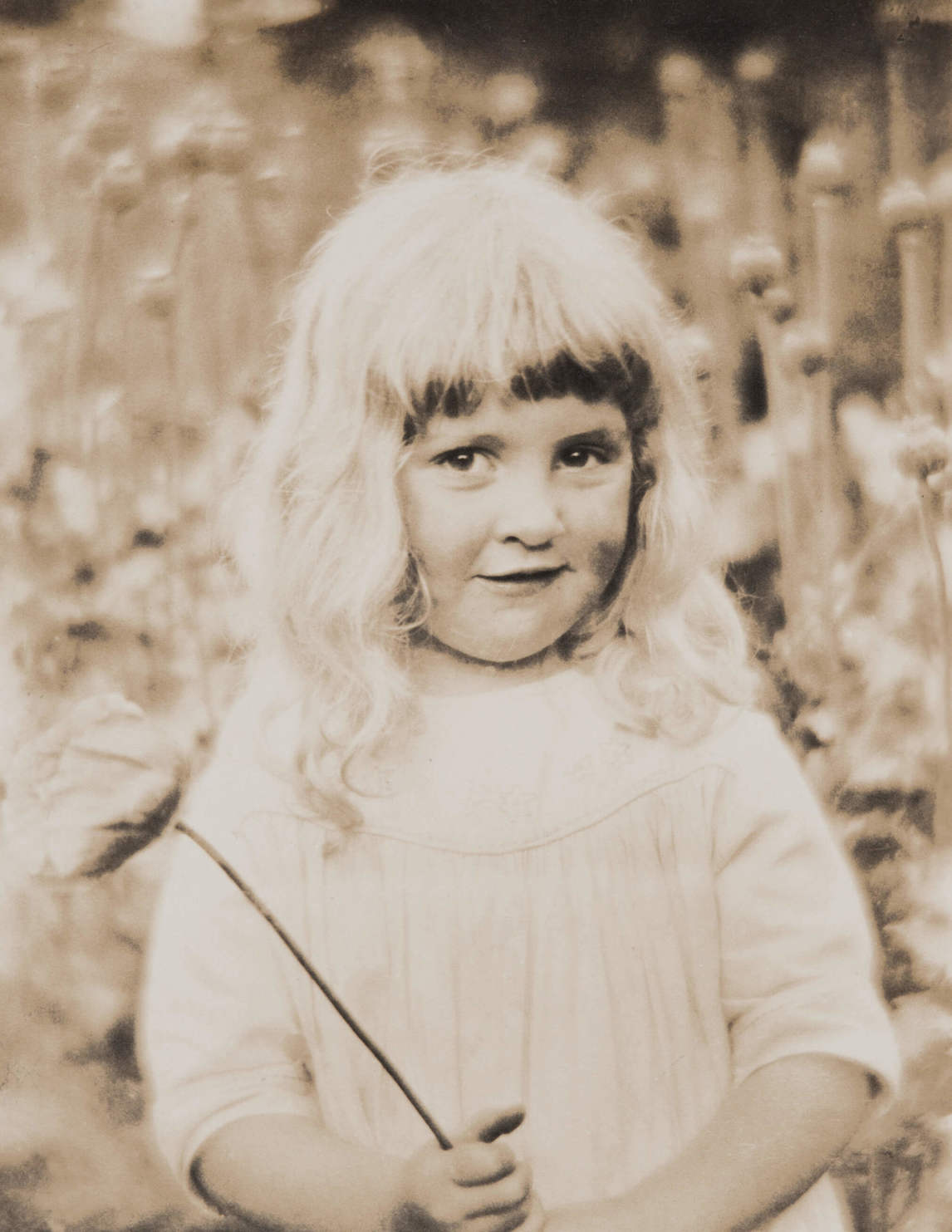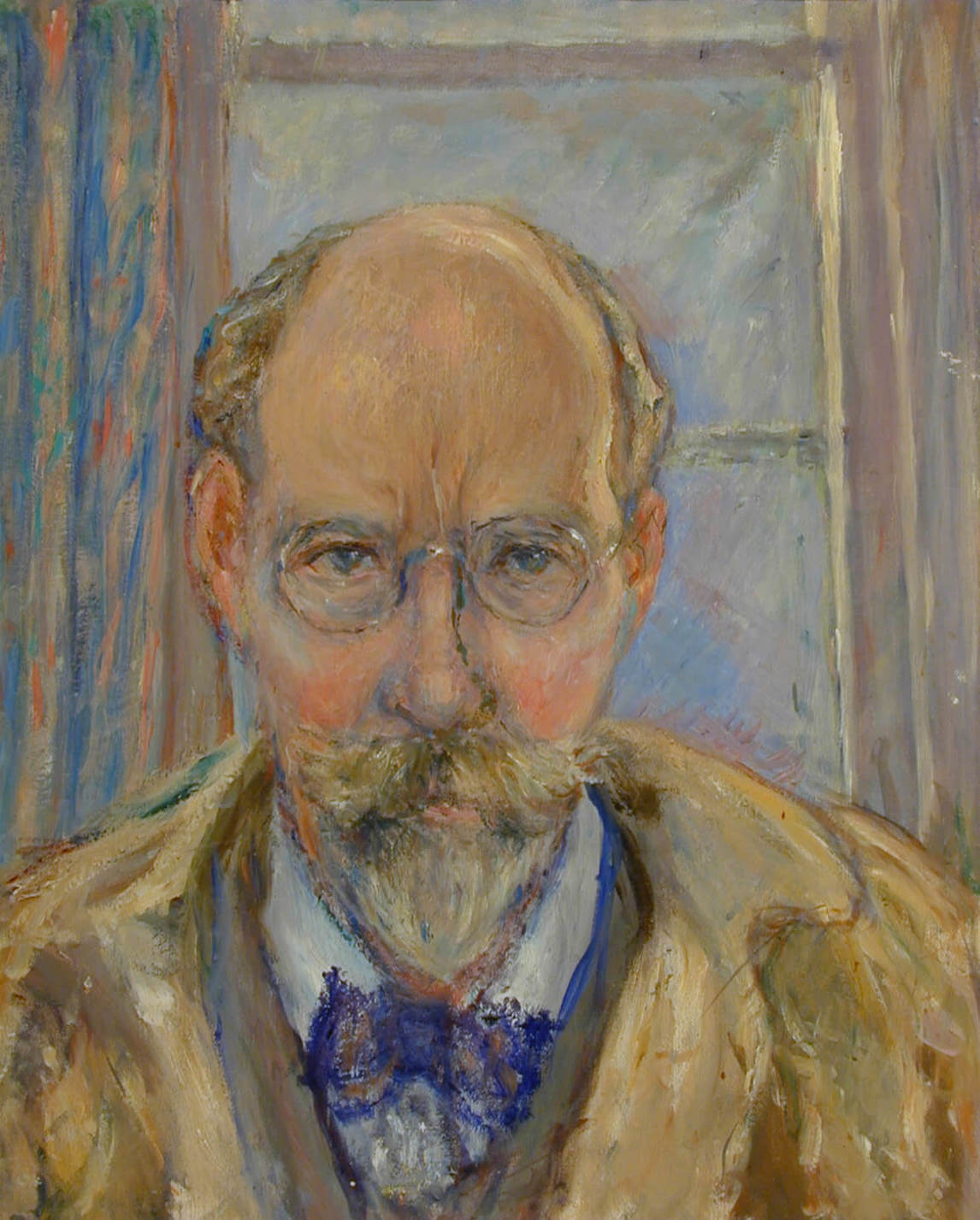 Born into an unconventional family on Lulu Island, near Vancouver, on February 25, 1920, Molly Joan Lamb seemed destined to become an artist. Her childhood home was both a bohemian enclave and a centre for artistic and intellectual gatherings. Her father, British-born mining engineer Harold Mortimer-Lamb (1872–1970), was also a photographer, art critic, and, in the 1920s, an early champion of the Group of Seven. Esteemed Canadian artists including Lawren Harris (1885–1970), J.E.H. MacDonald (1873–1932), Arthur Lismer (1885–1969), Frederick Varley (1881–1969), A.Y. Jackson (1882–1974), Emily Carr (1871–1945), Jack Shadbolt (1909–1998), photographer John Vanderpant (1884–1939), and architect Sam Maclure (1860–1929) frequented the house for lively conversation about the state of contemporary artistic practice.
Athough Mortimer-Lamb had settled in British Columbia when he was only sixteen, he was also connected to the international art scene. The artists who gathered at salons he hosted often debated ideas put forward by the influential British critic Roger Fry (1866–1934), such as the importance of form—line, shape, texture, and colour—to the appreciation of Post-Impressionism and other schools of modern art. Fry's daughter Pamela, who had married a Romanian Jew, stayed with the Lambs after her family fled England at the outbreak of the Second World War; she brought her father's Renoir painting with her and hung it over the mantelpiece.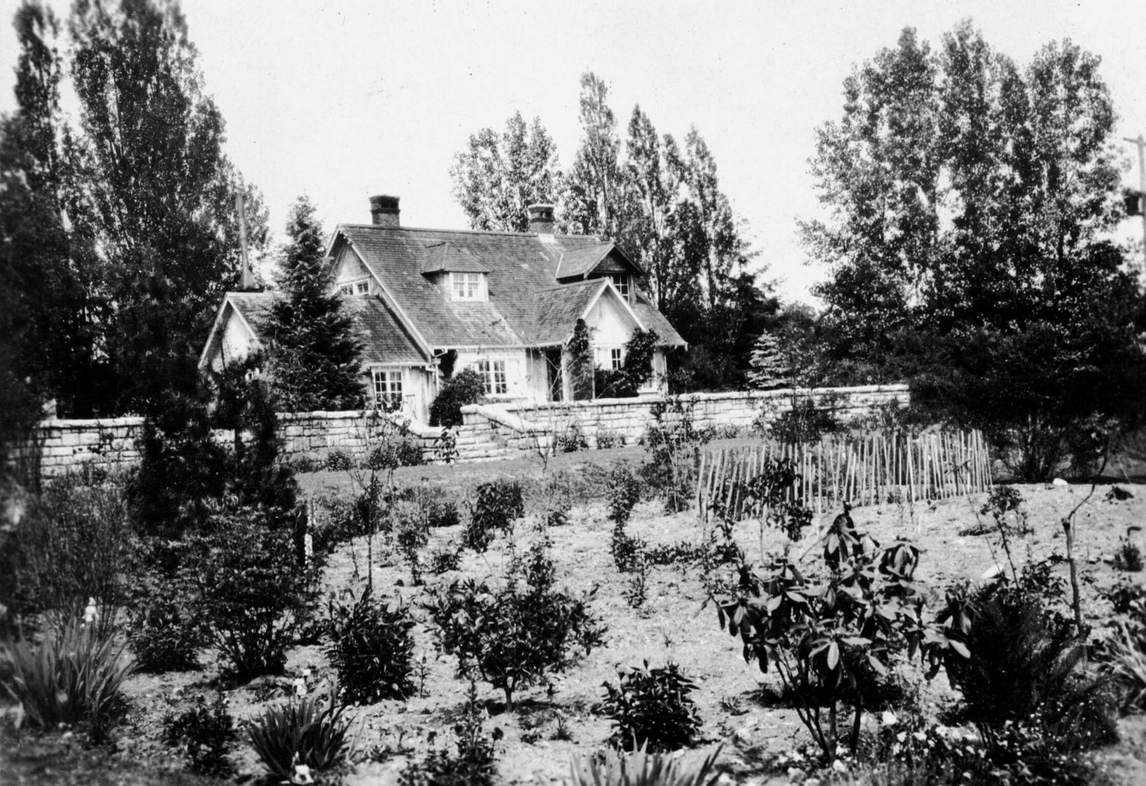 The Lamb family was bourgeois and thoroughly middle class, though also eccentric in structure. Mortimer-Lamb lived with both his wife, Kate (née Lindsay), and his mistress, Mary Williams, Molly's mother. Williams, known to many as "Woody," met Mortimer-Lamb when he was working in Montreal in 1918. His wife was there too but living a secluded life, distraught after the death of their daughter, Dorothy, affectionately known as Dolly. Williams offered her services to the family and began working as their housekeeper. An intimate relationship developed between her and Mortimer-Lamb and, after he suffered a nervous breakdown, he returned to British Columbia with his wife, four sons, and Williams in tow. Molly recalled feeling that her stepmother, Kate, "resented my mother, although she needed her, and always pretended she was a servant." The relationship between Molly's parents continued for another twenty-two years, but she was their only child.
Mortimer-Lamb accepted a position as secretary of the Mining Association of British Columbia, and the family settled on a farm known as Hill Cottage on the south shore of Burnaby Lake. In her memoir, Wild Flowers of Canada: Impressions and Sketches of a Field Artist (1978), Molly Lamb Bobak, as she became after her marriage to Bruno Bobak (1923–2012), recounts the happy times she spent surrounded by animals and the vast rural environment: "How much space we had! Meadows, woods, tangled gardens, streams, ponds—and, of course, the deserted old Mervin house, with its dark weathered wood and broken windows." She recalled creative adventures with a friend as they wrote and performed their own plays.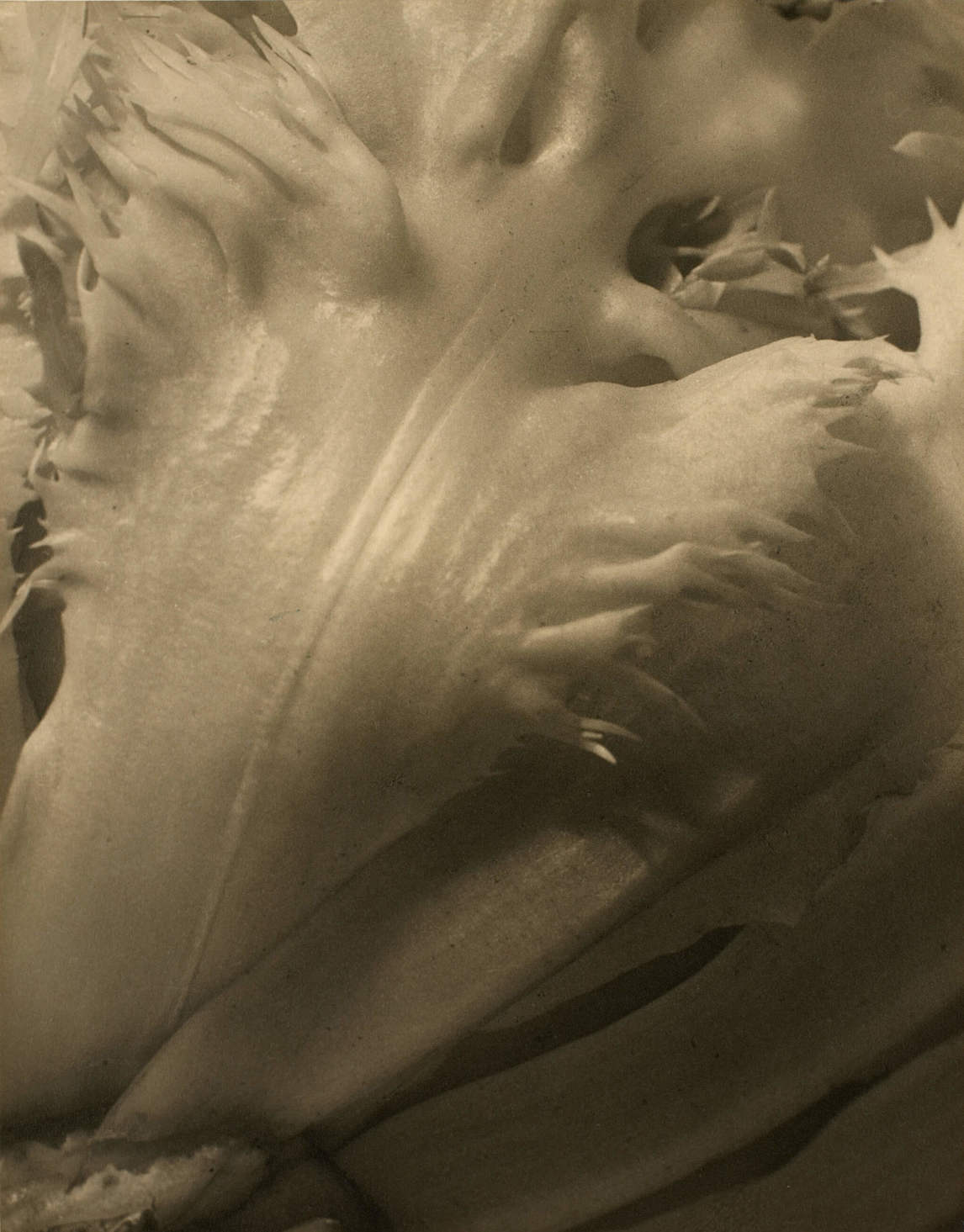 In 1926 Mortimer-Lamb opened a commercial gallery on Robson Street in Vancouver with photographer John Vanderpant. They exhibited the work of Canadian painters, sculptors, and photographers and became renowned for the progressive images they created. In 1939 Mortimer-Lamb photographed painter Emily Carr in her studio; he was an early champion of her work. The image became one of the most celebrated pictures of the artist, as Molly Lamb Bobak herself remarked: "The famous photograph of Emily in her skullcap, leaning forward on her arms, was taken by Dad." Modelled on Alfred Stieglitz's (1864–1946) Gallery 291 in New York, Vanderpant Galleries was set up to recognize and promote innovations in both photography and painting. It quickly became a Vancouver centre for music, poetry, art, and serious discussion and was one of the first enterprises on the West Coast to exhibit work by the Group of Seven.
At this time, the family moved to a large house at 1075 West 54th Avenue in Vancouver's Kerrisdale neighbourhood. As Molly matured, Mortimer-Lamb's interests became the intellectual core of her life, especially through the regular creative and intellectual salons he hosted at his home. Even after he withdrew from the gallery in March 1927 because of large financial losses, his ties to the contemporary art scene and other cultural milieus in the province remained strong.
Mary Williams also played a pivotal role in her daughter becoming an artist. She provided the emotional heart of Molly's world, fostering her independent spirit, general disregard for convention, and determination to live and work as she wished. She also passed on her passion for nature and for flowers to her daughter. Molly was enthralled by her mother's talent for telling stories, especially those about her early days in New Brunswick after she had immigrated to Canada and the variety of jobs she had held. Williams encouraged Molly's early interest in drawing and painting—a passion that became especially important after Molly began to have difficulty in school owing to her poor eyesight and her general boredom with the curriculum. She suggested her daughter enrol at the Vancouver School of Art.
Artistic Development
The transfer to art school in 1938 was momentous for Molly Lamb. Although she struggled initially and lacked enthusiasm, she discovered her passion for art in her second year when she studied with Jack Shadbolt, whose challenging classes she found "electric." Unlike her previous teachers, Shadbolt found things to praise in her work and showed her how to improve her drawing technique and composition—skills amply evident in the strong lines and spatial sense in Untitled (Vancouver), 1941.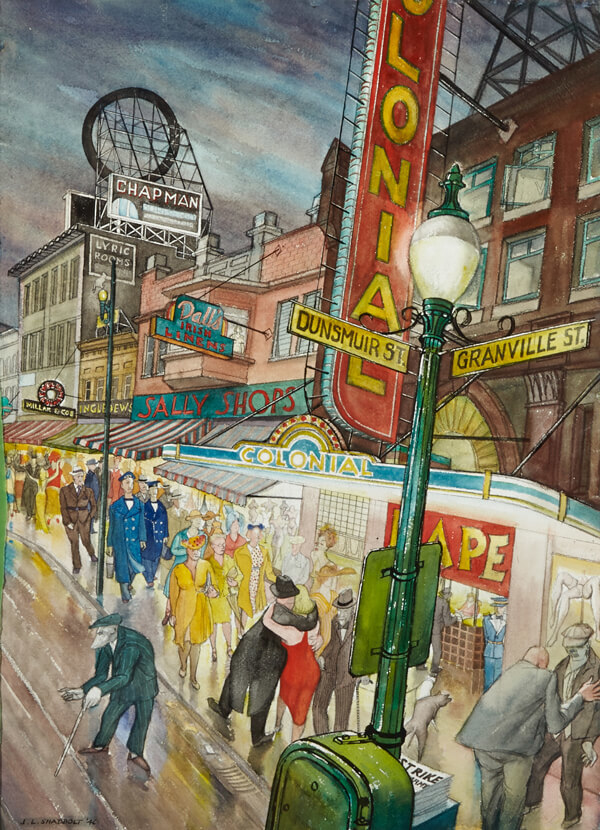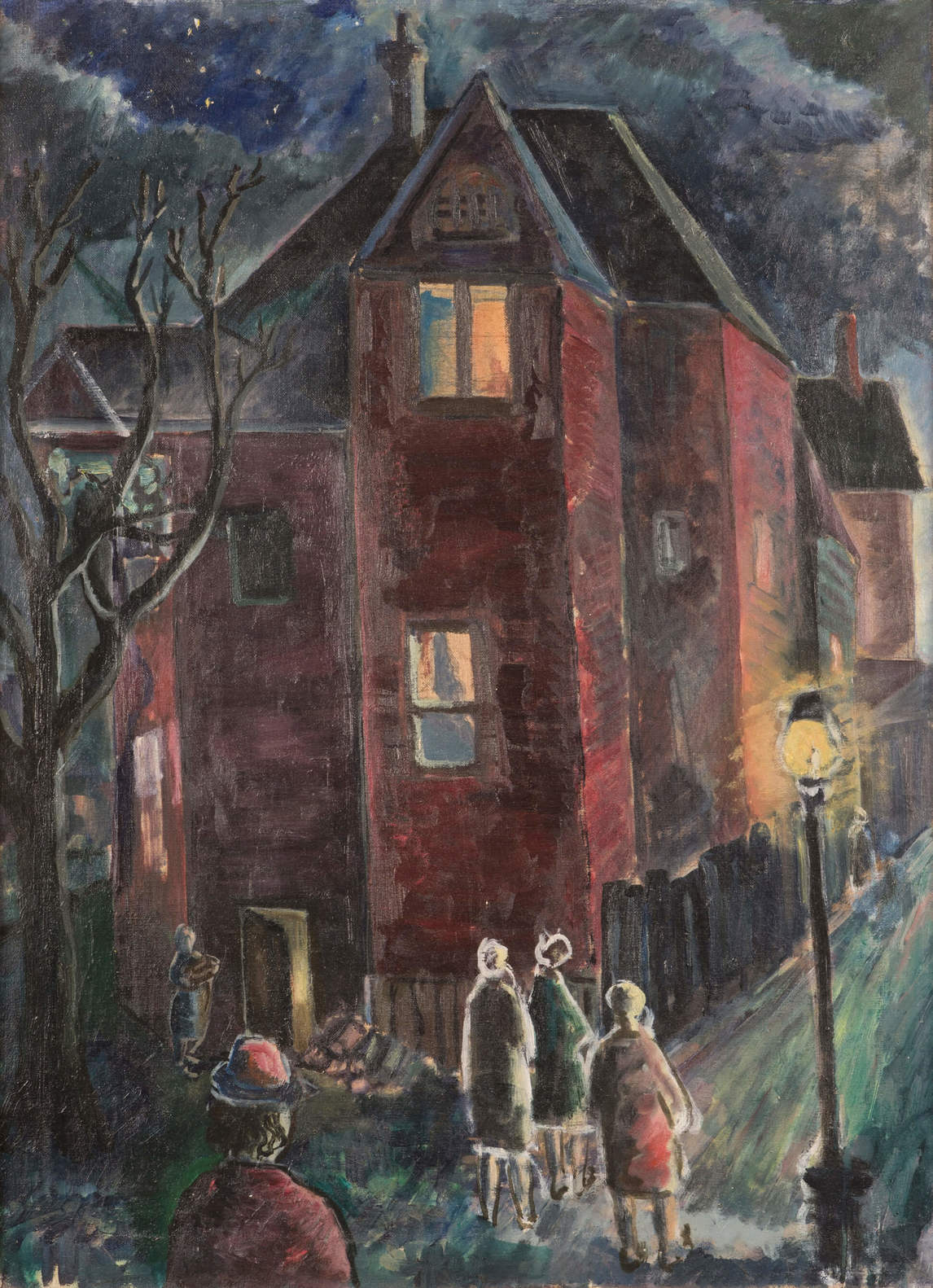 As she later wrote, "His encouragement meant a lot to me. Anything could happen from then on; anything was possible with a little skill and a lot of work—Shadbolt introduced me to a great world." When he showed his students some images by Paul Cézanne (1839–1906), Lamb was ecstatic:
Paul Cézanne, The Basket of Apples, 1893, oil on canvas, 65 x 80 cm, Art Institute of Chicago.

What Cézanne could do with an apple or a glass decanter! One could see layers of watercolour over surfaces and taut blue strokes shattering around the edges, open, moving. Suddenly you weren't looking at apples or decanters any more, but painting. I almost went crazy.
Shadbolt remained a close confidant and mentor to Lamb for decades after she completed her art studies. She was also taught by Jock Macdonald (1897–1960) and Frederick Varley until they left to open the rival British Columbia College of Arts, and she described Varley as a teacher you either totally followed or rejected. She then studied painting with Fred Amess (1909–1970), one of Varley's former students. She graduated in 1941—and for the rest of her life hardly a day passed when she did not create some artwork, whether sketches or finished canvases. The modernist pull to experiment with abstraction never drew her away from a recognizable representation of the scene before her.
Meanwhile, Lamb's extended family unit was deteriorating. Mortimer-Lamb's wife, Kate, died in 1939, and Molly and her half-brothers had all matured and moved out of the family home. After refusing Mortimer-Lamb's proposal of marriage, Mary Williams relocated to a resort property he purchased for her on Galiano Island, just off the coast near Vancouver. In the summer of 1942 he married Vera Weatherbie (1909–1977), an artist fascinated by mysticism who had been a student at the Vancouver School of Art at the same time as Lamb. Weatherbie also served as Varley's muse, and he painted several portraits of her while she was his student. During Lamb's first year at the school, Weatherbie had painted a portrait of her—"good," Lamb estimated later, "but more like Vera's gentler character than mine. I was a plumpish kid then with untidy hair, peasant clothes, sad moods . . . but Vera painted me quiet, with no flying ribbons."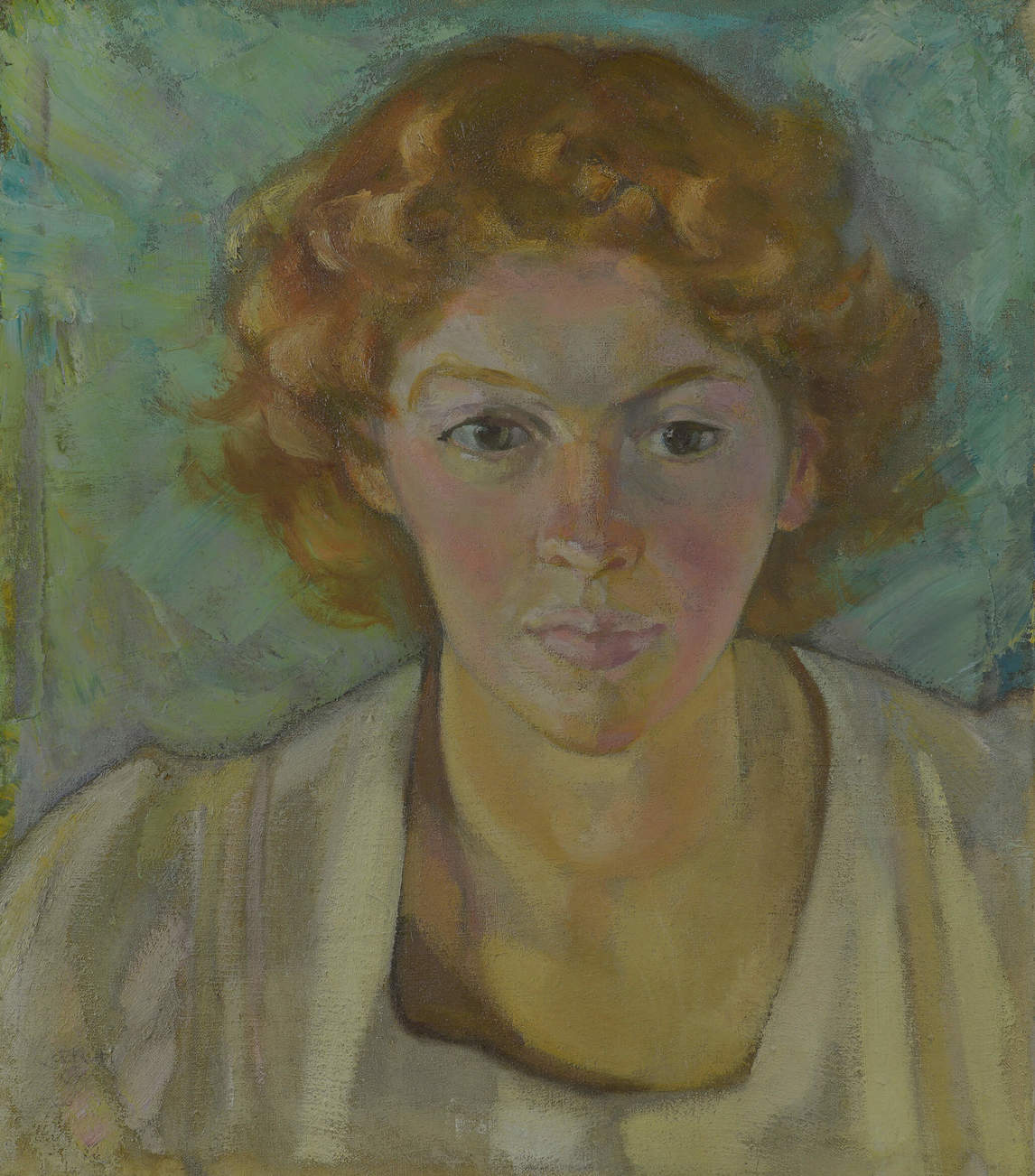 In the summer of 1940, while Lamb was employed as a maid at Yellow Point Lodge on Vancouver Island, she began keeping a diary—a unique document that combined text with caricature drawings. Alternatively titled The Daily Dishwasher, The Daily Chore Girl—Galiano's Dish Rag, and The Daily Dishrag, the diary had a broadsheet newspaper format. The diary drew inspiration from the work of one of Lamb's favourite artists as a teenager, Honoré Daumier (1808–1879), the caricaturist who offered social commentary on French political life and whose images her father collected.
While working on Vancouver Island, visiting her mother on Galiano Island and her father in Vancouver, Molly Lamb drew everyone she encountered. She later acknowledged that she started her professional career as a caricaturist, against the advice of Jack Shadbolt. She had a keen eye for the absurd and did not shy away from poking fun at herself, though her caricatures are compassionate and never judgmental.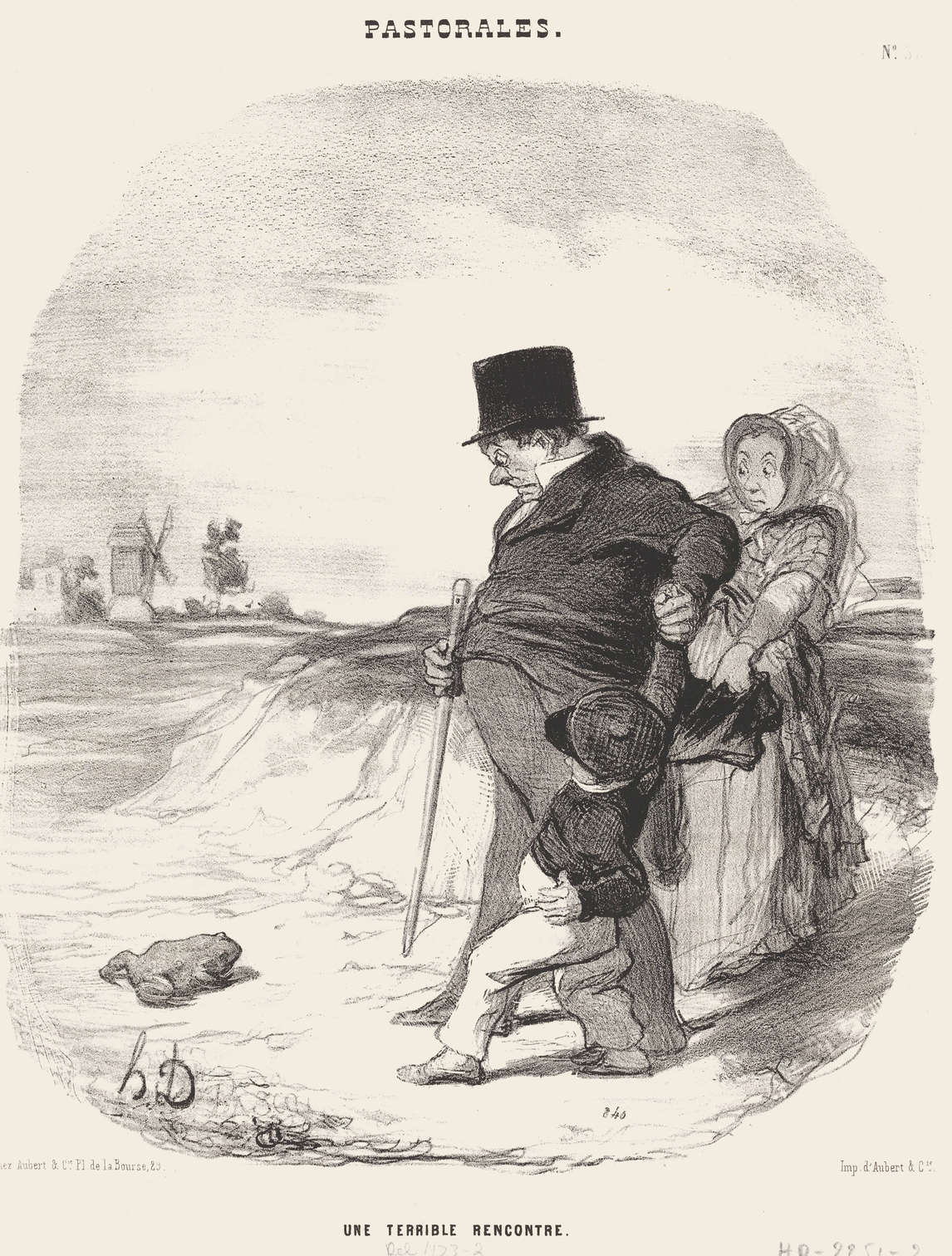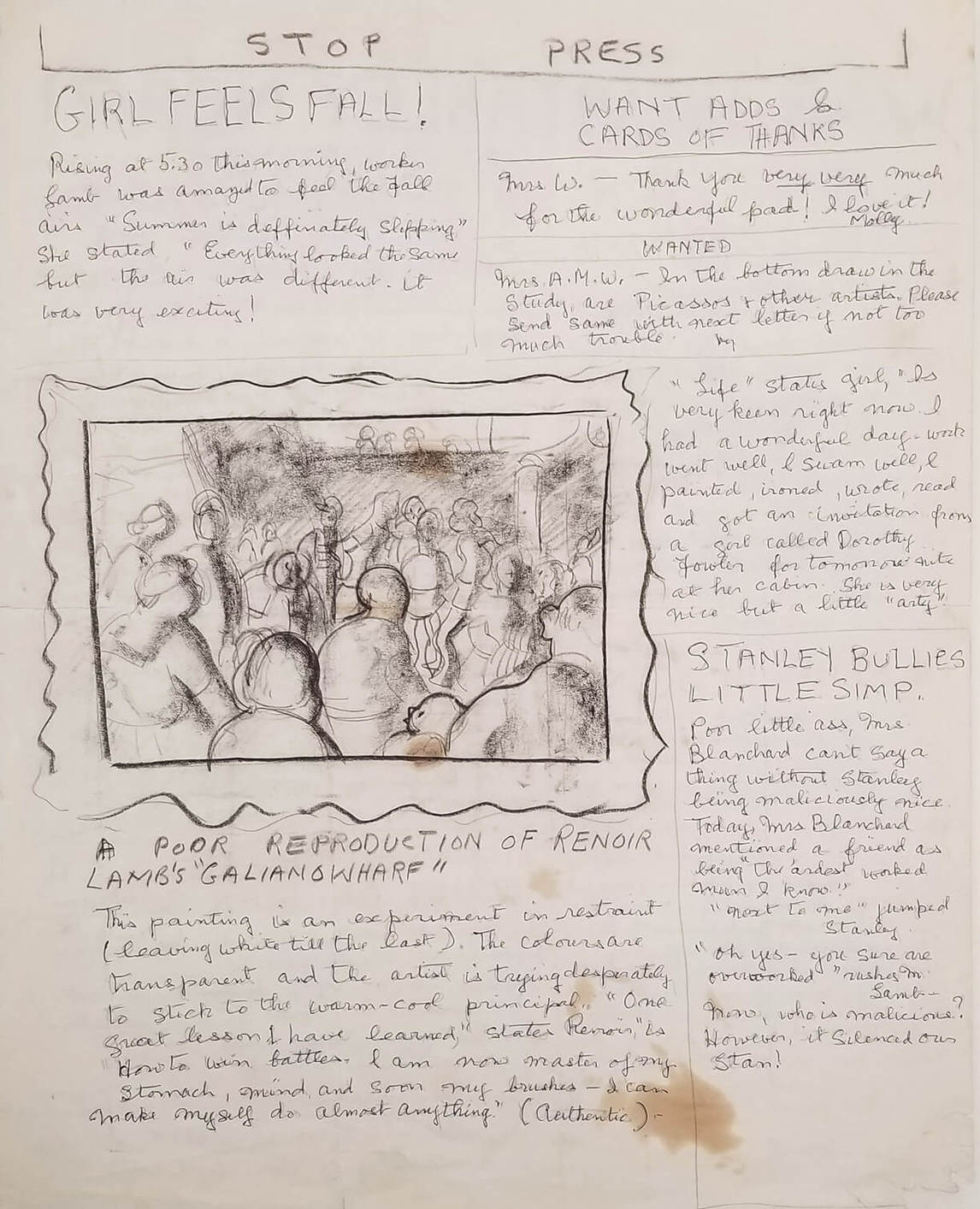 You're in the Army now!
In the autumn of 1942 Molly Lamb joined the Canadian Women's Army Corps (CWAC). It is not clear what she did after she graduated from the Vancouver School of Art until this point, though she may have tried to work as a painter. An oil portrait, Figure, c.1941, survives, depicting a disproportionate but painterly figure seated while holding a basket of fruit. An inscription on the back of the canvas lists her father's address on West 54th Avenue and a sale price of twenty dollars. Lamb never explained why she decided to join the army, though it seems that once she had enlisted, she regretted the choice almost instantly: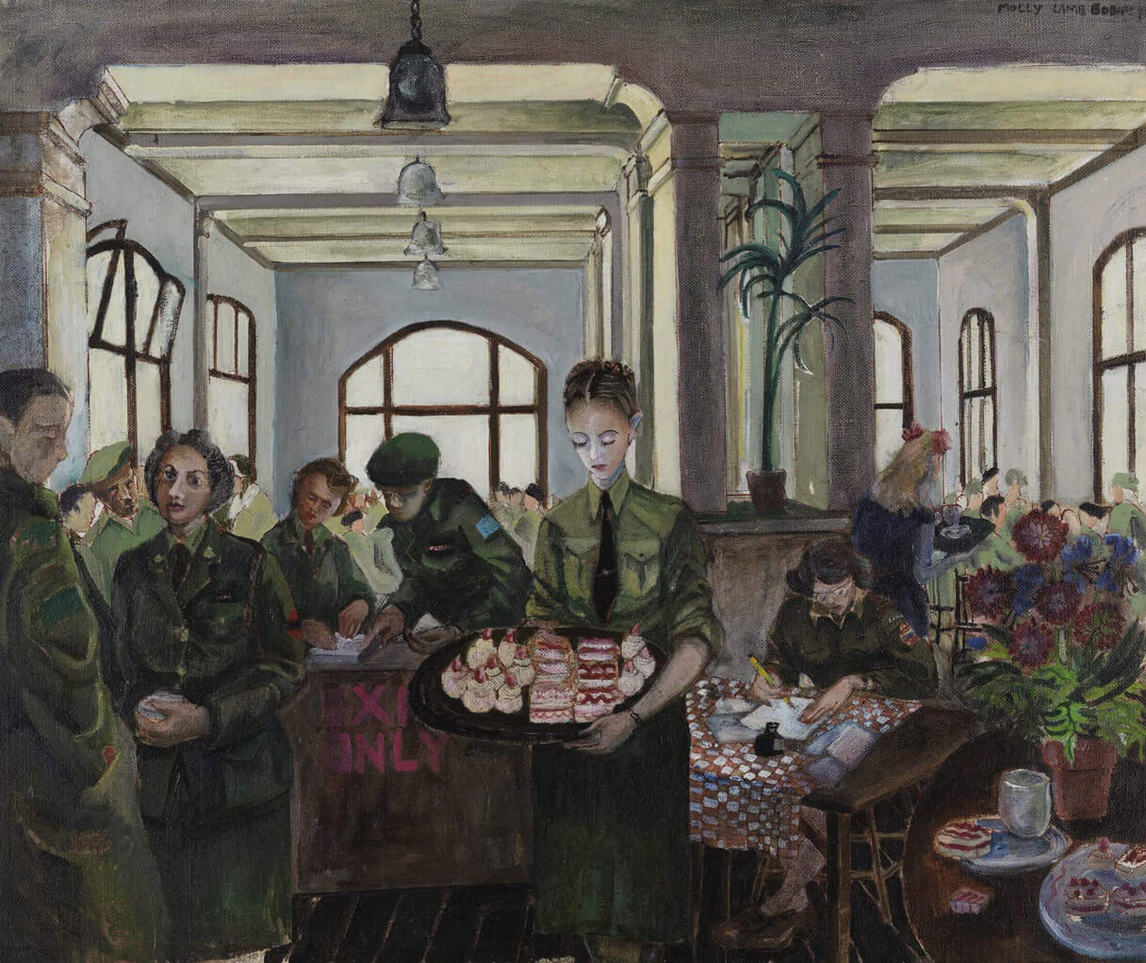 I had a medical and signed papers all afternoon. When it was over the corporal showed me to my room. Bare, bare, bare—even a naked electric light bulb over the brown double bunk which was to be my bed—the top half. I wondered what I'd done. I decided to go out into the grey November air as fast as I could, but to my horror, they wouldn't let me. I had to have a pass, and that was the most shocking thing of all. I finally managed to get one which allowed me to be out until 11 P.M. Mum was in town and we arranged to meet at Scott's Café for supper. I was so upset I couldn't eat and that worried her because I was such a pig. "We'll get you out," she said. . . . Three days later I was so happy, nothing could have got me out of the army.
Army life suited the spunky Lamb. Although she practised the usual drills and dutifully completed jobs in the laundry and the canteen assigned to women, she soon found her own interests. "The whole structure of army life is agreeable to a painter," she wrote later in Canadian Art, "and everywhere you turn there is something terrific to paint. There is endless material in one barracks alone, though—one could spend hours at the desk in the main hall, drawing the C.W.A.C.s checking in and out, the new recruits, the fatigue girls in their overalls, the orderly officer."
Right from the start, Lamb kept a journal: W110278: The Personal War Records of Private Lamb, M. (The diary was published in full in 1992, with editorial commentary by Carolyn Gossage, as Double Duty: Sketches and Diaries of Molly Lamb Bobak, Canadian War Artist.) Like her earlier Yellow Point Lodge diary, this unique wartime record took a newspaper form, with headlines, editorials, special supplements, and interviews. Through its personal and insightful accounts, it documents Lamb's life in the CWAC between 1942 and June 1945, providing an invaluable record of the Corps' role in the war effort—as seen in Gas Drill, 1944.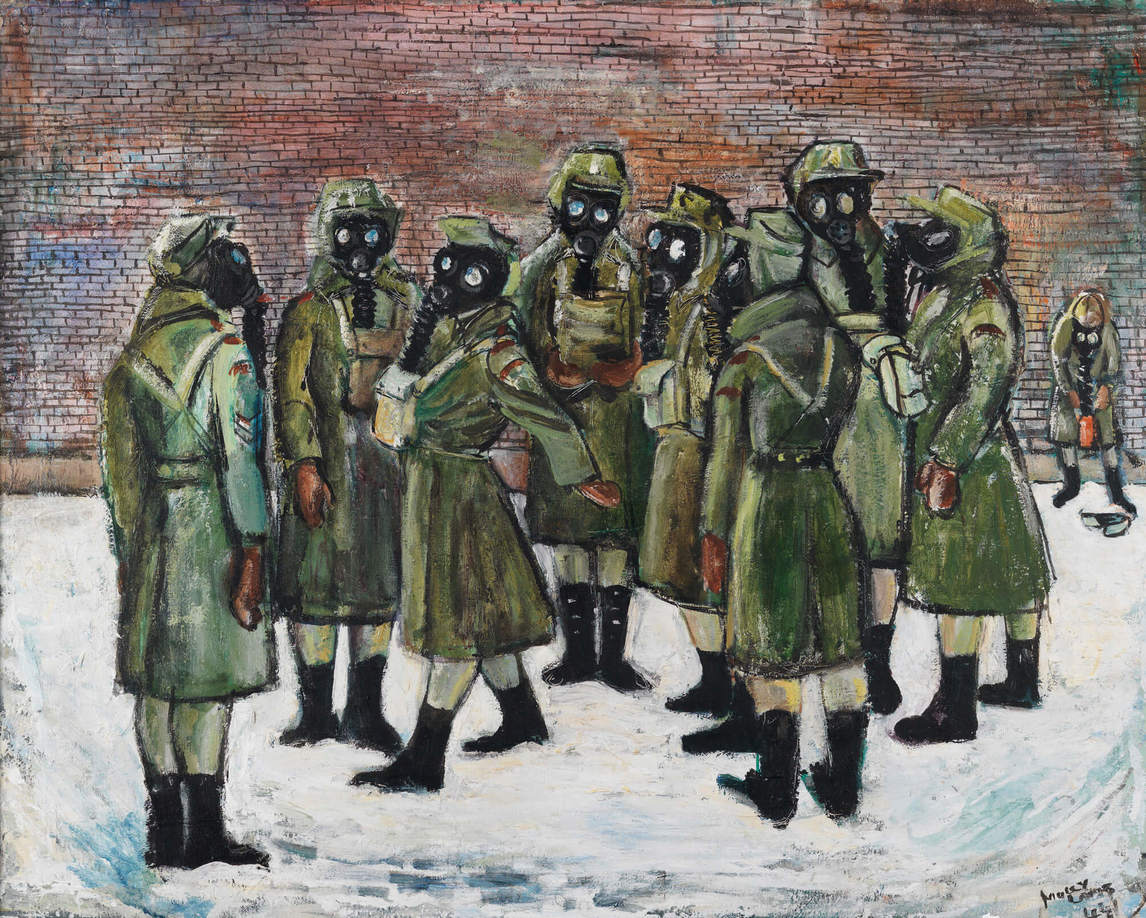 The diary contains 147 folios, with close to fifty single-sheet sketches interleaved among its pages. The opening captures the humour with which Lamb chronicled life in the army: "Girl Takes Drastic Step! 'Your [sic] in the Army Now' as Medical Test Okayed."
The army had a profound effect on Lamb, both personally and professionally. "I had a good war," she said, and her Self-Portrait, 1942–43, reveals one of her lighter moments as she joyfully carries a case of beer through the barracks. As soon as she enlisted, she began to travel. From the barracks in Vancouver she went to Vermilion, Alberta, for basic training. As a private and later an officer, she worked in Alberta and Quebec, and was then stationed in Ontario. As the army came to recognize her abilities as a graphic artist, her superiors sent her to a drafting course in Toronto.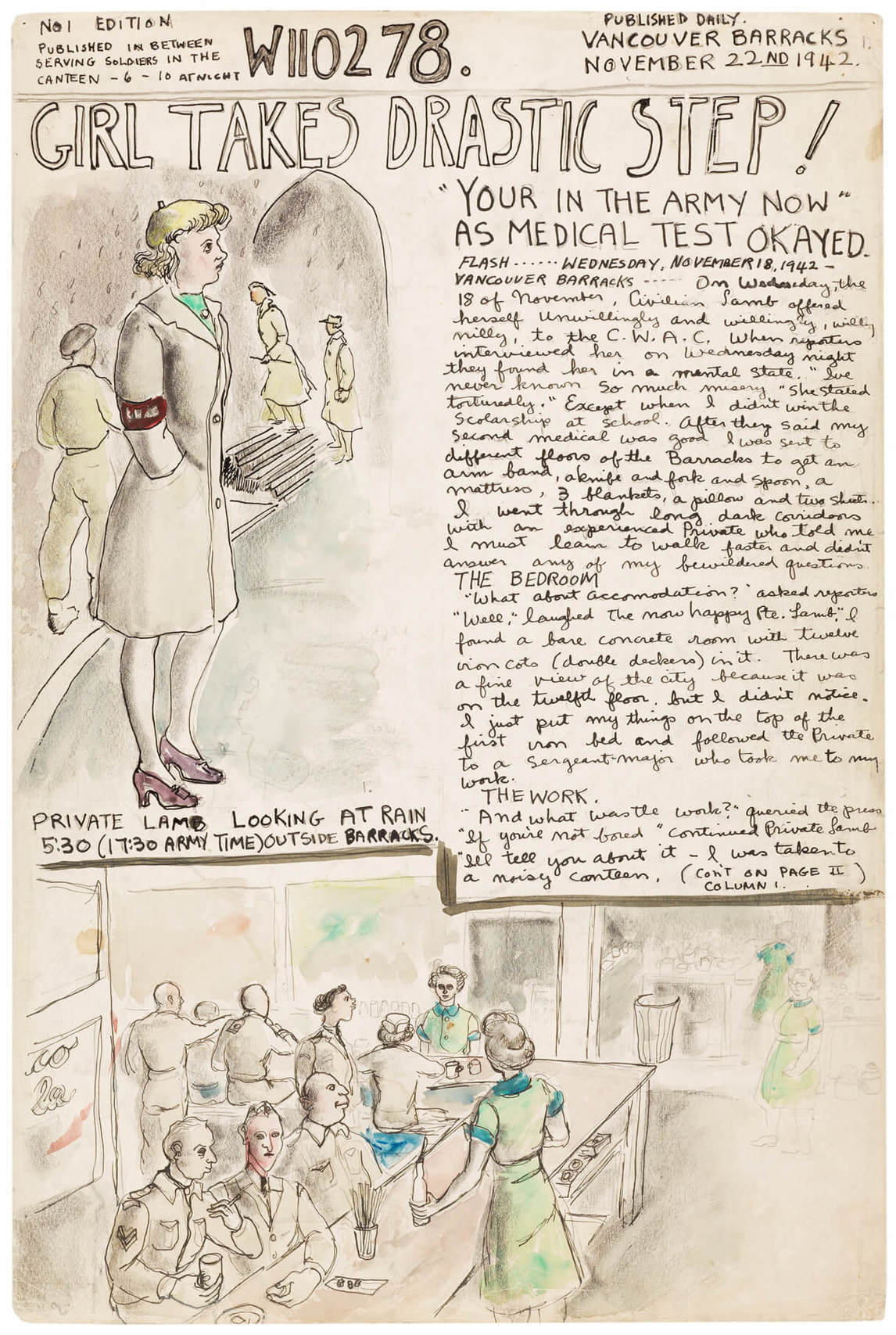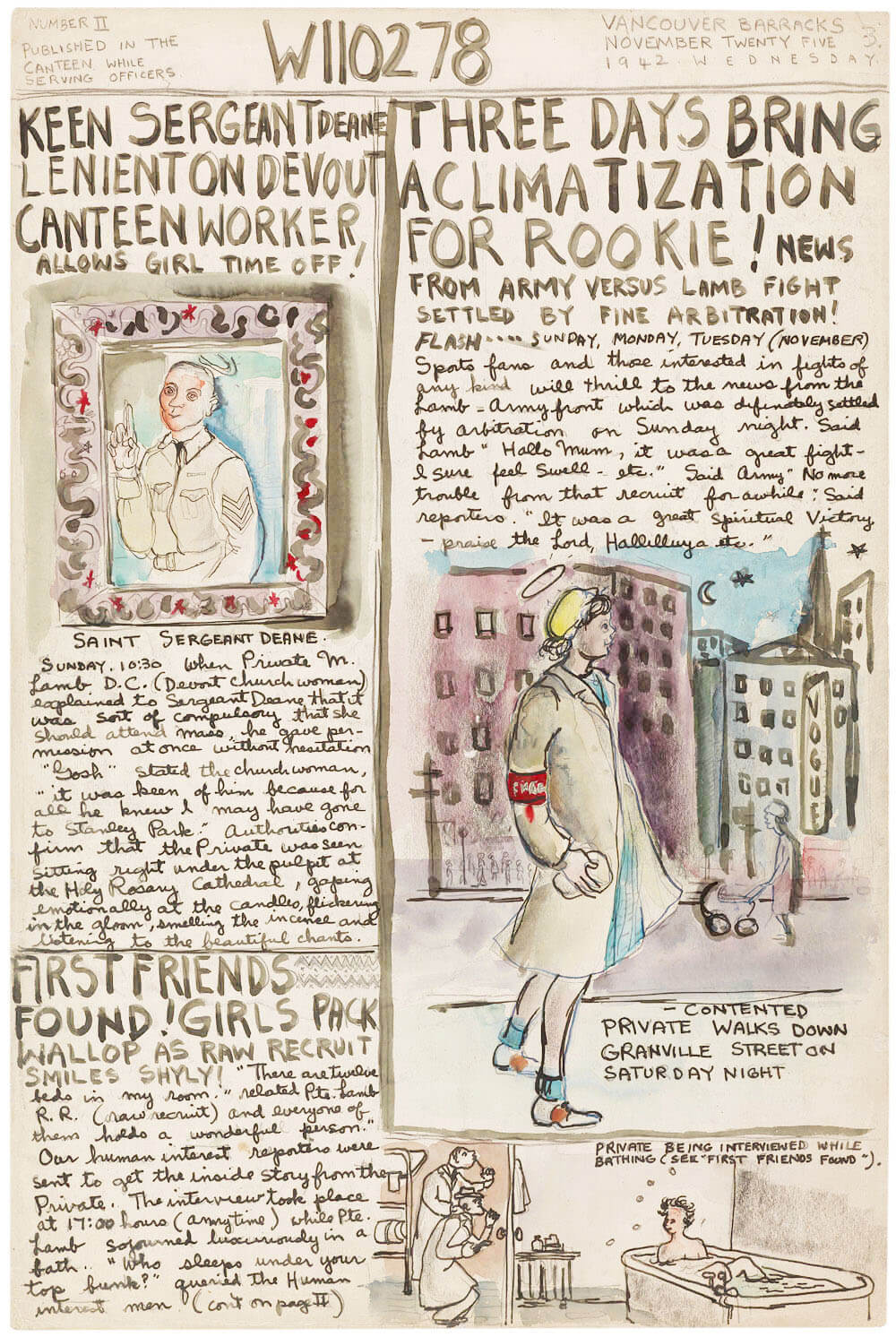 Backed by some of her father's influential friends, Lamb began to lobby constantly for the coveted designation of an official war artist. While she was in Toronto she reconnected with A.Y. Jackson, who took an interest in her wartime diary and appreciated the women's perspective it provided on the war. As one of the advisers to the Canadian War Artists Selection Committee (CWASC), his support was critical to her success. Jackson also introduced her to Charles Comfort (1900–1994), Frances Loring (1887–1968), and Florence Wyle (1881–1968). H.O. McCurry (1889–1964), another of her father's friends, was director of the National Gallery of Canada and head of the CWASC. On Jackson's advice, Lamb travelled to Ottawa to meet with him and show him her drawings. Afterwards, she continued to barrage him with letters and with visits, even hitchhiking on one occasion. To help her obtain art supplies, he allowed her to purchase them from the National Gallery at the low educational rate.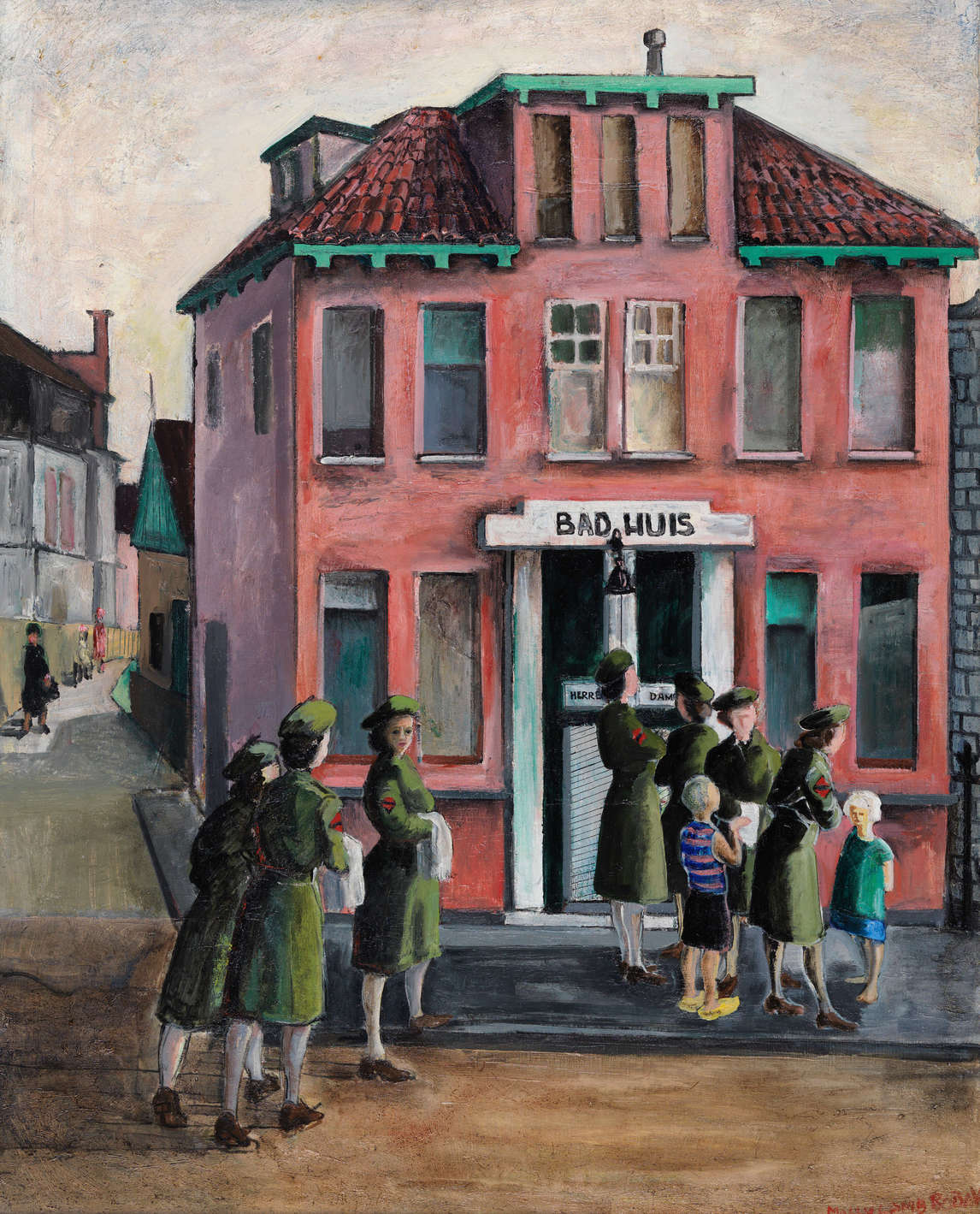 In the summer of 1943 Lamb was reassigned to Ottawa, where she was tasked with drawing the daily work at the Trades Training offices and allowed time to document the activities of her fellow CWACs. As she noted in her memoir: "I never stopped drawing. The CWACs in the bathroom, or the dining hall, or on parade, or something." Next she went to the Canadian Army Trades School in Hamilton, Ontario, where she designed posters and Christmas cards.
Lamb's success as an artist moved beyond the army: that same summer the Art Gallery of Toronto (now the Art Gallery of Ontario) purchased three of her CWAC drawings, and in August, New World magazine published six more, praising her work for its wit and powers of observation. In March 1944, Meal Parade, Hamilton Trades School, n.d., tied for second prize in the National Gallery's Canadian Army Art Show—a competition in which the man she would later marry, Bruno Bobak, then overseas, took top honours.
Her drawing Dinner Parade, n.d., also received an honourable mention. She later remarked that winning second prize at the National Gallery exhibition helped her and Bobak get appointed as war artists. The following month she was reassigned to Toronto to work on sets and costumes for the Canadian Army Show, a theatrical revue. By this point she had McCurry's full support in her bid to become an official war artist, and he suggested that she focus on producing more crowd scenes of the CWAC.
Sometime in 1943 or 1944, Molly Lamb met Pegi Nicol MacLeod (1904–1949), who divided her time between Fredericton and New York. Though MacLeod was politically opposed to the war, in 1944 the National Gallery of Canada commissioned her to document women's participation in the war effort in New Brunswick. Her paintings of Canadian servicewomen in the CWAC, the RCAF Women's Division, and the Women's Royal Canadian Naval Service (WRENS) participating in drills and parades or cleaning, cooking, washing up, and serving meals are brash and colourful, but her portrayal lacks the jovial camaraderie bubbling through Lamb's depictions of life in the barracks. It is possible that these two artists met when Lamb visited New York in February 1944, but the supplement "New York by Thumb," which concludes the first volume of Lamb's wartime diary, does not mention MacLeod. While there, however, Lamb visited the Art Students League, where she discussed her diary and was advised to show it to editors at Life magazine. She did, but nothing came of this meeting.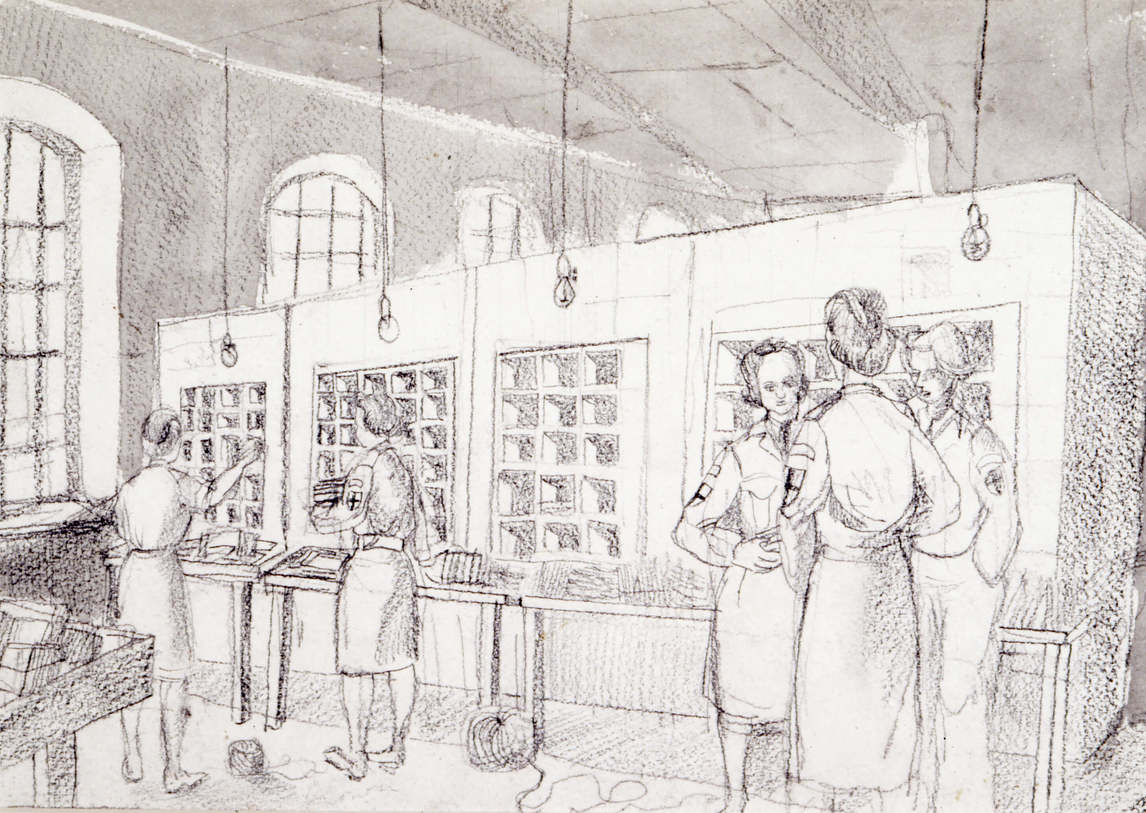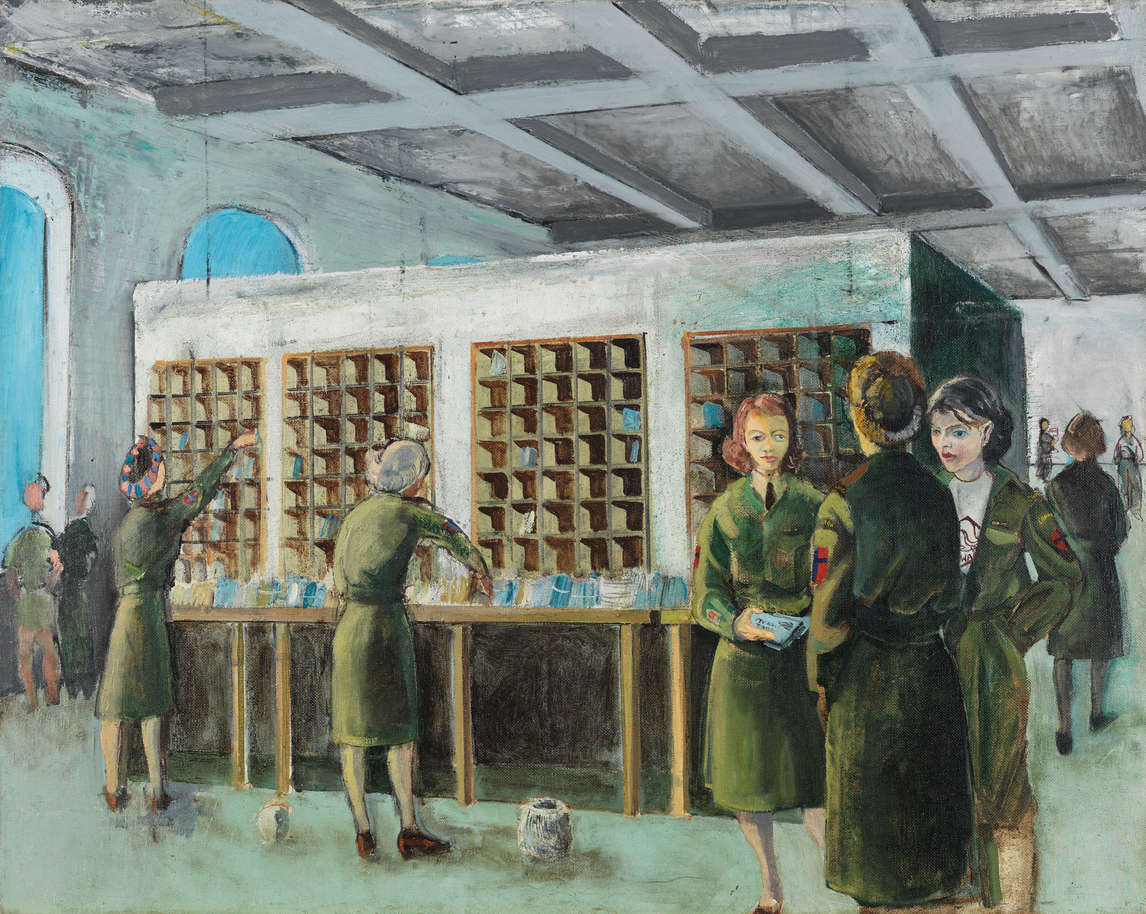 Finally, as the war neared its end in Europe, Lamb received the long-sought appointment from the Canadian War Artists Selection Committee as an official war artist—the only woman to have this designation. Other women artists who were not in the armed services, including Paraskeva Clark (1898–1986) and Alma Duncan (1917–2004), were never considered, although they were commissioned by the National Gallery of Canada to represent aspects of the war effort on the home front.
Women were not allowed on the active war front, and once the hostilities ceased, Lamb was transferred to London, England, in June 1945, six weeks after Victory in Europe (VE) Day. Over the next few months, her position as a war artist gave her invaluable professional experience and opportunities.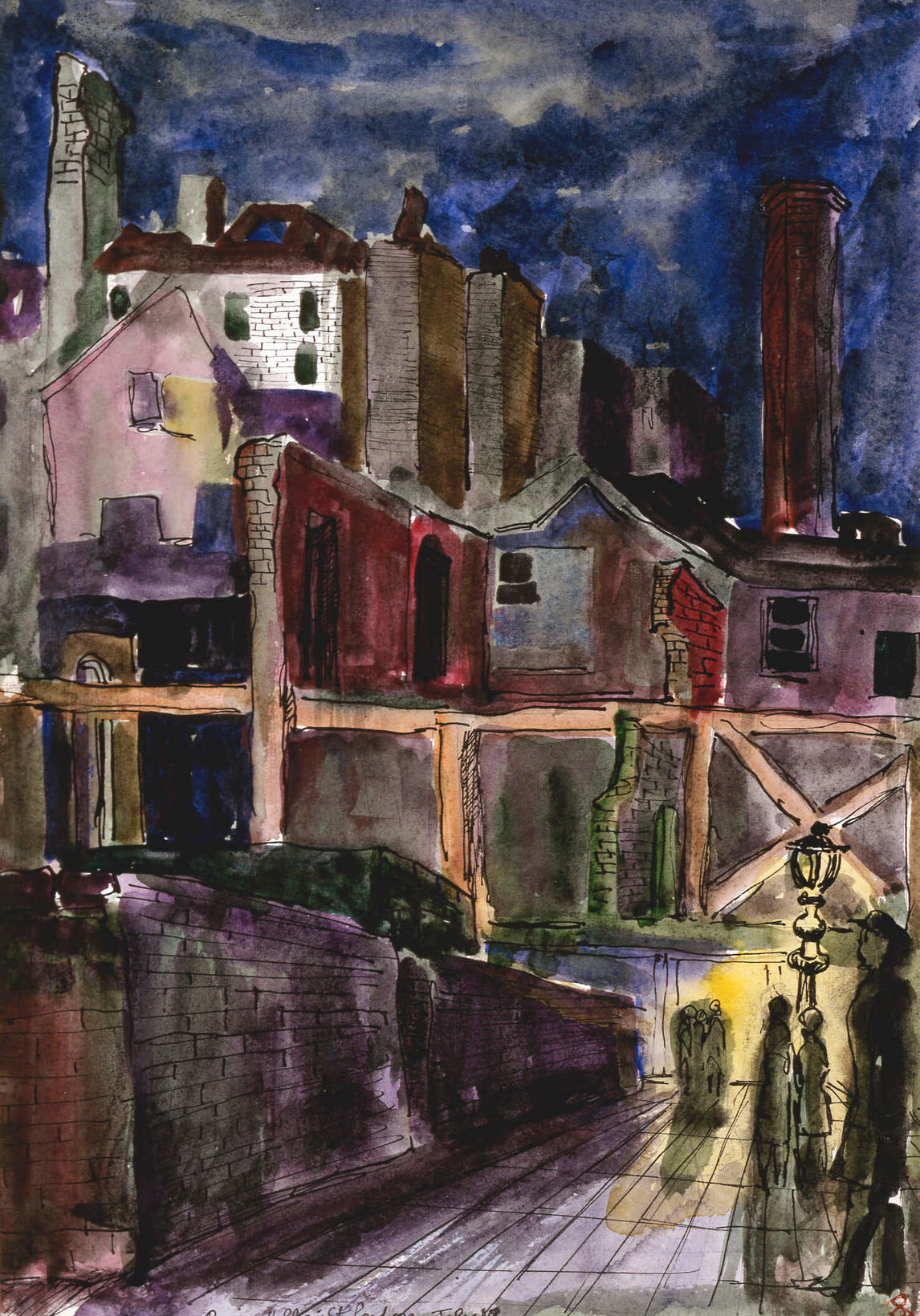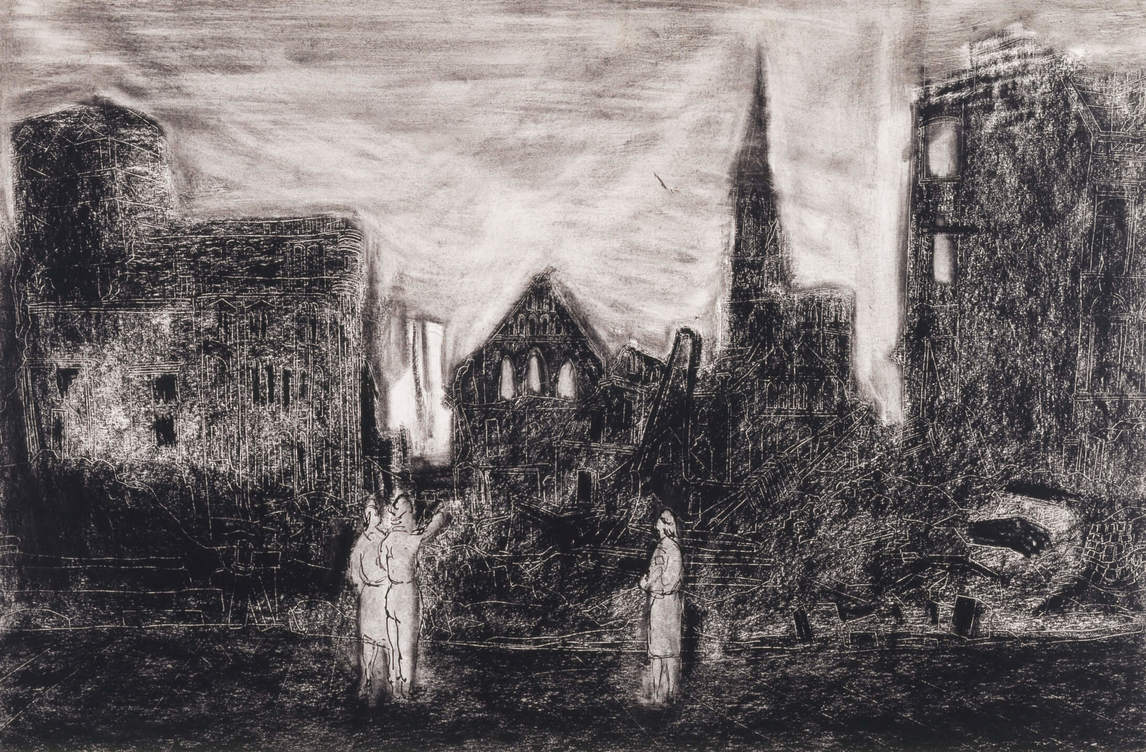 Asked to document the aftermath of the war, Lamb shared a studio at Fairfax House in High Holborn, London, with Bruno Bobak, whom she met for the first time. She also encountered several other Canadian artists—Alex Colville (1920–2013), Will Ogilvie (1901–1989), George Campbell Tinning (1910–1996), Lawren P. Harris (1910–1994), and Tom MacDonald (1908–1978)—and, over the following decades, she remained in touch with many of them. Within a few weeks she travelled with her own car and driver to the Netherlands, France, and Germany, where she sketched what she saw, from burned and bombed-out towns—such as in Ruins, Holborn Street, London, or Bremen Ruins at Night, both 1945—to celebrations and everyday life.
"They were six of the richest and most exciting weeks of my life," she recalled. Later, this prolific artist worked some of this material into finished canvases—for example, her stunning portrait Private Roy, Canadian Women's Army Corps, 1946—but she never documented the tragic scenes she had observed in concentration camps. The Canadian War Museum holds 114 of her works.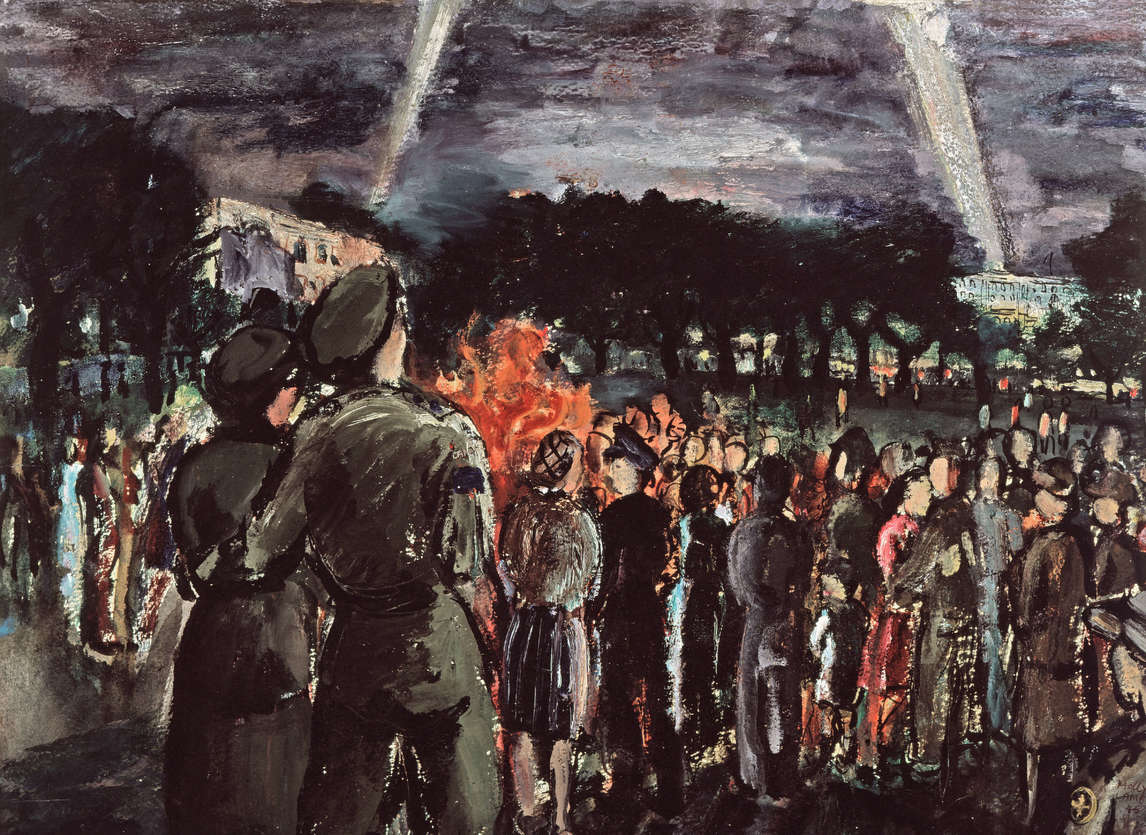 Post-Army Career
Bruno Bobak initially ignored Lamb and resented her presence in the studio, but they gradually warmed to each other. Later, she described their relationship without embellishment: "We had a good time in London, then came back to Toronto and got married" later in 1945.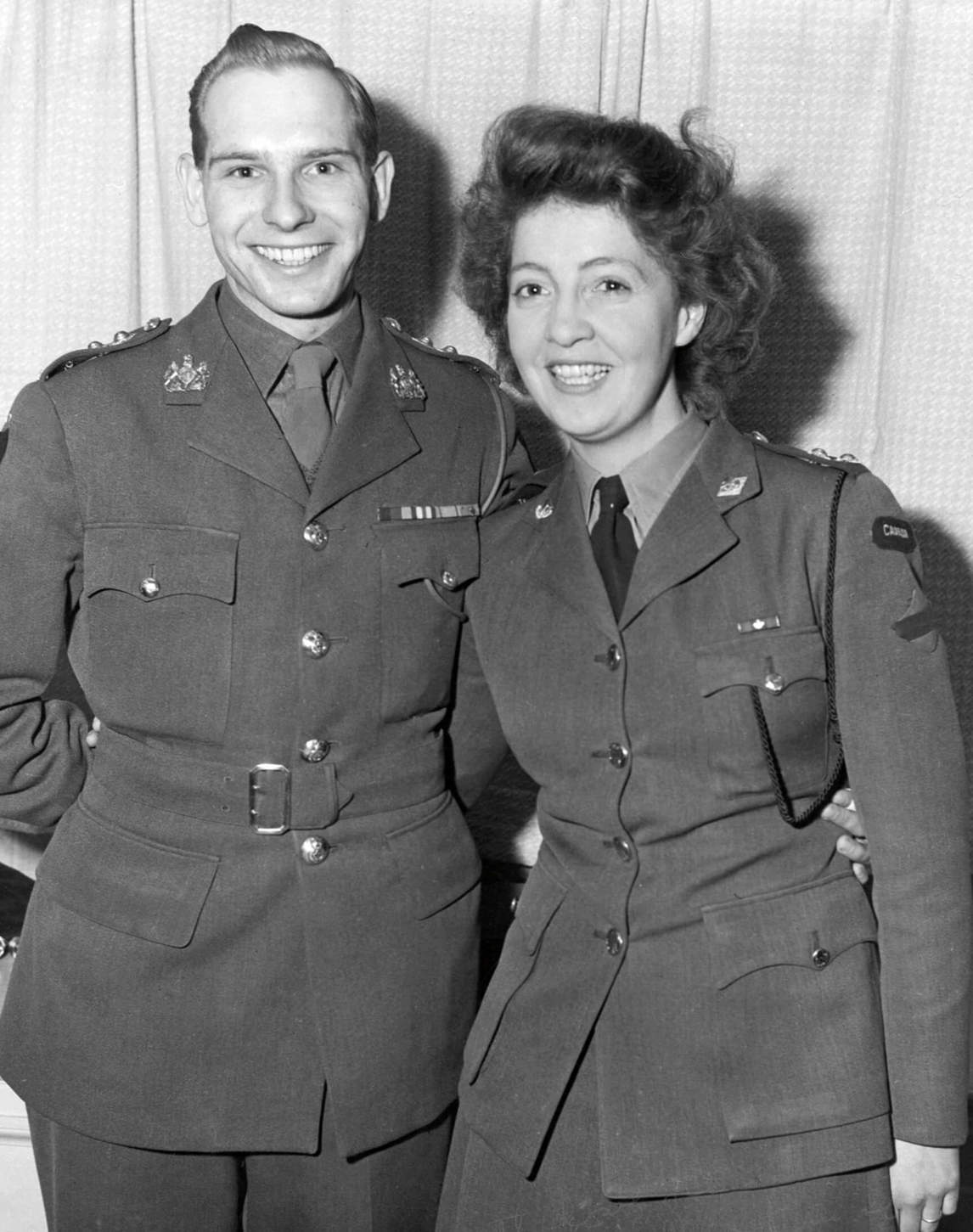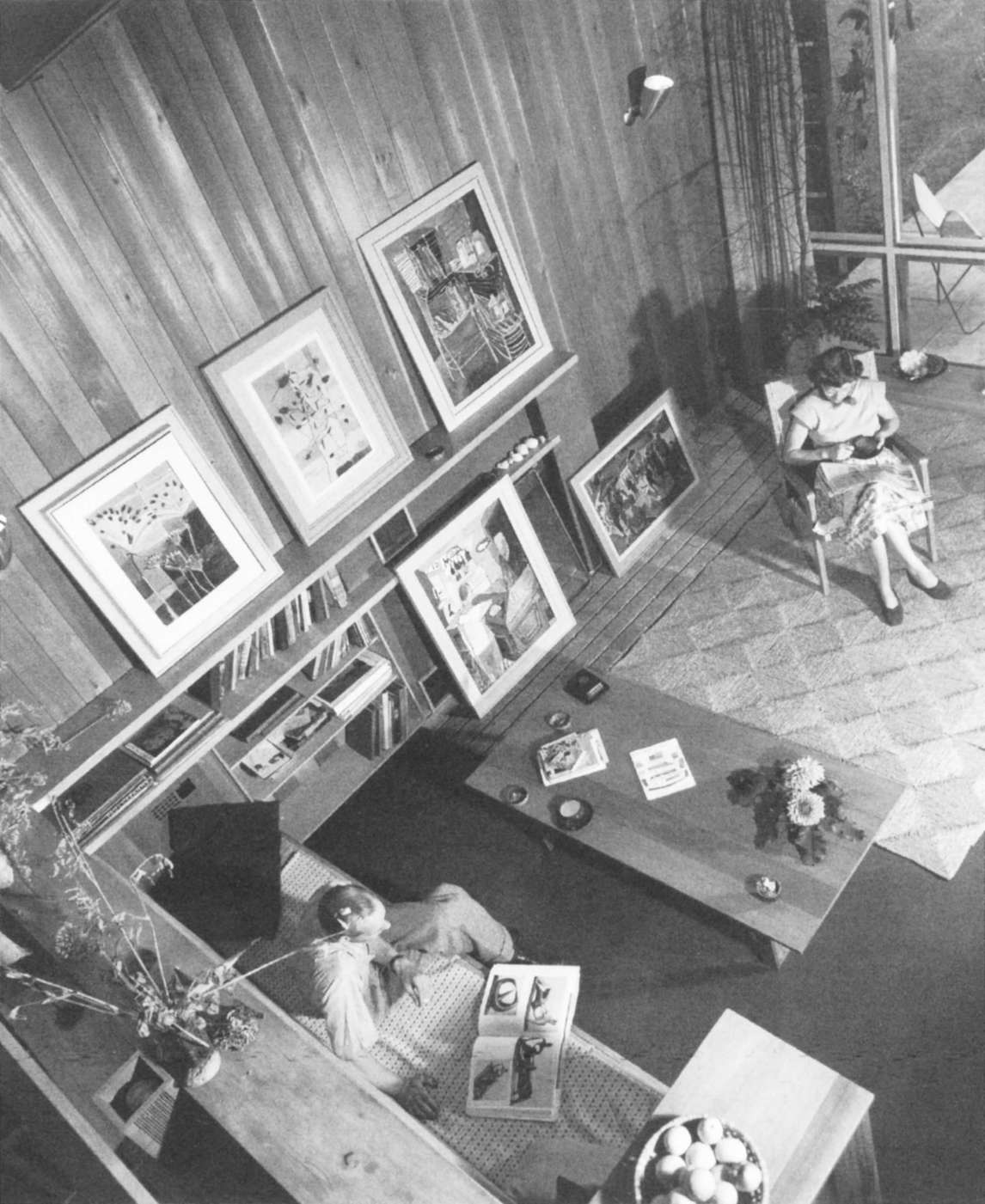 They settled in Ottawa, but in 1946, once Molly was pregnant with their son, the army discharged her for "medical reasons." At Molly's urging, they moved west to Galiano Island. There the two artists tried to make a living by teaching, painting, and taking odd jobs, including working for little pay at the sawmill owned by Molly's mother, Mary Williams, at Retreat Cove.
In 1947 Bruno Bobak began teaching at the Vancouver School of Art, and the family once again relocated. In Vancouver, he built a family house, assisted by his architect friends Ron Thom (1923–1986) and Douglas Shadbolt (1925–2002).
Although their circumstances were improving, Molly, now with two small children, Alexander (Sasha) and Anny, found little time to paint. She did draw, however, in moments between her domestic duties and her job teaching night school at the Vancouver School of Art. So successful was she as an instructor that she was also asked to deliver art lessons across the province, where again her classes proved popular even in remote locations in the interior. She also demonstrated an aptitude for radio and television broadcasting—even in art school, she had auditioned for CJOR radio plays in Vancouver—and she proved so capable in this medium that several of her art lessons were broadcast on radio and television.
As an artist, however, Lamb Bobak felt increasingly frustrated with her slow, "stagnant" progress. She described her art from this time as "too subjective" or representational, the result of her obligation as a war artist to record scenes as realistically as possible. "When the war came," she explained later, "I was really illustrating what I saw." She consulted her mentor Jack Shadbolt, who suggested she return to thinking about "the formal language of painting," focusing on line, shape, and colour rather than representational themes and her responses to them. This advice provided the corrective she needed. Now, as a mature painter working on the periphery of a Canadian art world split between Toronto and Montreal, she began to experiment and cultivate her own personal aesthetic.
A Life in Europe
In 1950 Jacques Maritain, a French philosopher who was also the Vatican ambassador to the United States, first encountered Molly Lamb Bobak's work during a visit to Vancouver. He was obviously impressed with her art: he bought one of her paintings and recommended her for a French government scholarship.
The Bobaks travelled to Europe with their two young children and, for a year, lived in France. That experience, particularly the time they spent in Paris, was significant for Lamb Bobak, exposing her directly to the work of modernist painters including Paul Cézanne, Henri Matisse (1869–1954), and Pablo Picasso (1881–1973). She also spent time with Canadian artist Joseph Plaskett (1918–2014) at his home in Paris.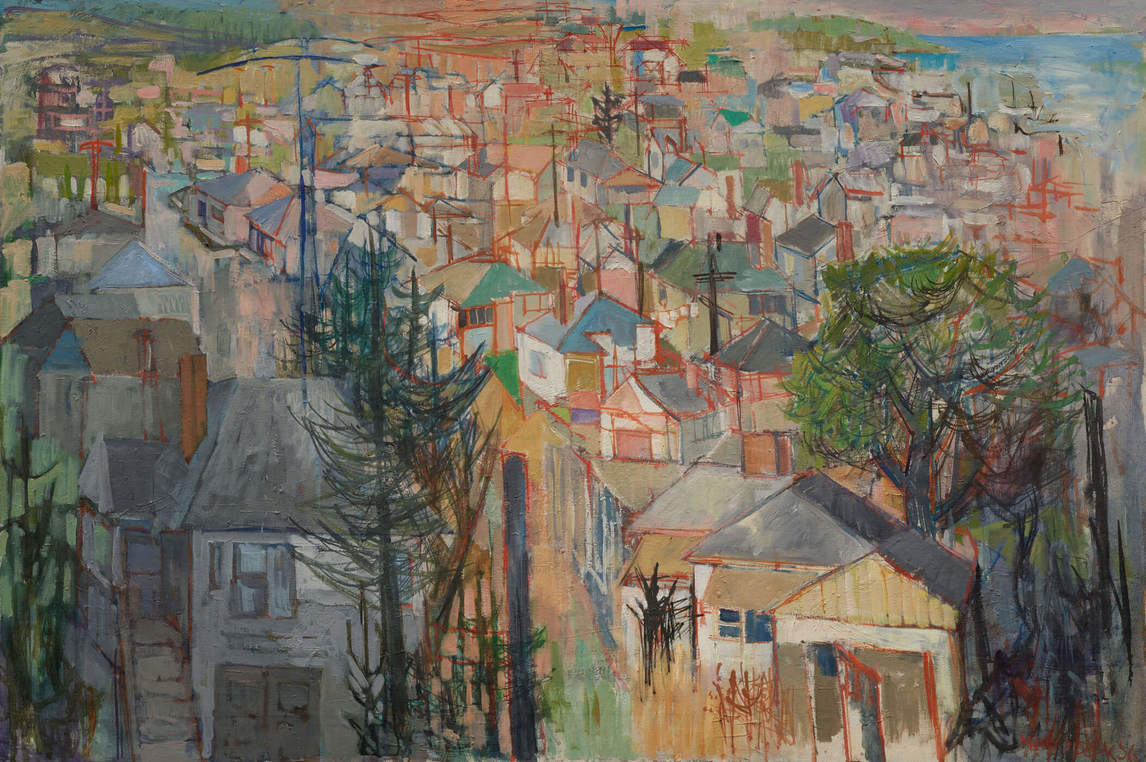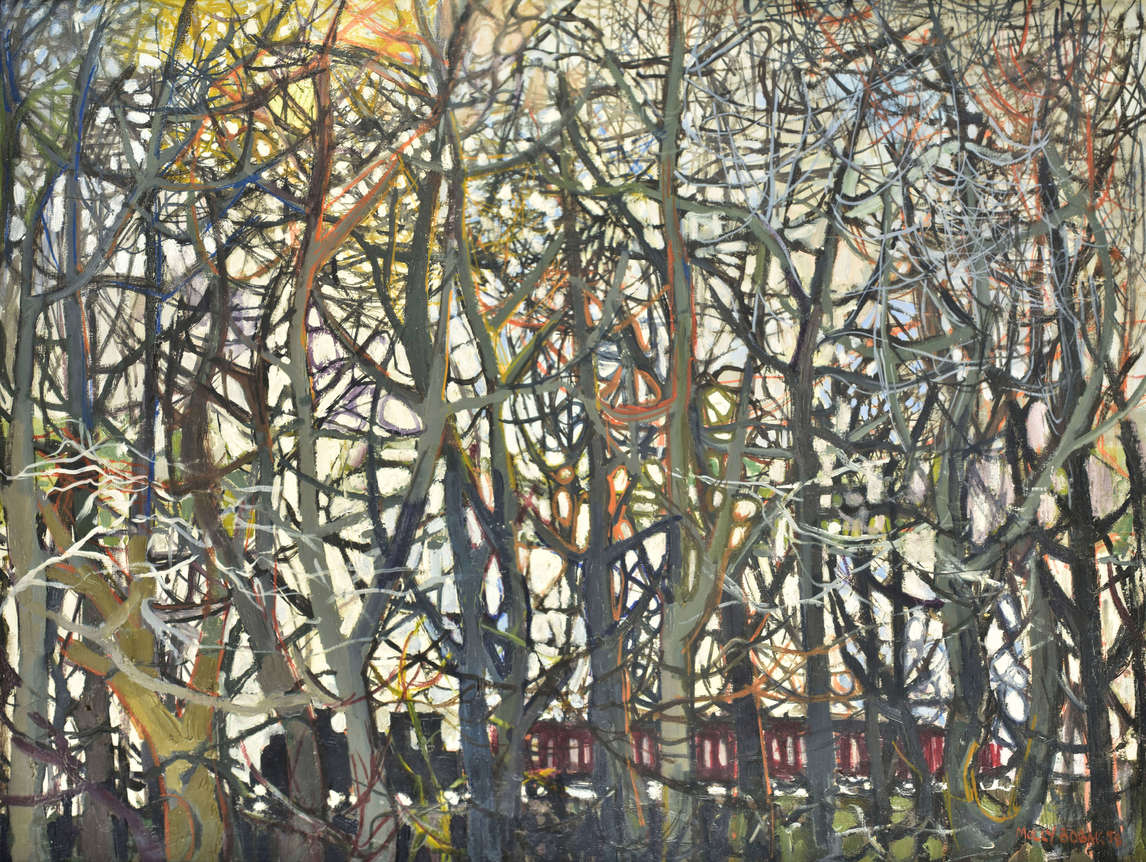 Cézanne's influence can be seen in Lamb Bobak's geometrically ordered composition A Bakeshop, Saint-Léonard, 1951, and the colourful subdivision, New Housing Project, 1956. This concern with pattern shows up again in later paintings such as The Saint Ives Train, 1958, but the increasing use of colour in the repeated designs is also due to Bruno Bobak.
In interviews, Lamb Bobak always insisted that Bruno was a different kind of painter and that his advice to her was restricted to technical matters. Their work from this period, however, suggests that although the Bobaks developed independently as painters, Bruno's influence was formative. Bruno's Primroses, c.1960, demonstrates a similar approach to Molly's floral paintings using watercolours. All through the 1950s Lamb Bobak's approach to painting matured as she sought to unify formal painterly concerns (for example, texture, composition, line) with those dictated by her preferred subject matter—crowds, floral still-life paintings, landscapes, and urban scenes.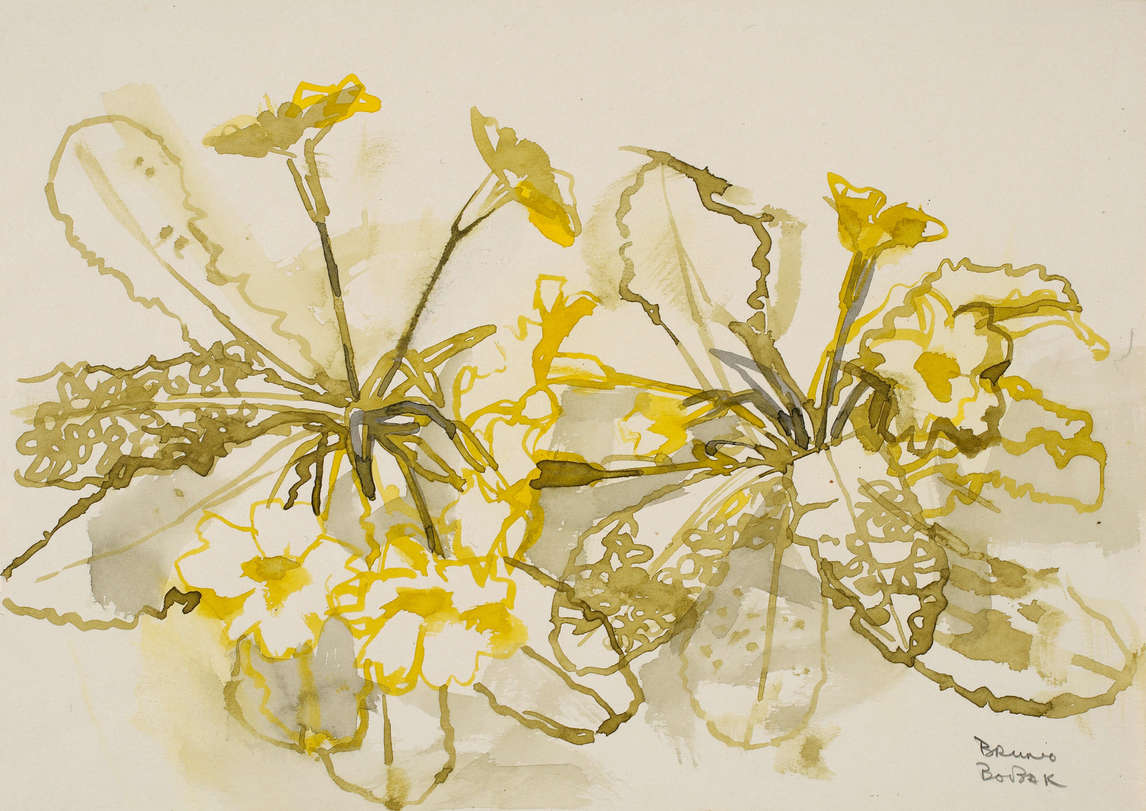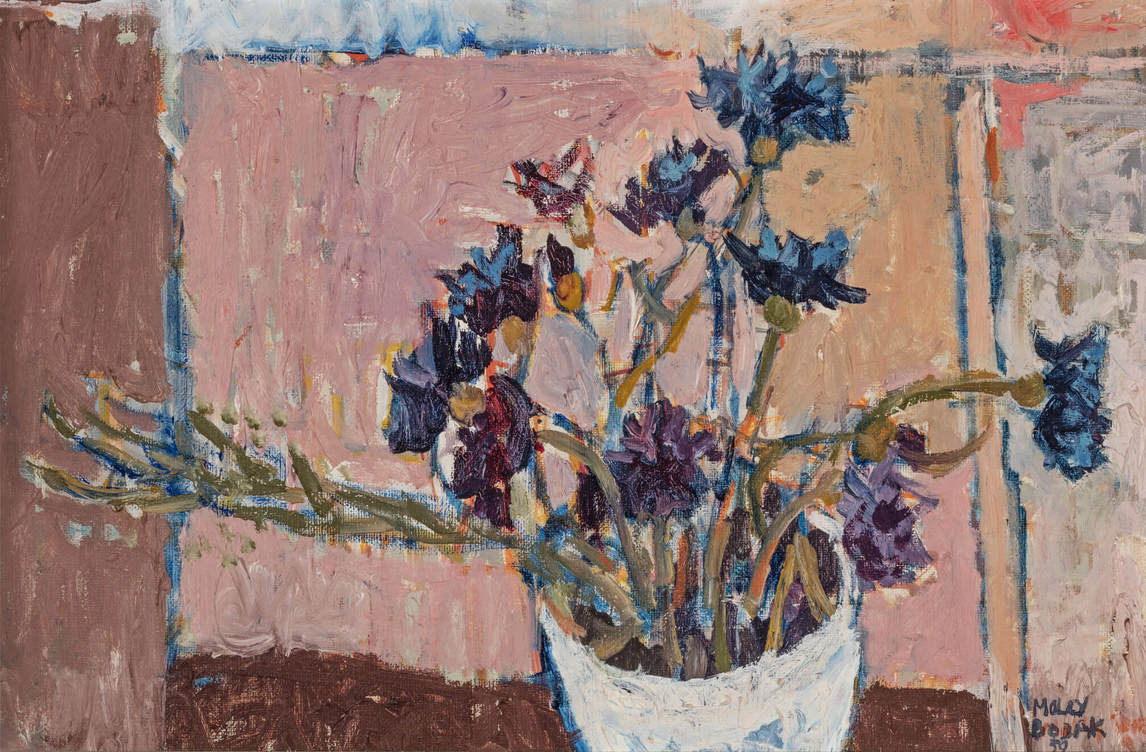 From 1957 until 1961 the Bobaks spent much of their time in Europe, supported by several grants from the Canada Council for the Arts to work in England and Europe. While in Norway, Lamb Bobak was loaned the studio once used by Edvard Munch (1863–1944). She developed an interest in printmaking and intended to use her time in Norway taking classes, though it is unclear whether this ambition was fulfilled. With London as their base, the Bobaks travelled in England and on the continent, while Lamb Bobak sketched on paper every day. Some of these drawings served as studies for subsequent oil paintings and a few prints, including scenes of Florence and other European cities. Wherever they travelled, Lamb Bobak was influenced by the changing scenes around her.
In Cornwall, England, the family settled in a village called Lelant, and they quickly became friendly with the artistic community in St. Ives. They met many English painters and sculptors, including Barbara Hepworth (1903–1975). Lamb Bobak lamented what she saw as the impact of the New York School on these talented English artists. For several years after they eventually settled in Fredericton, in 1960, the Bobaks returned to Europe every summer, immersing themselves in modern art and renewing their contacts, particularly with artists and curators living in England.
Back in Canada, H.O. McCurry and then Alan Jarvis (1915–1972), the directors of the National Gallery of Canada, and R.H. Hubbard (1916–1989), the gallery's first curator of Canadian art, were impressed with Lamb Bobak's work from these years, and they purchased some of her paintings—for example, Little Moreton Hall, Cheshire, 1951.
In 1953 and 1960 they included her artworks in the Canadian section at the Bienal de São Paulo in Brazil, and in 1957 and 1959 she appeared in the 2nd and 3rd Canadian Biennials in Ottawa and other cities.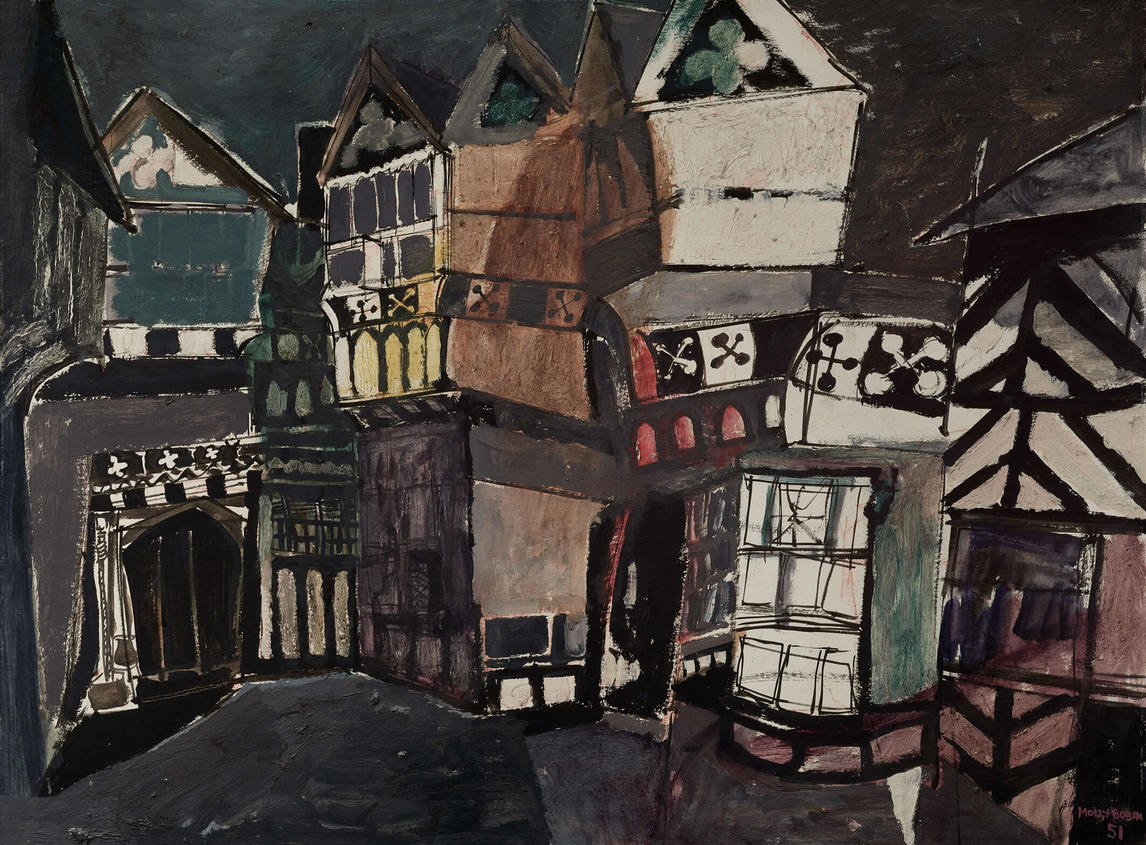 Life in Fredericton
While living in Norway in 1960, Bruno Bobak was offered a one-year position as artist-in-residence at the University of New Brunswick, and the family moved to Fredericton that autumn.
Once this contract was completed, they returned to London for a brief stay, but then settled permanently in Fredericton so Bruno could become director of the University Art Centre. They both taught at the university. As in British Columbia, Lamb Bobak also organized classes throughout the province and on television, becoming a well-known and inspiring instructor. As a couple, they gradually became the centre of Fredericton's art scene—the most established artists in the city—with strong connections to artists in Montreal, Toronto, and Vancouver. They exhibited frequently at the University Art Centre and the Beaverbrook Art Gallery, which had opened to the public in 1959. Lamb Bobak received several commissions and became known for her paintings of official gatherings at the Legislature, City Hall, and other civic and public spaces not only in Fredericton but also throughout the Maritime provinces.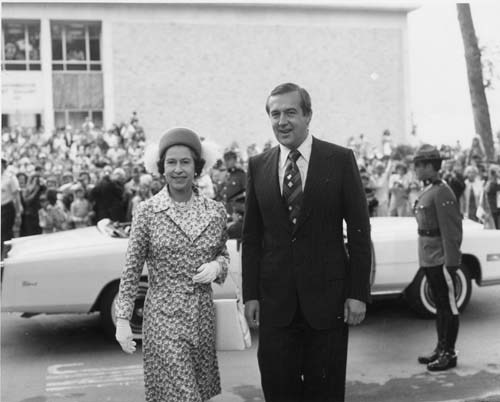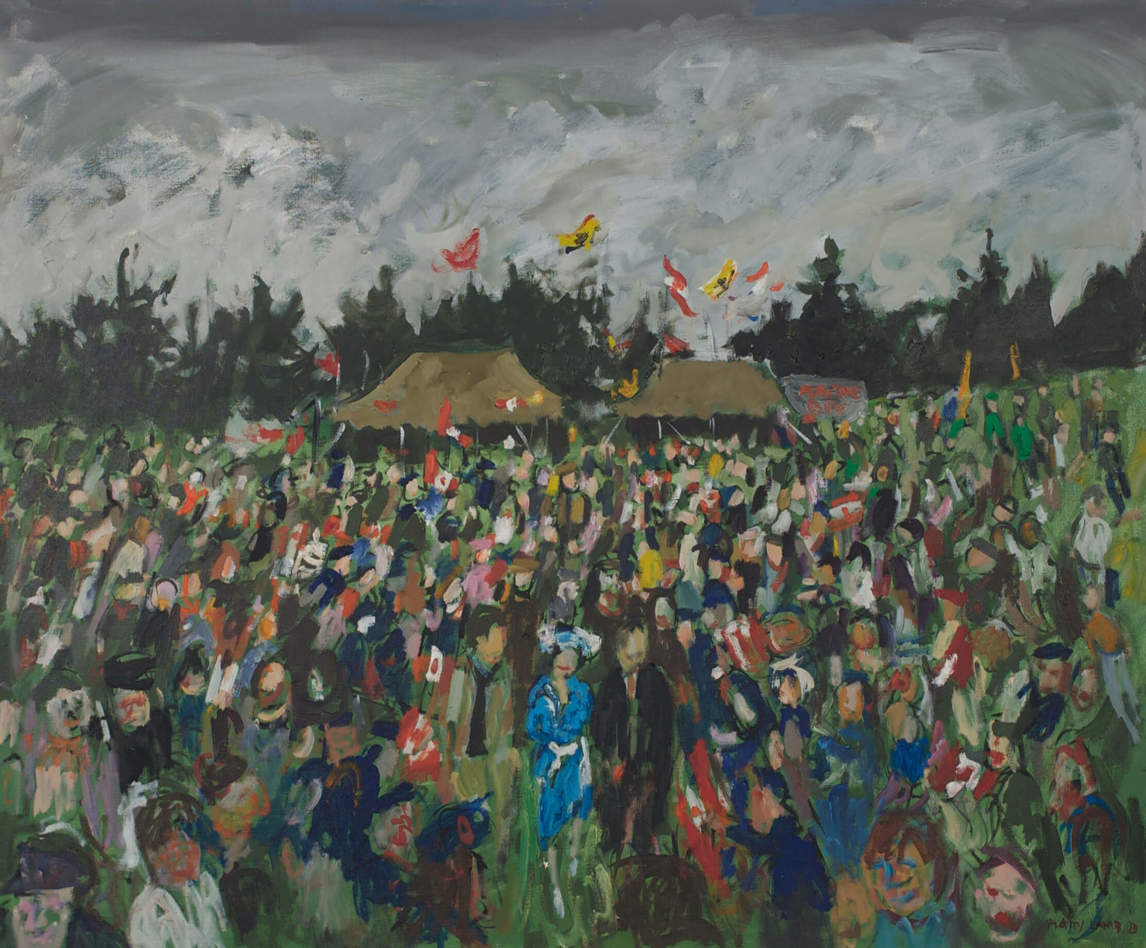 The move to Fredericton supplied Lamb Bobak with new subject matter, and her work began to reflect a celebratory attitude toward urban landscapes and especially the people who populated them. "I think that it is an interest I have had ever since I was a kid," she said. "I simply love gatherings, mingling. . . . It's like little ants crawling, the sort of insignificance and yet the beauty of people all getting together." Her crowd scenes show people gathered in community spaces, often waving flags, cheering on sports teams, or in parades or commencement ceremonies. As her career progressed, she became increasingly concerned with movement and rhythm in her scenes of parades and sporting events—for example, Rink Theme—Skaters, 1969.
The fascination is foremost in her sketches and images of the two-day official visit of Queen Elizabeth II and Prince Philip, the Duke of Edinburgh, to New Brunswick in July 1976. As she followed the Queen's itinerary, she captured in rapidly drawn charcoal and ink impressions in her sketchbook the joyful crowds that gathered to welcome the royal couple.
She annotated these sketches with extensive notes that she used later when she created around fifty oil paintings documenting the visit. These paintings, of which the best known is John, Dick, and the Queen, 1977, convey a sense of vitality and movement while also positioning the viewer as part of the assembled crowd—an effect she achieved by using a ground-level perspective. It differs in approach from many of Lamb Bobak's other scenes where the sense of movement is accentuated through colour and a perspective that places the viewer at a distance—as in The Legislative Ball, 1986, or On the Beach, 1983. Joseph Plaskett, a painter also known for his flowers and interiors, described Lamb Bobak in these words: "Art is her life and her expression. Life is celebrated . . . the drama is enacted."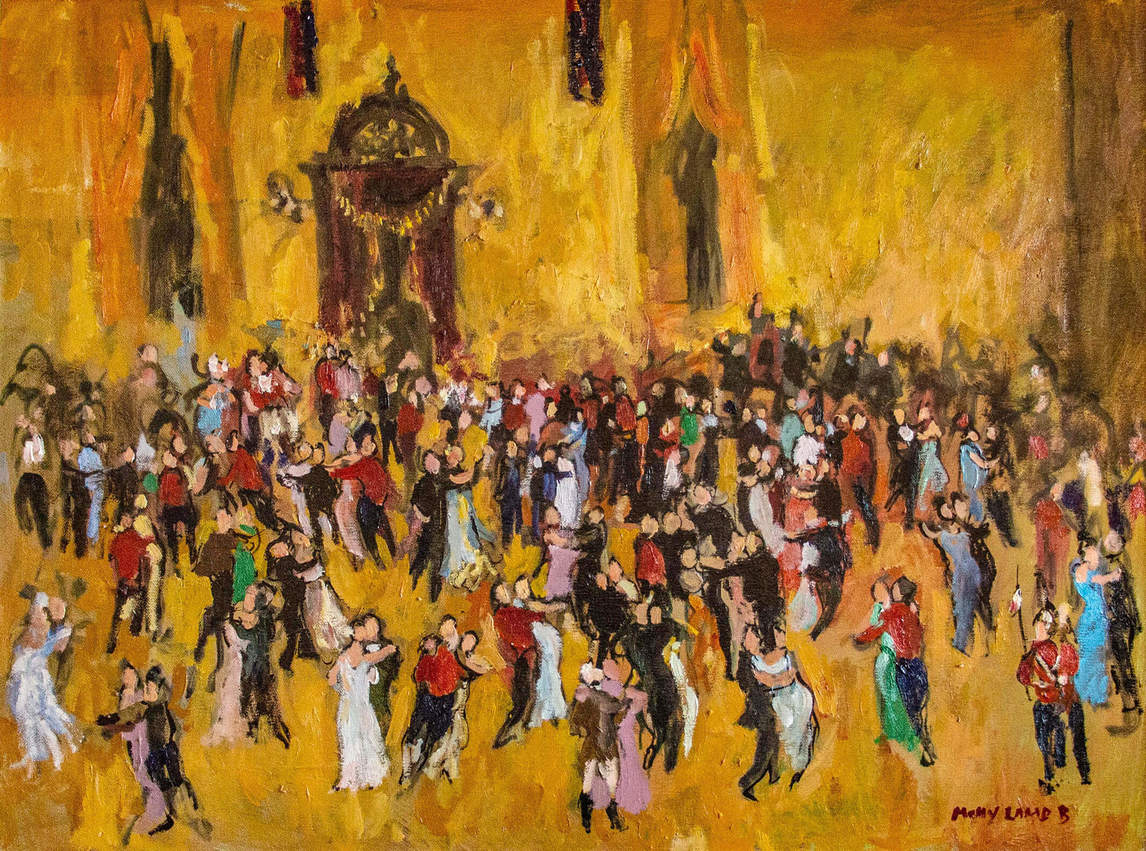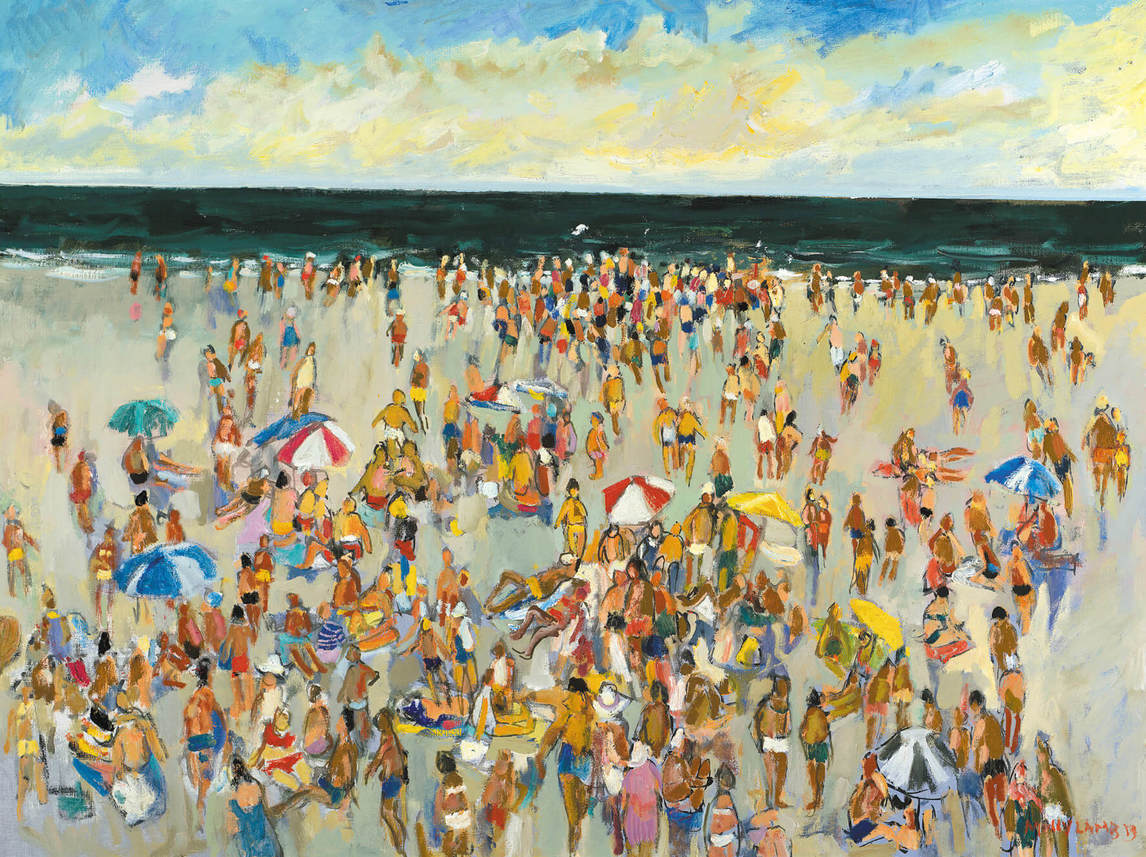 Maturity
As Molly Lamb Bobak gained in maturity, she struck a balance in her work between subject matter and her own formal yet painterly style. She did not abandon line, colour, and texture, but she unified these concerns with her subjects so that the themes were always recognizable. Although she focused on crowd scenes, flower paintings, and interior still lifes, she also produced landscapes and urban scenes. Most were representational in style, though in her seascape Black Rocks, Caesaria, 1985, painted in Israel, she came closest to abstraction. Her paintings of flowers, such as Wild Asters, n.d., are in many respects similar to her paintings of crowds of people: the groupings have a sense of spontaneity and the elements can be arranged in an infinite variety of ways. Both genres pose a range of challenges for an artist, but Lamb Bobak found the difficulties stimulating. As she explained in Wild Flowers of Canada (1978), she found inspiration in flowers.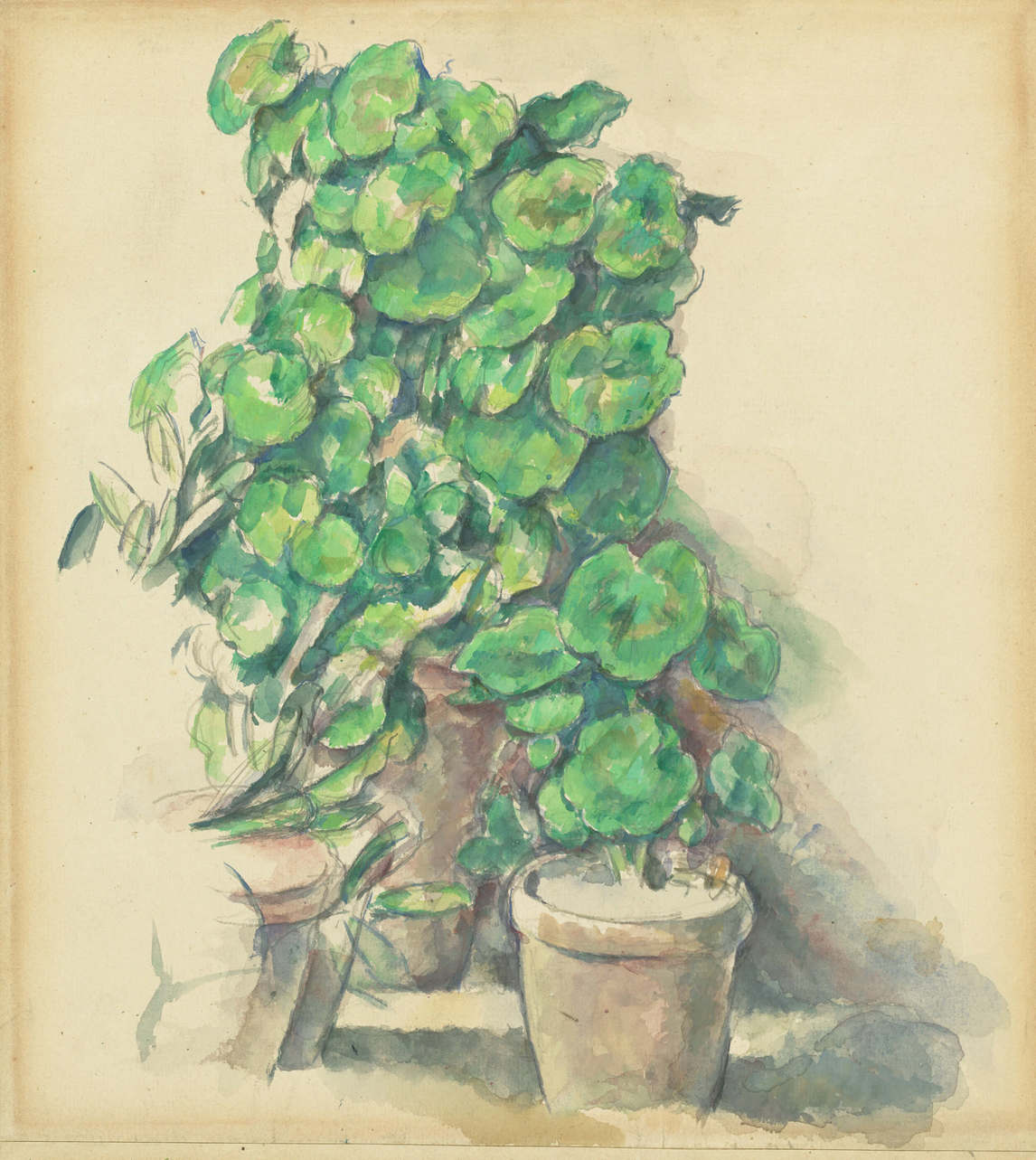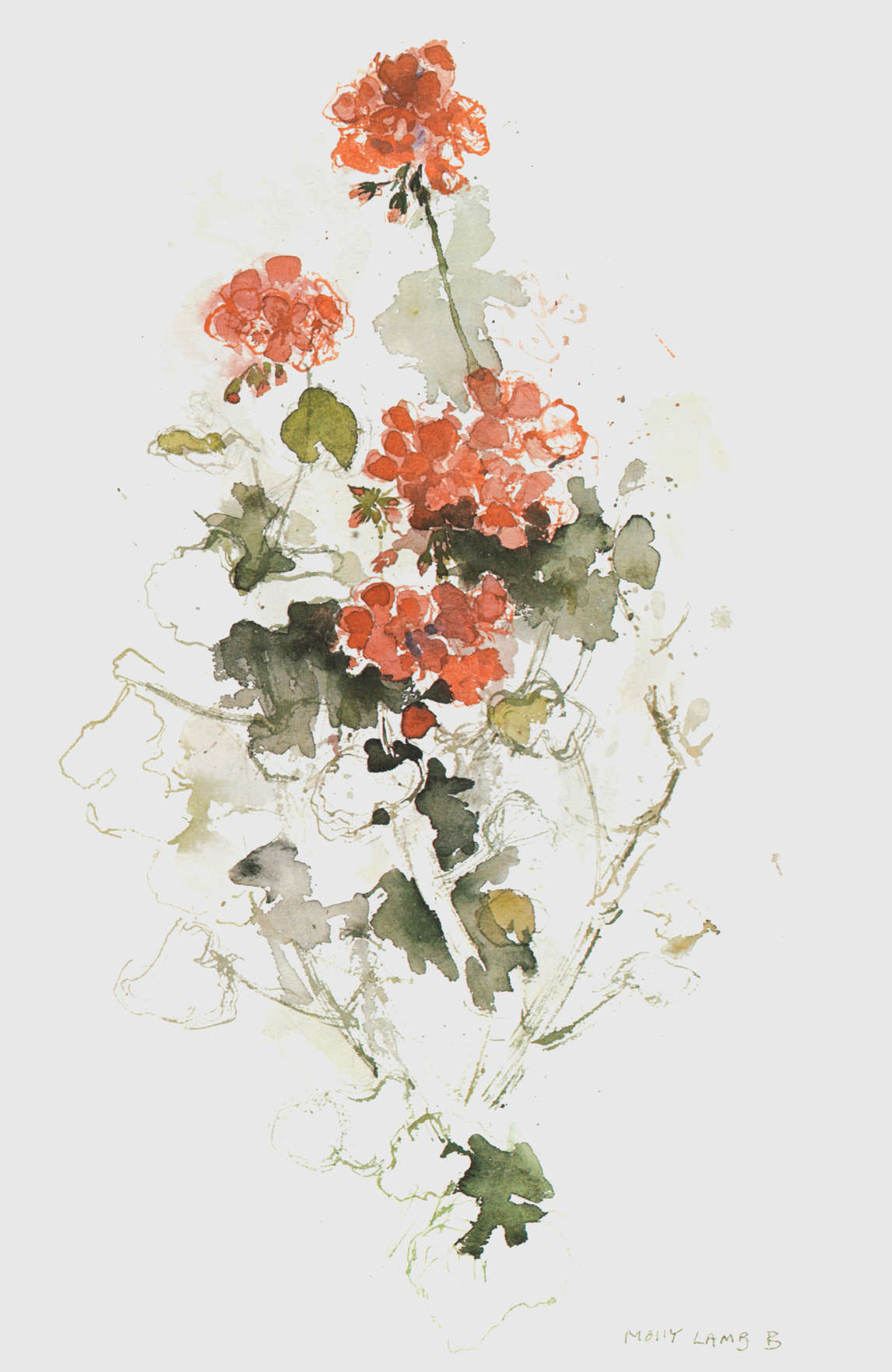 Art historian David P. Silcox notes in his foreword to the volume that the narrative and the flowers alike serve as a double self-portrait. In the opening chapter, "Roots," for example, Lamb Bobak recounts stories her mother, Mary Williams, told her about her life in New Brunswick soon after she arrived in Canada. These stories, along with facts about her parents and recollections of her early life on Burnaby Lake, are illustrated by a freely composed watercolour of geraniums: "My mother never cared much for geraniums—she planted phlox and night-scented stock and asters and mignonette. I first came to love geraniums after seeing them in a Cézanne painting—he did a few on a window ledge in those simple earthenware flower pots the French still make." The flowers in her paintings are always natural, as though freshly picked and casually dropped into a simple container. "I have an aversion to florists' bouquets with their bows, coloured sprays, and wired pompons," she wrote.
In contrast to her flower paintings and her crowd scenes, Lamb Bobak's interiors, such as Pub, Sloane Square, 1970, have fewer animating qualities. They are quiet, static, and serene, depicting spaces with which the artist had some sort of personal relationship. Curator Cindy Richmond observes that they all had psychological significance for their creator, some connection to particular emotions or experience. Lamb Bobak's paintings of pub interiors from her time in London in the 1950s and 1960s suggest a convivial atmosphere but also strike a sombre note, as the spaces are old and dimly lit, with hints of foreboding—Warm Pub, n.d., for example.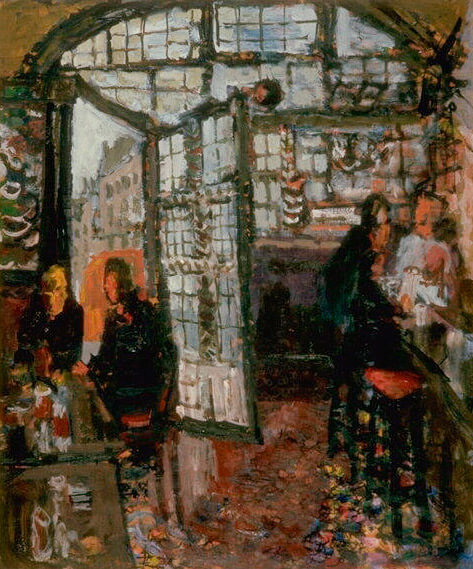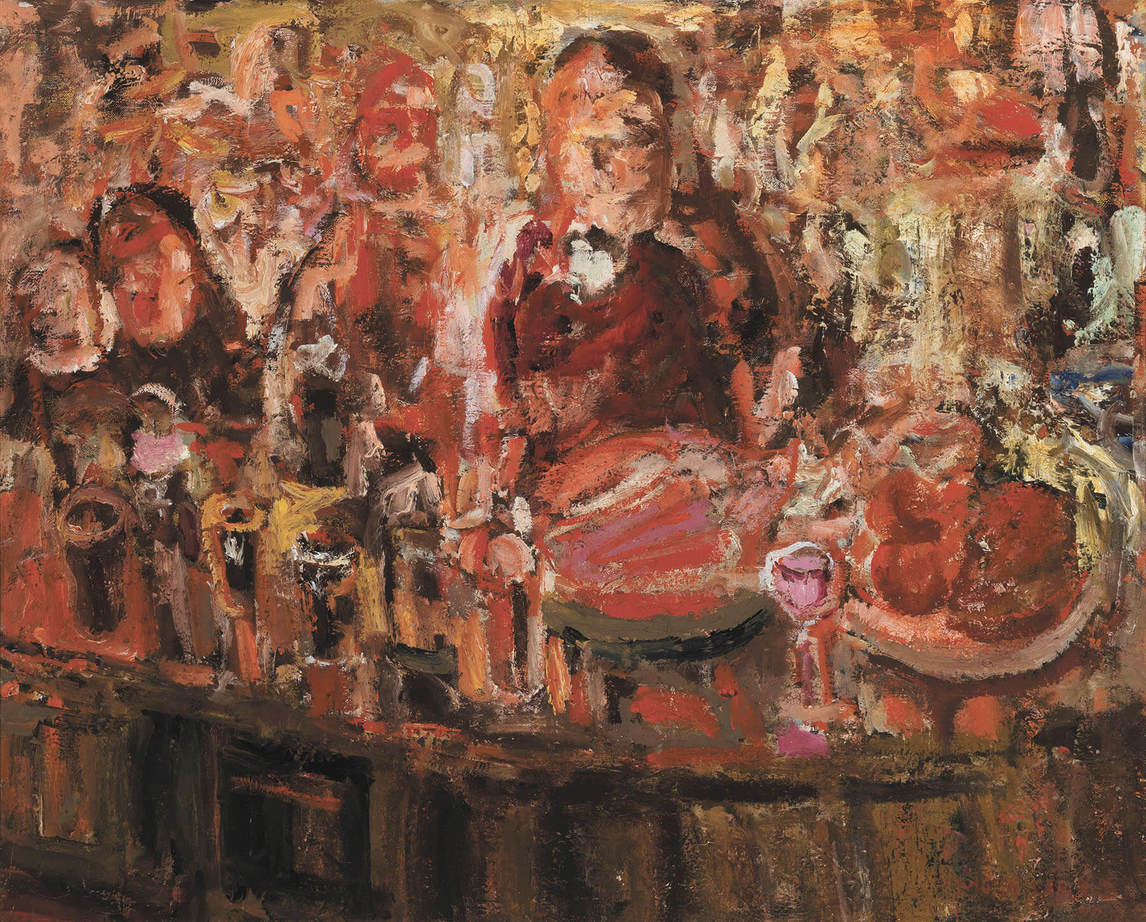 In a later work, Interior with Moroccan Carpet, 1991, Lamb Bobak produced a hybrid, combining a domestic interior with a still life of a vase of flowers. In this painting, the lamp, sofa, table, vase of blue flowers, and the patterned Moroccan carpet are each recognizable, but the painting as a whole tends toward abstraction. The composition is alive with energy.
As she explained to curator Joan Murray, "I have always been interested in informal movement—blowing wild flowers, parades, protests, crowds on the street, crowds anywhere; just as long as they turn into painting space in my head."
In 1973 Lamb Bobak was elected a member of the Royal Canadian Academy of Arts, and in 1995 she was honoured with the Order of Canada, along with Bruno Bobak. In 2002 she became one of the early inductees to the Order of New Brunswick. Despite her poor eyesight, she continued to paint daily and exhibited her work successfully in commercial galleries in Fredericton, Montreal, Toronto, and Ottawa. In 1993 the MacKenzie Art Gallery in Regina organized a major touring exhibition and catalogue of her work, which went to the National Gallery of Canada, Memorial University Art Gallery in St. John's, and the Beaverbrook Art Gallery. She always maintained strong links with Canadian artists she met during her early years in the West and with other war artists from the Second World War. In addition, she made new contacts through her frequent exhibitions in the commercial art world and her participation on numerous juries.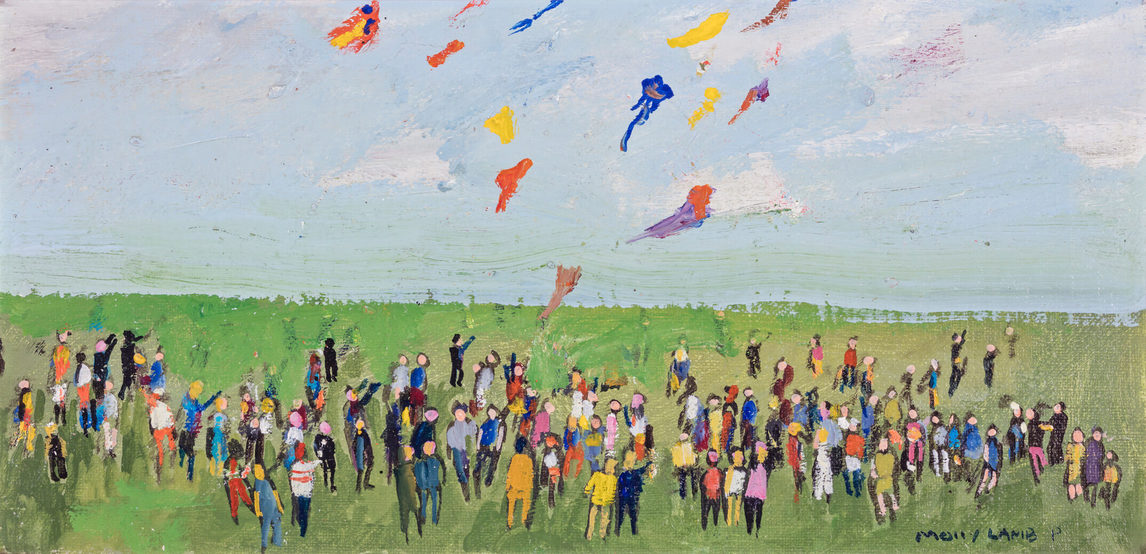 Throughout her life, Lamb Bobak continued to be a prolific and successful painter, an occasional printmaker and illustrator, and an influential instructor. She balanced this professional life with her family duties, filling the house she and her husband bought in Fredericton with beautiful old (yet inexpensive) furniture and ignoring many of the accepted home-decorating conventions. "Mom and Dad were part of a bigger world than their family," their daughter, Anny Scoones, remembers. "For their art to be honest and free and worthwhile, they had to be open to more than just being maternal or paternal."
In the late 1990s failing eyesight forced Lamb Bobak to curtail her activities. After her husband's death in 2012, she moved into an assisted-living facility for veterans in Fredericton and passed away on March 2, 2014, not long after celebrating her ninety-fourth birthday. She was the last surviving member of the thirty-two official Canadian war artists and a pioneering Canadian artist who, in the second half of the twentieth century, succeeded outside the dominant Toronto-Ottawa-Montreal–Quebec City corridor.