Private Roy, Canadian Women's Army Corps 1946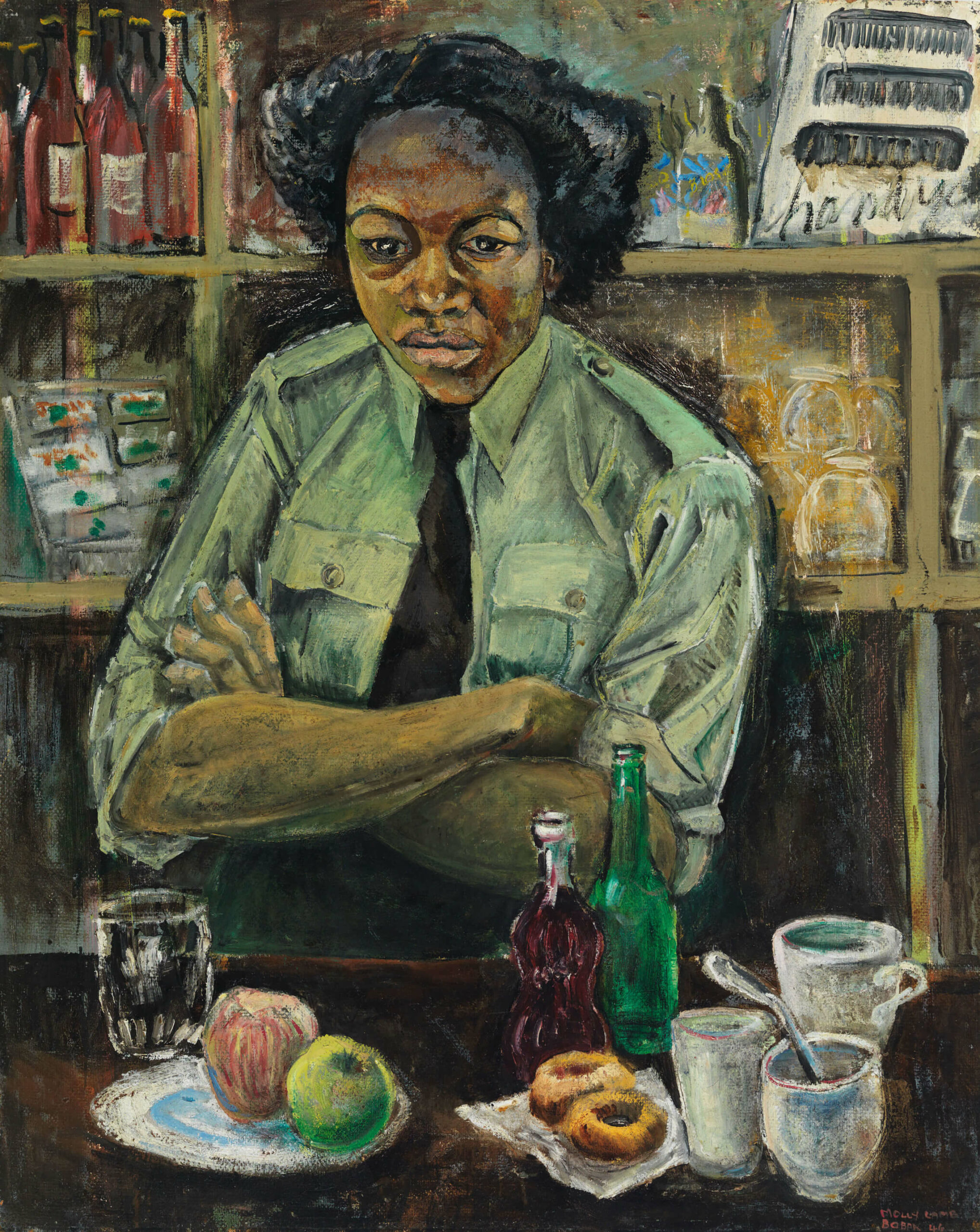 Molly Lamb Bobak's portraits of specific individuals, in contrast to generalized figures, date primarily to her years in the military or shortly thereafter. Private Roy, Canadian Women's Army Corps features a black woman who, with arms folded, stares down at the counter in the canteen, where she likely worked. Lamb Bobak represents a resolute but lonely-looking woman whose downcast gaze and folded arms emphasize what Charmaine A. Nelson has identified as Private Roy's sense of alienation. This stands in strong contrast to the demure femininity portrayed in recruitment advertising during the war. As the army strove to uphold established gender norms, the photographs, films, and articles it released reassured the public that the traditional pre-war roles were being maintained and that women were subordinate to their male counterparts.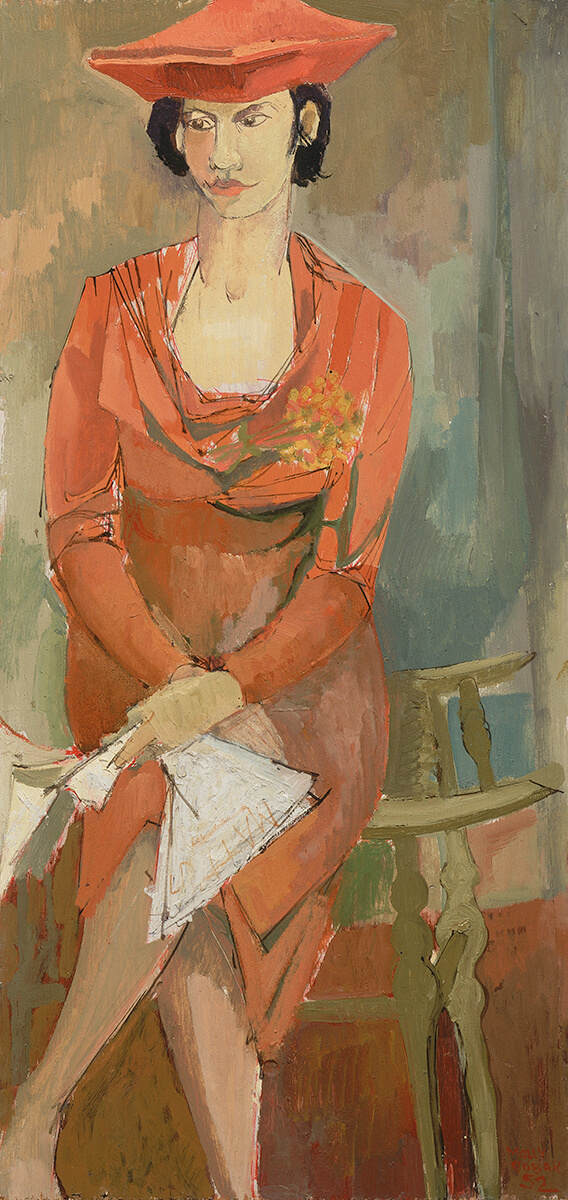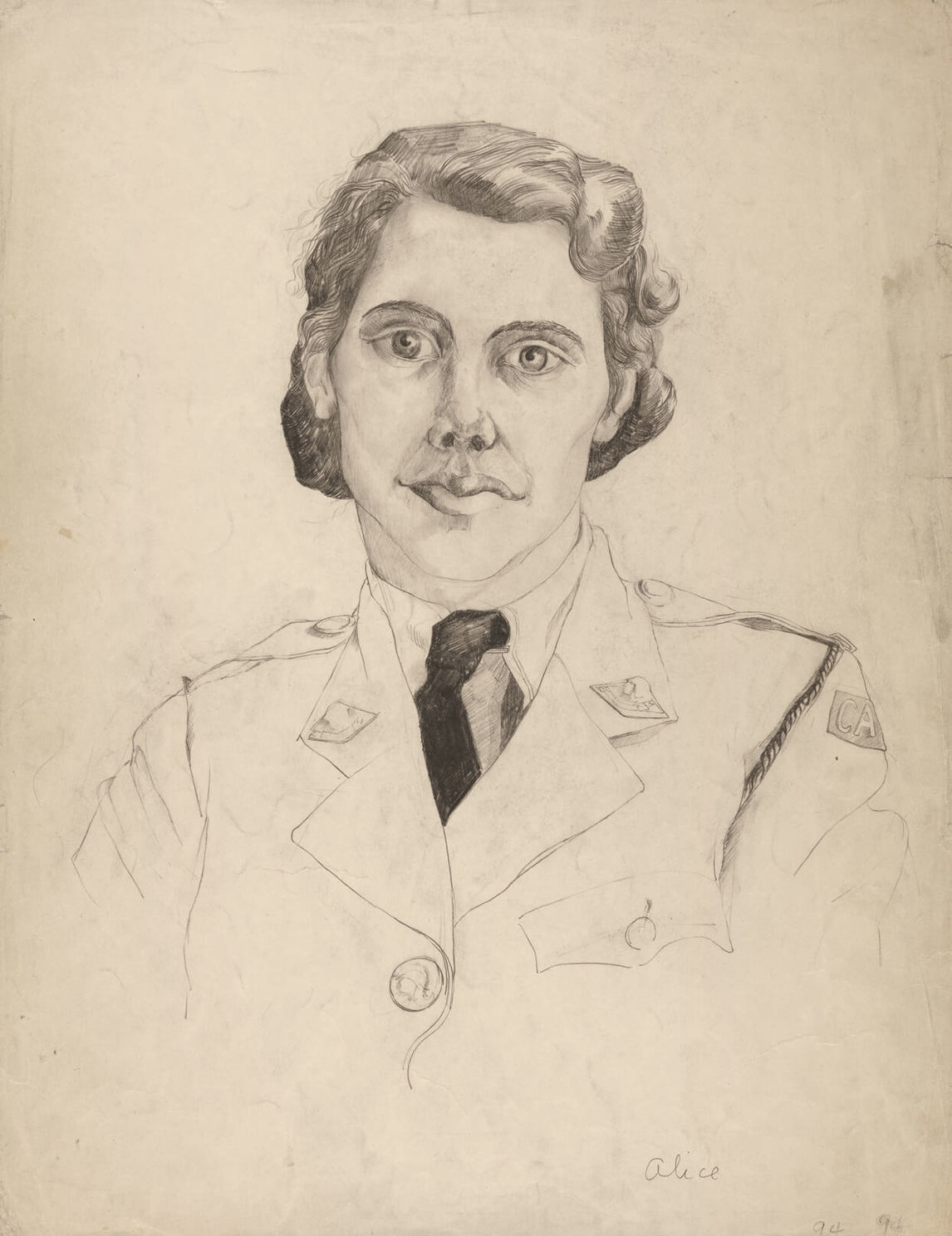 Private Roy's figure fills much of the picture plane, underscoring the commanding character portrayed as the subject. It is significant that Lamb Bobak chose to represent a figure whose racial group was largely absent from CWAC publicity. The women's services associated with the Royal Canadian Air Force and the Royal Canadian Navy insisted that all their members be Caucasian. This painting, the only wartime oil portrait Lamb Bobak produced, conveys her disregard for adhering to the idealized image of CWAC recruits. As Charmaine Nelson has noted, "The relationship between artist and subject comes closer to equality . . . because both women were military officers and Private Roy was likely under no obligation (financial or otherwise) to sit for Bobak's portrait."
The sketch "Alice," and the painting Portrait of Joan Lowndes, 1952, likewise feature striking women. The portrait of Lowndes, a Vancouver arts journalist, is markedly different from that of the portrait of Roy. Rather than a subject from a marginalized community, Lamb Bobak presents a fashionable white woman. Instead of Private Roy's unwavering gaze, Lowndes casts her look askance, as she sits with arms neatly folded and legs crossed. Lamb Bobak produced few portraits, and here she emphasizes formal qualities such as her treatment of colour. Some writers have remarked that this very original portrait attests to Lamb Bobak's skill as a colourist.
Both portraits are fine examples of Lamb Bobak's work at different points in her career. Private Roy showcases her observational abilities and the skillful way she embeds subtle critiques into her paintings. Portrait of Joan Lowndes marks a return to her focus on the language of painting. She uses the opportunity in both portraits to capture her subject while also producing an arresting modernist work.