Untitled (Vancouver) 1941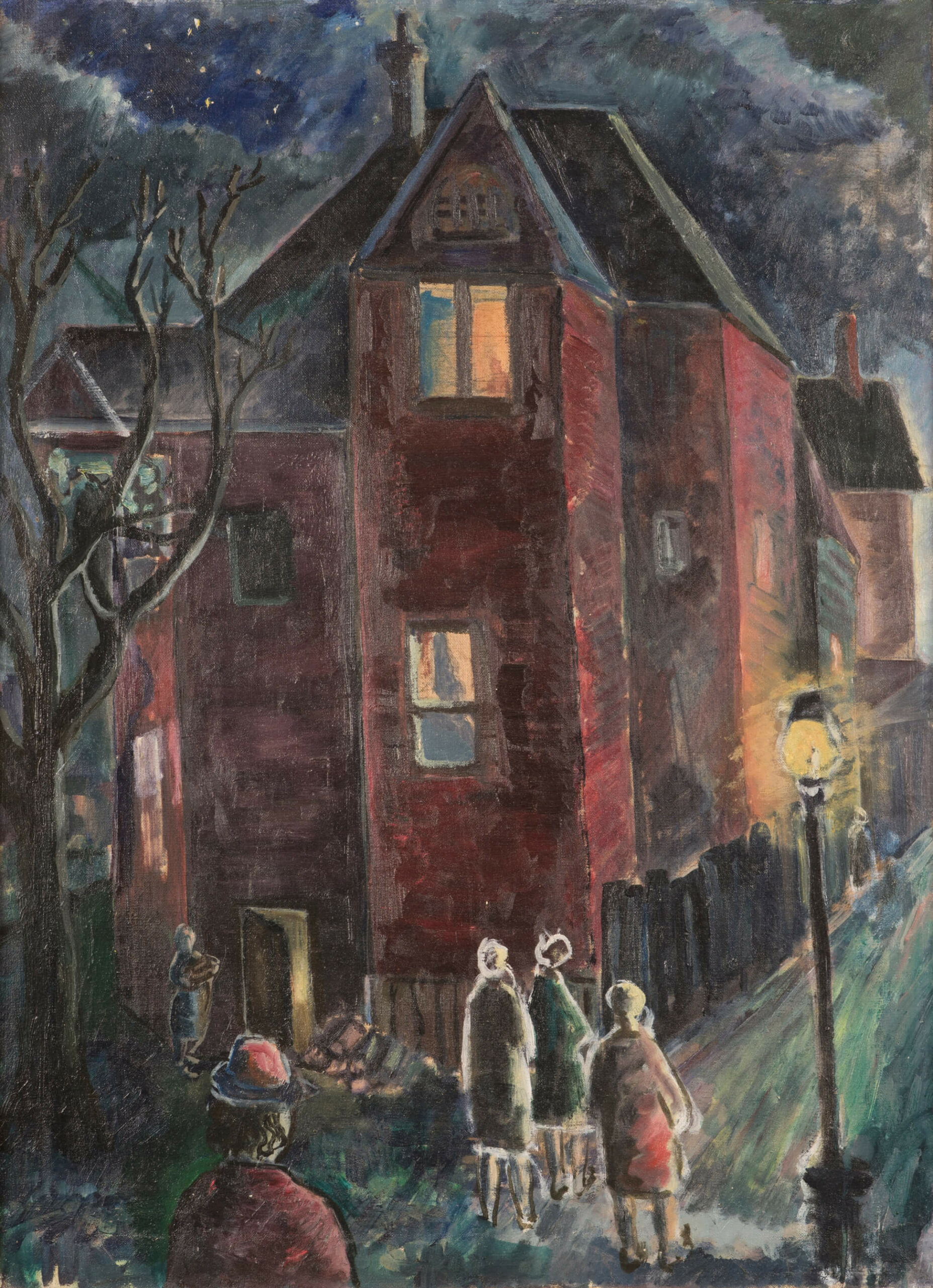 Untitled (Vancouver) is an early work by Molly Lamb that portrays a group of people in a public space—a theme that became central to her work later in her career. This urban landscape presents a Vancouver residential street at night. The sidewalk is illuminated by a single gas lamp that throws light on a cluster of people walking past a large red-brick house. Close observation reveals that all the figures are women, some walking alone and others together. One woman appears to be collecting wood, presumably to light a fire inside the nearby house whose windows are brightly lit.
Completed just as Lamb was finishing her studies at the Vancouver School of Art, this composition resembles streetscapes by her teacher and mentor Jack Shadbolt (1909–1998)—for example, his linocut print Toronto from My Window, 1933. Shadbolt taught his students to consider the structural relationships among shapes as the key element in a composition. Lamb's concern with form is evident in Untitled (Vancouver): strong outlines and firm interior lines define both the shape of the buildings and the spaces within the nightscape.
In the 1930s Shadbolt was influenced by the socially conscious work of Mexican muralist Diego Rivera (1886–1957) and the American Regionalist painter Thomas Hart Benton (1889–1975), and he passed this interest on to Lamb. As a realist painting, Untitled (Vancouver) presents a street populated by women, most likely on their way home from work. As a result, it carries a social comment regarding the lived experience of women during the war years.
In its detail and composition, this painting attests to Lamb's burgeoning powers of observation in her art. "I really observed things . . . [the paintings] have got the feel of the place and the feel of the time," she told curator Cindy Richmond. "I am really pleased that happened, because it is the kind of observation I really care about . . . I was becoming more myself."