W110278: The Personal War Records of Private Lamb, M. 1942–45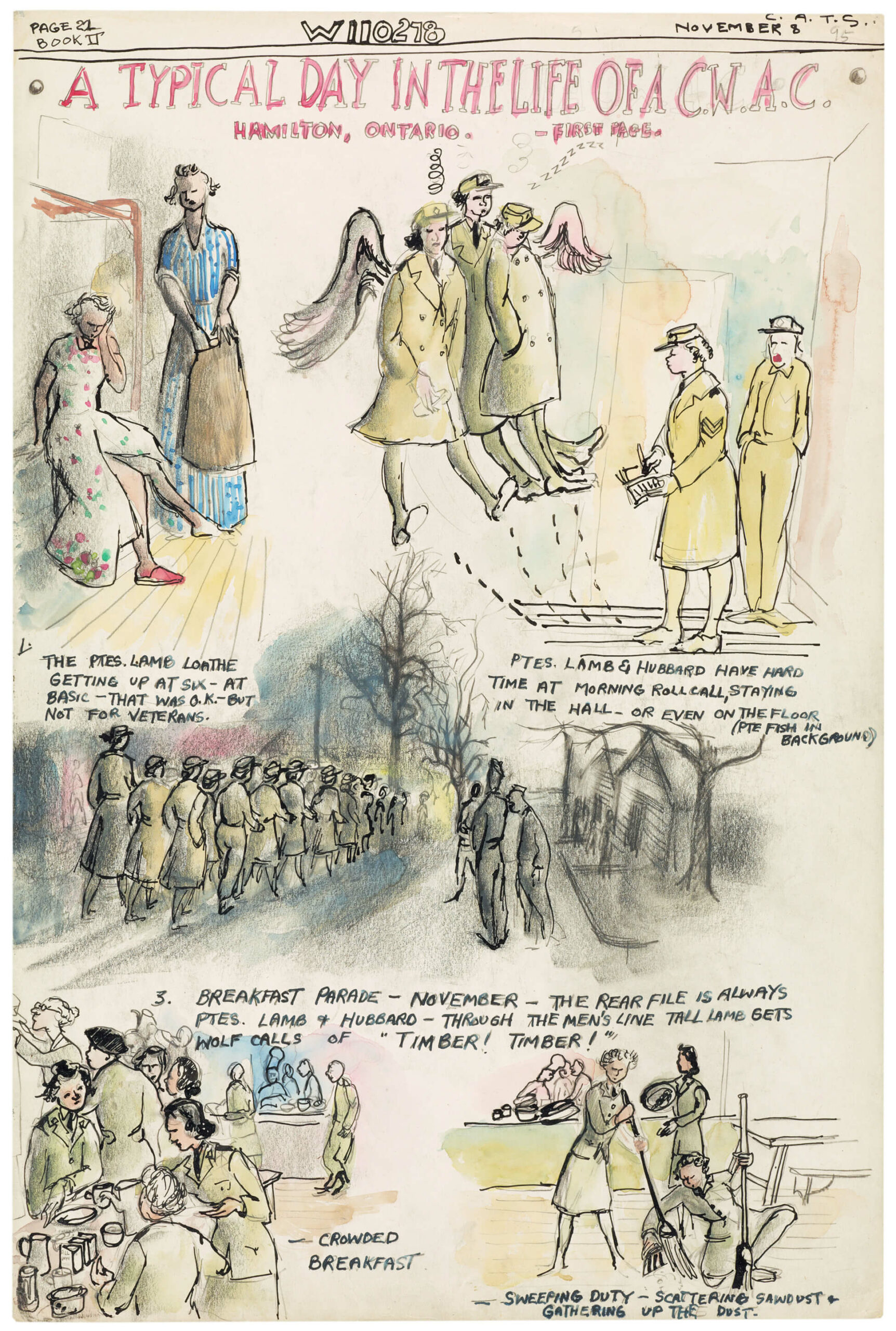 Molly Lamb's wartime diary is unique in its chronicling of army life, particularly from a woman's point of view. Some critics have referred to it as a self-portrait, though Lamb penned it in the third person and credited drawn representations of herself to photojournalists. Unlike the purely textual diaries of fellow war artists Charles Comfort (1900–1994) and George Campbell Tinning (1910–1996), W110278 combines words with imagery to produce an illustrated document of her experiences. Lamb kept her journal between November 1942, when she enlisted in the Canadian Women's Army Corps (CWAC), and June 1945, when she was appointed a lieutenant in the Canadian Army Historical Section. With her promotion, she was able to receive the official war artist designation from the Canadian War Artists Selection Committee in Ottawa, chaired by H.O. McCurry (1889–1964), the director of the National Gallery of Canada.
Written in the form of a newspaper, complete with editorials, special supplements, interviews, and catchy banner headlines, the diary is similar to an earlier record, The Daily Chore Girl—Galiano's Dish Rag, which Lamb produced in the summer of 1940 while she was living and working at a resort on Galiano Island. She had a keen eye for the absurd, using humour, hyperbole, and caricature effectively to document daily life.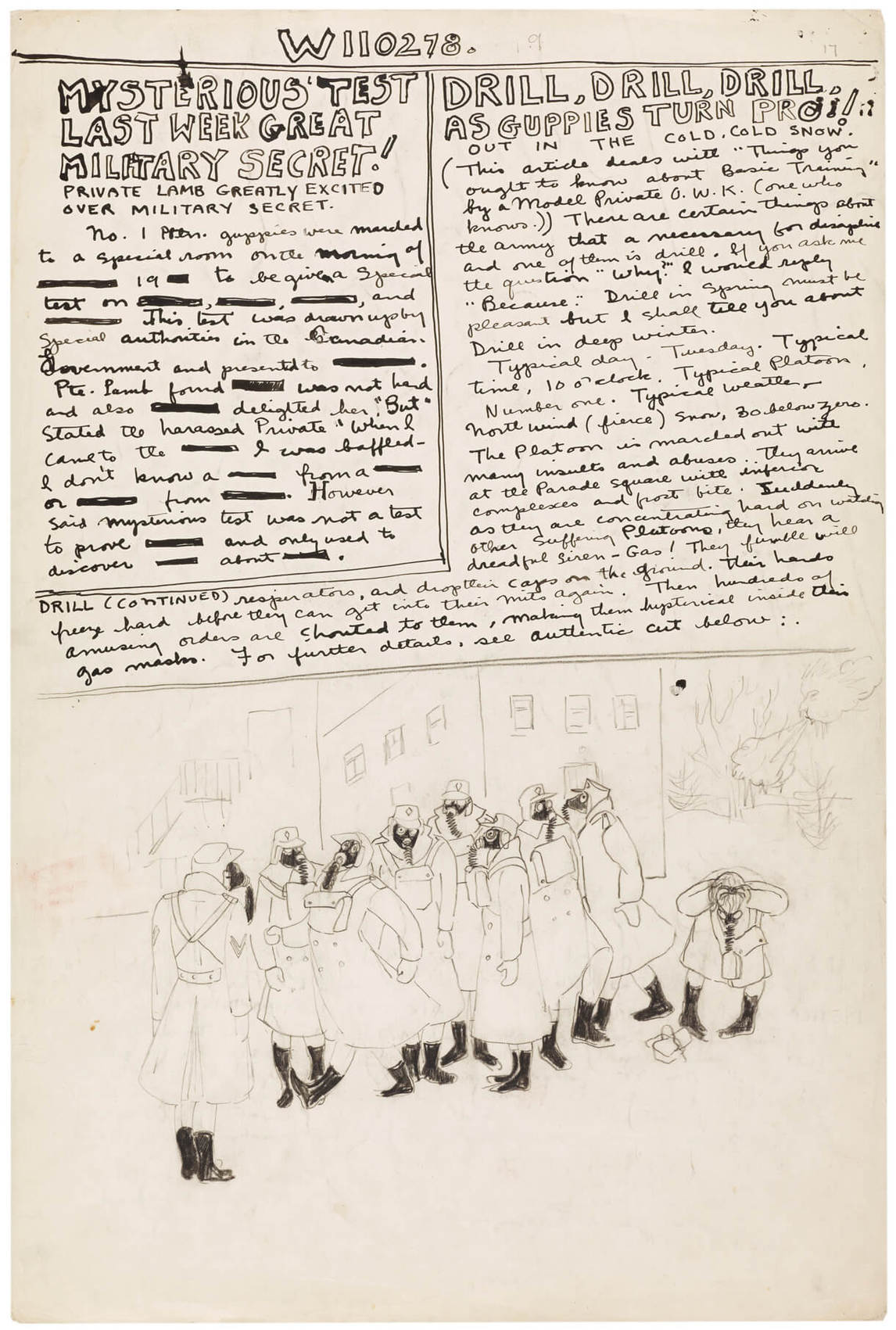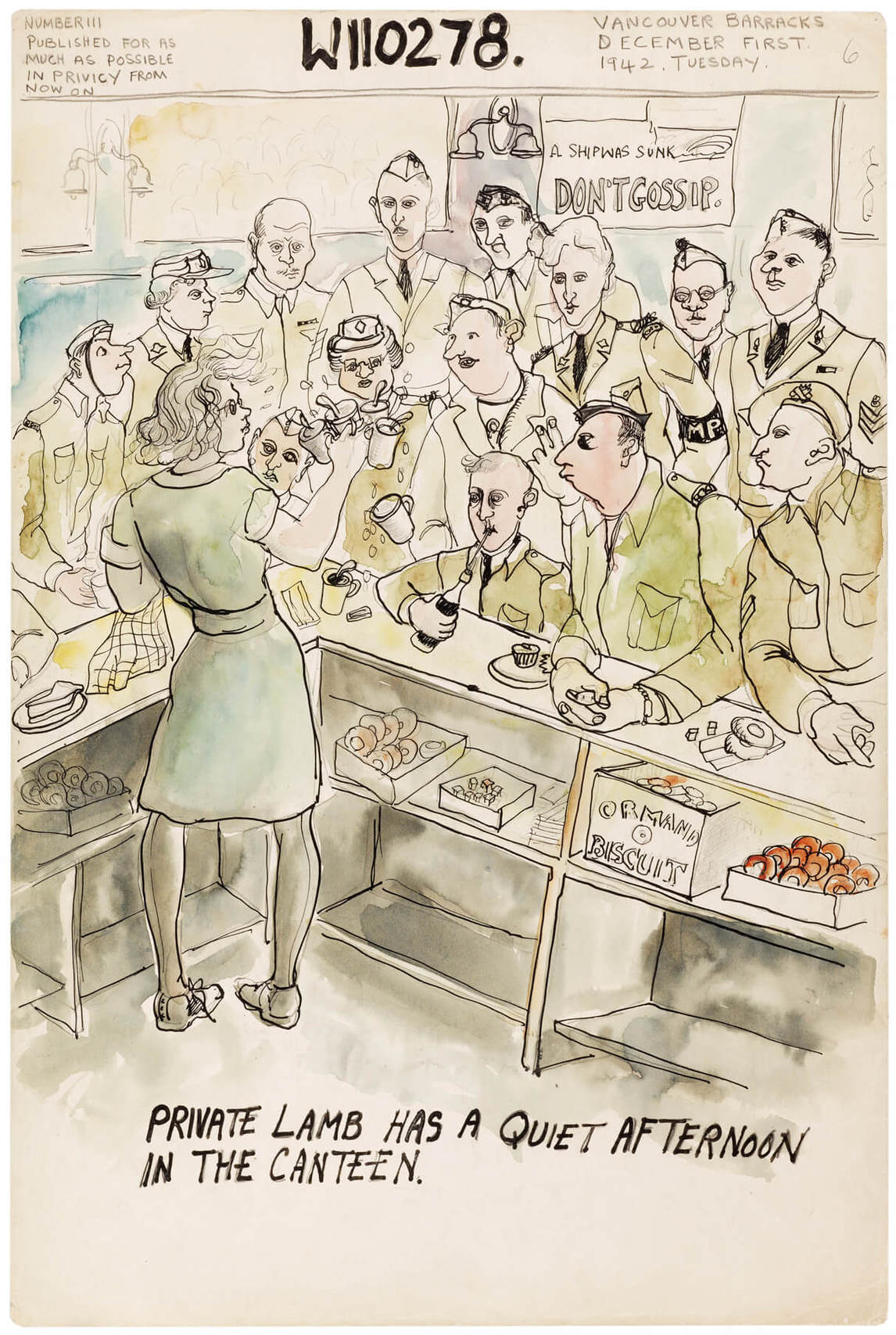 Although W110278 was originally created as a record and for Lamb's own amusement, it is clear it was also meant for an audience, and its value was recognized by others. A.Y. Jackson (1882–1974), then an adviser to the Canadian War Records Committee, felt that it demonstrated Lamb's potential as a war artist. Some of the entries were later reworked for various purposes—for example, the sketch "Gas Drill, Vermilion," is preparatory material for the finished canvas, Gas Drill, 1944. This preliminary drawing illustrates an article entitled "Things you ought to know about Basic Training" and bears the caption "Drill, Drill, Drill as Guppies Turn Pro! Out in the Cold, Cold Snow." Here Lamb describes in detail one of the activities a "guppy," or new recruit, was required to carry out in basic training: drills. She describes a drill in winter at this Alberta base, in thirty-below temperatures and fierce winds, where the guppies are bombarded with insults as they struggle with their masks and the sirens blare.
The comedic effect of her drawings, coupled with the often self-deprecating text, creates a document that is deeply funny. An early entry from December 1, 1942, produced not long after Lamb joined the CWACs, is titled "Private Lamb Has a Quiet Afternoon in the Canteen." The irony of the title contrasts with the image of the self-described clumsy artist struggling to juggle crockery behind a crowded lunch counter. W110278 relays a shared experience, as Lamb's self-portraits and portraits come to represent the CWACs as a group. Her colleagues agreed: "When the war is history and army careers a past," the June 1945 issue of their News Letter stated, "Lieut. Lamb's scrapbook should be made available to all CWACs that they may live through its pages. It is our story, told by one of us as it was lived by us all." In 2015 Library and Archives Canada fulfilled this request by digitizing Lamb's diary in its entirety to mark the seventieth anniversary of her appointment as Canada's only official woman war artist.