Ron Noganosh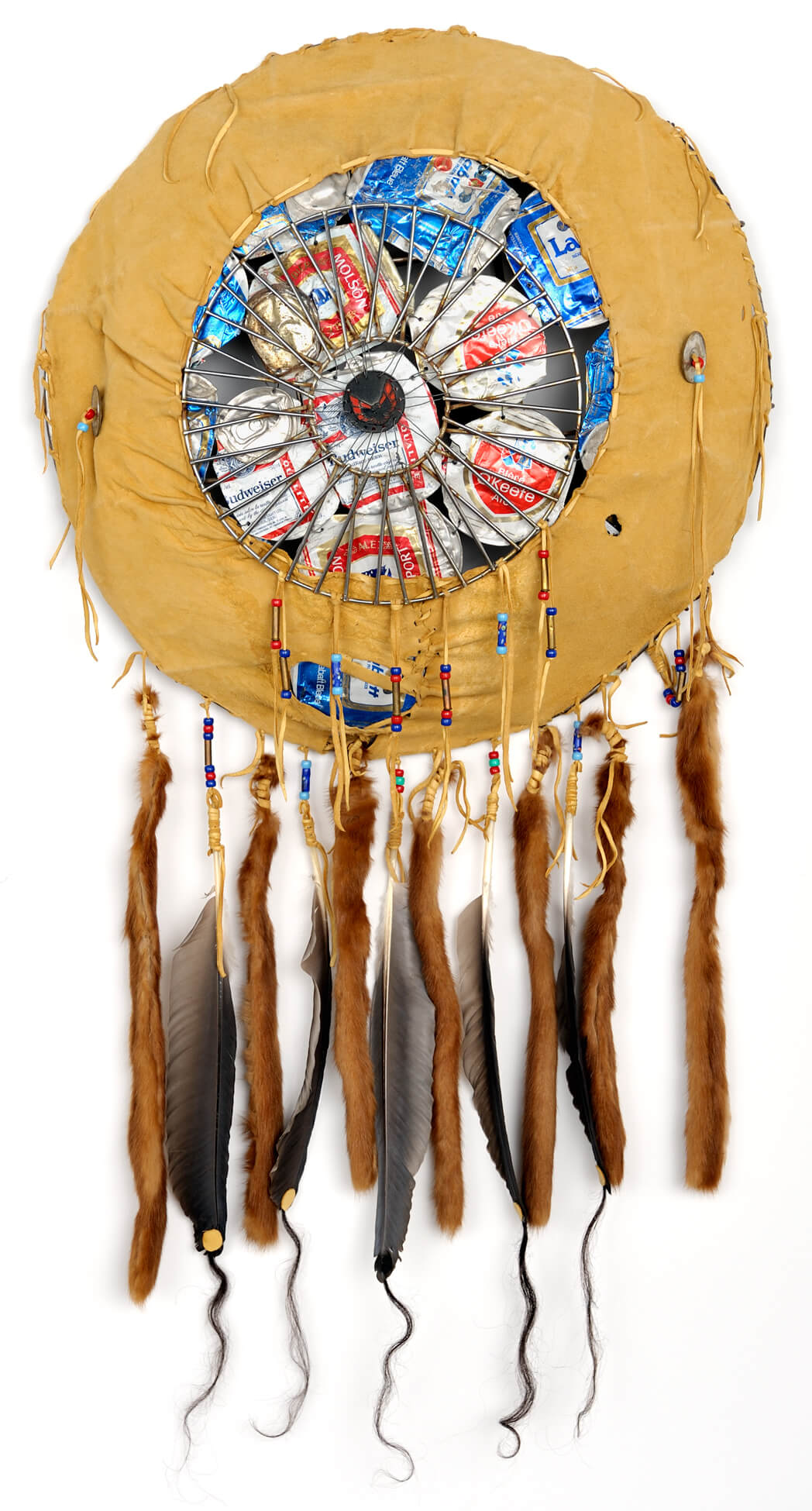 An Anishinābe (Ojibwe) artist from Magnetewan First Nation, Ron Noganosh (1949–2017) once commented, "When people asked me about being an Indian artist, they wanted beads and feathers. I said okay, and I did a piece, a warrior's shield, out of flattened beer cans."  Shield for a Modern Warrior, or Concessions to Beads and Feathers in Indian Art expressed in visual terms his belief that alcohol had become a shield for Indigenous peoples suffering from centuries of displacement and loss.  Noganosh's work reflects his deep political convictions, maintained throughout a long career as an artist, activist, and mentor.
Gerald McMaster, Bases Stolen from the Cleveland Indians and a Captured Yankee, 1989
Wood dowels, painted baseball bases, leather, baseball cap, 159.5 cm
McMichael Canadian Art Collection, Kleinburg, Ontario

Jeff Thomas, First Spike: Belleville, c.2006

Simon Brascoupé, Màmawi: Together, c.2019

100 wooden paddles, paint

Màmawi: Together is a commissioned piece of 100 paddles hand-painted by members of the Algonquin Anishinābe communities and led by Algonquin artist Simon Brascoupé. It is installed at Pimisi Station, one of Ottawa's light rail transportation stations.
While the emergence of Norval Morrisseau (1931–2007) and the Woodland School of Indigenous art in the early 1960s was a key moment for Anishinābe culture, it was founded on the continuity of traditional beliefs and artistic skills passed down through generations of creators, such as Catherine Makateinini (Michel) (1871–1916) and William Commanda (1913–2011) of Kitigan Zibi or Sarah Lavalley (1895–1991) and Matthew Bernard (1876–1972) of Pikwàkanagàn.  As Anishinābe artists emerged on the national scene, many of them experimenting with contemporary media, new means of expression and visual vocabularies also developed. Ottawa was a magnet for a wave of Indigenous artists from many nations in the 1980s and 1990s: Noganosh was one of the earliest to arrive, and others included Gerald McMaster (b.1953), Jeff Thomas (b.1956), Rosalie Favell (b.1958), Greg Hill (b.1967), and Simon Brascoupé.
Trained as a graphic artist in Toronto, Noganosh then enrolled in the fine arts program at the University of Ottawa. In the 1980s, he gained a reputation as a sculptor and pioneer in assemblage art, using such materials as beer caps, auto parts, and discarded toys to create artworks that were amusing, imaginative, and thought-provoking—That's All it Costs, 1991, illustrates the wide range of objects he integrated into his work. His critiques of society's excesses also addressed the issues facing contemporary Indigenous communities.  Anon Among Us, 1999, evoked deeply painful memories of friends and relatives who had died either while in residential schools, or from suicide, drugs, or alcohol addiction.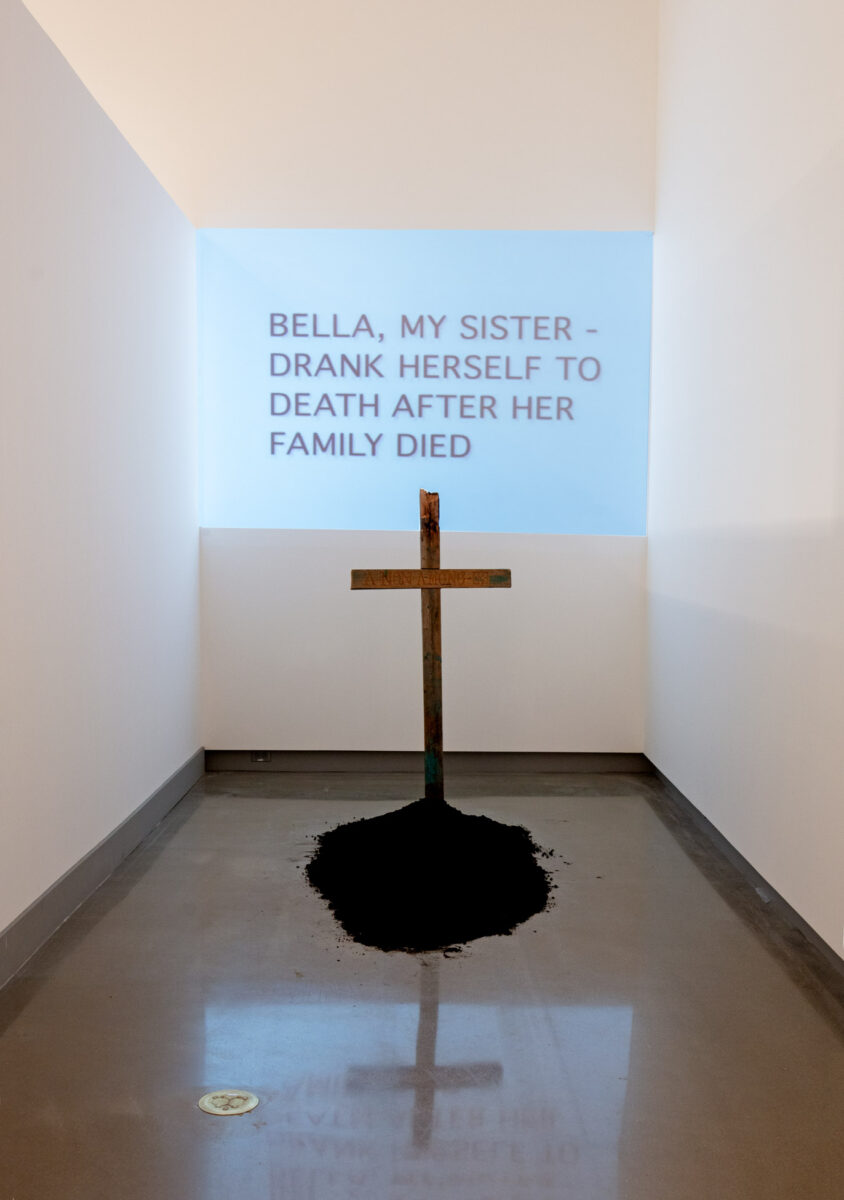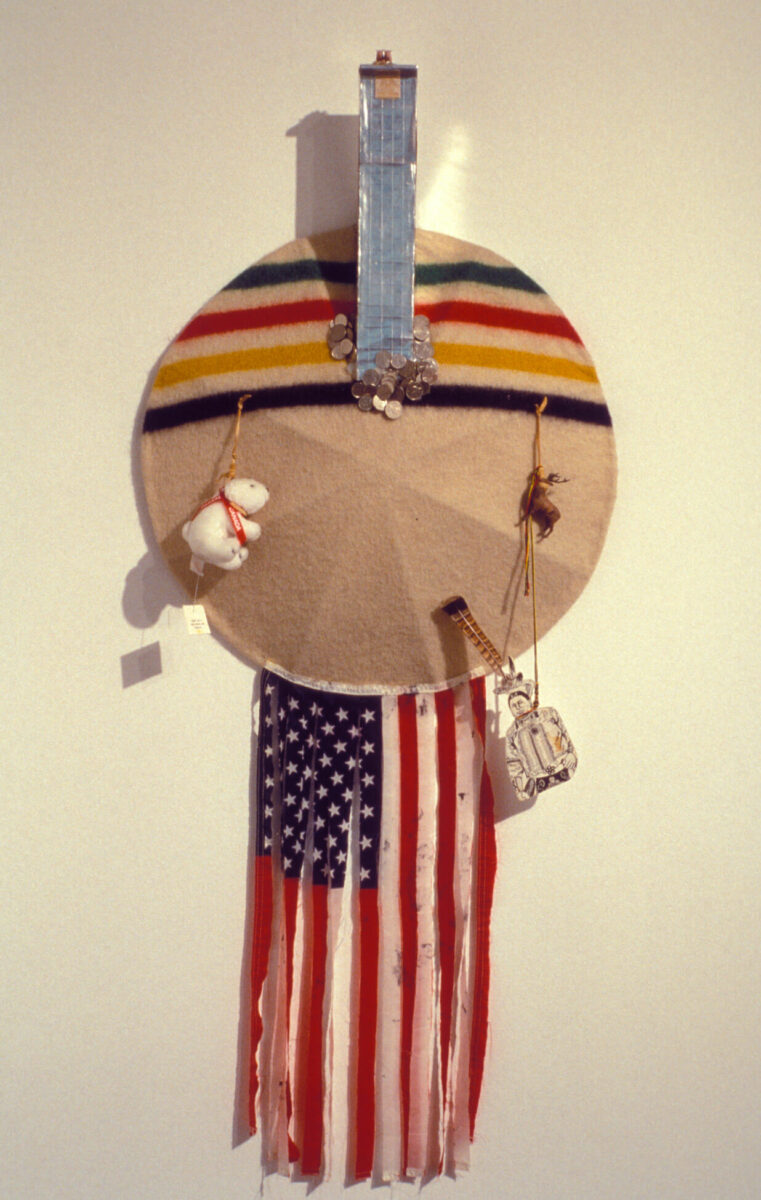 In 2006, Noganosh, along with Barry Ace (b.1958), Ryan Rice, Cathy Mattes, and Ahasiw Maskegon-Iskwew (1958–2006), co-founded the non-profit Aboriginal Curatorial Collective (now the Indigenous Curatorial Collective). In 2012 he also co-founded the OO7 (Ottawa Ontario Seven) Collective, a group of Indigenous artists including Ace, Favell, Ariel Smith, Frank Shebageget (b.1972), Leo Yerxa (b.1947), and Michael Belmore (b.1971). Noganosh exhibited widely in Canada and abroad until his untimely death in 2017, and his work is in the collections of the Ottawa Art Gallery, the Indigenous Art Centre, the Canadian Museum of History, the Woodland Cultural Centre in Brantford, Ontario, and many private collections.