Russian Bath 1936
This work, once in the collection of Douglas Duncan, is the second iteration Clark painted on the theme of the Russian bath. As with the Mother and Child series, she returned to the Bath series several times in a variety of media. These works are important because they appear to express her emotional state at the time of their creation. The Russian Bath paintings, exhibited under varying titles, roughly coincide with happy periods in the artist's life. This version, first exhibited at the Canadian National Exhibition in August 1936, was done around the time Clark met Dr. Norman Bethune and was corresponding with Alexandre Iacovleff (1887–1938), a Russian émigré artist she had probably known in Paris, who was living in Boston—a time of reconnecting with her memories of Leningrad.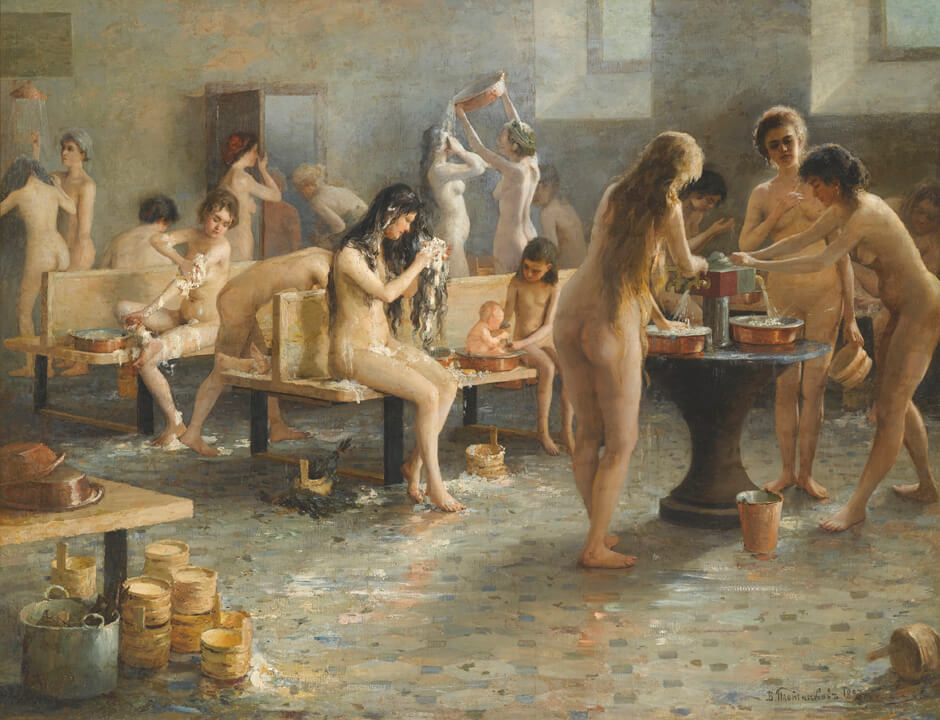 The Russian public bath, or banya, was a national institution, particularly for working-class people who had no private bathroom. Men and women had separate facilities, so for Clark it represented a private world where women could perform their ablutions, socialize, and relax. She had fond memories of going there with her mother.
The subject was not uncommon in Russian painting: it afforded artists the opportunity to paint a group of nudes in a variety of poses in a realistic setting—varying from the academic nineteenth-century nudes of In the Bath House, 1897, by Vladimir Plotnikov (1866–1917) to the sturdy subjects of Socialist Realism in Russian Bath House, 1938, by Alexander Gerasimov (1881–1963). By using an elevated viewpoint, Clark is able to survey the scene below, where the diminutive women scuttle about their business. She was influenced in the odd spatial configuration and the total disregard for the laws of conventional perspective in the placement of figures by her teacher Kuzma Petrov-Vodkin (1878–1939).
Clark's stylized forms are too small to be differentiated in this work, but in her final resolution of the composition in 1944 she puts the viewer at ground level, where the unidealized figures, some indecorously posed and some with their children, represent women of different ages and body types. The work is all pink and full of light, and a figure, perhaps Clark herself, looks out at the viewer from the lower right corner as if to say, "This is my world."