Girl in the Window 1941
Girl in the Window is distinctive for being Heward's sole portrayal of a black female subject seated in a domestic interior. Only a pane of glass separates the woman and the outside world, which is urban rather than rural or exotic. As some scholars have noted, the buildings in the background indicate a working-class part of Montreal, thus revealing the poverty experienced by many black women in the 1930s and 1940s.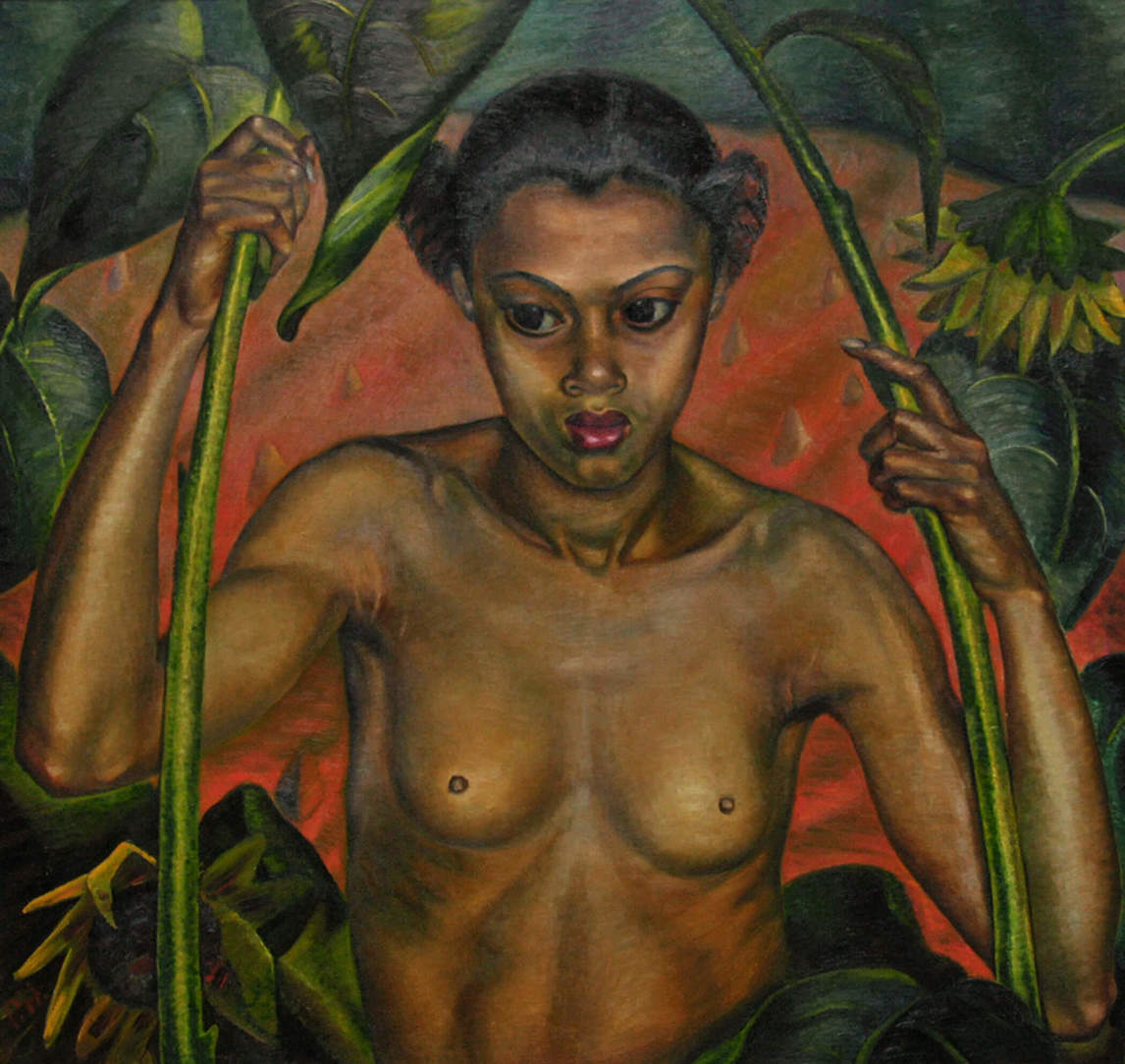 As with many of Heward's paintings, despite the title, this work portrays a woman rather than a girl. In Heward's painting of a young black girl, Clytie, 1938, the subject wears a pink dress and white gloves. Yet in most of her paintings of black women, Heward depicts her subjects nude or semi-naked, as in Dark Girl, 1935, and Negress with Sunflowers, 1936. The subject in Girl in the Window, however, wears a cardigan, and her stomach is covered with a skirt or blanket. But she wears no blouse under the sweater, so her breasts are partially visible. This is not an explicitly erotic painting, but by making the choice to reveal the woman's breasts, Heward presents her as vulnerable and accessible to the viewer's gaze, whether the viewer is male or female, and the sitter may well have been perceived as a sexual object. This speaks to the power imbalance between the white artist and the black sitter. As with most of Heward's paintings of black women, the identity of the woman in Girl in the Window is unknown, as is how Heward met her.
In her review of the second exhibition of the Canadian Group of Painters (1936), artist-critic Pegi Nicol (1904–1949) commented regarding Dark Girl, "Miss Heward has her own honestly morbid colour and special manner of painting moping women."  More recently, art historians have also remarked on the apparent melancholy of Heward's black female subjects, often arriving at different conclusions about the artist's intentions. Curator Natalie Luckyj, for instance, suggests that Heward's paintings of black women provided the artist with an opportunity to "explore the potential of unusual and dramatic colour harmonies,"  whereas art historian Charmaine Nelson maintains that these paintings speak to an imbalance of power between a white female artist and black female models.