Miss Lockerby c. 1924
This portrait of Heward's friend, the artist Mabel Lockerby (1882–1976), is exemplary of Heward's early paintings of women, which tend to depict solitary figures with a muted palette in nondescript settings. Lockerby was a member of the short-lived Montreal artists' collective the Beaver Hall Group, notable for consisting mostly of professional women artists at a time when female practitioners were rarely granted the same artistic status as men.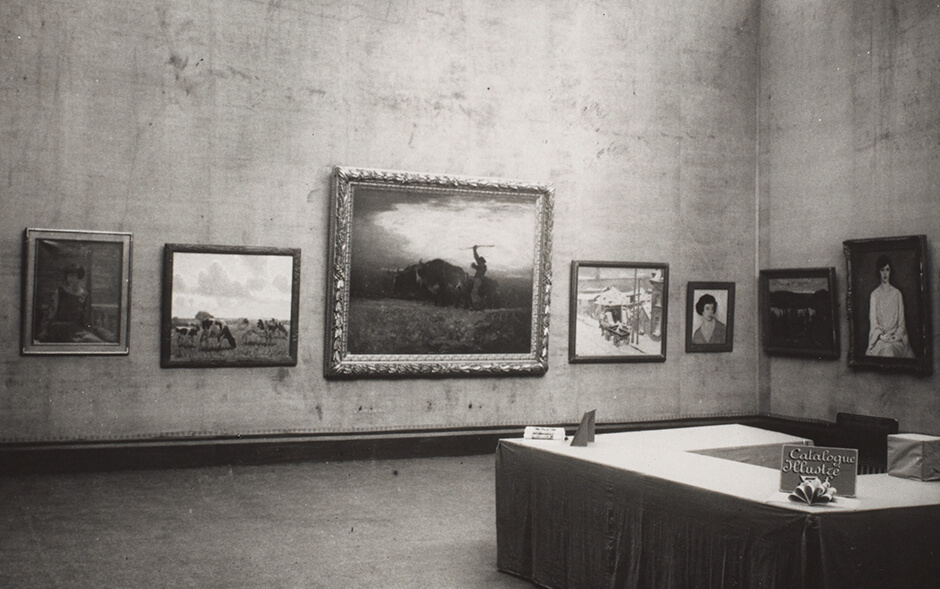 Similar to another early portrait, Eleanor, 1924, here Heward represents Lockerby bust-length against a pale, neutral background. Her subject appears to be standing quite close to a wall, as her hair casts a shadow. The brush strokes are visible, particularly on Lockerby's dark clothing, and her shoulders appear massive relative to her head. Heward painted Lockerby again in At the Café, c. 1929, representing her in a public space associated, in the 1920s, with increased freedom and even hedonism. Miss Lockerby, while important for being an early example of Heward's preoccupation with female sitters, does not display the modernist style or the deliberately modern setting of the latter work. At the Café shows the influence of the international Art Deco style in Lockerby's red and blue ensemble and Heward's tight brushwork, which differs dramatically from that of Miss Lockerby.
In 1925, Miss Lockerby, along with Eleanor, was selected by the jury for the Canadian section of the British Empire Exhibition, held in Wembley, England. Miss Lockerby was singled out by a London reviewer, who remarked that it was "a very promising, simply painted head." 1 Indeed, Heward would improve her grasp of accurate proportions in later portraits. She would also begin to depict women further away from the viewer, allowing us to see most or all of their bodies, as in Girl on a Hill, 1928, and Rollande, 1929. Her later portraits, including At the Café, also adopt a more vibrant palette than is seen in Miss Lockerby and Eleanor. In 1927, Miss Lockerby was included in the Exposition d'art canadien at the Musée du Jeu de Paume in Paris.
Heward did not sign or date this work, which she appears to have given directly to Lockerby rather than sold, and it remained in the possession of the Lockerby family.