White Scaffolding 1958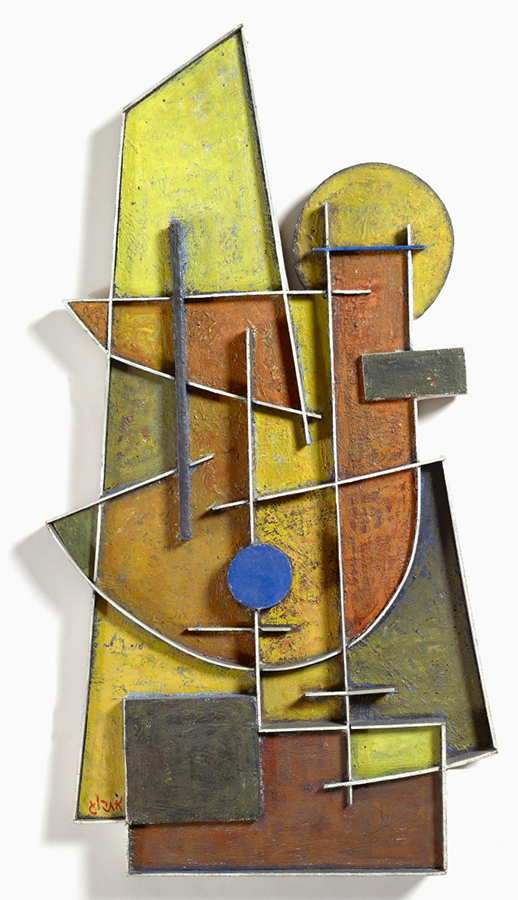 White Scaffolding is a prime example of the Painted Constructions that Etrog created between 1952 and 1960. The work's vertical surface is made of geometric forms—rectangles, triangles, circles—which are assembled to create the piece's irregular shape. A second layer of raised lines includes a protruding circle at the centre of the composition as well as a scaffolding-like pattern, lines that function as a unifying thread and recurring motif in the work, tying it together in a shallow space. Etrog said: "I drew them with a continuous line that created the final shape." The last step was the addition of colour: he painted this construction in an inharmonious colour scheme; there are areas of yellow, brown, and black contrasted with the blue shade of the central circle. This multiphased process led to works with a distinctive appearance, allowing Etrog to develop his first "signature style."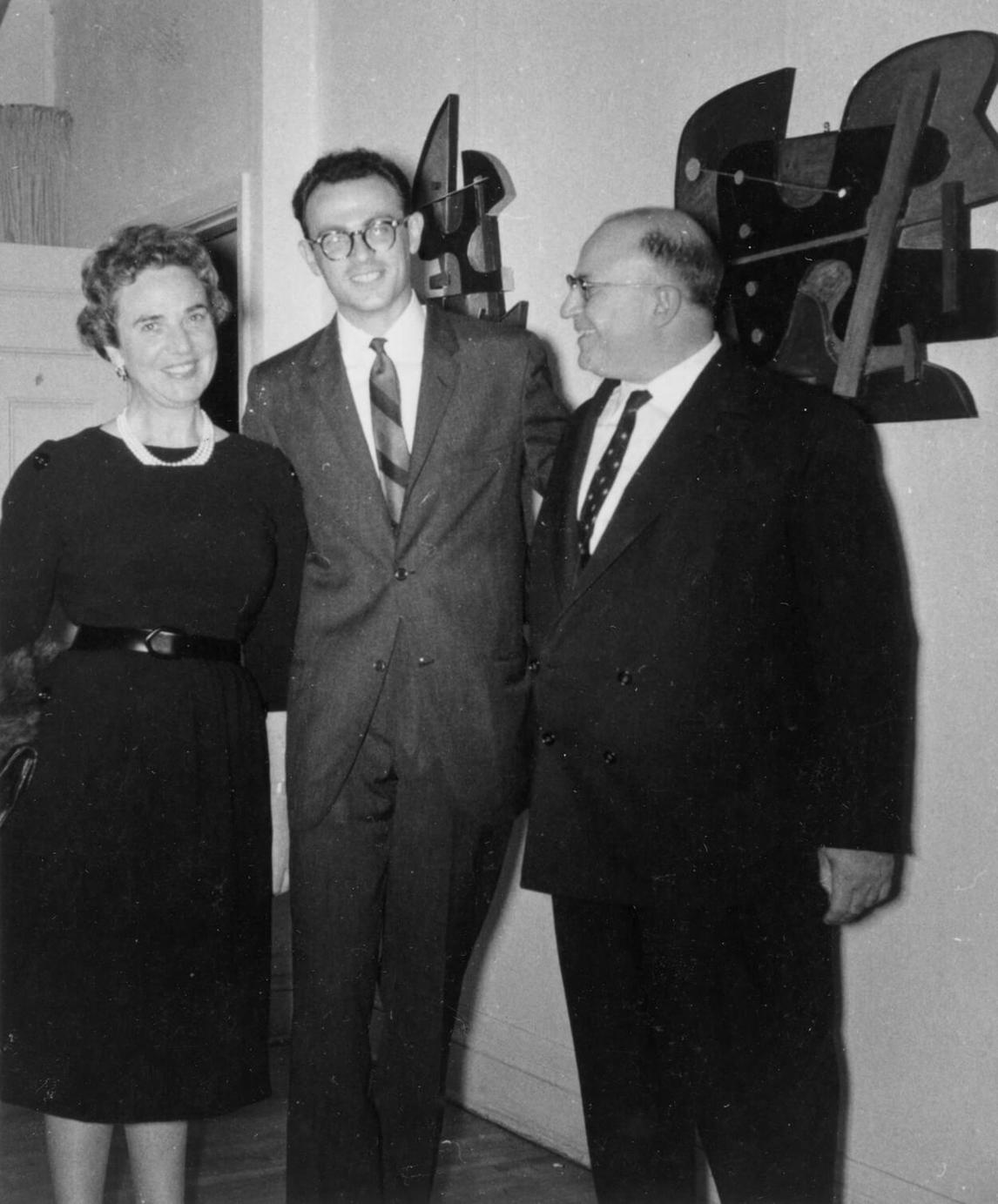 White Scaffolding is but one work from what Etrog called his Scaffolding series; its grid-like composition makes a reference to Tel Aviv's building boom following the establishment of the Israeli state in 1948. Other works from this period also refer to sites in Etrog's adopted city; The Harbour I, 1953, and several works titled Port, 1953, for example, allude to the city's vibrant port.
Etrog's rebellious attitude toward artistic convention developed while he was studying with the Dada pioneer Marcel Janco (1895–1984) at Tel Aviv's Arts Institute for Painting and Design. There he was exposed to the work of modern artists who integrated abstraction into their works and to early twentieth-century European avant-garde movements such as Cubism and Constructivism that demanded a broader definition of art. He was especially influenced by Paul Klee (1897–1940), as well as Joan Miró (1893–1983) and Pablo Picasso (1881–1973). During this time Etrog also discovered Modernist music by composers such as Béla Bartók (1881–1945) and Igor Stravinsky (1882–1971), whose work was characterized by the rejection of harmony, rhythm, and balance. Etrog created the visual equivalent of modernist music by avoiding harmony and symmetry in his constructions and revealed his admiration in the titles of some pieces from this period, for example, String Quartet (Bartók), 1955.

The piece is of key historical significance in Etrog's career. As the legend goes, Etrog was attempting—unsuccessfully—to interest the famed New York art dealer Rose Fried (1896–1970) in some works that he had brought to her gallery, one of which was White Scaffolding. The Canadian businessman and art collector Samuel J. Zacks (1904–1970) happened to walk into the gallery and bought the work then and there for $200. This serendipitous encounter was the starting point of Zacks's life-changing support of Etrog's art and marks the beginning of the artist's rapid rise to fame.