A new online book describes the trail-breaking art and life of Cape Dorset artist Oviloo Tunnillie.
The book highlights how Tunnillie defied gender stereotypes by taking up carving at a time when Inuit culture viewed it as a man's job.
And she broke from the traditional themes of Inuit art, preferring to carve expressive female figures that sometimes depicted her own personal traumas, such as those that she suffered when she was relocated to southern hospitals as a young girl to be treated for tuberculosis.
Years before Annie Pootoogook's drawings would be lauded for their frank depictions of spousal abuse and alcoholism, Tunnillie tackled these same subjects in a career that spanned 45 years. She succumbed to cancer in 2014.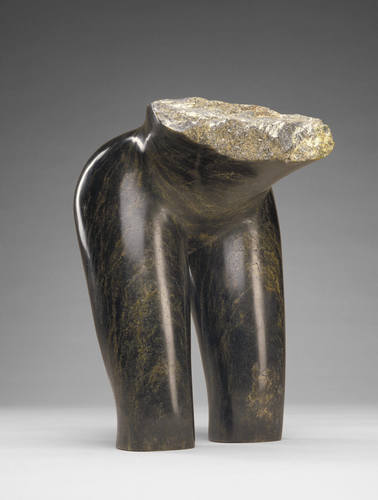 "Few artists have been able to accomplish the abstraction of pure emotion through cold, hard stone as Tunnillie has," said Darlene Coward Wight, author of Oviloo Tunnillie: Life & Work. "Her subjects are defined by what they feel, not what role they play in society."
Coward Wight has researched and curated Inuit art for over 30 years. She has served as the curator of Inuit art at the Winnipeg Art Gallery since 1986.
The book is published by the Art Institute Canada, a non-profit based out of the University of Toronto's Massey College. It's part of its Canadian Online Art Book Project, which has released more than 30 titles since 2014.
Tunnillie was born in 1949 in Kangia, a small camp along the south coast of Baffin Island that was not far from Cape Dorset, where her extended family lived in four or five sod huts.
Both of Tunnillie's parents were respected artists. Her father, Toonoo – who saw himself primarily as a hunter – was one of the first Cape Dorset carvers to receive outside recognition in the 1950s. Her mother, Sheokjuke Toonoo, was a graphic artist and printmaker.
In the spring of 1955, when Tunnillie was just five, she was taken away from her family aboard the C.D. Howe to receive treatment for tuberculosis at southern hospitals. She returned home in the fall of the following year, but a year later the disease reoccurred and she was taken away again, this time for two years.
"I was heartbroken to have to leave my mother and father again," said Tunnillie. "My father and I went to ask the nurses and government administrators not to send me away because I did not want to go. But we couldn't do anything, so I was sent to the hospital again by C.D. Howe, and I spent a lot of time crying under the table."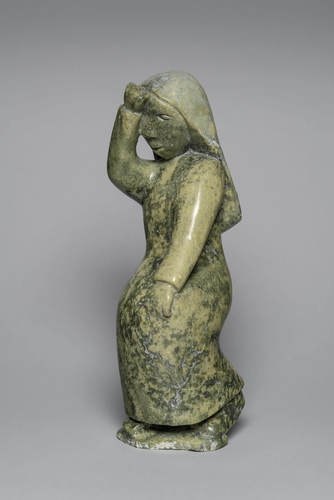 Some of Tunnillie's artwork would later reflect the trauma of these stays in the south. The book describes how, during periods of bed rest, medical staff would tie her to the bed, and how, at least once, a doctor sexually abused her.
And when Tunnillie returned home at age eight, she found she no longer fit in.
"After I had returned to my parents' camp, I had a hard time adjusting because apparently I had adopted too much of the southern culture and I had lost some of my Inuktitut. . . When someone brought in aged meat and I was offered some, I really thought that they were trying to kill me. I couldn't communicate with them in Inuktitut, and I did not like the taste! But later on, I realized that this kind of meat was a delicacy. I really craved milk. Since I did not like tea without milk in it, I thought my mother was just being eager for me to cry."
"It was like I had just met my family for the first time. I couldn't understand their ways nor their language because I had gotten so used to the southern ways. . . The cultures of the Inuit and the qallunaat [non-Inuit] were very different then."
She eventually readjusted to life on the land. But Tunnillie's family faced an upheaval in 1969, when her father was fatally shot by her sister Nuvalinga's spouse, Mikkigak Kingwatsiak, during a hunting trip, in what was believed to be an accident.
Twenty-five years later, when Kingwatsiak believed he was about to die from an illness, he confessed to murdering Toonoo.
"When Mikkigak unexpectedly recovered, Oviloo's mother, Sheokjuke, declared that no charges would be laid and that forgiveness would replace punishment," the book states.
"Her decision fits both with her religious beliefs and with the traditional Inuit conception of justice, which does not include imprisonment. The family continues to feel the effects of Toonoo's death and even today refuses to discuss the details of his murder."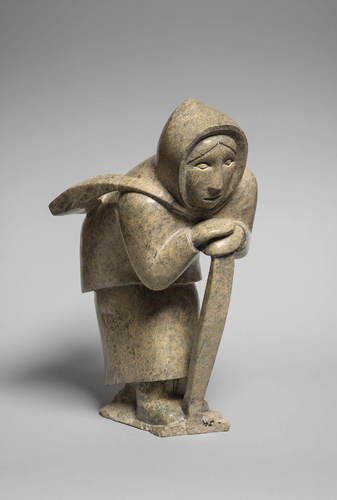 Later that year, Oviloo married Iyola Tunnillie, who himself hailed from an artistic family. They went on to have six children. During the earlier years of their marriage the couple lived out on the land, but later moved into Cape Dorset. Oviloo began to make carvings in order to buy milk, and soon her work became the family's main source of income.
From there, Oviloo's carvings were soon greeted with critical and commercial success. On 1997, she found herself on national television, during an appearance on CBC's Adrienne Clarkson Presents that focused on Inuit women artists.
On the show, Oviloo explained to Clarkson that one of her better known carvings, called Nude, depicted a sexual assault she experienced while being treated for TB in Manitoba. "This one is about child molestation," she said. "I have gone through that experience when I was a little girl."
Oviloo Tunnillie: Life & Work can either be viewed online or downloaded as a PDF.
Read the article as originally published here.