Tanoo, Q.C.I. 1913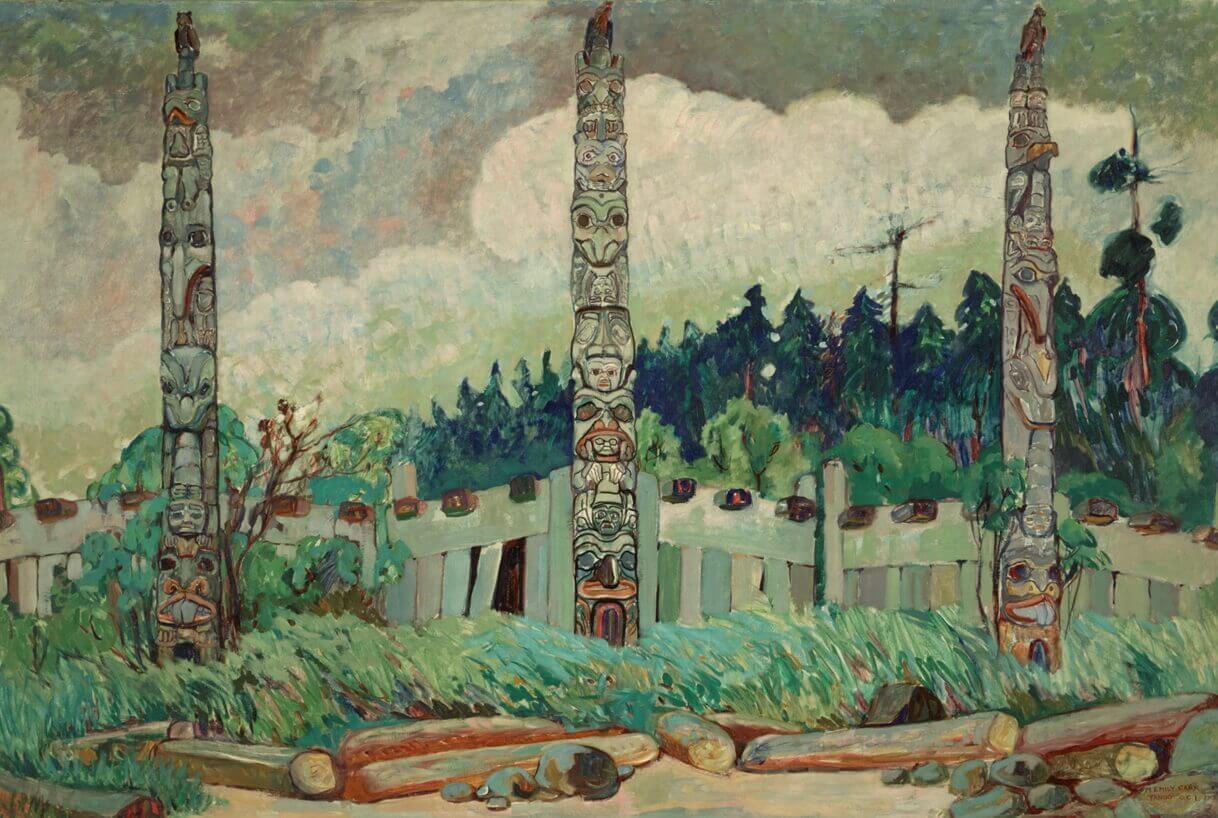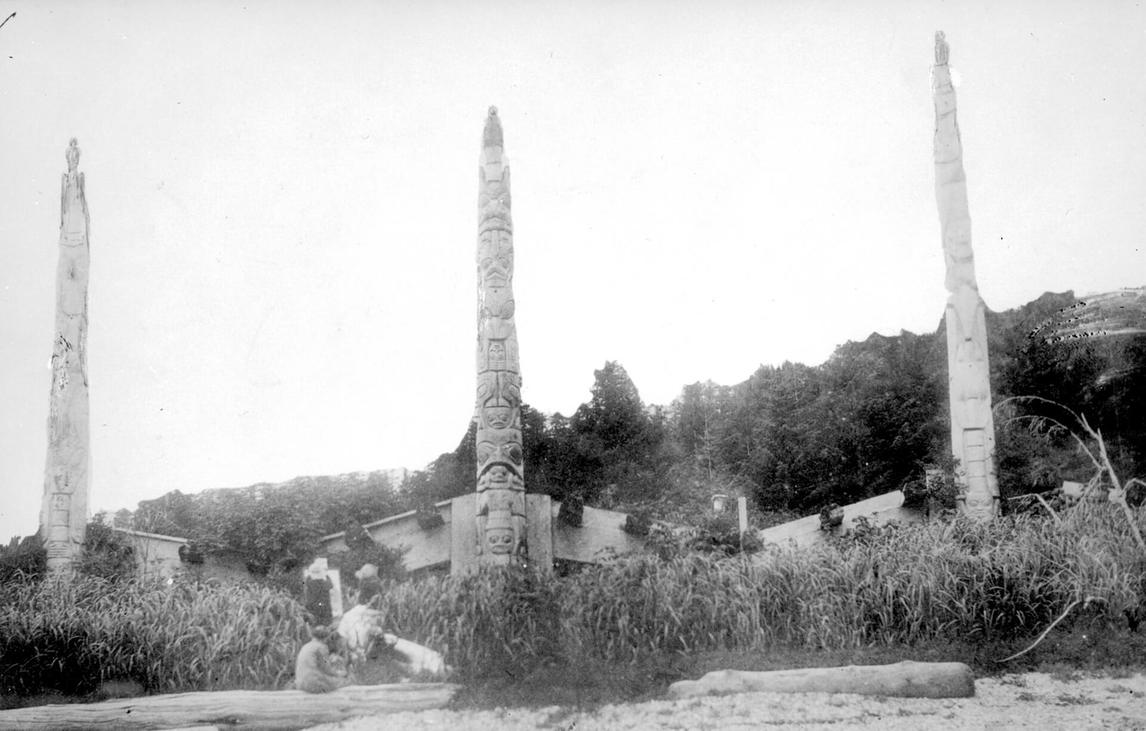 Carr's return to Canada from France in 1912 marked a renewal of her project to document First Nations villages in British Columbia. Painted in 1913, Tanoo, Q.C.I. is an ambitious work that exhibits the strength of her European training. She uses sweeping modulations to create a moving, vibrant landscape, from the beach to the totem poles to the dark forest and sky. The flat outlines Carr learned in France assist her in creating a faithful, if rough, rendering of each figure carved into the poles.
In 1912 Carr had set out on a sketching trip to the Queen Charlotte Islands (Haida Gwaii), a journey she made at the height of the protests by First Nations challenging the encroachment of new settlers on Aboriginal land and the economic and cultural impact these settlers would have on their way of life. In 1910 the Gitxsan chief Gamlakyeltqu of Gitanyow told a government representative:

We cannot get a living on the reserves, they are too small. We do not want reserves. We are not so foolish. We know the land belongs to us and we will hold it till we die. Our hunting grounds are our bank. The white men take gold out of our creeks. It is hard on us that we cannot do anything on our land after we have reserves. The Gov[ernment] takes the key of our bank. The bear come down to the river in the fall, and we do not want fences to keep them away as we trap them there.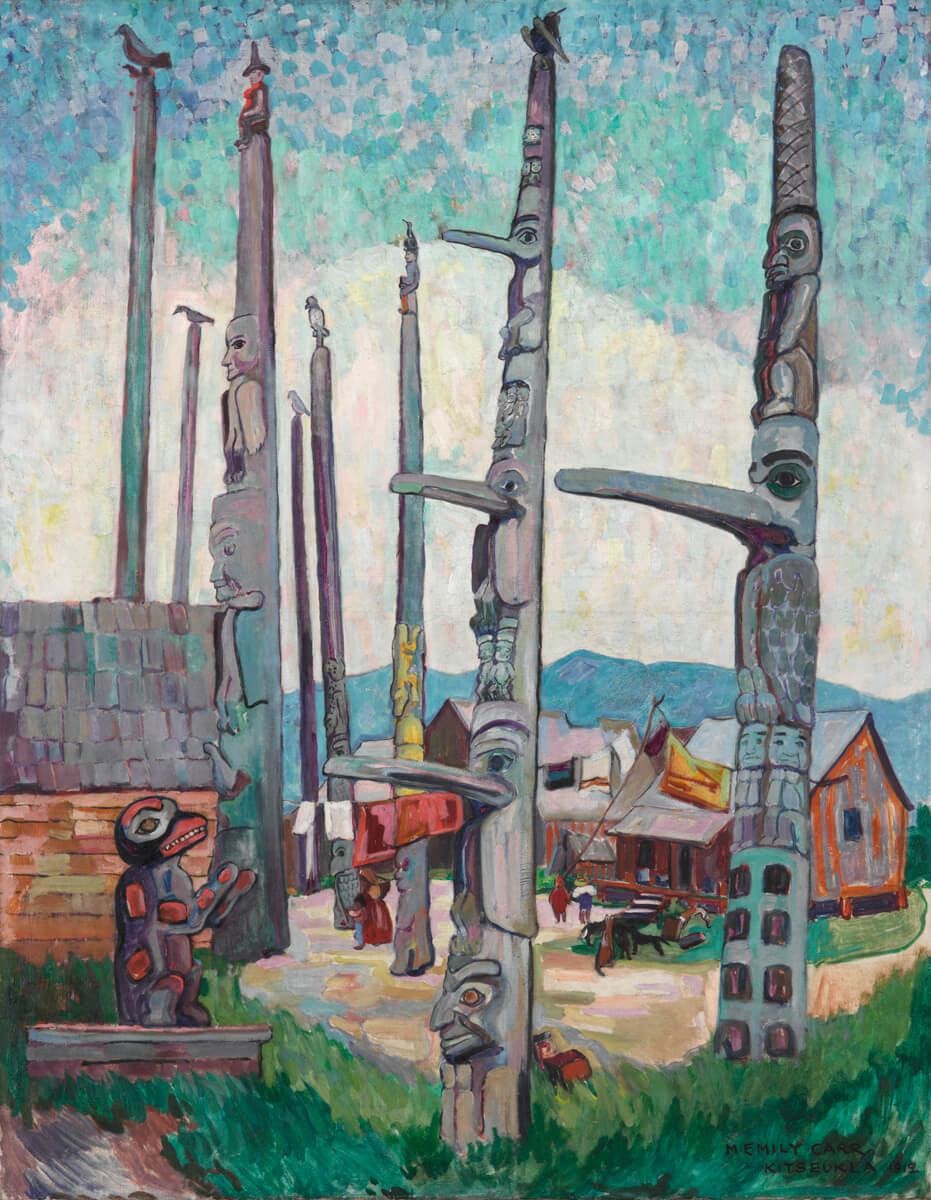 Carr's paintings from this time, informed by her contact with Post-Impressionism, employ bold shapes, rhythm, animated brushwork, and colour to structure her compositions, which depict populated villages with intact totem poles. For example, in War Canoes (Alert Bay), 1912, also from this period, two intricately painted and carved vessels stowed above the tideline dominate the Kwakwaka'wakw village. Children play on the shore, and in the distance houses stand side by side, with crest poles in front of them. The brushwork is energetic and loose, the forms as quickly rendered as in the lively paintings she made in the villages in Brittany.
Tanoo, Indian War Canoe, and her painting Totem Poles, Kitseukla, 1912, were included with works by the Group of Seven in the 1927 Exhibition of Canadian West Coast Art: Native and Modern at the National Gallery of Canada. Totem Poles, Kitseukla documents a Gitxsan village scene with intact poles situated in close proximity to a series of houses and a few figures in the background. In contrast, Tanoo, Q.C.I. shows no inhabitants, a historically accurate depiction reflecting the aftermath of the smallpox epidemics that devastated all except two Haida villages.