Shut the Fuck Up 1985
Shut the Fuck Up was created for Dutch television, commissioned by the festival Talking Back to the Media. The video provides a candid and humorous assessment of the media cliché of the artist. Aggressive and fast-paced, the video is structured in three segments: "Part I: Death of a Mauve Bat"; "Part 2: Mondo Cane"; and "Part 3: XXX (bleu)." Like Test Tube, 1979, each segment is subdivided, with three formats used: talking heads, found footage, and inspirational montage. Throughout, General Idea addresses the role of art in society and critiques the artist's relationship to mass media. The group comments on art's reliance on spectacle, the lack of intelligence and agency accorded to artists by the media, and the presumption of an artist's disengagement from the world. Felix Partz notes, "We're supposed to be romantic, untamed," and Jorge Zontal rants, "I'm not going to play…boho to their fucking bourgeoisie."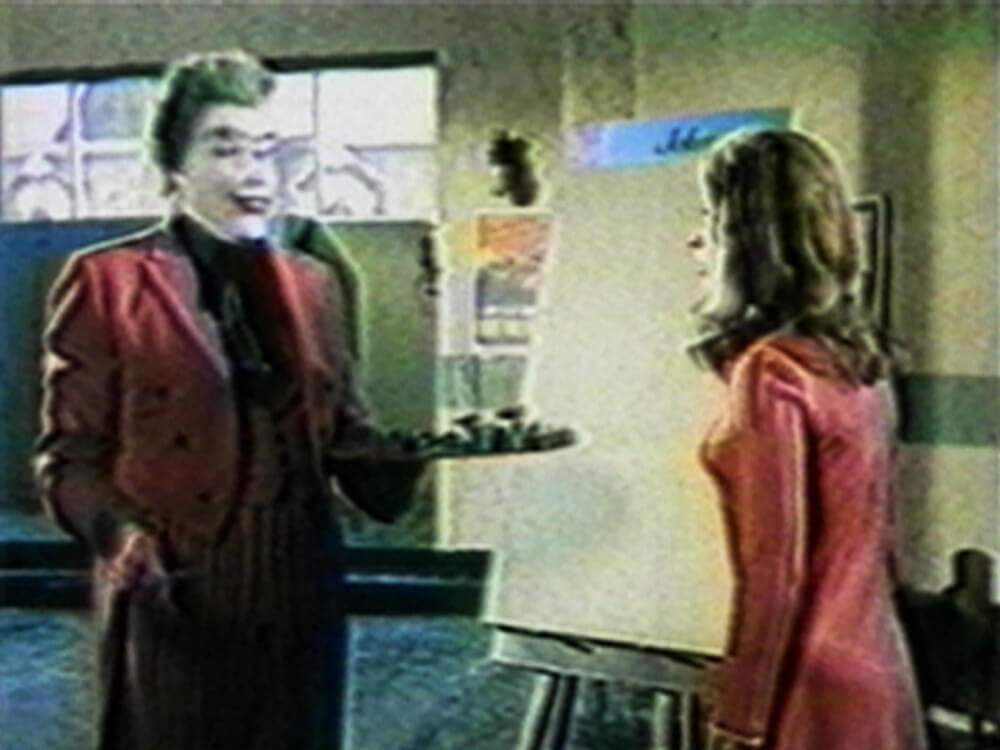 General Idea draws on found footage from popular television and films, using it to ironic ends. In Part 1 the artists appropriate a scene from the television series Batman in which the Joker presents a blank canvas as part of a painting competition. His entry is initially met with confusion, but when it is seen as symbolic of the emptiness of modern life, the Joker wins the contest. General Idea believed that the Joker was based on French artist Yves Klein (1928–1962), who had appeared on American television on The Ed Sullivan Show. General Idea employs this clip to criticize art and the notion of the artist as a singular, tortured genius, which they saw as a fraudulent spectacle.
In Part 2 a series of dancing scenes is set to upbeat music and barking. This section foregrounds poodles—a significant image in General Idea's oeuvre intended to represent the queer artist. Imagery of fornicating neon dogs is overlaid on scenes of people dressed as poodles dancing in a studio. This footage was appropriated from an Italian television music show at the time. The section is bookended by a dialogue between Partz and AA Bronson about artists and the media, a fast repartee filled with puns. Fittingly, the artists appear dressed as poodles.
Part 3 opens with footage from Anthropométries, a series Yves Klein created in the early 1960s. In these events, Klein choreographed actions that female models performed for a live audience; he directed the women to apply paint to their bodies and then press themselves against a canvas. The paint they used was International Klein Blue, a flat, intense blue Klein invented and trademarked. In Shut the Fuck Up, General Idea employs Klein as a foil, a stereotypical figure of the extreme artist—much like the Joker in Part 1. As Bronson explains, "The media loved to present Klein as a clown. Before Klein, both Picasso and Dali had fulfilled this role for the media. After him, Warhol took over that role." In the video, the artists respond to this history, critiquing the media cliché of the artist as a buffoon.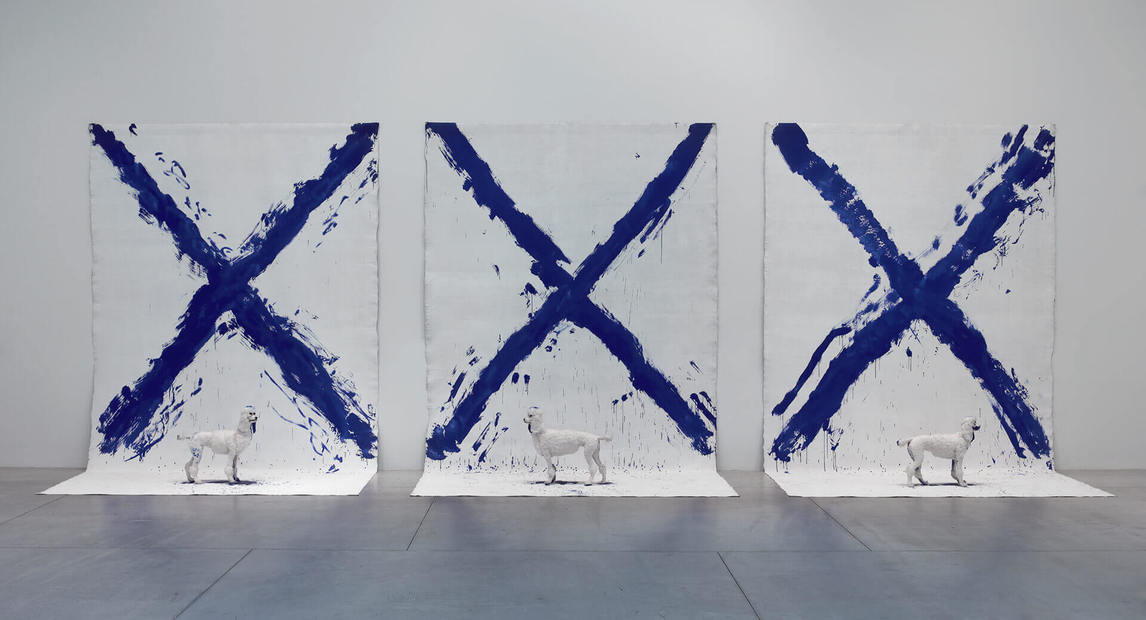 This footage is followed by documentation of the General Idea performance XXX (bleu), 1984, with voiceover of the artists explaining the work. XXX (bleu) appropriates Klein's Anthropométries to comic effect. It features Bronson, Zontal, and Partz with faux stuffed white poodles. The artists dip the poodles' bodies into International Klein Blue paint, then climb ladders and use them to paint three large "X" symbols on blank canvases. Partz explains the ambiguous meaning: "XXX equals poison, XXX as kisses, XXX as target, XXX as signature, XXX as epitaph."
A punchy and humorous analysis of the artist's relationship to mass media, Shut the Fuck Up demonstrates General Idea's critique of media formats and their mastery of video as a medium.