Reason over Passion 1968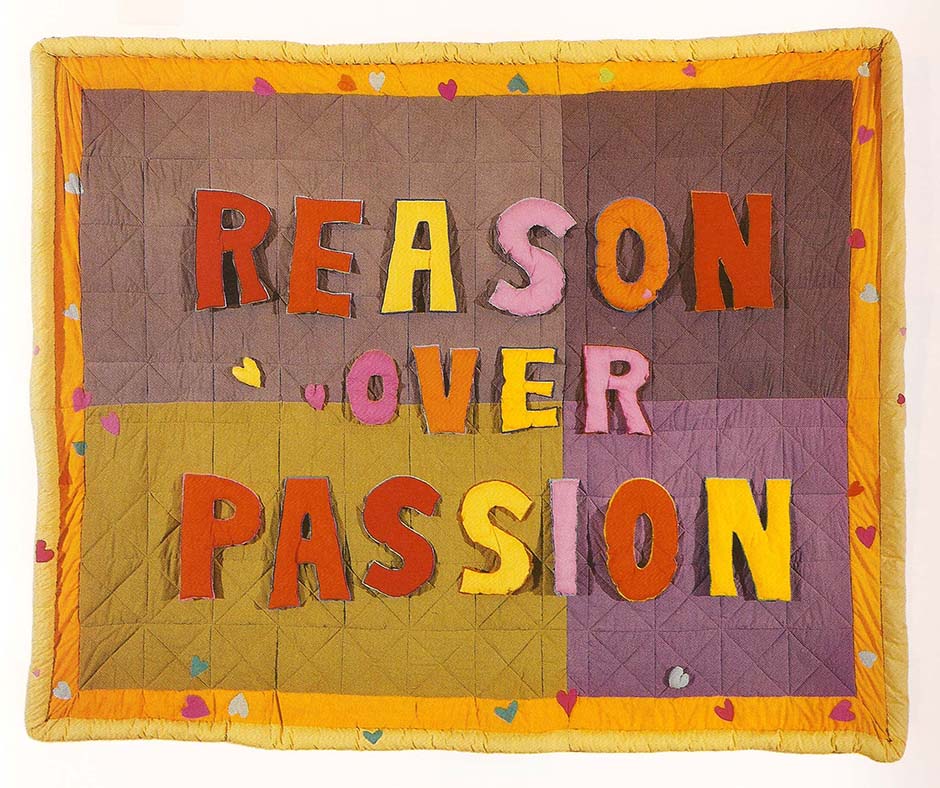 The title of this quilt-like work is spelled out in bold multicoloured lettering, with little hearts scattered on the background. Reason over Passion attracted particular attention because of its direct reference to the newly elected prime minister, Pierre Elliott Trudeau: Wieland was inspired by an assertion made by Trudeau, "Reason over passion—that is the theme of all my writing."
In this work Wieland not only engages directly with current events but also reinterprets and transforms political language by using folk art and craft traditions sustained by women for centuries. Joyce Wieland was a true feminist–art pioneer in this respect. Many artists of her generation critiqued an art world that systematically excluded women, but Wieland recognized that remarkable art forms undertaken by women had historically been devalued because they were categorized as craft, or "women's work."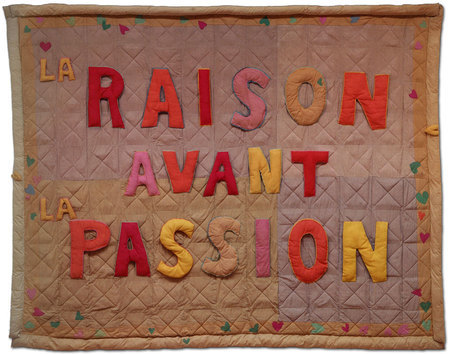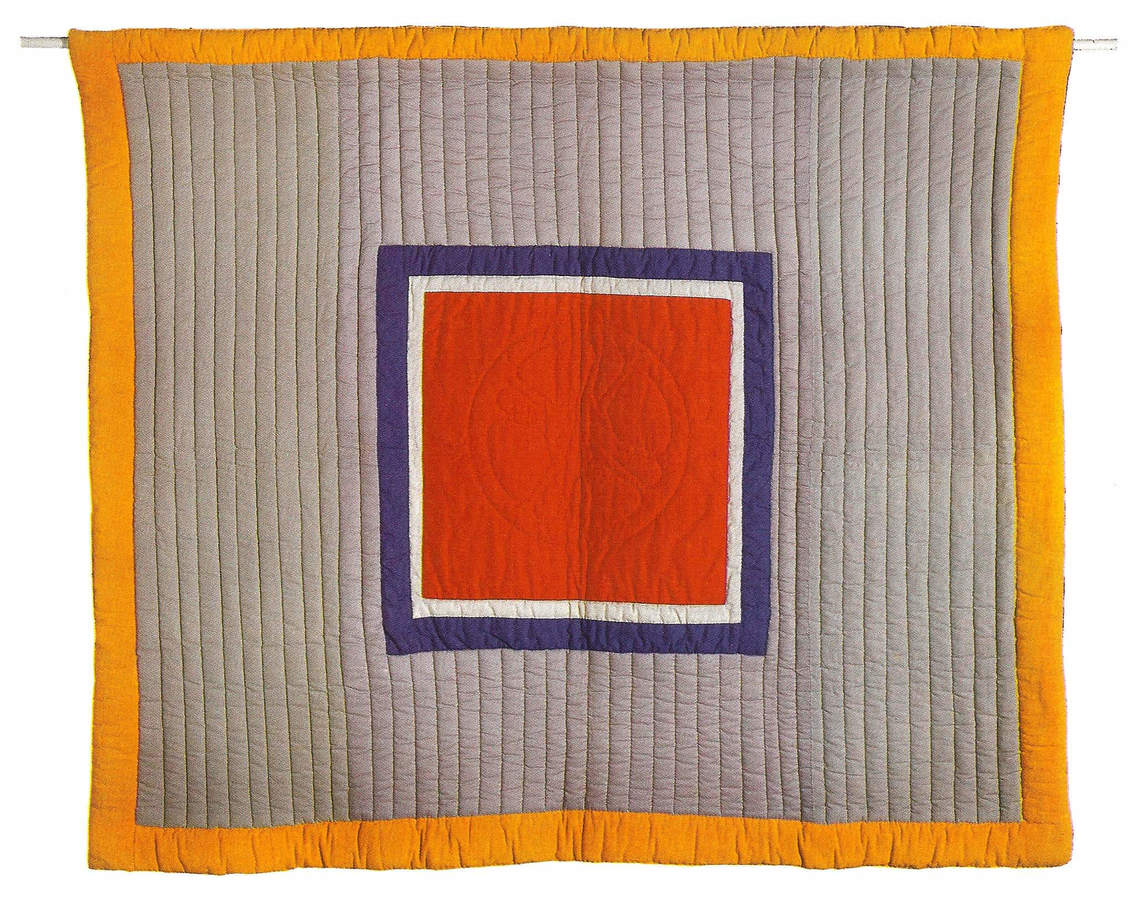 Such deep-rooted prejudices were turned on Wieland herself. When she showed this and other fabric-based and stitched artworks at the National Gallery of Canada as part of her exhibition True Patriot Love in 1971, one critic wrote scornfully about "Joyce the housewife" filling the gallery with pillows and quilts. And yet the genius of Wieland's art is that she created innovative, hybrid art forms by paying homage to aspects of traditional quilt-making, embroidery, and needlework, while still engaging with Pop, Conceptual, and other neo-avant-garde art practices.
Reason over Passion is often described as a quilt, which is accurate in that Wieland drew on the expertise of quilt-makers to fabricate it and other related works, such as Film Mandala, 1966, and The Camera's Eyes, 1967. These latter works refer to cinematic elements, whereas Reason over Passion highlights language in a way that is reminiscent of Conceptual art's linguistic emphasis.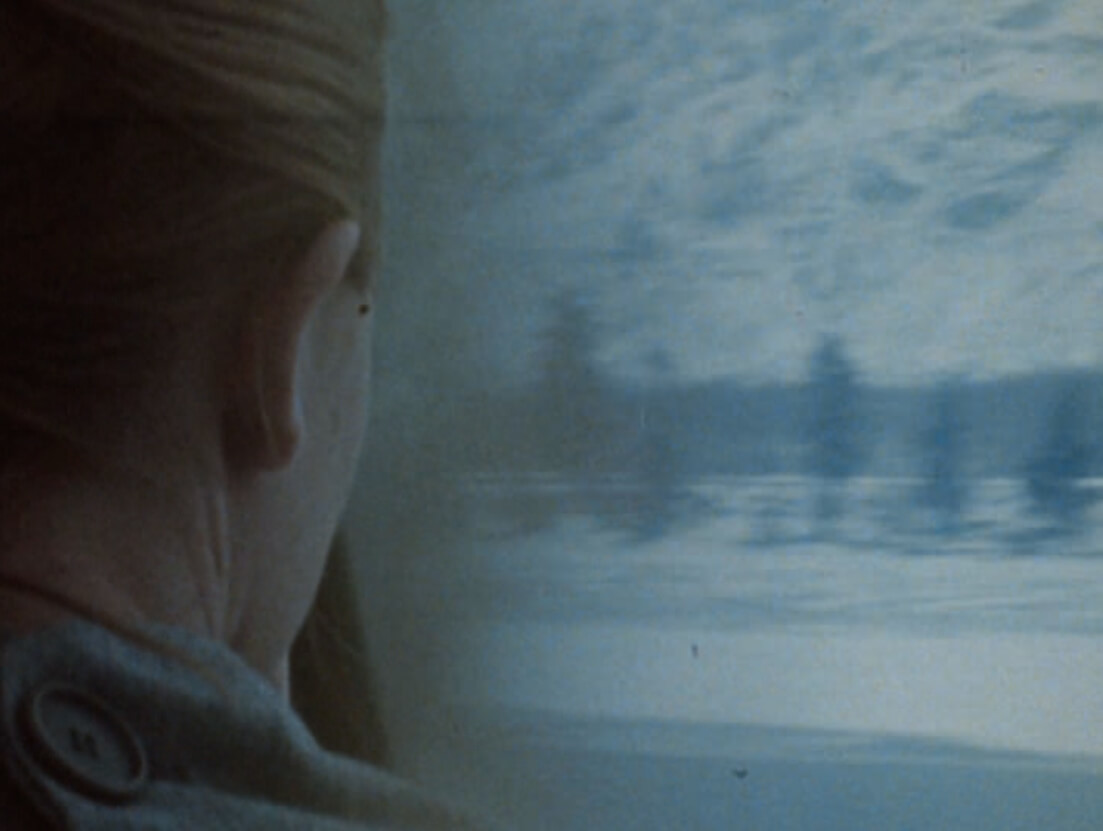 In many ways Wieland's "quilts" are radically different from traditional quilts, though part of their impact derives from that association. Reason over Passion is normally encountered hanging on the wall of a museum, but we can imagine what the words might connote if the quilt was draped over a bed. With this piece Wieland creates the conditions under which the political meets the personal, a place where the masculinity of public life encounters feminized domesticity, and where reason and passion become bedfellows.
Indeed, this artwork consists of two objects, one in each official language—as if art has to adhere to the federally sponsored bilingualism program. The French-language version, La raison avant la passion, 1968, was presented as a gift to the prime minister and hung in his official residence. His wife, Margaret Trudeau, recounts that she, in a fury, yanked off the letters and flung them at her husband, the very person who had uttered the words.
In 1969, a year after making the two fabric works, Wieland completed a feature-length experimental film, also titled Reason over Passion / La raison avant la passion. The film consists primarily of degraded footage of landscapes shot from vehicles moving across the country; meanwhile, 537 computer-generated permutations of the film's title appear like subtitles—the letters are scrambled over and over again, undermining the meaning of this famous quotation.