Four Apples on Tablecloth 1947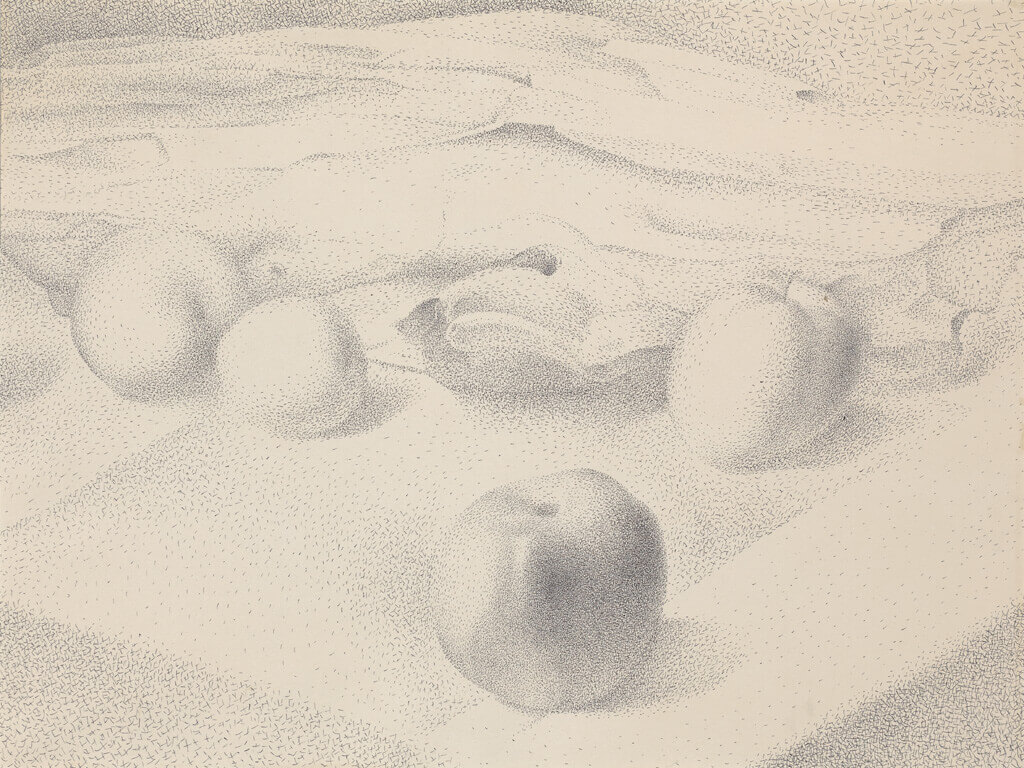 Beginning in the early 1940s, FitzGerald's trips to British Columbia's West Coast were highly stimulating to his imagination. In the fall and winter of 1947, when he was staying at Saseenos on Vancouver Island, he took his still-life drawing in a new direction. Apples in a Bowl, executed in November 1947, reveals compositional lessons learned from Paul Cézanne (1839–1906), such as the tilted tabletop and formal arrangement of objects and planes. FitzGerald's flecks of ink in this drawing were inspired originally by observing the pointillist dot technique of Georges Seurat (1859–1891). But completed only a month later, in December 1947, Four Apples on Tablecloth demonstrates that he had not only absorbed these elements from both modern masters with an even greater success but also moved his drawing into a more conceptual territory.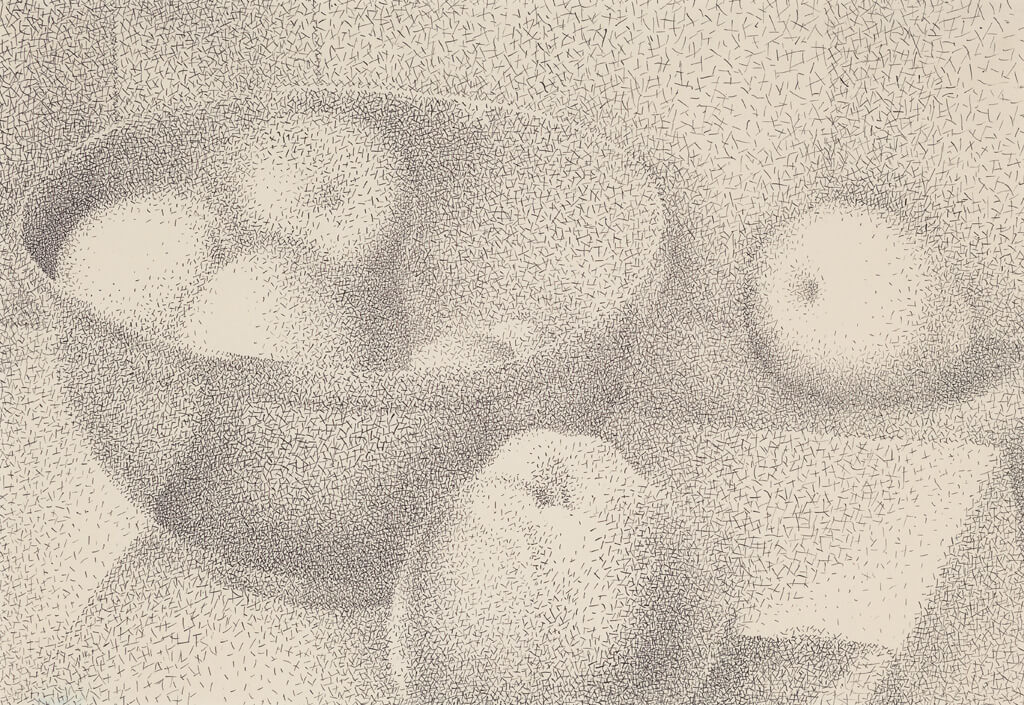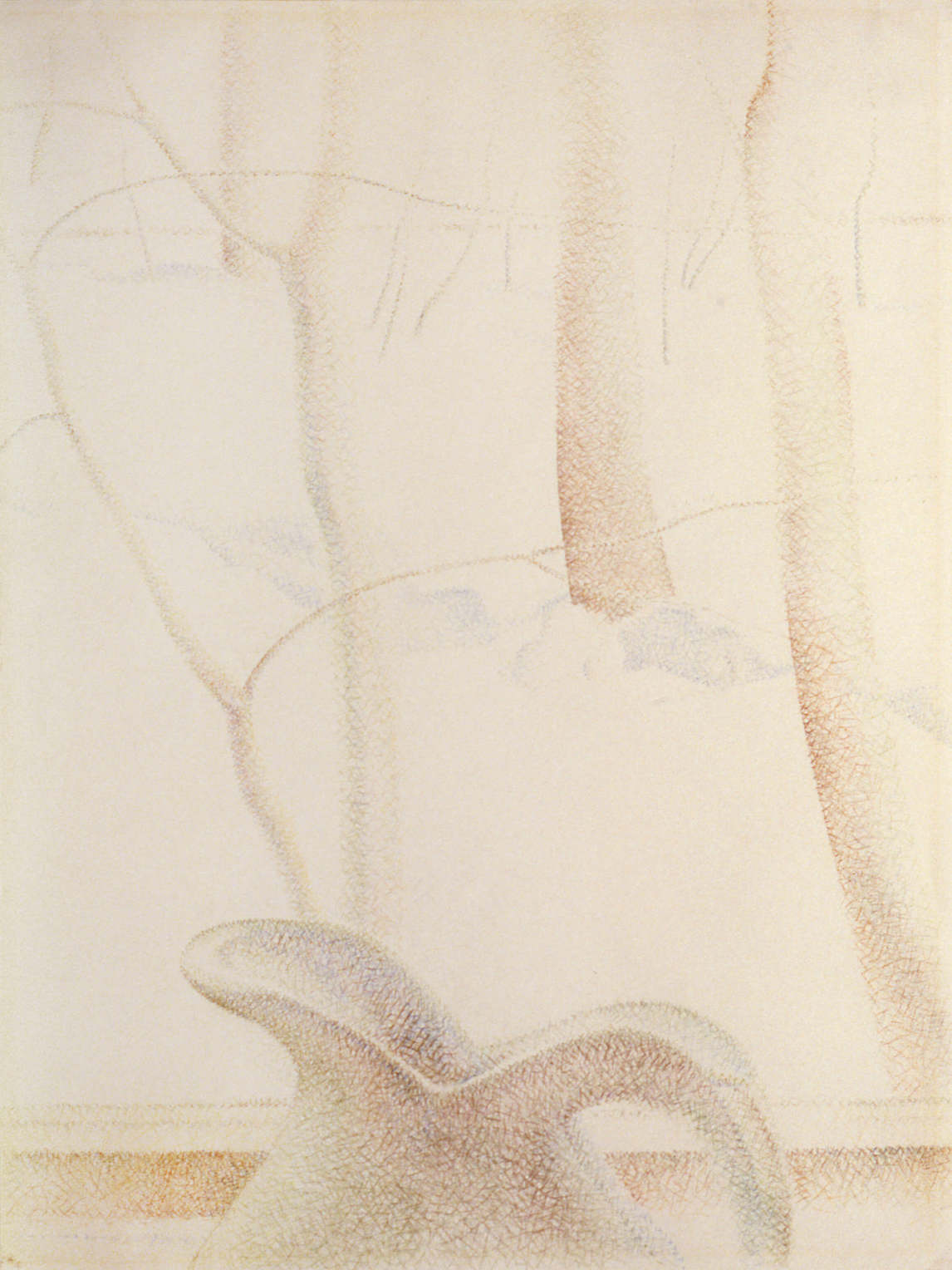 From a technical perspective, a close examination of Four Apples on Tablecloth reveals that it was not executed solely in black ink but with blue and brown flecks as well. The method of massing short pen strokes together in some areas, like many magnetized iron filings, grew out of a somewhat similar handling of coloured chalks on paper that FitzGerald had developed in the early 1940s, for example, in Jug on the Window Sill, c. 1943.
Four Apples on Tablecloth blurs the line between still life and landscape. Initially the realistic still-life elements in the immediate foreground seem to dominate, with a central focus on the Cézannesque apple. Its volume is created by careful transitions of reflected light over its surface. The apple's position in the composition is determined by diagonal linear planes that suggest the checkered pattern of a tablecloth. But then the diagonals lead the eye deeper into the picture, where the fruit is more abstracted, and the folds of the tablecloth in the middle ground suggest a seascape with a seashell, bleached driftwood, drifting sand, and waves. By bringing together the foreground still life and evocation of a background landscape, FitzGerald combines the figurative and the abstract and is on the road to the pure abstraction he practised during the 1950s.