Self-Portrait (Bust) c. 1945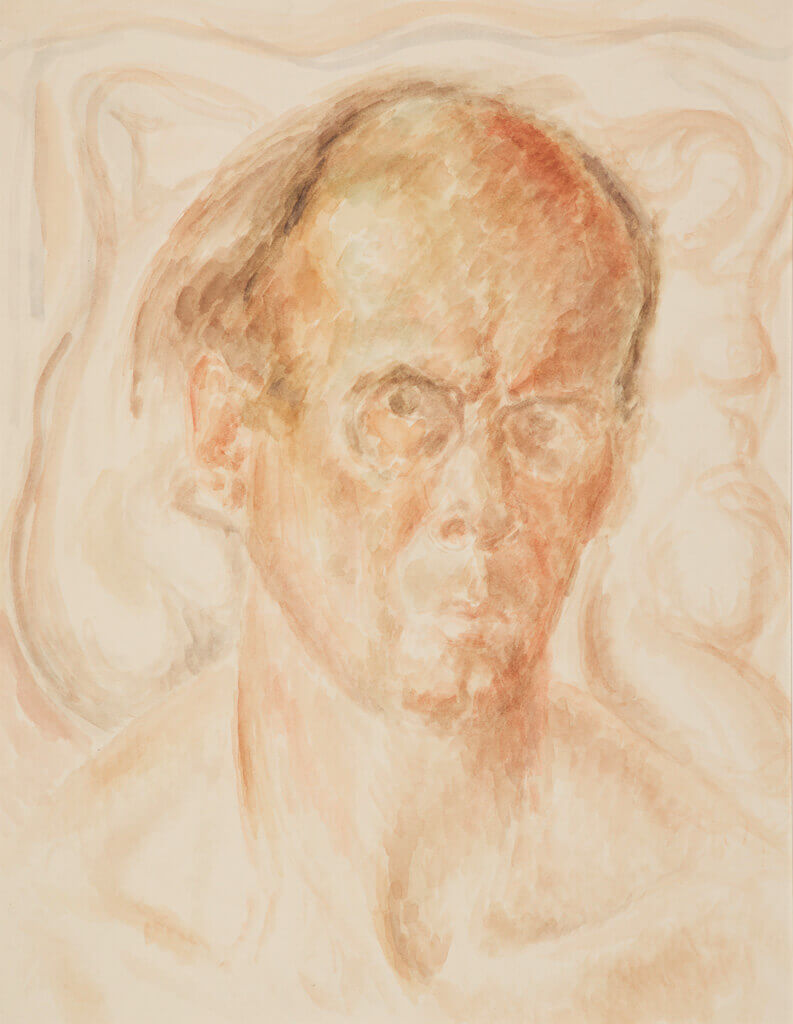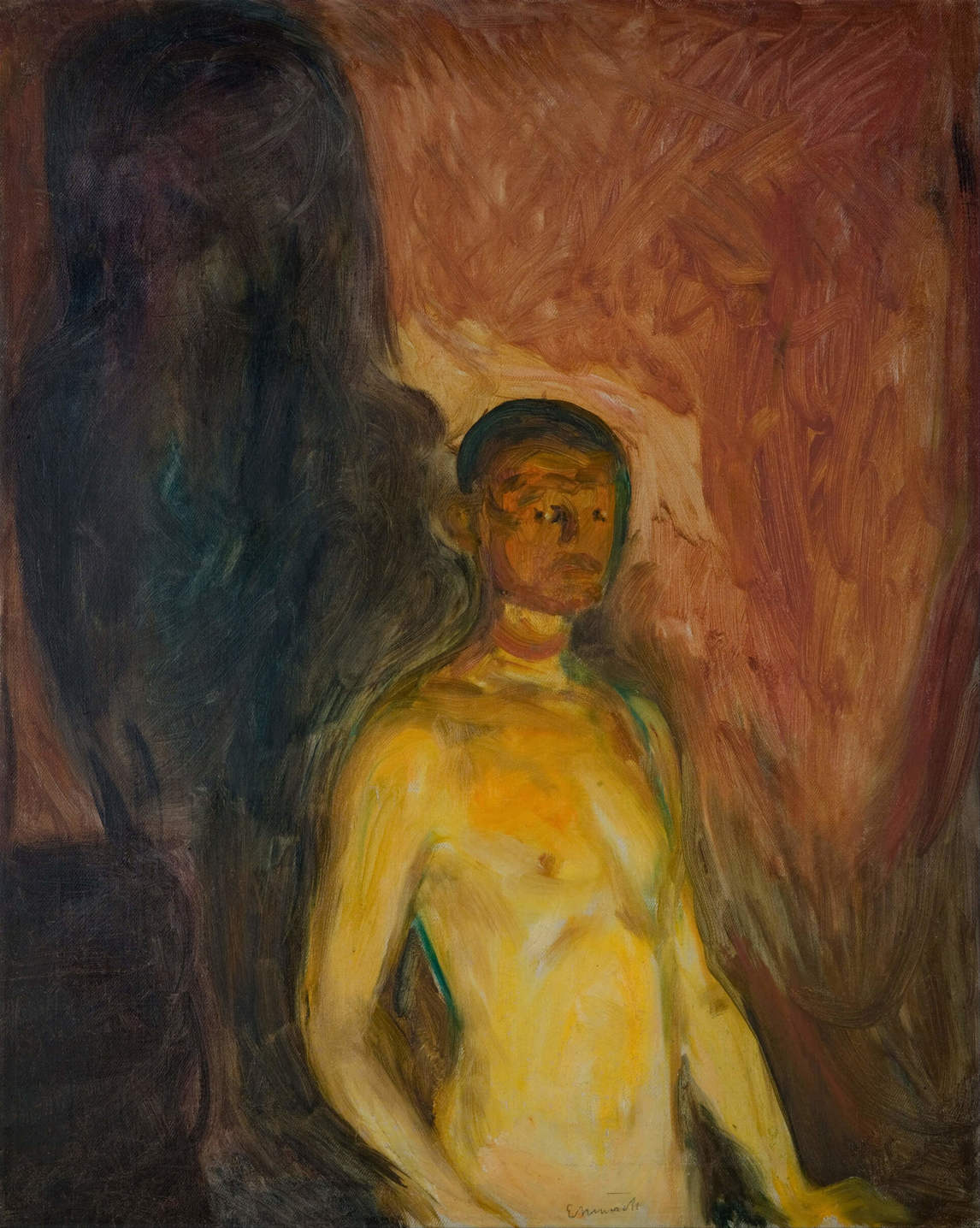 FitzGerald was known to his contemporaries as controlled, disciplined, quiet, "close to the earth," and even saintly. Another side of him emerges in a sequence of eleven enigmatic watercolour self-portraits and one oil painting that likely date from the mid-1940s. An artist whose usual tendency was to look outward, FitzGerald reveals in the self-portraits an inward vision of personal conflict.
While there is a sameness to the self-portraits in this series, each executed with rapid swirls of bilious green and brown strokes, Self-Portrait (Bust) is a particularly good example of his use of amorphous nude female figures that halo his head and shoulders. An apparently shirtless FitzGerald stares quizzically at the viewer with a tense and anxious expression that suggests personal struggle. FitzGerald is not alone among the modernist artists who probed personal anxieties in their portraits and self-portraits. In a similar mode, Self-Portrait in Hell, 1903, by Edvard Munch (1863–1944) presents his naked reflection in a fiery inferno surrounded by threatening shapes that seem to emanate as dark thoughts from his person.
Painted when FitzGerald was in his mid-fifties, the self-portraits appear to be the product of a personal and artistic midlife crisis. He felt trapped and thwarted at the Winnipeg School of Art, where his time was consumed with teaching and administrative duties that drained him artistically. Art historian Christine Lalonde suggests that the self-portraits could date from 1945, as they may refer to the impending end of his romantic relationship with Irene Heywood Hemsworth (1912–1989), who was a student at the school from 1931 to 1934.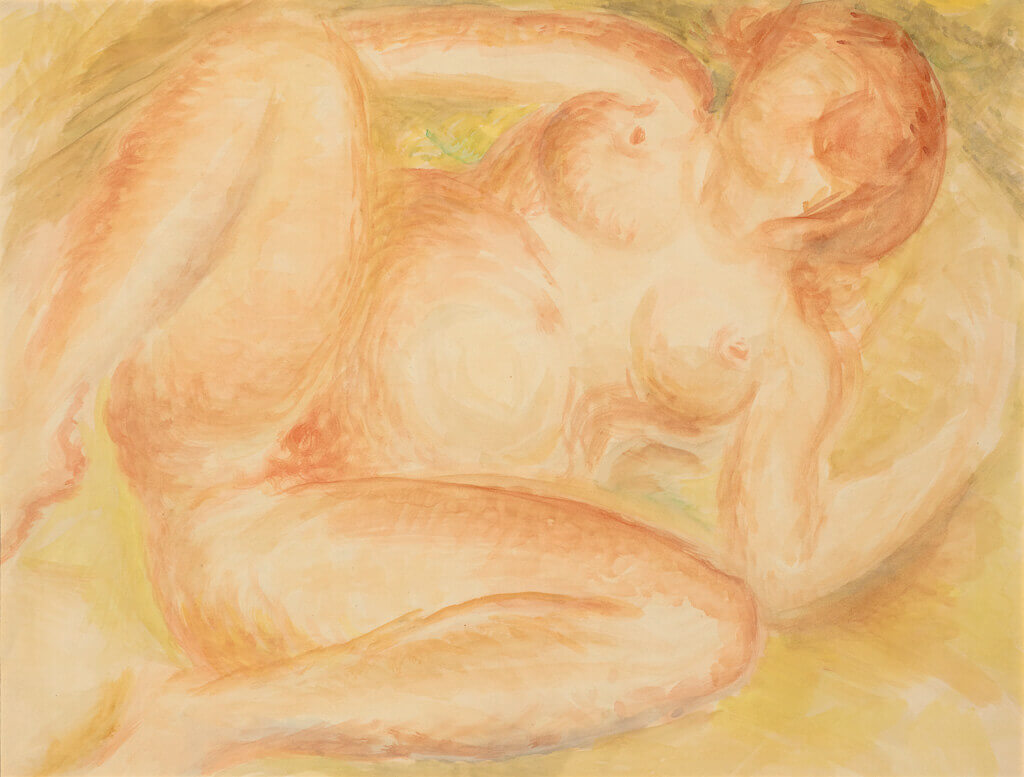 The depth of their secret love affair, which continued after Irene moved to Ottawa in the mid-1930s, is evident from FitzGerald's passionate and intimate love letters to her. Irene's marriage on November 24, 1945, to the Canadian folk singer and songwriter Wade Hemsworth could have magnified this crisis. The series of self-portraits thus may be the artist's response to emotional problems as well as anxieties about his life and career.
The surprise discovery of the watercolours in his studio after his death, much to the distress of his wife, Vally, suggests that they were meant to be private. They were also found with a cache of erotic drawings and watercolours similar to Red Nude, c. 1943–45. Presumably FitzGerald never intended this group of works for public display, not only because of their frank subject matter but also with the self-realization that drawing and painting from the human model was the least resolved aspect of his oeuvre. Following Vally FitzGerald's death in 1962, the self-portrait watercolours and nude studies were acquired by the Winnipeg Art Gallery and exhibited for the first time in A New FitzGerald, Winnipeg Art Gallery, April–May 1963.