Annie Pootoogook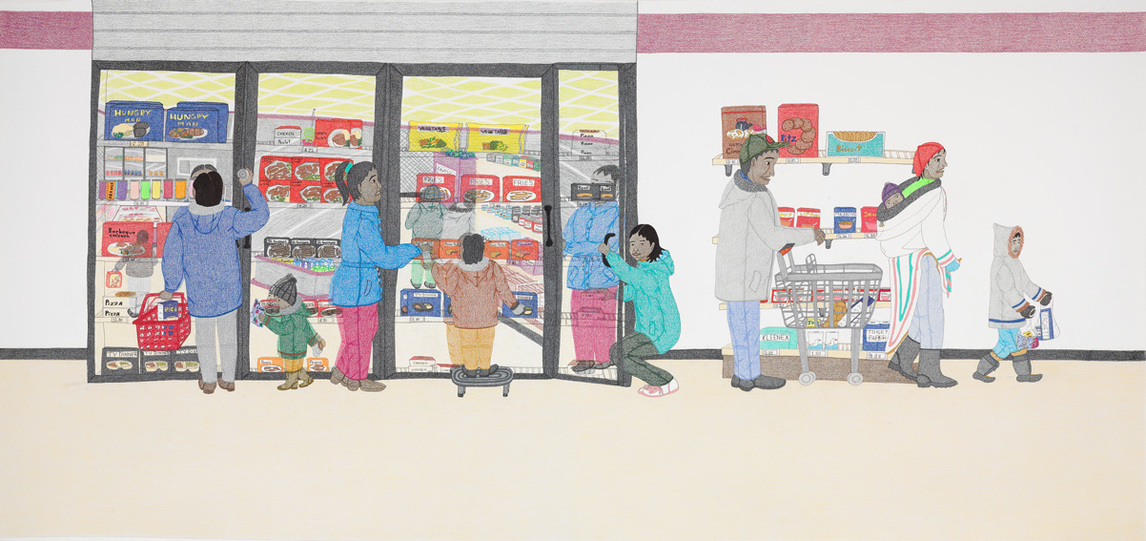 Annie Pootoogook (1969–2016) captured the changing nature of Inuit life and the irony of the everyday in Cape Dorset Freezer, a large-scale drawing that she created for an exhibition at The Power Plant Contemporary Art Gallery, Toronto. This humorous image of Northern shoppers in front of a supermarket freezer was a major technical challenge because of its size and scale, but it became one of the highlights of the show.  Art critic Sarah Milroy later noted that "the pleasure and satisfaction she enjoyed in communicating about her Northern world is palpable…. Ms. Pootoogook brought her own honest and sincere character to her portrayals. Her imagery was wide-ranging, from depictions of alcoholism, domestic abuse and personal demons to the glory of a new shiny freezer at the Cape Dorset co-op, the lazy pleasures of watching cartoons on TV with the kids, or having a smoke with a friend."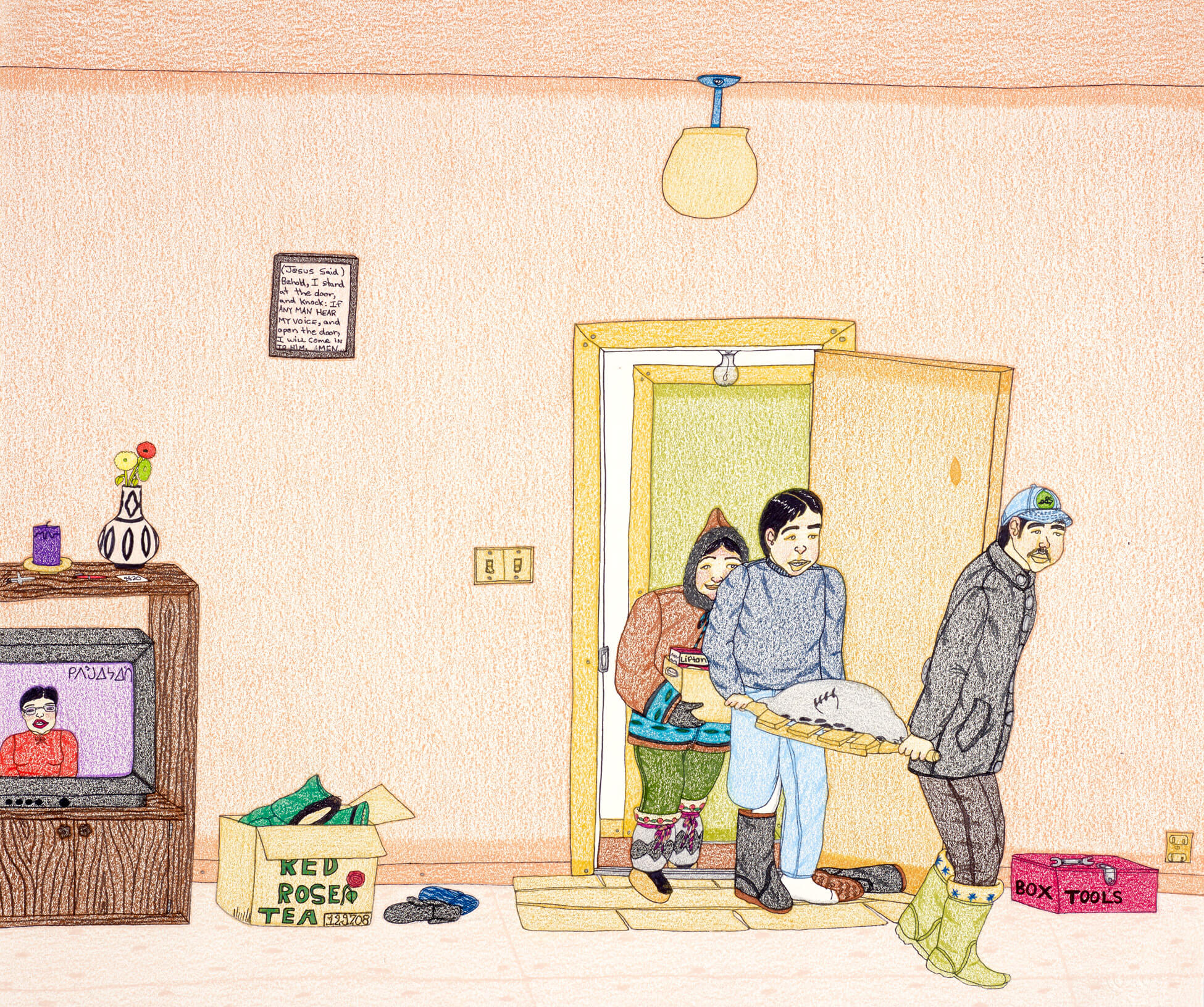 Interviewed at her home in Kinngait (formerly known as Cape Dorset), Nunavut, in 2006, a calm and confident Pootoogook described herself as "a third-generation artist…. I draw every day…. To me, it's a job, my job." She was born in Kinngait, the daughter of artists Napachie Pootoogook (1938–2002) and Eegyvudluk Pootoogook (1931–2000); her grandmother was renowned artist Pitseolak Ashoona (c.1904–1983). Pootoogook began drawing in 1997 in the West Baffin Eskimo Co-operative (Kinngait Studios), recording her daily life in works such as Bringing Home Food, 2003–4. Between 2001 and 2007 she produced more than 1,000 works on paper, and her first solo exhibition, held at Feheley Fine Arts in Toronto in 2003, gained her wide recognition. In November 2006, she won the prestigious Sobey Art Award. She subsequently participated in the 2007 Biennale de Montréal and, in the same year, had pieces at both Art Basel and documenta 12.
Pootoogook moved to Ottawa in late 2007, and her later works, such as Annie and Andre, 2009, represent her life in the South. The city is home to the largest number of Inuit in Canada outside of the Arctic, with an estimated population of 1,800 in 2006.  People come to pursue educational opportunities or employment, and for medical treatment.  Starting in the 1960s, a number of Inuit artists began to travel south, as their work began to be recognized in Canada and the United States. Some, like Henry Kudluk (b.1965), Heather Campbell (b.1973), and Barry Pottle (b.1961), joined the federal Department of Crown-Indigenous and Northern Affairs, while others, including Adam Alorut (1980–2020), Silas Kayakjuak (b.1956), and Alootook Ipellie (1951–2007), came to better promote their art.
While living in Ottawa, Pootoogook worked with other Inuit artists and showed her art at SAW Gallery. Curator Jason St-Laurent described her as "just a ray of sunshine, really. It was always exciting when she came by…. No matter how stressed people were, all of a sudden, the mood would shift in this entire place and everyone would stop working and we would all go outside with her. She was just one of those personalities that brought you in."  Her death under suspicious circumstances in September 2016 demonstrated the dangers that many Inuit face in urban life.  On a larger scale, both her life and her death reflect the ongoing societal issues of how Indigenous culture struggles to survive in a post-colonial world.