Myself 1933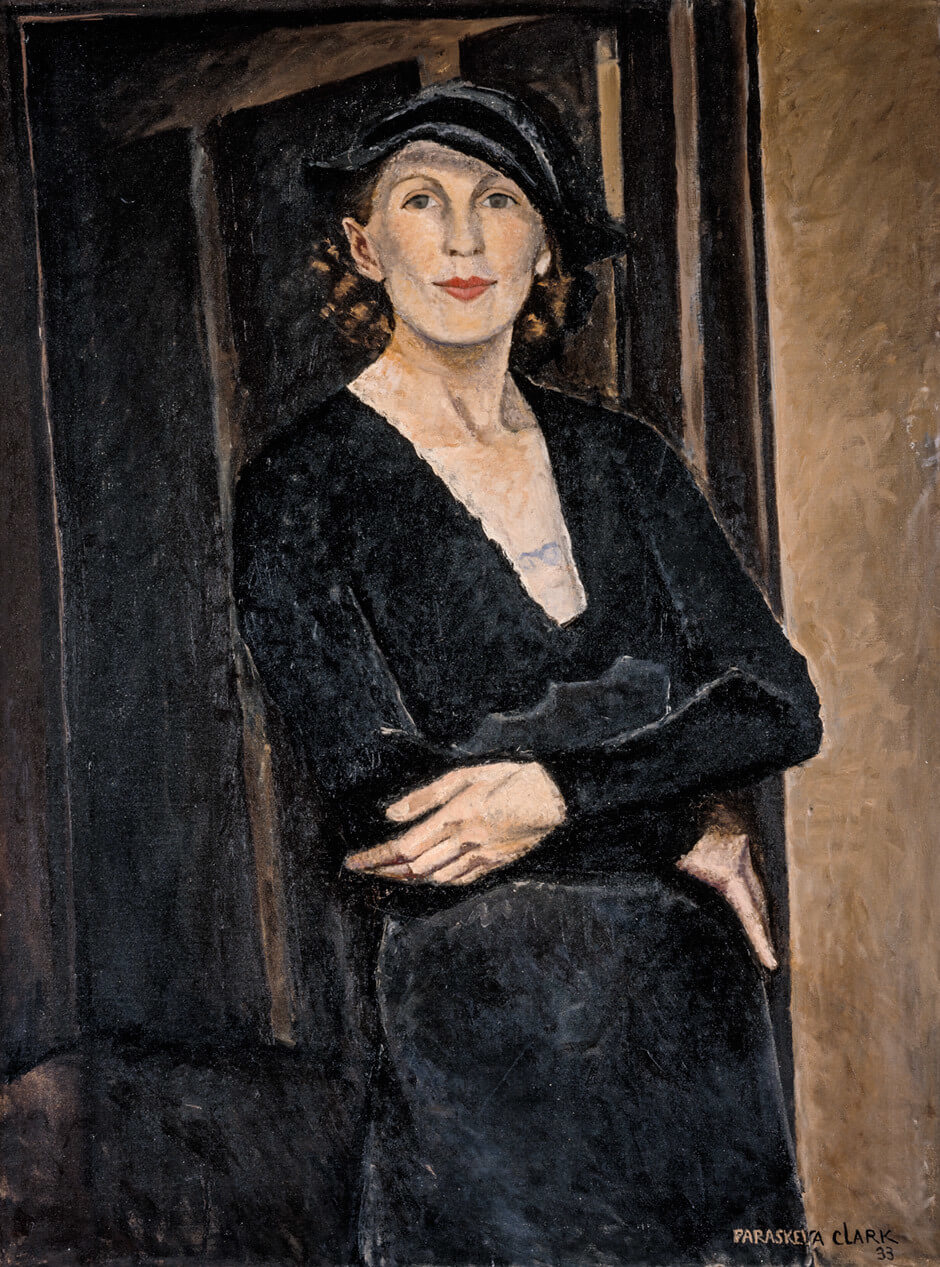 Myself, one of Clark's best-known works, is a bold self-portrait painted when the artist was pregnant with her second child. A fairly recent newcomer to Canada, Clark was invited to contribute to the inaugural exhibition of the Canadian Group of Painters in November 1933. Two of her works were included in the show, signalling her position as a progressive, modern artist in Canada. The painting remained in the artist's collection until the National Gallery of Canada purchased it in 1974. The following year, the gallery featured it on the catalogue cover and poster for Canadian Painting in the Thirties, the exhibition that resuscitated Clark's position in the history of Canadian art.
Writers have commented on the self-confidence that the artist exudes in this solidly constructed work. Clark appears much larger than she was in life, standing almost the entire height of the canvas, leaning against a low table in front of an open door. Her height is enhanced by a number of formal devices such as the diagonal line formed by the door panels above her head, rising toward the upper right corner. Her signature red lips provide the only spot of bright colour in the otherwise limited palette.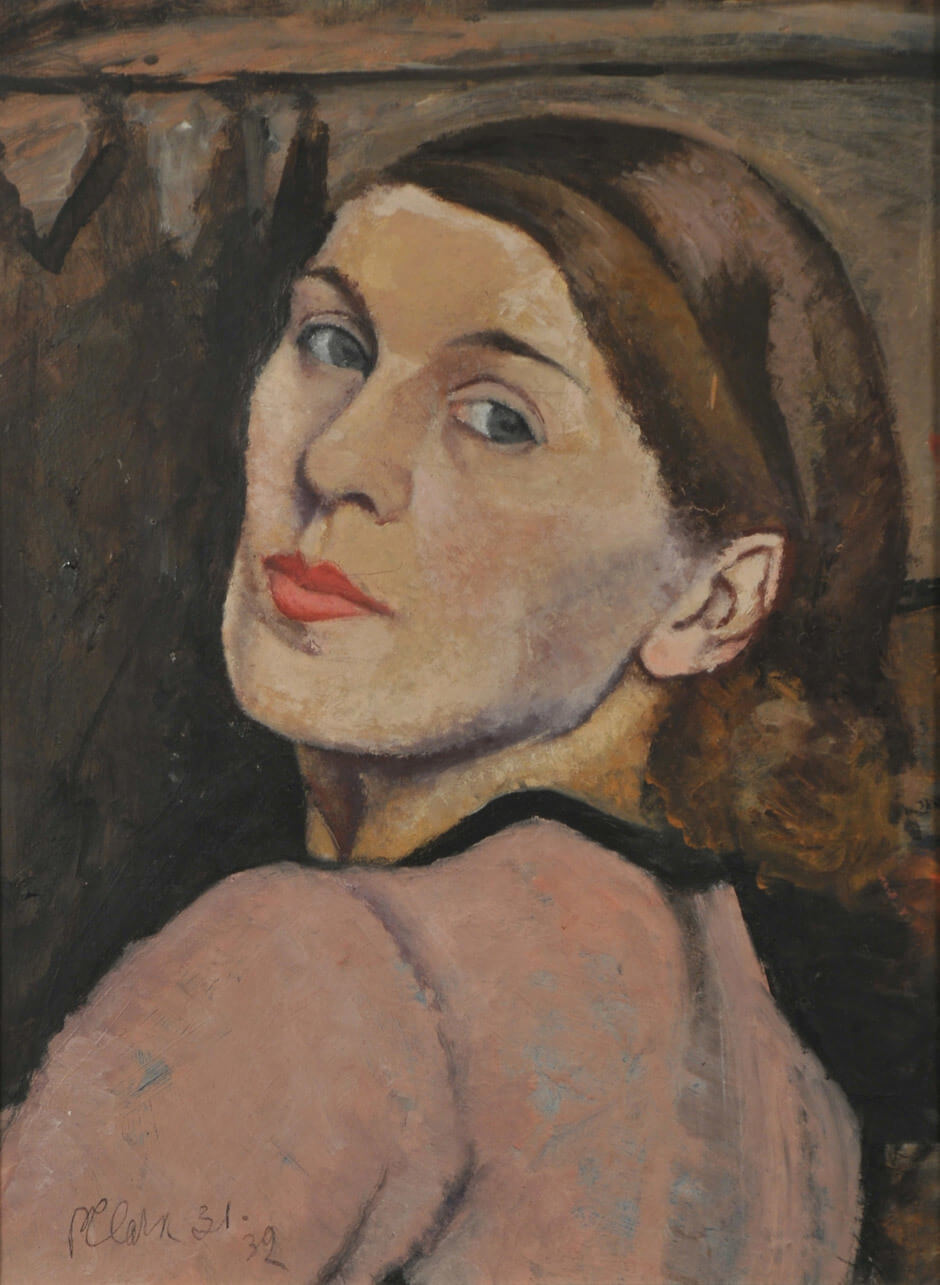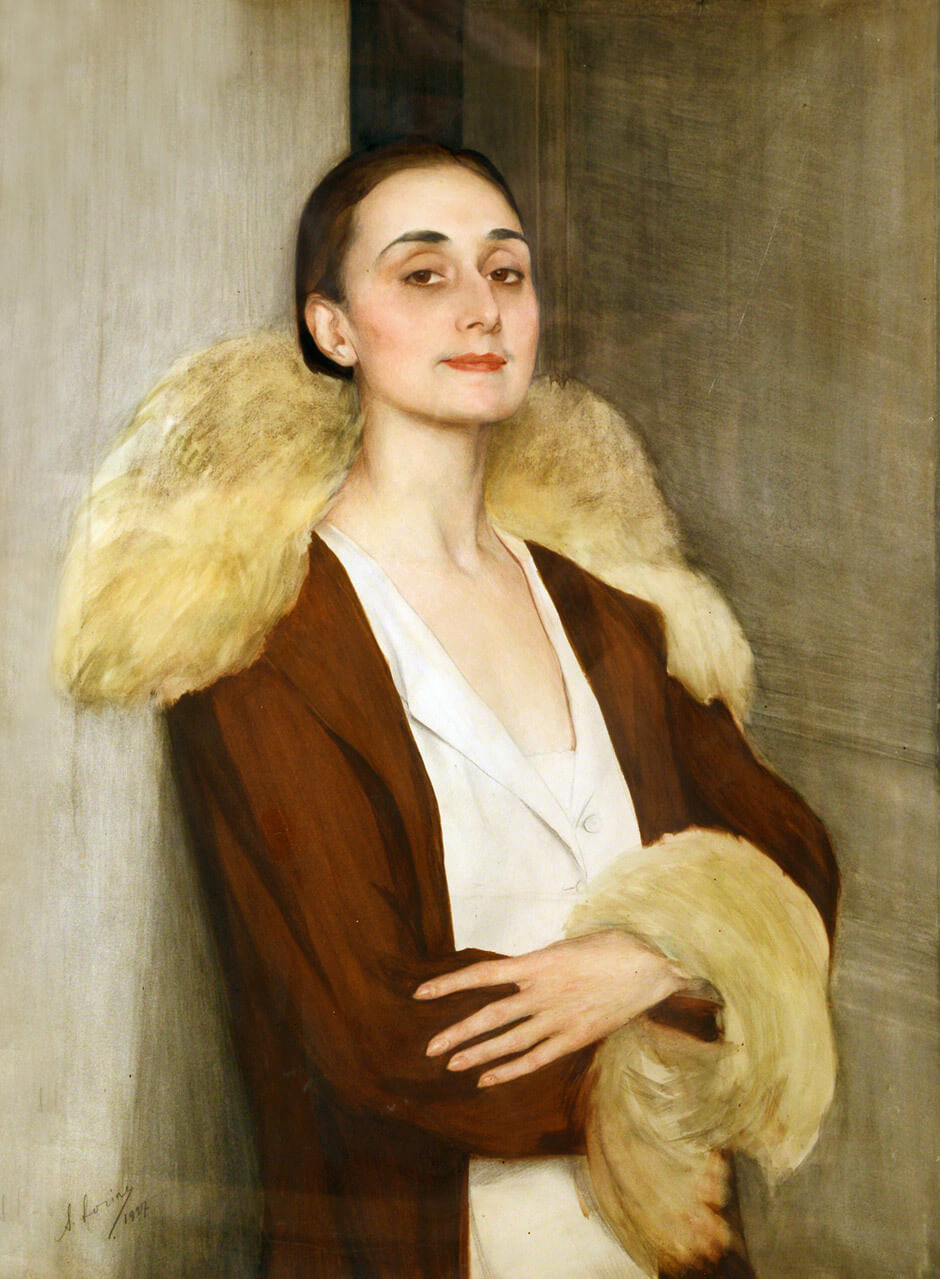 Myself is Clark's fourth self-portrait known today. The earlier painted versions are both three-quarter views: one a head, the other of her head and shoulders. The 1925 version, painted in the Paris suburb of Chatou, accentuates the underlying geometrical structure of the head, as she had learned from her teacher Kuzma Petrov-Vodkin (1878–1939). The second, from 1931–32, shows her looking into the mirror over her right shoulder. It is more animated and flattering, and the dark curtain behind her throws the soft contours of her face into relief. She later exchanged this portrait with artist Harold Town (1924–1990) for his portrait of Clark's son Ben.
In Myself, a three-quarter-length portrait, the artist presents a frontal view of her face, her stylish outfit, and the understated fact of her pregnancy. Her silhouette is not pronounced. A study of form in space, it is also about debut and presentation. Clark had once wanted to be an actor: here she makes her entrance on the stage of modern Canadian art. The pose is remarkably similar to the portrait of Melita Cholokashvili by Russian émigré artist Savely Sorine (1878–1953) painted in 1927. It cannot be said with certainty that Clark knew this painting, but Cholokashvili belonged to Coco Chanel's inner circle of Russian models in Paris. Chanel was connected to the Ballets Russes, led by Sergei Diaghilev (1872–1929), and designed costumes for the ballet Le Train Bleu, which the company performed at the Théâtre des Champs-Élysées in 1924. Clark has adopted Cholokashvili's elegant pose, slightly tilted back and turned away, arms loosely crossed at midriff, as if she is modelling her "little black dress."