Nocturne: Forest Spires 1916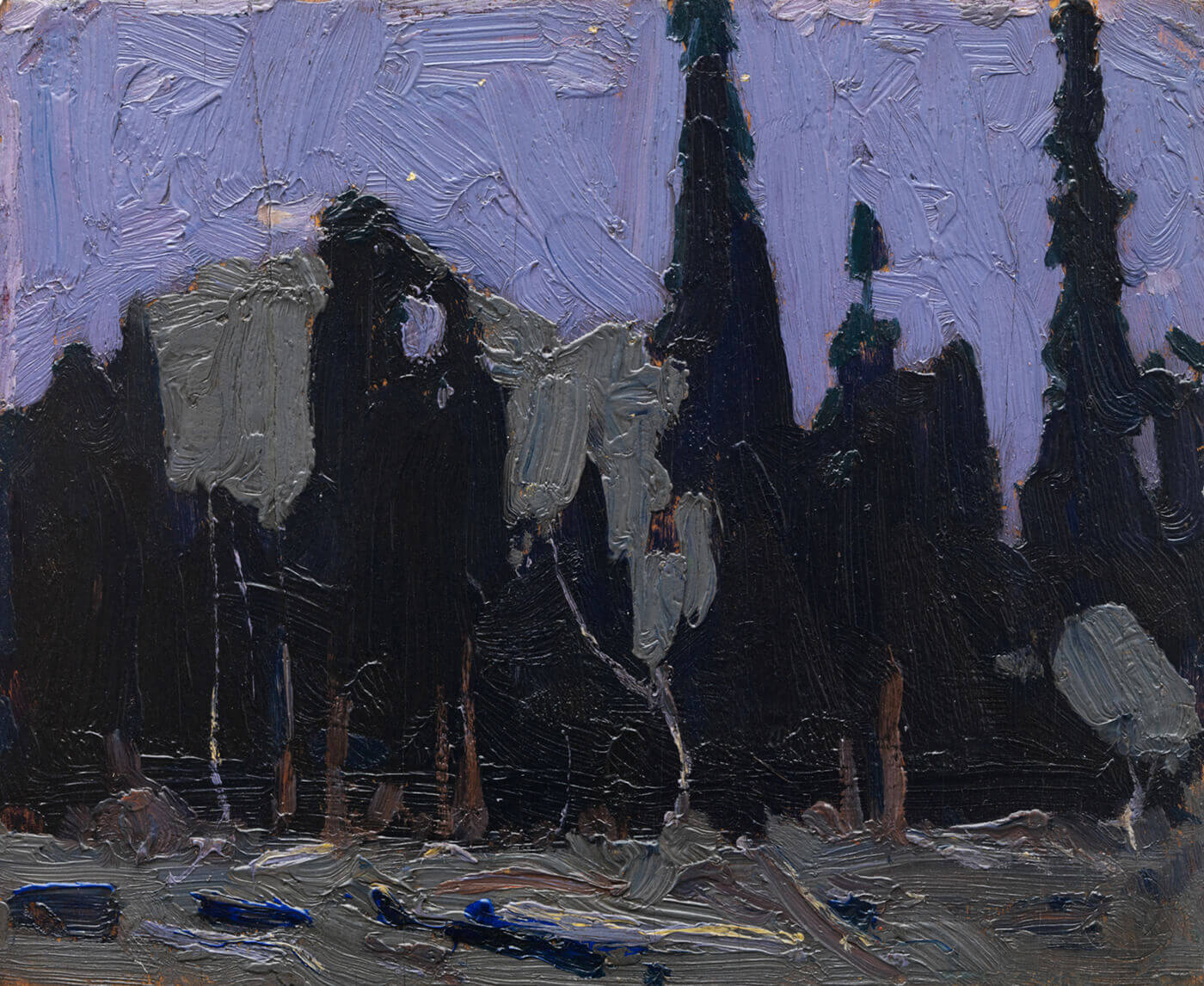 Night was an integral part of Thomson's portrait of Algonquin Park and of the character and soul of Canada portrayed there. For him, the nights in the park were just as seductive as the days, and he painted this subjected repeatedly.
Nocturne: Forest Spires stands out among the artist's depictions of darkness because it catches not only the atmosphere but also the character of the forest at night, mysterious and looming. Here Thomson depicts with accuracy and emotion the feeling of being in the night—a sense of peace, of night like a comforting blanket, wrapping itself around both the subject and the viewer. Thomson's ability to find intensity in a scene was as great in this nocturne as in his wildly colourful autumn tapestries.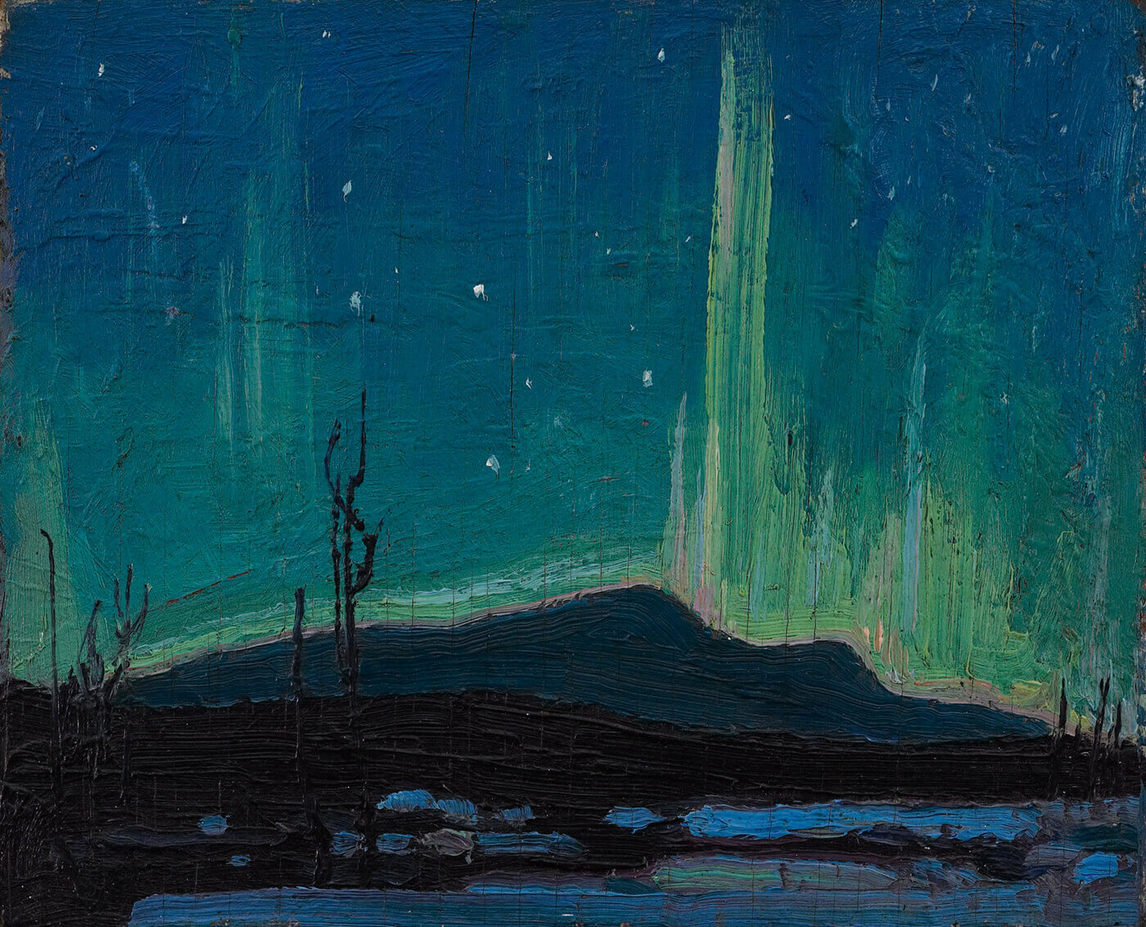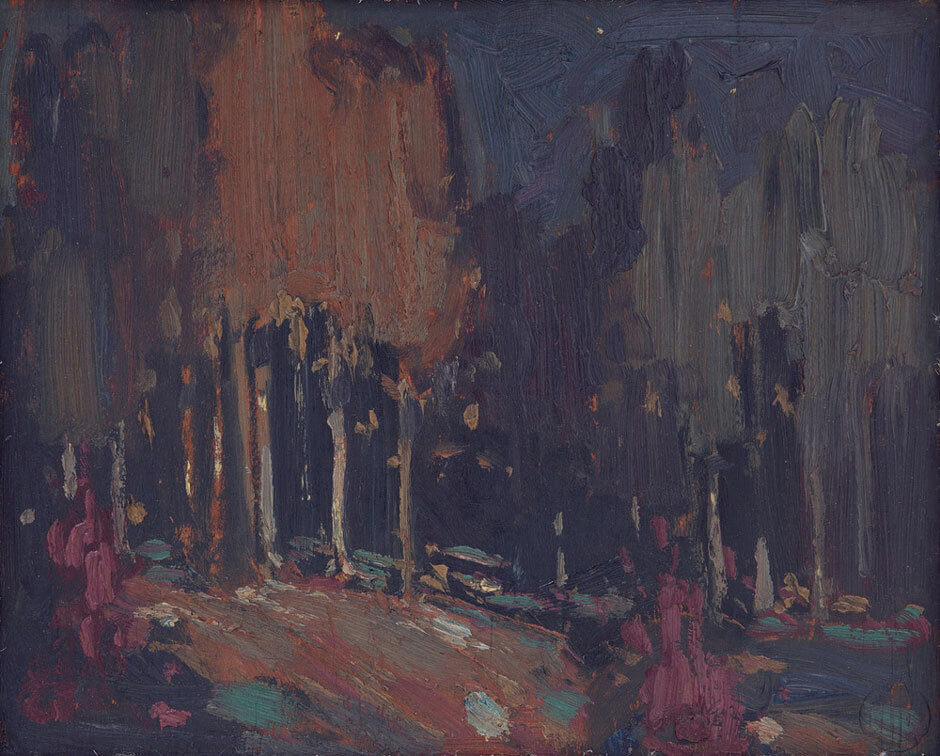 Creating nocturne paintings enthralled Thomson in all seasons. On warm summer nights, with a light breeze keeping the mosquitoes down, Thomson liked to float on a lake in his canoe, enveloped by the darkness. In the autumn when the northern lights danced in the sky, he captured their swiftly shifting drama. In the depths of winter, with only the moon for light, the night presented long shadows and eerily illuminated snow. And in the spring, as the earth shucked off the mantle of winter, Thomson painted other night scenes—of lumber camps, trees in leaf, moose grazing at the water's edge, and geese flying north.
Thomson painted at least twenty-three nocturnal paintings—more than all his colleagues in the future Group of Seven put together. He found mystery in the night, when shadows were deep, and the light of the moon and the stars shone across the surface of a lake. They were an essential part of his diary or compilation of phenomena about the North—or, as his patron Dr. James MacCallum called it, his "Encyclopedia of the North."