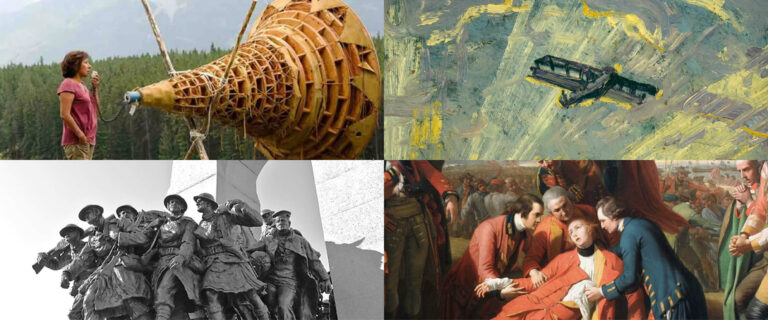 War Art in Canada is ACI's inaugural thematic art book title. In this new Canadian Art Library series, the nation's leading scholars, curators, and arts professionals explore a topic or idea that has had a profound impact upon Canadian art and the national imagination.
Throughout Canadian history, conflict has been a catalyst of change and a destroyer of worlds. War Art in Canada explores the universal theme of war through the country's visual and cultural past. Weaving together artworks and stories to inform and enlighten us, author Laura Brandon navigates both peaceful and brutal subject matter. By presenting the dynamic and, at times, surprising visual legacies of conflict, she encourages readers to question assumptions about our country's military past.
"Reflecting our cultural, military, political, and social evolution over thousands of years, war art in Canada documents, supports, protests, and questions the battles that our nation has fought and brings us closer to those involved."

Laura Brandon
The art created from conflict is exceptional in its diversity, and Brandon has assembled an arsenal of conflict-related cultural media, including posters, sketches, photographs, films, and sculptures. This comprehensive study showcases a stunning range of creators, such as A.Y. Jackson, Alex Colville, and Rebecca Belmore, and ventures far beyond the familiar narratives of Western battle painting by including Indigenous war art practices, passed down through generations in what we now call Canada. Ultimately, it provides new insights into our country's deep and often disturbing relationship with combat.
Laura Brandon, CM, was the Curator (subsequently Historian), Art & War, at the Canadian War Museum from 1992 to 2015. She is an author, curator, and lecturer specializing in war art. Brandon has written and lectured on military art for nearly 40 years and has curated more than 45 exhibitions, in Canada and internationally. She is currently an adjunct research professor in the School for Studies in Art and Culture and in the History Department at Carleton University. In 2015 she was appointed to the Order of Canada.