The production of a magazine on deadline, rather like the creation of a fine sausage, is a process best left behind closed doors. Better to savour the finished product than to witness the work in progress. Still, deadlines can be where the magic happens. Take the case of the late Pierre Berton, who, as managing editor of Maclean's in the 1950s, stared at the horror of a raft of empty pages and a ticking clock. Morley Callaghan's novel The Man with the Coat had just won a $5,000 Maclean's book prize. "I took the plunge and decided to run the entire novel in a single issue, complete with a special cover and nine pages of four colour illustrations," Berton recounted in his autobiography. The greater challenge were the illustrations. He knew of only one artist "who was fast enough and competent enough" to do the job.
The call went out to master freelancer Oscar Cahén, familiar both as illustrator of many fine and whimsical Maclean's covers of the era, and for a growing reputation as a key member of Painters Eleven, then leaders of Canada's emerging school of abstract artists. "We locked up Oscar in a hotel and, in one astonishing painting frenzy, he produced a brilliant series of illustrations," he wrote. Problem solved. Deadline met.
If Cahén's name is little known outside a select circle of art aficionados, that's an over-sight the Art Institute of Canada intends to correct with the release, on Sept. 25, of Oscar Cahén: Life and Work, by Hamilton art historian Jaleen Grove. It's the 13th in a series of free, lavishly illustrated online books on significant Canadian artists produced by the non-profit institute.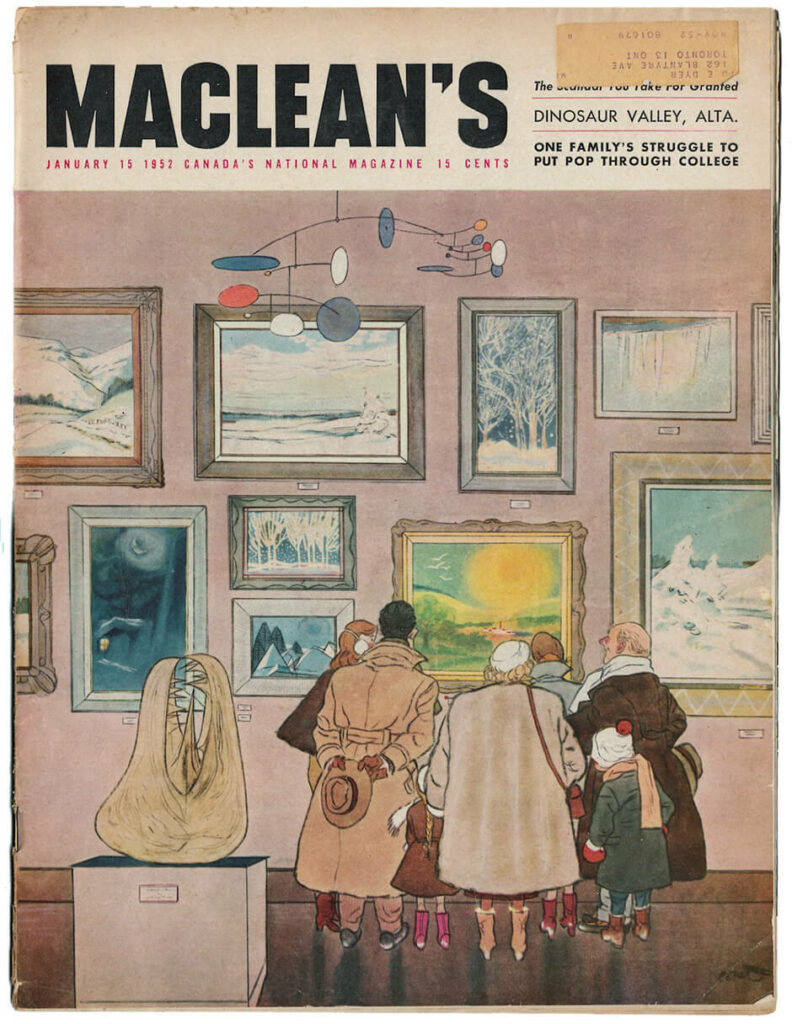 Quite apart from his art, Cahén's backstory alone is worthy of a magazine article, or, as institute founder and executive director Sara Angel says, of a Hollywood movie. It might open in Germany in 1932, when a precocious 16-year-old Cahén enrolled in Dresden's State Academy for Applied Arts in the tumultuous months before Adolf Hitler, as chancellor, launched his brutal Nazification of the country. It would touch on the espionage and anti-Nazi activities of his father, the journalist Fritz Max Cahén, before and after the family fled Germany in August 1933, when their citizenships were revoked because of Fritz's Jewish heritage. They eventually settled in Prague in the years before the war. "Oscar not only became a member of his father's [resistance] group, but also assisted by illegally crossing the border into Germany…and helped complete an arms deal his father brokered," Grove writes. In 1937, Czech police searched the Cahéns' apartment and interrogated them (for broadcasting anti-Nazi propaganda) about illegal shortwave radio equipment they'd found in Oscar's possession.
Fritz left for the U.S.; Oscar and his mother, Eugenie, fled to England in 1939, where Oscar was rounded up in a British sweep of male refugees, feared to be German spies. He arrived in Montreal in July 1940 on a prison ship stuffed with 2,000 predominantly German Jews who were classed as prisoners of war and enemy aliens. For two years, he was interned behind barbed wire at Camp N, near Sherbrooke, Que., a brutalizing and demoralizing experience. Still, fellow internees recalled him trying to lighten the experience with good cheer and wry jokes. "These two faces—one dark and tragic, the other playful and optimistic—characterize not just Cahén's personality, but his later artwork, as well," Grove notes.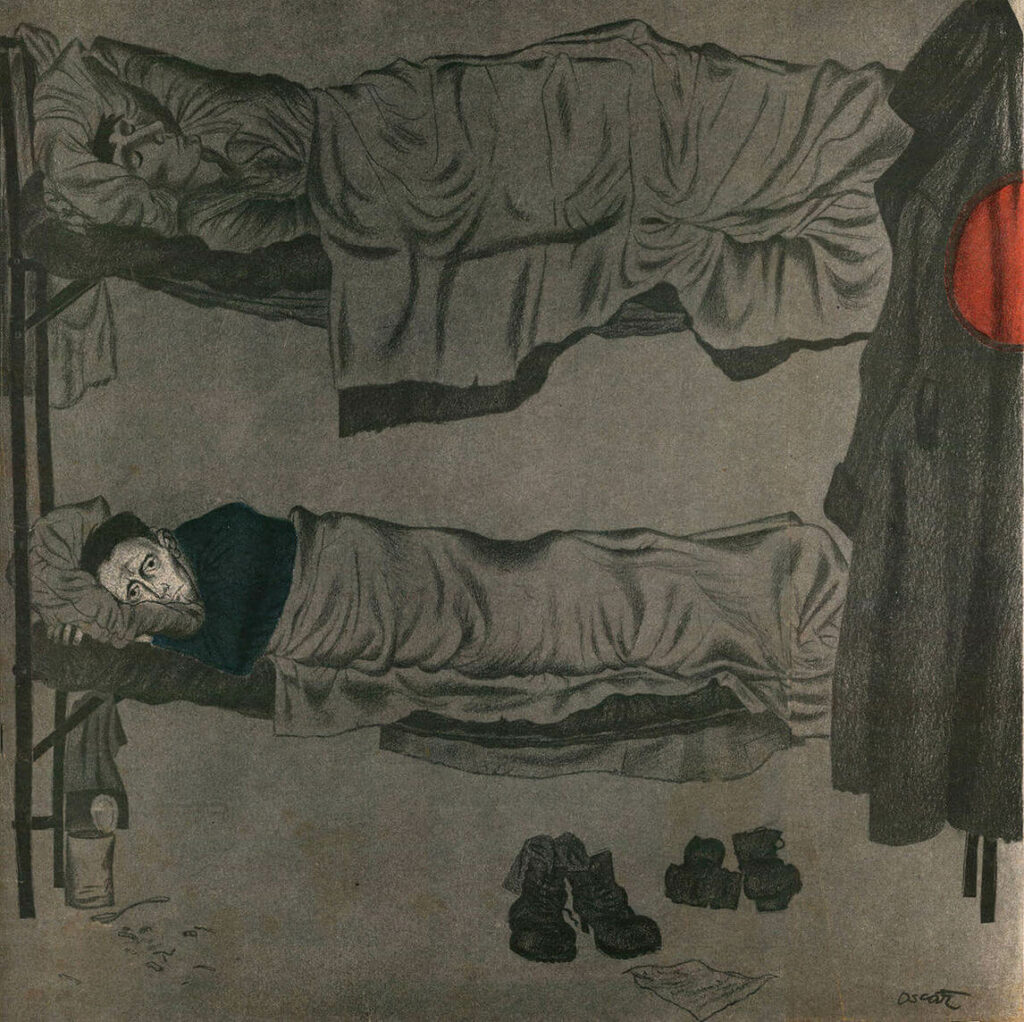 His talent as an artist shone even behind the wire. He submitted trial illustrations to Montreal's nationally distributed The Standard magazine. They were enthusiastically accepted and, with the prospect of gainful employment, he won his release from internment. "Watch for his name, because he is our 'find' in the world of commercial art," The Standard crowed. Their prediction proved true: He reached the top ranks as an illustrator, and as an abstract painter. Cahén loyally maintained his relationship with The Standard throughout his tragically shortened life.
Cahén moved to Toronto in 1944—he'd met and married Martha (Mimi) Levinsky by then—when he was hired as art director for Magazine Digest. Michael, his only son, was born the following year. Michael remembers a home filled with music. "When he was doing his illustrations for Maclean's, including 38 covers, the usual music was the Hot Club of France, Stéphane Grappelli and Django Reinhardt," says Michael, now 70, in a interview from his home on B.C.'s Galiano Island. "It was a foot-tapping kind of mood," found in his more playful illustrations.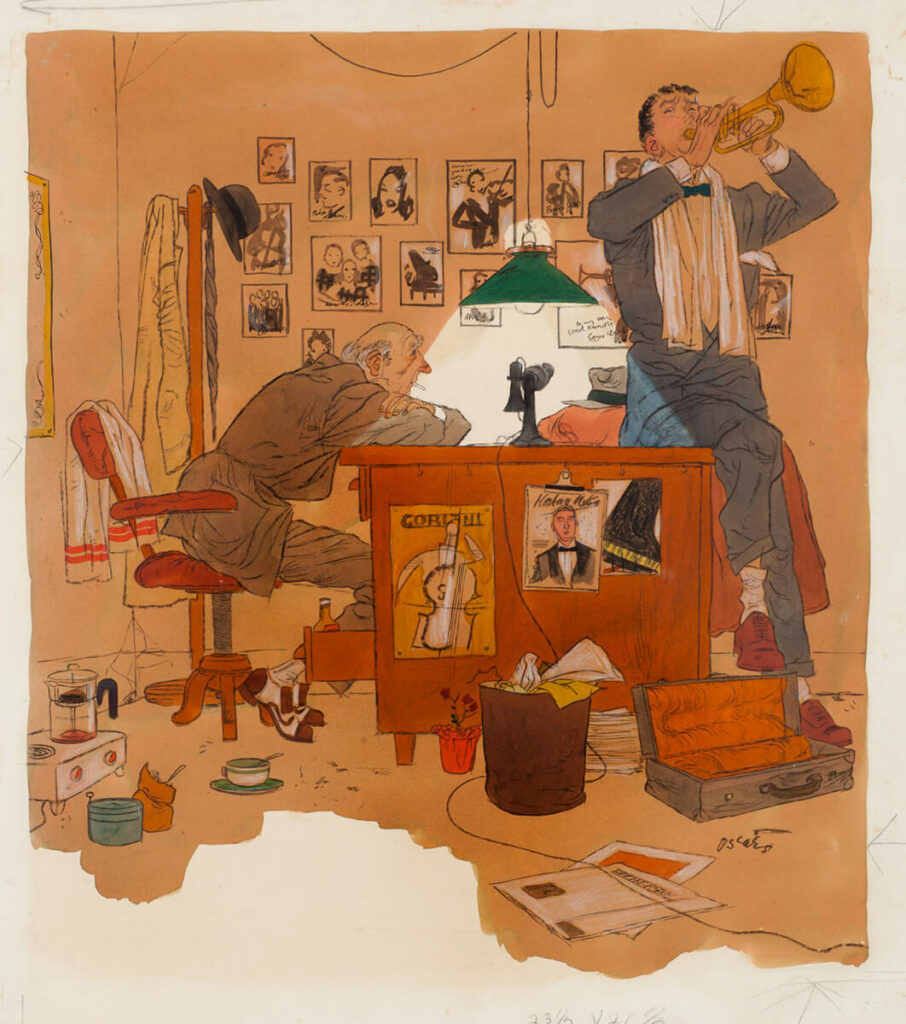 But not all of Cahén's illustrations were of the feel-good Norman Rockwell variety. "He did some pretty grim pieces, too," says Michael. His experience as a refugee led to such commissions as illustrating The Standard's recounting in 1946 of the nuclear devastation of Hiroshima, Japan. He had greater freedom to stretch boundaries while drawing for the edgier Toronto-based New Liberty magazine. There, some of its darker fiction stories were peopled by Cahén's renderings of figures so grotesque, one reader asked: "Do you keep your illustrator Oscar in a padded cell?"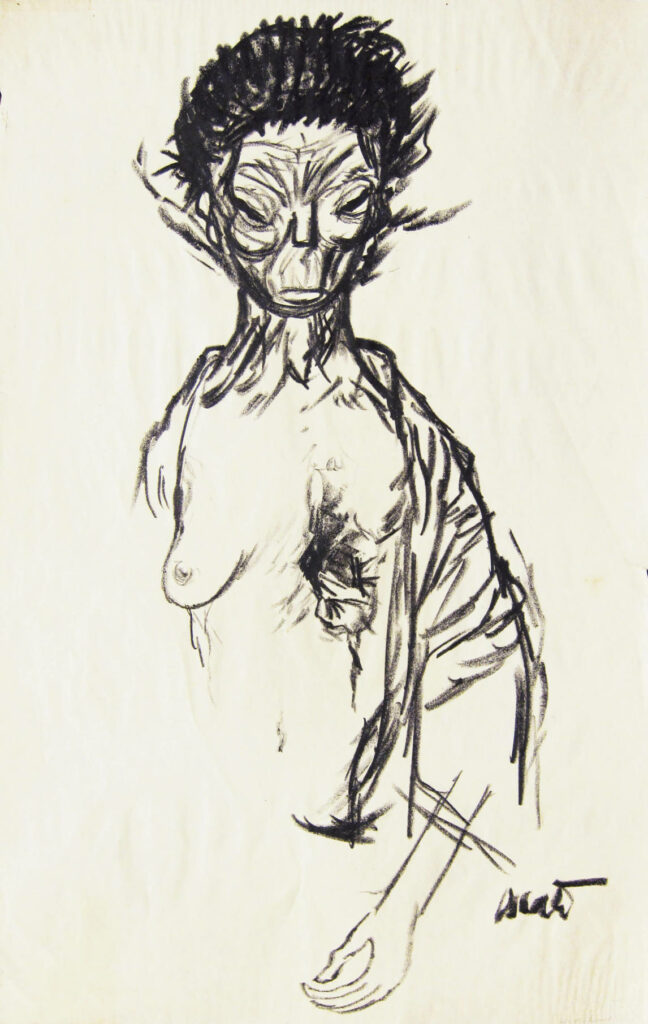 His fearful experiences in Nazi Europe and as a refugee seemed to leak into his fine art. "We're not seeing exuberant, joyful paintings when he's painting for himself in the middle and late '40s," Grove says in an interview. "It's all bleak and depressing. I think he always had both sides, both dark and light to him."
Oscar, writing in Canadian Art magazine, called it regrettable that "the trade of illustrator is often looked down upon by 'fine artists.' " By the 1950s, his income as an illustrator allowed him to burnish his own fine art credentials through abstraction, working with such Painters Eleven contemporaries as Jack Bush and Harold Town.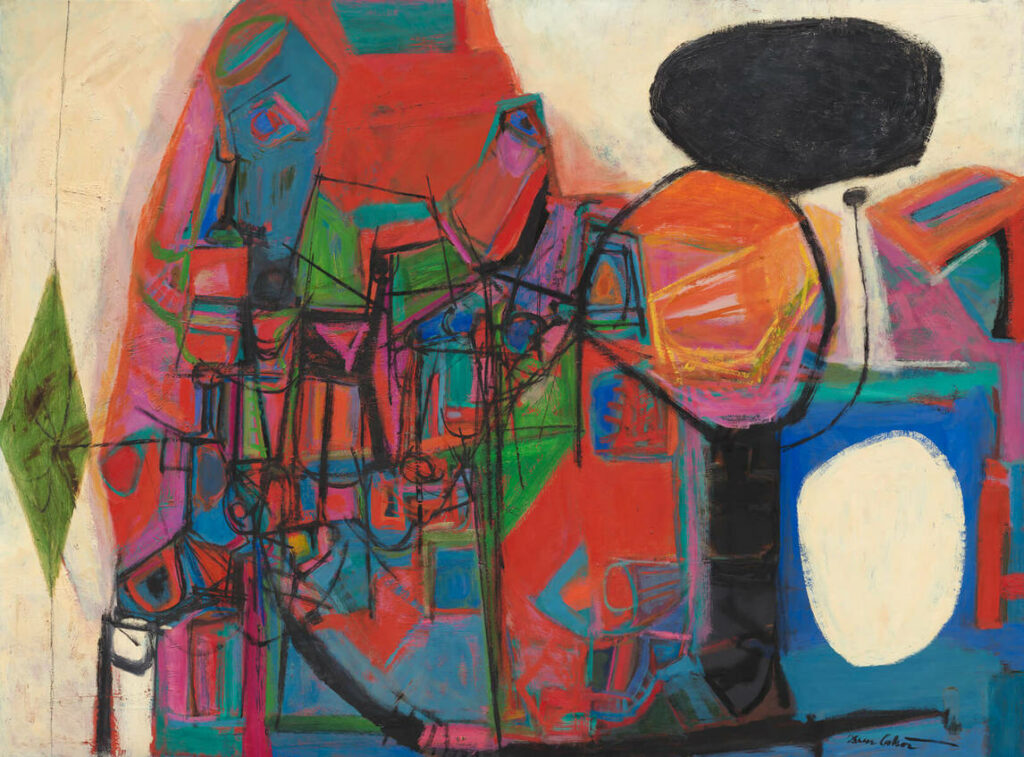 Grove believes he would have been equally famous, had his life not been cut short at age 40, when his sporty Studebaker Hawk collided with a dump truck on Nov. 26, 1956. The memory is seared in Michael's memory. Mimi was so devastated "that she never actually recovered," so it fell to him to fill the void, he says. "Since that day, I've always had a deep, 100 per cent commitment to try to do something positive from my father's death."
His mother retreated to Florida, showing little aptitude or appetite for the business side of art. The bulk of Oscar's voluminous paintings, tearsheets and correspondence was locked away in storage until her death 25 years ago. "If it weren't for the fact that his wife pretty much kept most of the work out of circulation, I think he would be much better known," says Angel. It was left to Michael to catalogue his works and papers, research his history and build on his legacy, with the assistance of Grove, scholar-in-residence at the Cahén archives in Toronto. "We've done all the prep," he says. "I'd like an institution to take it on. Going back to Nov. 26, 1956, that would complete the circle for me."
Read the article as originally published here.
Read the online art book here.