E-books are everywhere these days, but how many of them are real e-books, written specifically for that medium? Not many. Most are simply traditional print books that are available on a different platform. At best, like a DVD, they have a few bonus features tacked on at the end or, in the case of children's books, a little added animation. Writers of fiction and non-fiction have been slow to embrace the technology available in this new medium and to incorporate it into the way they tell their stories.
For three years now, one publisher in Canada has been developing books that are written specifically as e-books and produced only in that form. It's the Art Canada Institute (ACI), the brainchild of executive director and publisher Sara Angel, and at present it releases six biographies of Canadian artists every year. Twelve titles have been published so far, and by June 2016 there will be 18 — and so it will proceed. Each season covers a mix of artists: men and women — historical and recent — from all regions of the country, including many Aboriginal artists. The authors are art historians or art gallery curators for the most part, and the books are written and edited to appeal to general readers who enjoy visiting galleries as well as to undergraduate university students.
So how do these books differ from traditional biographies in print? To begin, they are not linear, with a beginning, middle and end. Rather, they are deconstructed into four thematic parts: Biography, Key Works, Significance and Critical Issues, and Style and Techniques. In addition, there is a Sources and Resources part (listing print materials as well as films, videos, documentaries, exhibitions and other items of interest), a Where to See part (giving full information for all the art works included in the title) and a short biography of the author.
The deconstructed approach works well for online delivery. Although every title is about 15,000 words long, each part is compact and generously broken up by many illustrations, both archival images and pictures of artworks (70 to 100 in all). With a backlit screen, the colour pictures are clear and vivid in a way not possible in print. The opening page of the ACI website presents a parade of cover images for its published and soon-to-be-published books, and once readers click on the title they want, the first page sets out not only the part titles but the menu of headings within each part. The site is easy to navigate — and readers can go in wherever they choose. Records of clicks show that the Biography and the Key Works parts are the most popular with readers.
The deconstructed approach also presents real challenges for the authors and the editors. They have to think differently from how they do when they write or edit traditional print books: they must break the life and works of the artist they are covering into these predetermined themes, but they must also exploit hyperlink technology to bring the parts back together into a whole. In Tom Thomson (coming November 2015), for instance, Thomson's 15 years as a commercial artist are covered in the Biography, but they are explored in greater depth in Key Work 1 (an example of his graphic artwork), in Significance and Critical Issues and in Style and Techniques. All these relevant sections are cross-referenced to one another by differently coloured hyperlinks on leading words or phrases.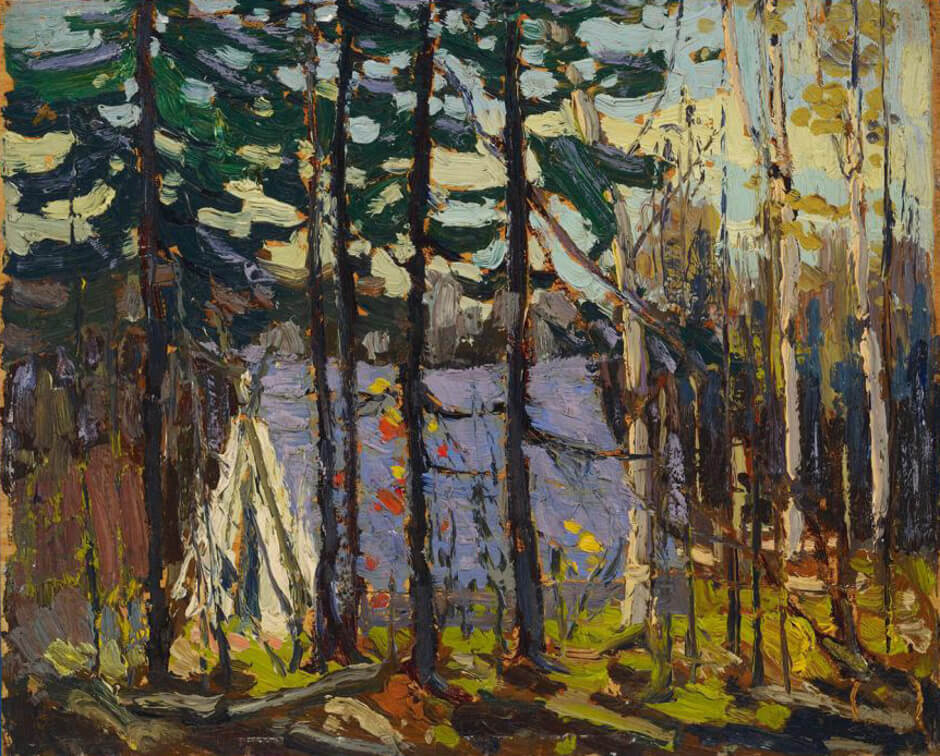 The ever-expanding glossary is another way the ACI books use web-based technology. As the senior editors work with the authors to develop these books, they mark the individuals and terms that should be added to the glossary. A succinct biography or definition is then prepared for all these people or words, unless they have already been covered in previous titles. As readers go through the text, they can spot these terms and can access the glossary by hovering over the highlighted words for a moment.
Amazingly, all the ACI titles are available in both English and French. Depending on whether they were written in English or in French, they are translated into the other language. Even more amazingly, they are free — fully funded by generous individuals and corporations that appreciate art and culture. Readers can also download them on their computers, iPads or smart phones. That broad accessibility means that each title is produced in six different formats — on computer, tablet and phone, each in English and French.
Given its initial success and the growing skills of its editorial and technical staff, the ACI has ambitious plans to expand beyond its biography series. Theme issues such as Inuit Art, Impressionist Art, the Group of Seven or Painters Eleven may be next, as well as online curated exhibitions. The ACI also has a special sesquicentennial celebration planned for 2017 called Canada Collects, a resource that identifies and offers in-depth discussion on the most important works of art in more than 150 Canadian collections. It regularly updates its Facebook page not only with news of its own titles and book launches but also with items of interest to culture watchers across the country. In short, the ACI is a totally contemporary and exciting publisher — and it will be fascinating to see where it takes publishing in the future.
Now, where are the other writers and publishers who will accept the challenge of developing books and series specifically for online delivery? There are many different ways to approach the new technology, and it will be interesting to see what develops. Just as early cars looked much like the horse-drawn vehicles that had preceded them, and early films were staged much like traditional theatre, so our early online books are emerging from the print books that went before. Soon, however, these e-books will take off with confidence in new ways — in directions we don't even dream about now.
Read the article as originally published here.
Read our online art books here.
Check out our online exhibitions here.