Jacques Cartier's Ship n.d.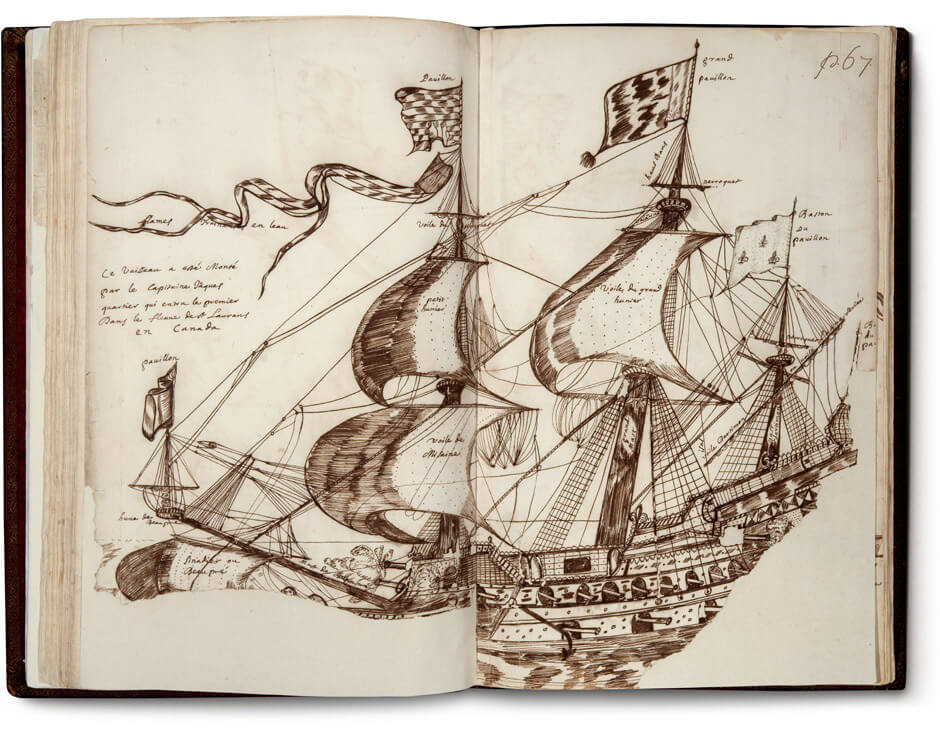 Nicolas likely chose to represent the "vessel of Jacques Cartier, the first to enter the St. Lawrence River in Canada," to contrast the magnificence of this vessel, especially in its ability to cross the ocean, with the kayak and small canoes described earlier in the Codex Canadensis. It was common at that time for the French to contrast the "primitive arms or tools" of the Indigenous peoples with what they considered to be French technical feats, and thereby to confirm their idea that European civilization was superior to that of the lands they were conquering.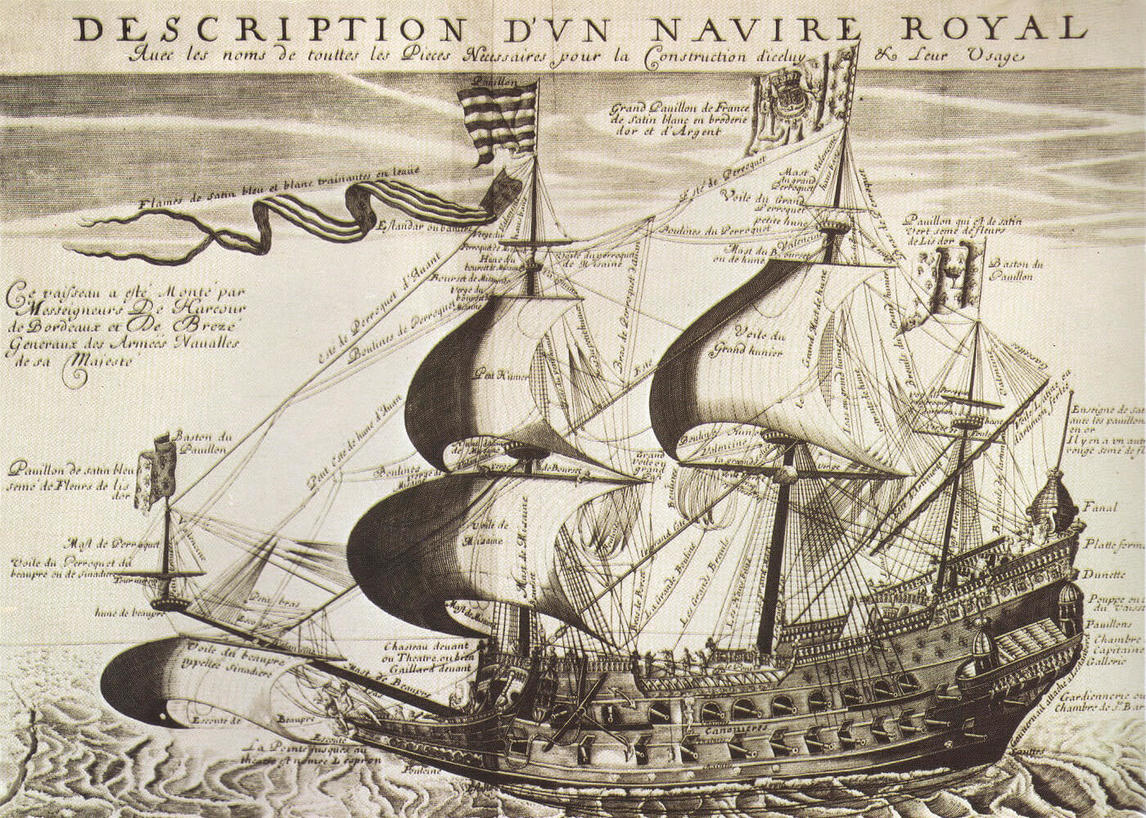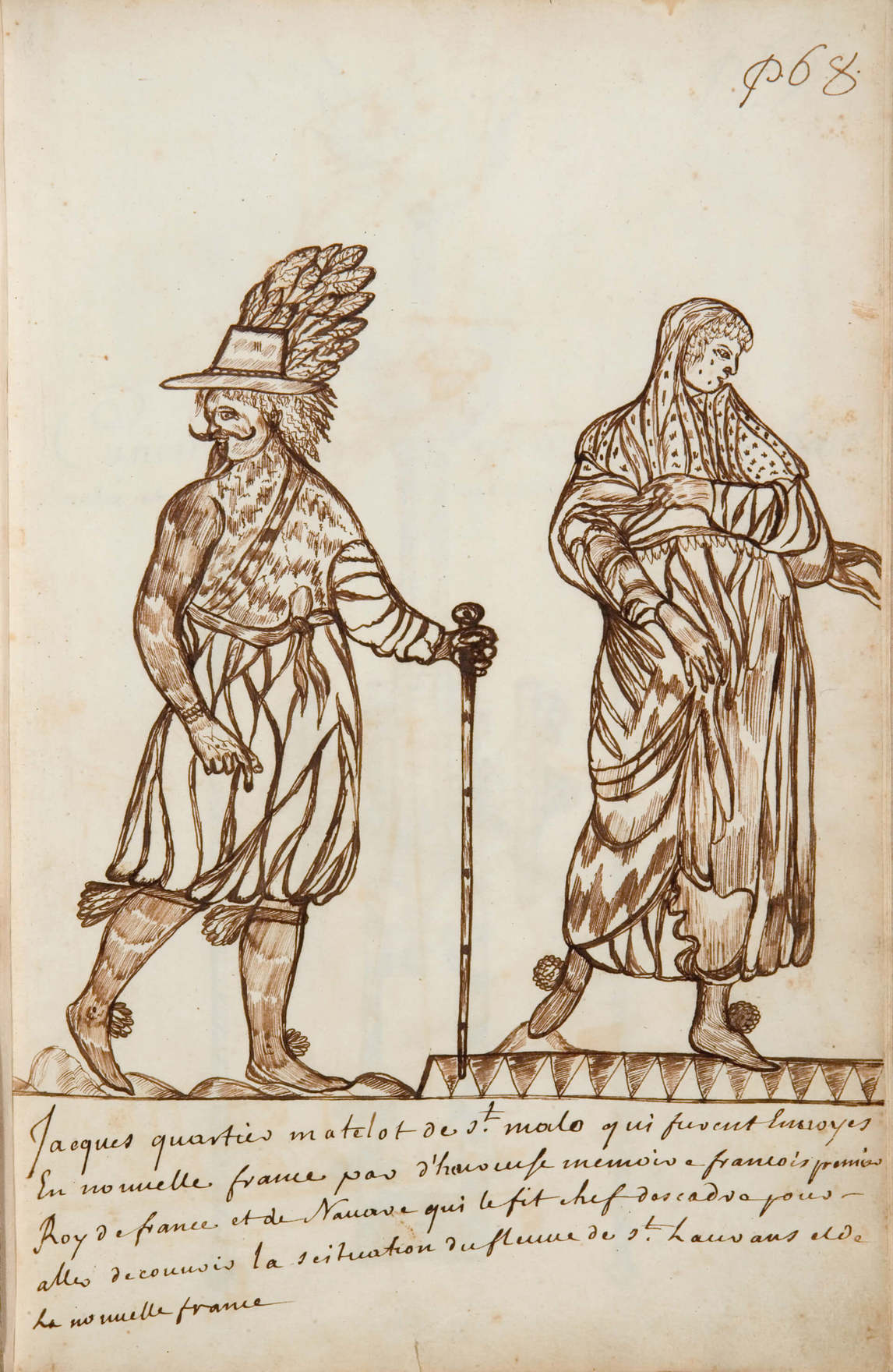 In this illustration, Nicolas has drawn a splendid vessel on a double sheet of folded paper—one twice as wide as his usual 21.6 centimetres. With its billowing sails, banners, and flags all brilliantly drawn in ink with detailed hatching and markings, it seems to be speeding through the water. Its guns are at the ready, and at least three are firing. The sails and rigging are carefully labelled.
Nicolas's depiction of this ship is directly inspired by the "Description of a Royal Ship" ("Description d'un Navire Royal") that formed the frontispiece of Hydrography Containing the Theory and Practice of All Parts of Navigation (Hydrographie contenant la théorie et la pratique de toutes les parties de la navigation) (1643) by the Jesuit geographer Georges Fournier. Fournier's illustration is of a vessel named The Crown (La Couronne), which was commissioned by the French Navy in 1636 as a war galleon. It was built by the French as part of Cardinal Richelieu's efforts to ensure that the French Navy dominated the seas, and had nothing to do with Cartier's ships in 1534 and 1542.
On page 68 of the Codex, Nicolas includes a sketch of a well-dressed Cartier accompanied by a robed female figure—perhaps a muse leading him in his explorations in the New World. This image is purely imaginary because no known portrait of Cartier exists, except perhaps for the finely coloured drawing of him with his well-armed explorer-colonists included in the Vallard Atlas (1547).
Nicolas concludes the Codex with a series of domestic animals—including ducks, roosters, cats, dogs, cows, and one of the fine stallions Louis XIV had sent to New France for breeding purposes "more than thirty years before." Given that history records the arrival of these horses in 1667, this image is important in dating the Codex Canadensis to around 1697.