Growing Form 1953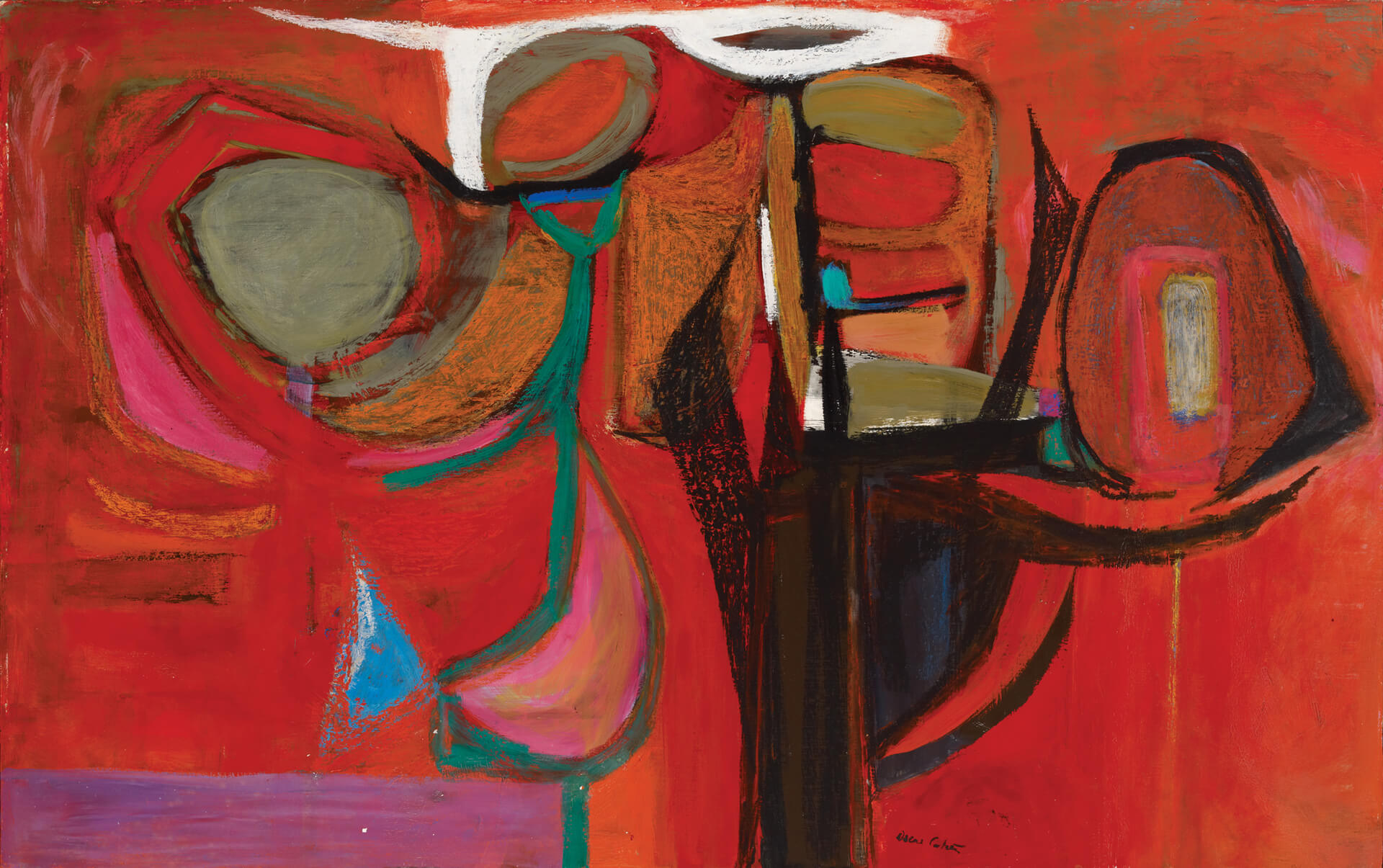 By 1953 Oscar Cahén was confidently painting many large abstracts in oil. He participated in ten exhibitions that year alone and eleven more in 1954. Growing Form was included in his first solo show, held at Hart House in Toronto in October 1954 at the invitation of the art committee there. Conservative critic Hugh Thomson ridiculed the show, calling the paintings "vague" and "screw-ball," similar to "the work we used to do in kindergarten."
Although he was exploring purely formalist problems at the time, Growing Form is typical of Cahén's ongoing interest in converting recognizable subject matter into emotionally resonant abstracted forms. Like other painters of the period, he was "fascinated" by popular British artist Graham Sutherland (1903–1980), whose thorny organic compositions had been recently shown in Toronto. But Cahén had not simply adopted a trendy trope. For some time, he had been developing the motif of a barbed, upward-thrusting tall shape, crowned with a bloom of crescents.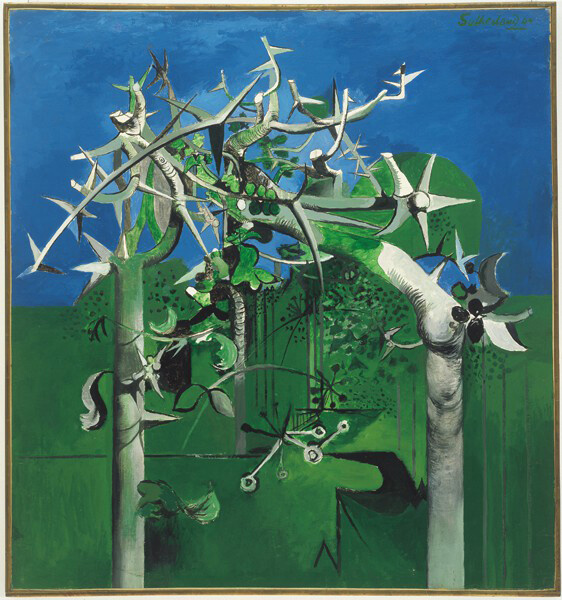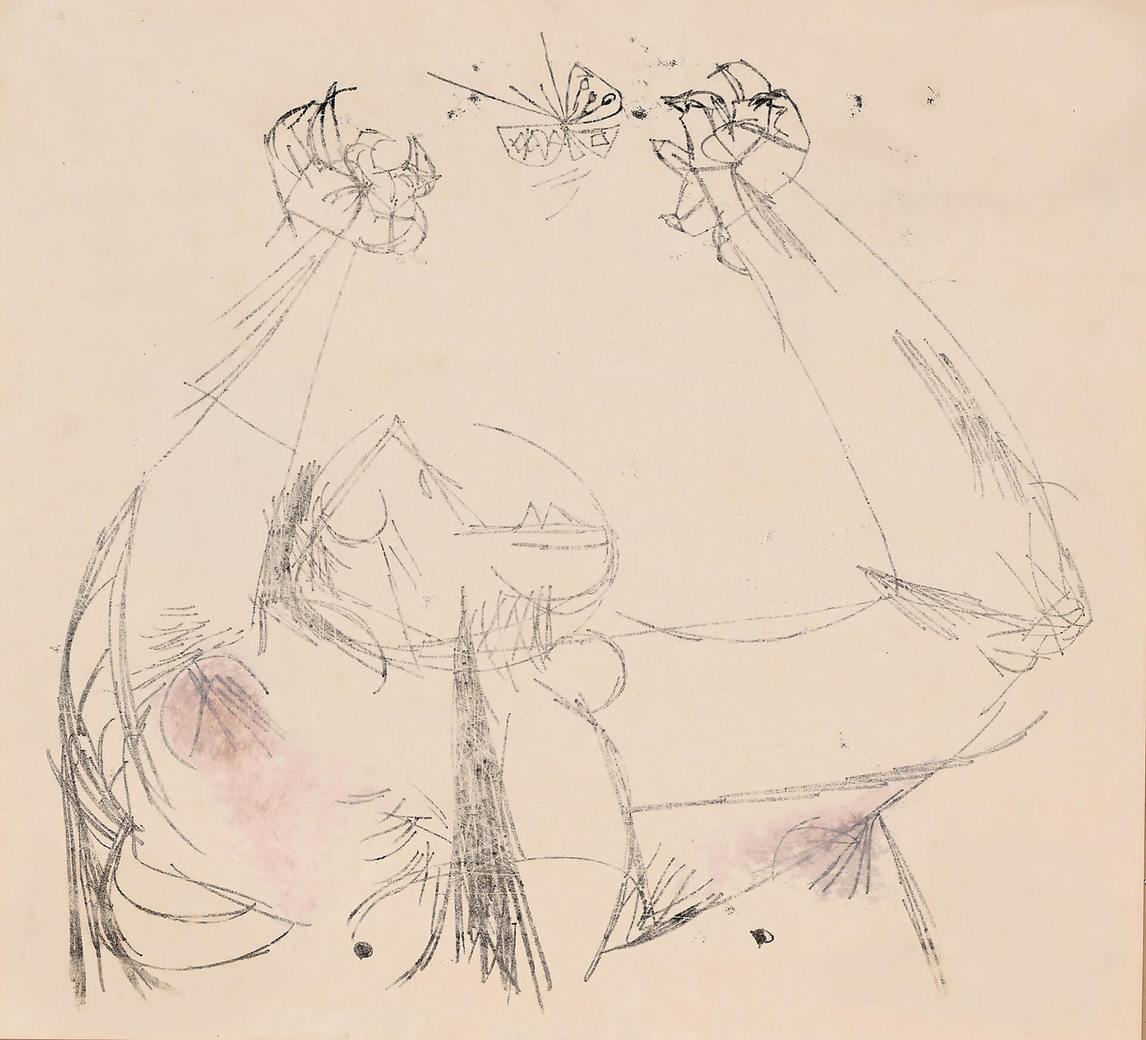 In a number of illustrations, Cahén depicts thorny roses, and in his personal work he paints them in ink or in oil. In his illustrations he also frequently portrays a grasping hand that stands in for disease, for authorities stealing children, for fate, and other ominous concepts. In drawings he analyzes plants, hands, and heads for essential Cubist forms, as in Untitled (405), c. 1952, which shows a man's upturned, open-mouthed head emerging from neck and torso, arms raised. These mouths and hands become sharp, curved talons, beaks, and spurs in Cahén's multiple renditions of crowing and fighting cocks. Reduced to their most pure expressions, at times these subjects appear as simply a stick with a crescent at its end. In a work he captioned "Child Father and Mother," c. 1952–54, Cahén identified the stick-crescent as the "father."
Growing Form—from its provenance of forms jabbing, seizing, fighting, and crying out—is more than a tree or flower or simple stick and crescent. Rendered in intense reds with complementary teal and defiant black strokes, its florid, virile "growth" surges up like a fist, conveying a sense of challenge, a call to battle, and a recognition that transformation and flourishing growth accompany pain and suffering—that there is no rose without thorns.