Multi-part Mural for Imperial Oil Executive Office Building 1956

In 1955 construction began on Imperial Oil's executive offices at 111 St. Clair Avenue West, in Toronto, a landmark high-rise that accommodated 1,200 people. Three Toronto artists were commissioned to design murals for it: Oscar Cahén was awarded the eighth-floor cafeteria and lounge area, while York Wilson (1907–1984) and Sydney H. Watson (1911–1981) painted the foyer and boardroom murals, respectively. It was a highly prestigious assignment, for which Cahén was paid a princely $7,200 (a man working in manufacturing made about $5,000 a year). He completed the commission just days before his death on November 26, 1956.

Cahén's nature-derived, curvilinear design for three sections of wall and posts directly contrasts with the grey building's mercenary International Modern structure with its even grid of windows. Intended to enliven this space of leisure, Cahén's barb and crescent forms interact playfully with wide fields of pastel and vivid colours. The motif of a sun brightens the dim middle of the vast, proportionally low-ceilinged room. Critic Robert Fulford opined that Cahén "provided by far the most human touch to the new Imperial Oil building . . . it's one of the best Canadian murals I've seen and it may be the best work of Cahén's career." Harold Town (1924–1990) thought that the mural broke with Cahén's previous influences and "placed him, for the first time, in an arena which was entirely his own."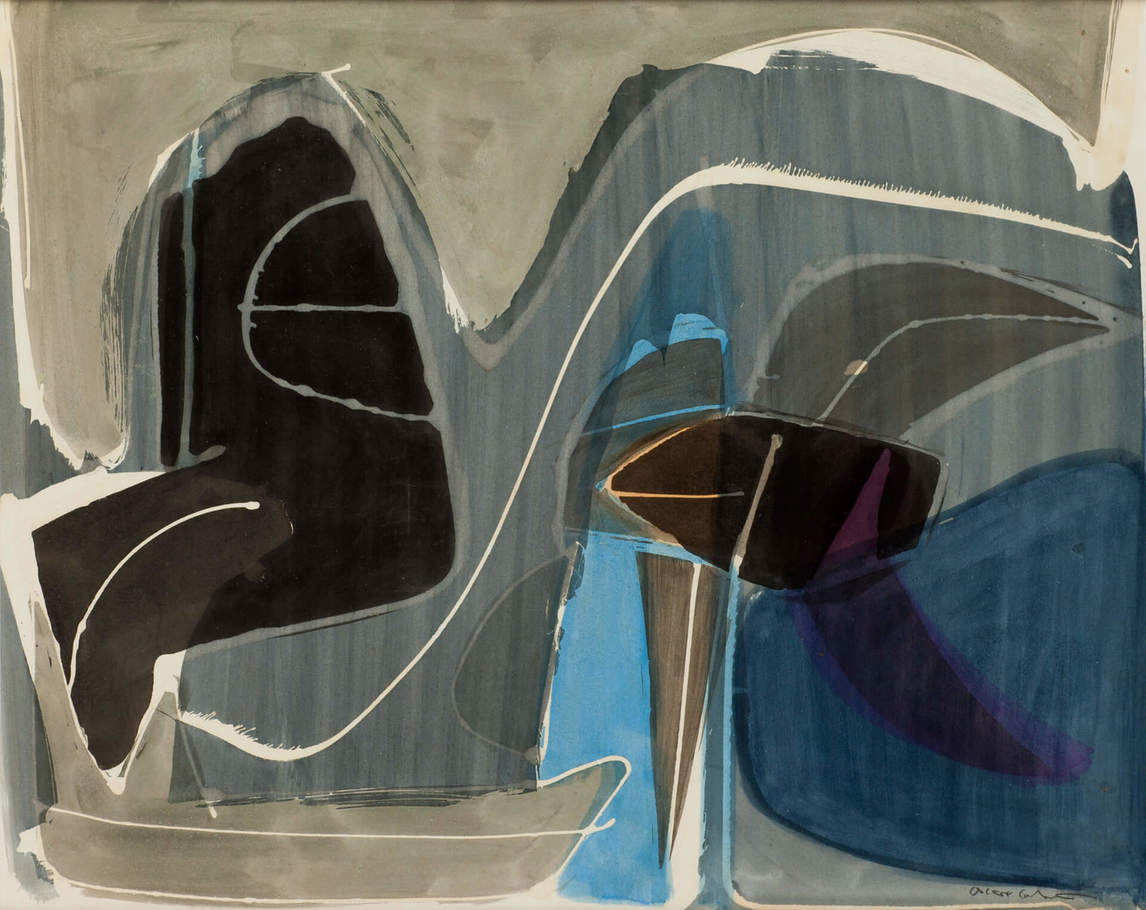 The even, flat, hard-edged application of paint here eliminates Cahén's characteristic calligraphic brushwork for the first time. Partly this may reflect that the mural is an architectural feature: Cahén's design of several parts creates an installation that shapes a three-dimensional spatial environment—as opposed to making the mural a two-dimensional objet d'art as a decorative backdrop. Yet the flatness and composition of the mural segments still bear similarities to washes of watercolours and ink that Cahén was concurrently producing, such as Untitled (368), c. 1955–56. Less personality is conveyed in these, and more attention to formal properties of colour, shape, space, and juxtaposition. After Cahén's death, other artists, such as Cahén's fellow Painters Eleven member Jack Bush (1909–1977), would go on to develop similar approaches, in colour-field painting and what New York critic Clement Greenberg termed Post-Painterly Abstraction.
Two of the mural sections were saved in 1979 before impending renovations and now await conservation; the third large mural and smaller sections on posts are presumed lost. The original mural panels are 258.8 x 904 cm, 297 x 685 cm, and approximately 294.6 x 670.6 cm.