David Milne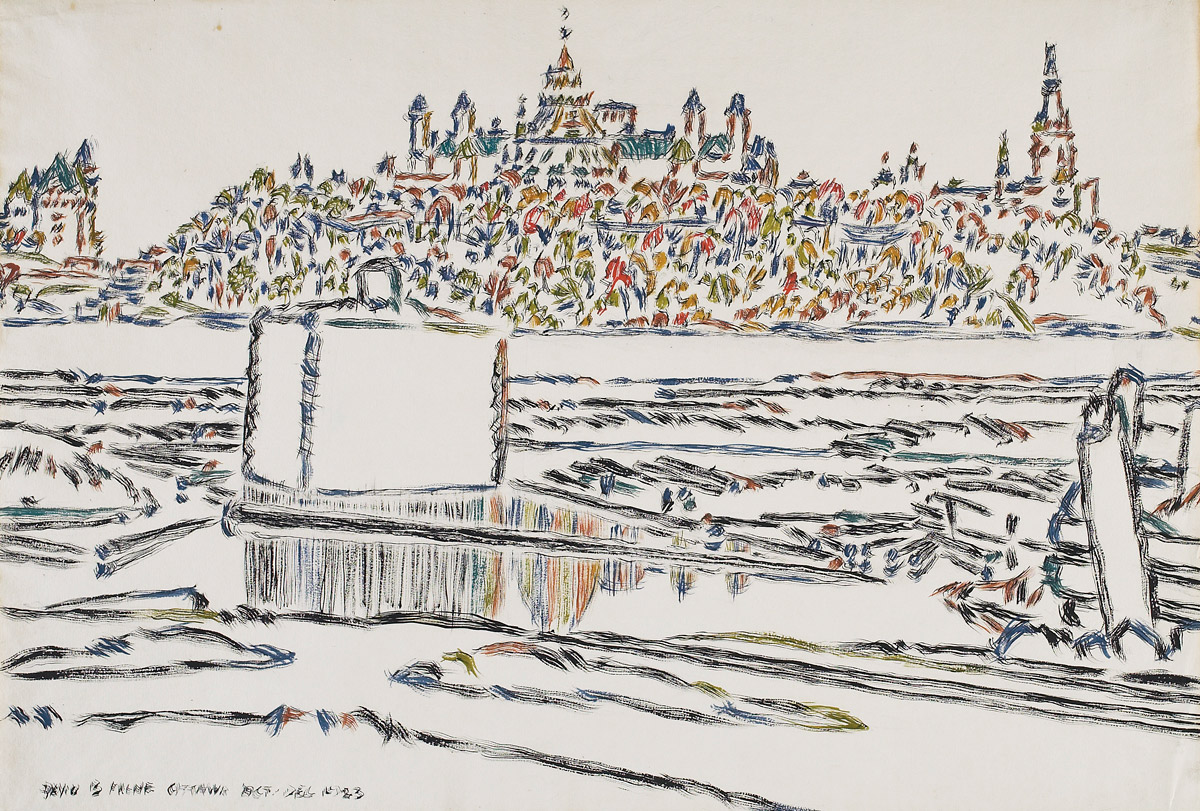 Parliament Hill from Hull is one of a small number of pieces done by David Milne (1882–1953) in his incarnation as an Ottawa artist. Born in Bruce County, Ontario, Milne spent several years in the United States before he came to the city in the winter of 1923–24. As he later wrote, "I thought I might make the long-contemplated change to Canada. I went to Ottawa and was there from October to April. I liked Ottawa… But I was a stranger to Canada, having been away so long, I didn't seem able to take root…. I went back to the Adirondacks."
Milne's short visit has been largely discounted in most major surveys of his work, although art historian David Silcox has described that period in some detail in his masterful biography.  The trip was indicative of the attraction that the city held. Kathleen Moir Morris (1893–1986), Mabel May (1877–1971), and Group of Seven member F.H. Varley (1881–1969) were among many artists who came in hopes of finding government patronage and positions.
David B. Milne, E.B. Eddy Mill, Hull, Quebec, 1923

Watercolour and drybrush over pencil, 37.0 x 54.3 cm

Library and Archives Canada, Ottawa

David B. Milne, From an Upper Window, Ottawa II, 1924
Oil on canvas, 31 x 41 cm
Art Gallery of Ontario, Toronto

David B. Milne, House of Commons, November 7, 1923
Watercolour over graphite on buff wove paper, 39 x 55.7 cm
National Gallery of Canada, Ottawa
During his six months in Ottawa, Milne produced a number of paintings and watercolours. In a letter written to good friend James Clarke, Milne noted that he "got permission to sketch practically everywhere and everyone in Ottawa…. As to the pictures these days I have made only two—both of the parliament buildings. One is no good and one has some promise… one more on the way—from the Eddy Match works in Hull looking over to Ottawa."  This work, E.B. Eddy Mill, Hull, Quebec, 1923, is now owned by Library and Archives Canada.
Milne lived and worked in a studio on Sparks Street, in the same building as Ernest Fosbery (1874–1960), Graham Norwell (1901–1967), and the visiting Japanese printmaker Yoshida Sekido (1894–1965). He found that living was cheap but work was difficult to find.  During his stay, he recorded views of Sparks Street from his window.
Milne also became friends with other Ottawa artists, including Florence Helena McGillivray (1864–1938), Harold Beament (1898–1984), Paul Alfred (1892–1959), and Frank Hennessey (1894–1941). He displayed his work as part of the Ottawa Group exhibition at Hart House, University of Toronto, in January 1924. However, he was unable to find a job in the federal government. Eric Brown purchased six of his works for the National Gallery, and two works were selected for inclusion in the 1924 Wembley Exhibition in England. Nonetheless, the money was insufficient to sustain him, and he missed his wife, who was living in Montreal. He soon moved back to upper New York State, where he would remain until 1929.
Milne, who was inspired by international avant-garde modern art, was unlikely to have appealed widely to the more conservative tastes of official Ottawa, but he continued to exhibit works based on his stay there as late as 1927. In 1935, James Wilson & Co. hosted an exhibition of Milne's work in the city.  He failed to achieve real success until Toronto-based Douglas Duncan became his dealer in 1938. He finally received international recognition when some of his pieces were included in Canada's exhibit at the Venice Biennale in 1952. Milne died in Bancroft, Ontario, the following year.