Franklin Brownell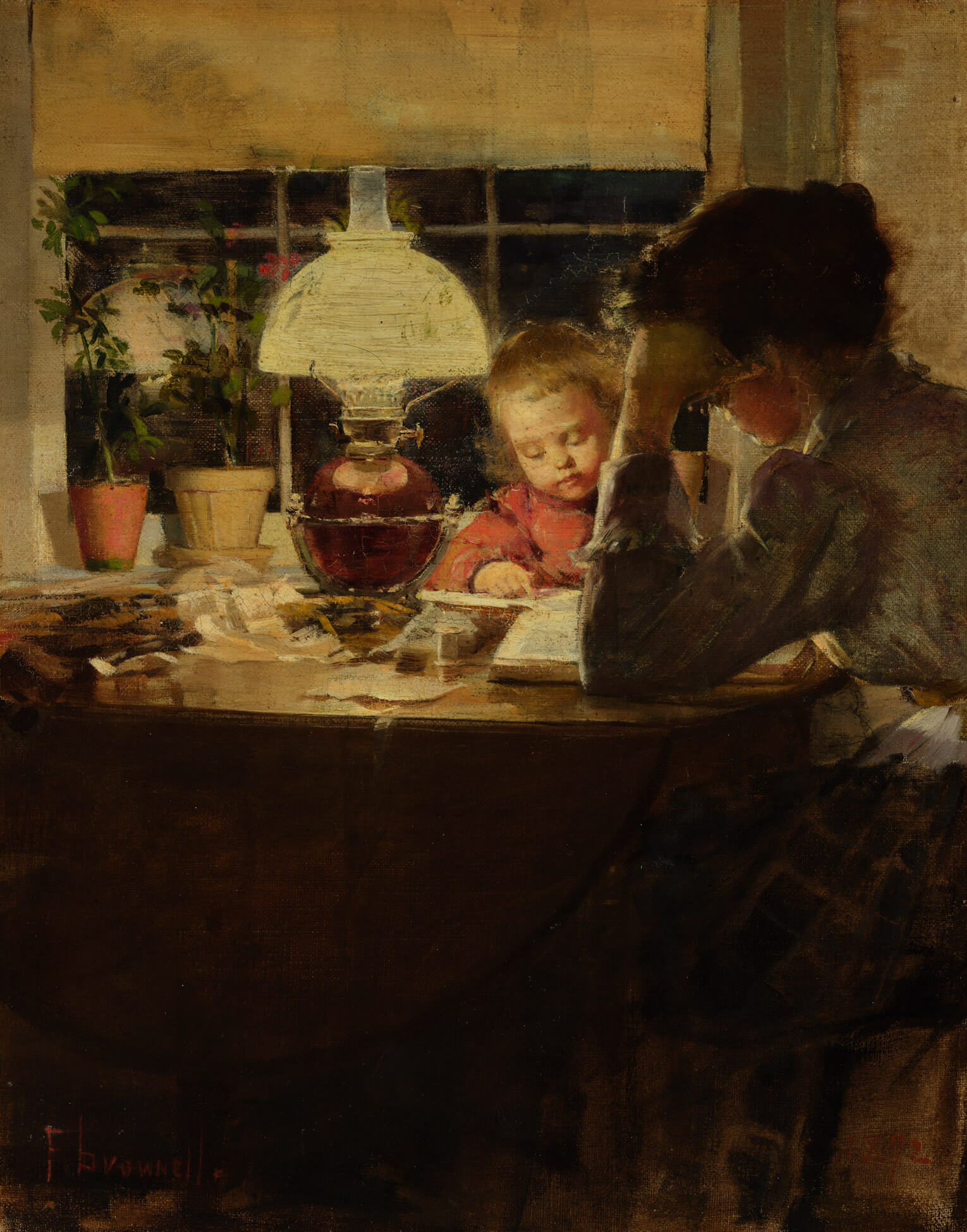 Franklin Brownell (1857–1946) carried on an artistic career in Ottawa for over fifty years. Throughout his life, his achievements in the development of his artistic vision were widely recognized.  Lamplight, his exquisitely executed image of domestic tranquility, was one of two paintings by him selected by the Royal Canadian Academy of Arts to represent Canada at the 1893 Chicago World's Fair. In 1922, Brownell was given the first one-man show ever devoted to a living artist by the National Gallery of Canada. Eric Brown, then director of the gallery, described him as "one of the prophets of the colour movement that is coming into Canadian art."
Franklin Brownell, Percé Rock, c.1913
Oil on canvas, 31.2 x 45.5 cm
National Gallery of Canada, Ottawa

Franklin Brownell, The Beach, St. Kitts, 1913

Oil on canvas, 74 x 89.6 cm

National Gallery of Canada, Ottawa

Franklin Brownell, The Beggar at the Door, 1930

Oil on canvas laid down on board

Library and Archives Canada, Ottawa
Born in Massachusetts and trained in Boston, New York, and Paris, Brownell arrived in Ottawa in 1886 to become the director of the Ottawa Art School. He was deeply interested in exploring the Canadian landscape, painting in the Gatineau River Valley, Algonquin Park, the Lower Saint Lawrence region, and the Gaspé Peninsula, which was evident in his masterful Percé Rock, c.1913. He explored everyday life in paintings of Ottawa's ByWard Market, but he was equally adept at allegorical work, such as Golden Age, 1916. His greatest strength lay in his ability to capture the atmospheric qualities of his subjects; as one scholar recently noted about such bright and colourful Caribbean views as The Beach, St. Kitts, 1913, "Brownell envelops people and places in a joyous dazzle of light and air."  Artist Pegi Nicol MacLeod (1904–1949) would state, "Brownell made me aware of light."  Though celebrated as an Impressionist and best known for his landscapes, he should be regarded as a social realist as well. His sympathetic and grittily realistic depictions of the city, such as The Beggar at the Door, 1930, demonstrate a sensitivity to urban concerns that was rare among his contemporaries.
Until his retirement in 1937, Brownell was the pre-eminent art teacher in the city, and his list of students is a who's who of Canadian art, including Nicol MacLeod, Ernest Fosbery (1874–1960), Harold Beament (1898–1984), Goodridge Roberts (1904–1974), Fred Taylor (1906–1987), and many more.  He occupied a central role between two generations of Canadian artists, and he tried to reconcile conservative older artists and their younger counterparts while a member of the selection committee for the art display of the Canadian pavilion at the 1924 British Empire exhibition held in Wembley, England. Brown, a long-time admirer of Brownell, purchased many of his paintings for the National Gallery. As well as mounting the 1922 exhibition devoted to him, Brown reviewed many of his one-person shows.  He clearly favoured Brownell's work, including him in the canonical narrative that he created in the 1935 National Gallery exhibition of Canadian art.
Brownell outlived most of his contemporaries, and his artistic achievements would be dismissed as new art movements and artists emerged. By 1967, curator Pierre Théberge had proclaimed that Brownell had made no new contribution to Canadian art—a view reinforced by both J. Russell Harper and Dennis Reid in their seminal publications on this subject.  Only in the 1990s did Brownell's reputation begin to be rehabilitated, and he now inhabits an important place in the study of Canadian Impressionism.