Gerald Trottier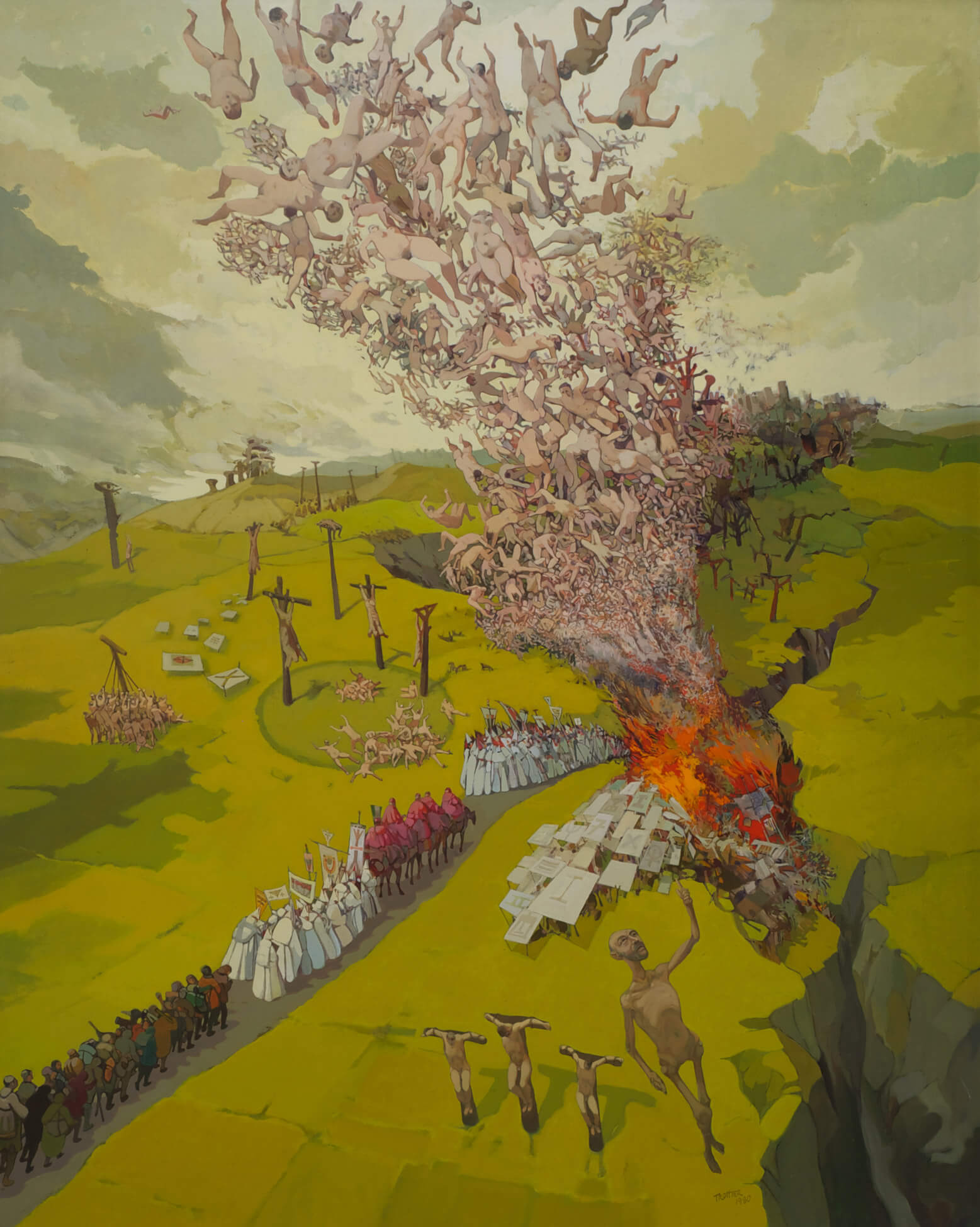 A painter, printmaker, and teacher, Ottawa-born and -trained Gerald Trottier (1925–2004) was one of the leading artists in the city from the 1950s onwards. His art was concerned with the struggle and meaning of life and the inevitability of death. In 1983 he wrote, "The pilgrimage of man has preoccupied me from my student days when I made the annual University of Paris Student's pilgrimage to Notre-Dame de Chartres in May of 1953. From that time I have attempted to live and paint Easter Pilgrimage. This series is the image of that pilgrimage—a reflection on the carnival of life repeating itself in all ages, and for all time."  Pilgrimage I is in some ways representative of his life's work: monumental and religious in nature, but also deeply disturbing and thought provoking.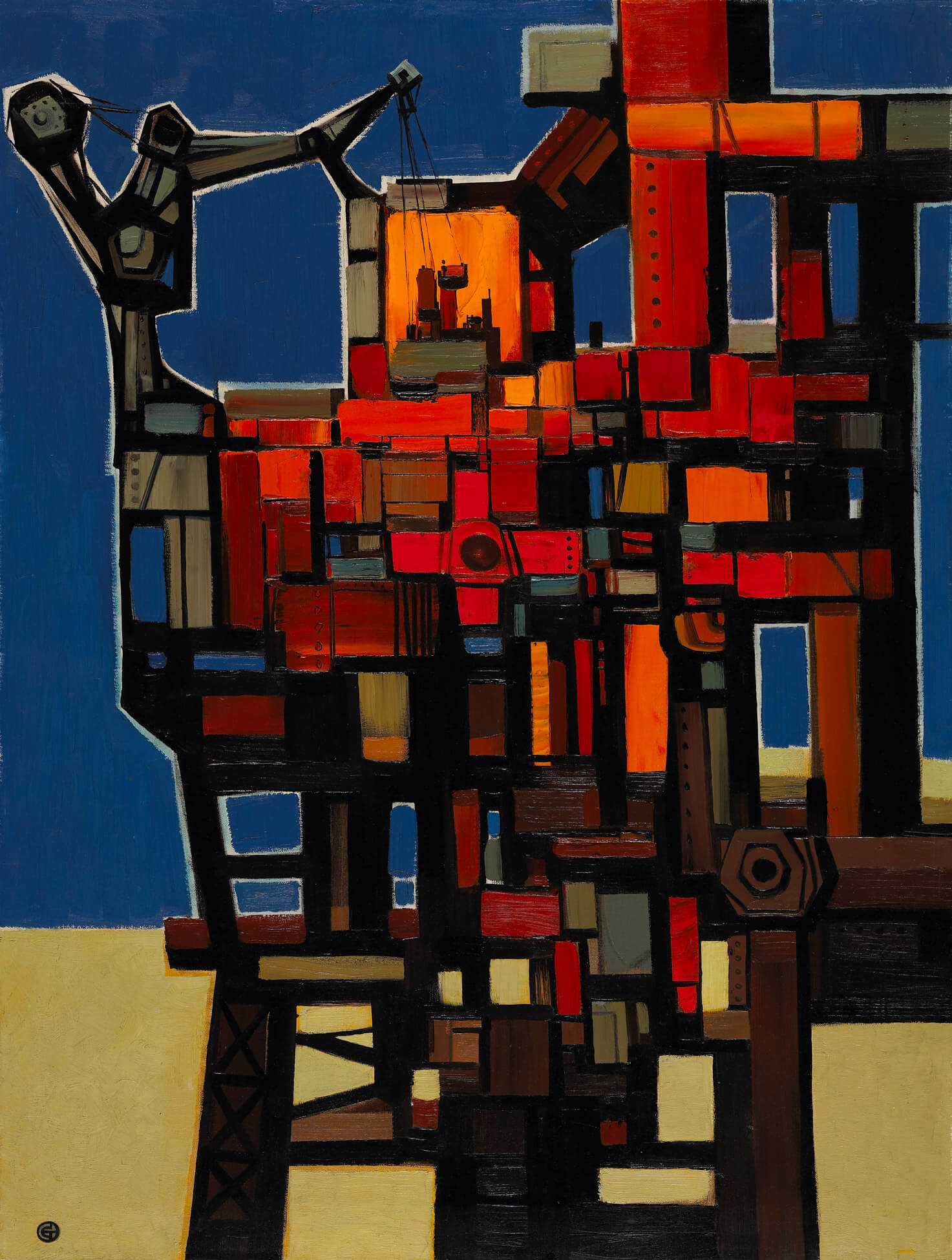 Trottier was one of several artists born in Ottawa in the 1920s who had an enormous local and national artistic impact, including Robert Rosewarne (1925–1974), Kenneth Lochhead (1926–2006), James Boyd (1928–2002), and Georges de Niverville (1928–1984). They all studied art at either the National Gallery of Canada under Mabel May (1877–1971) or at the Ottawa Art School under Ernest Fosbery (1874–1960). Trottier stands out for both his creative accomplishments and his leadership in the arts community.
After service in the navy during the Second World War, Trottier studied in New York in 1948–49 and in France and England in 1952. Returning to Ottawa, he became part of the Guild Studio for Contemporary Liturgical Art along with Victor Tolgesy (1928–1980), Theo Lubbers (1921–2013), and Frank Penn. They would carry out numerous commissions, always striving to create new means of religious expression.  Trottier originally worked in a social realist style, echoing the work of Henri Masson (1907–1996), before developing his innovative liturgical design work, known as his "medieval" period, in the mid-1950s. He sold his first piece, The Building, 1957, to the National Gallery the year he painted it, while employed full-time as a designer for the Canadian Broadcasting Corporation in Ottawa.
In 1961 he won a competition to design a mural for the H.M. Tory building on the Carleton University campus. The Pilgrimage of Man, unveiled in 1962, is an abstract and symbolic work, reflecting Trottier's belief that art and architecture should be fully integrated. Carleton professor Nan Griffiths noted, "The bold originality of the concept, dynamic forms, and vividness of colour provoked extensive discourse amongst students and staff."  It continues to exert a powerful presence on campus.
Three years after completing the mural, Trottier was chosen to represent Canada at the 8th São Paulo Biennial with his powerful expressionist painting Untitled (Last Judgment), 1964.  He also played an important role in the creation of the Carleton University art collection, as well as teaching studio courses there. He left Ottawa in 1965 for the University of Western Ontario, London, but in 1980 he returned to live on Calumet Island in the Ottawa Valley.