Henri Masson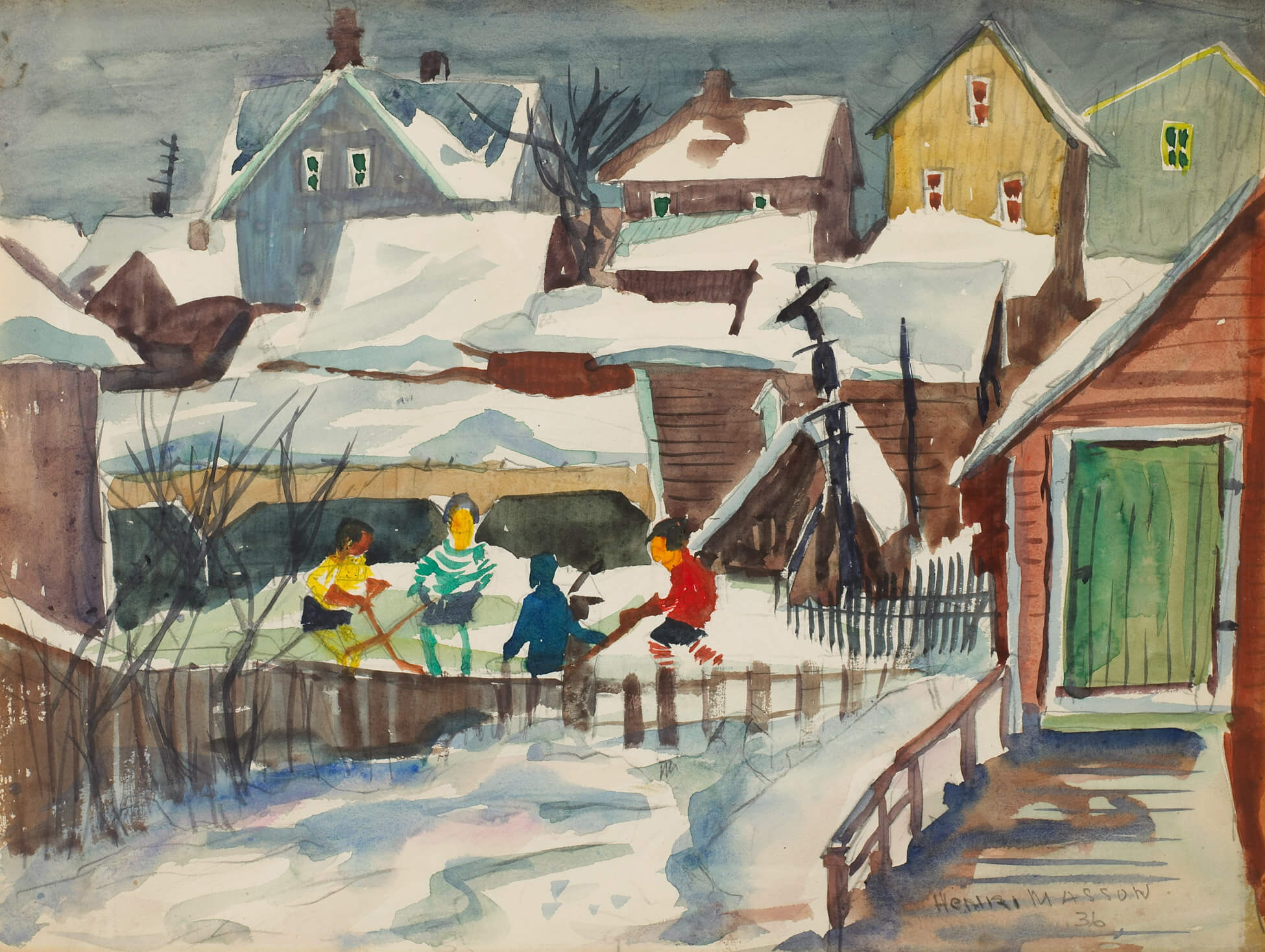 In 1940, then curator of the National Museum of Canada (now the Canadian Museum of History) Marius Barbeau described Henri Masson (1907–1996) as a chronicler and a landscapist.  Backyard Hockey, Hull is a classic example of what made Masson famous. He captured everyday scenes in the working-class neighbourhoods of Hull and in the villages of the surrounding countryside, painting them again and again. Using bright colours and semi-abstract compositions, these records of daily life were irresistible to collectors and critics.
Henri Masson, Spring Flood, 1937
Oil on canvas, 66 x 76.1 cm
Museum London

Henri Masson, Street in Ottawa, 1938
Oil on canvas, 45.6 x 53.5 cm
National Gallery of Canada, Ottawa
Masson was born in Spy, Belgium, and demonstrated an aptitude for drawing and painting when he was young. After his father died in 1921, he and his mother immigrated to Canada, settling in Ottawa, where he apprenticed in a metal engraving studio, a career he would follow until 1945. He began taking art courses at the Ottawa Art Association in the 1920s, and by the early 1930s he was associated with Les Confrères artistes Le Caveau, where he taught, exhibited, and met fellow artists Wilfrid Flood (1904–1946), Tom Wood (1913–1997), and later, Jean-Philippe Dallaire (1916–1965).
Masson showed a selection of watercolours, pastels, and drawings in a group show at Le Caveau in 1933, and his early oil paintings were part of the Ontario Society of Artists exhibition in Toronto in 1936. He also continued to exhibit with Le Caveau, and held solo exhibitions in Ottawa and Montreal, developing a reputation for his landscapes and urban life studies—Spring Flood, 1937, and Street in Ottawa, 1938, are typical of his oeuvre at this time. H.S. Southam, then chair of the board of the National Gallery of Canada, was his most important patron, purchasing and donating works to galleries across the country.  Masson's exhibitions were the subject of effusive reviews in both English- and French-language newspapers in Ottawa throughout the 1940s. In 1944, the National Film Board of Canada produced a documentary about him.
Masson was friends with many artists in both Toronto and Montreal, and he was instrumental in introducing the Picture Loan Society concept to Ottawa, which had been initiated in Toronto by the collector and dealer Douglas Duncan in 1936 to promote the work of younger Canadian artists.  Ottawa's Picture Loan Society began operating as part of Contempo Studio in 1941. That same year, Masson participated in the Conference of Canadian Artists in Kingston, Ontario, from which the Federation of Canadian Artists would emerge. He became president of its short-lived Ottawa chapter in 1945.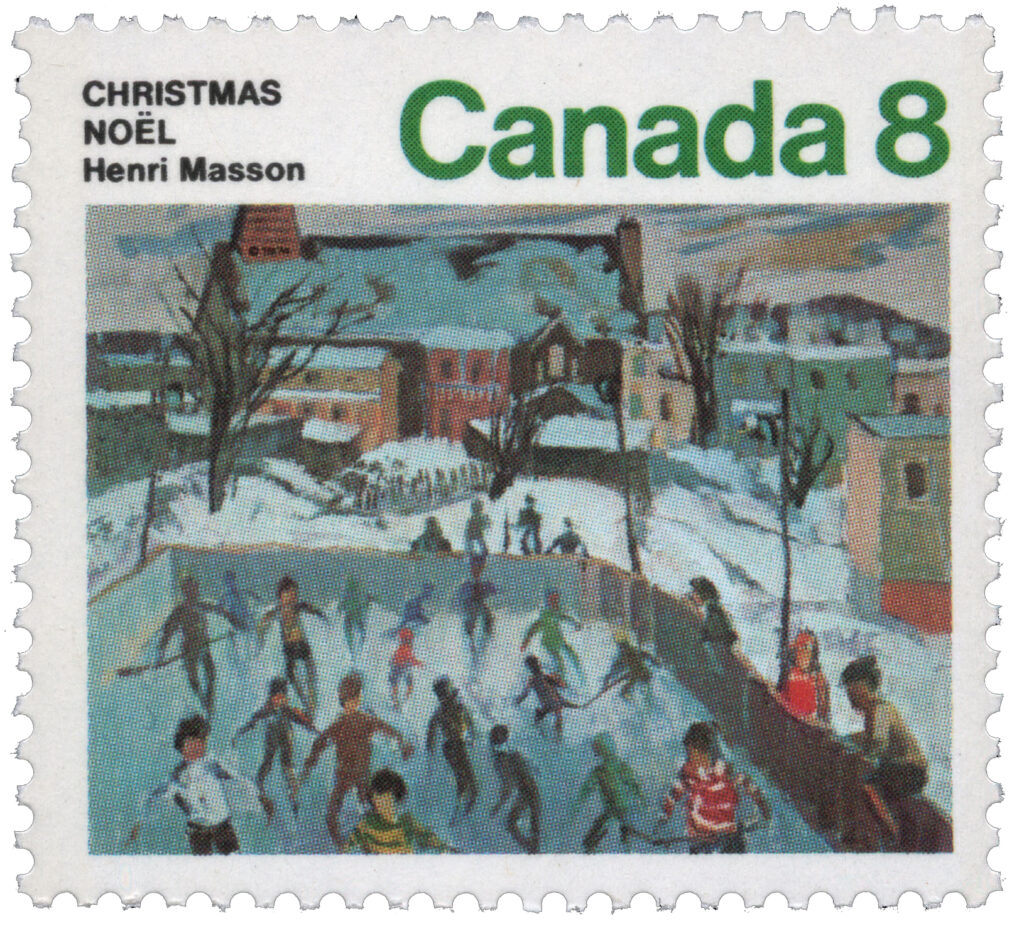 Critics extolled Masson's realism and his unique visual vocabulary in contrast to Cubism and Surrealism. The luminosity of his paintings, the intensity of his colour, and his gift for satire were also celebrated.  In the 1950s, Masson began to travel widely, visiting Belgium, Italy, France, the Soviet Union, and Southeast Asia. He also began to teach, working at institutions such as Queen's University summer school in Kingston and the Banff School of Fine Arts (now the Banff Centre for Arts and Creativity) in Alberta.
Masson became a beloved and admired figure to many younger Ottawa and Gatineau artists. He was prolific, and his work remains highly popular. In 1972, one of Masson's paintings was reproduced by the United Nations Children's Fund as part of their fundraising efforts. Two years later, his painting Skaters in Hull, c.1974, appeared on a Canadian eight-cent postage stamp. He died in Ottawa in 1996, and in 2001 the city honoured Masson and photographer Yousuf Karsh (1908–2002) for their contributions to Canadian art by naming its 457-square-metre gallery space at City Hall the Karsh-Masson Gallery.