Untitled (Birds Flying Overhead) c. 1966–67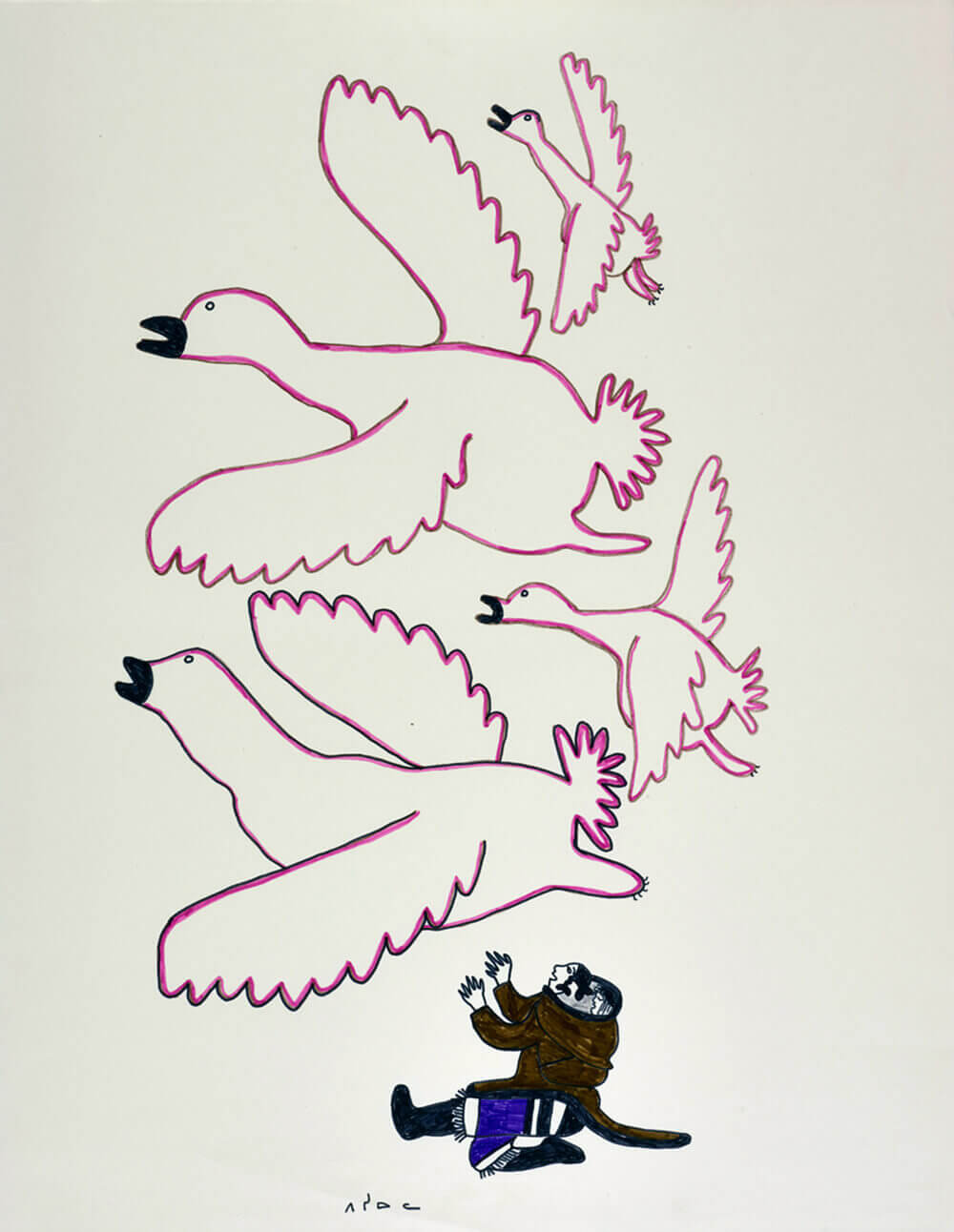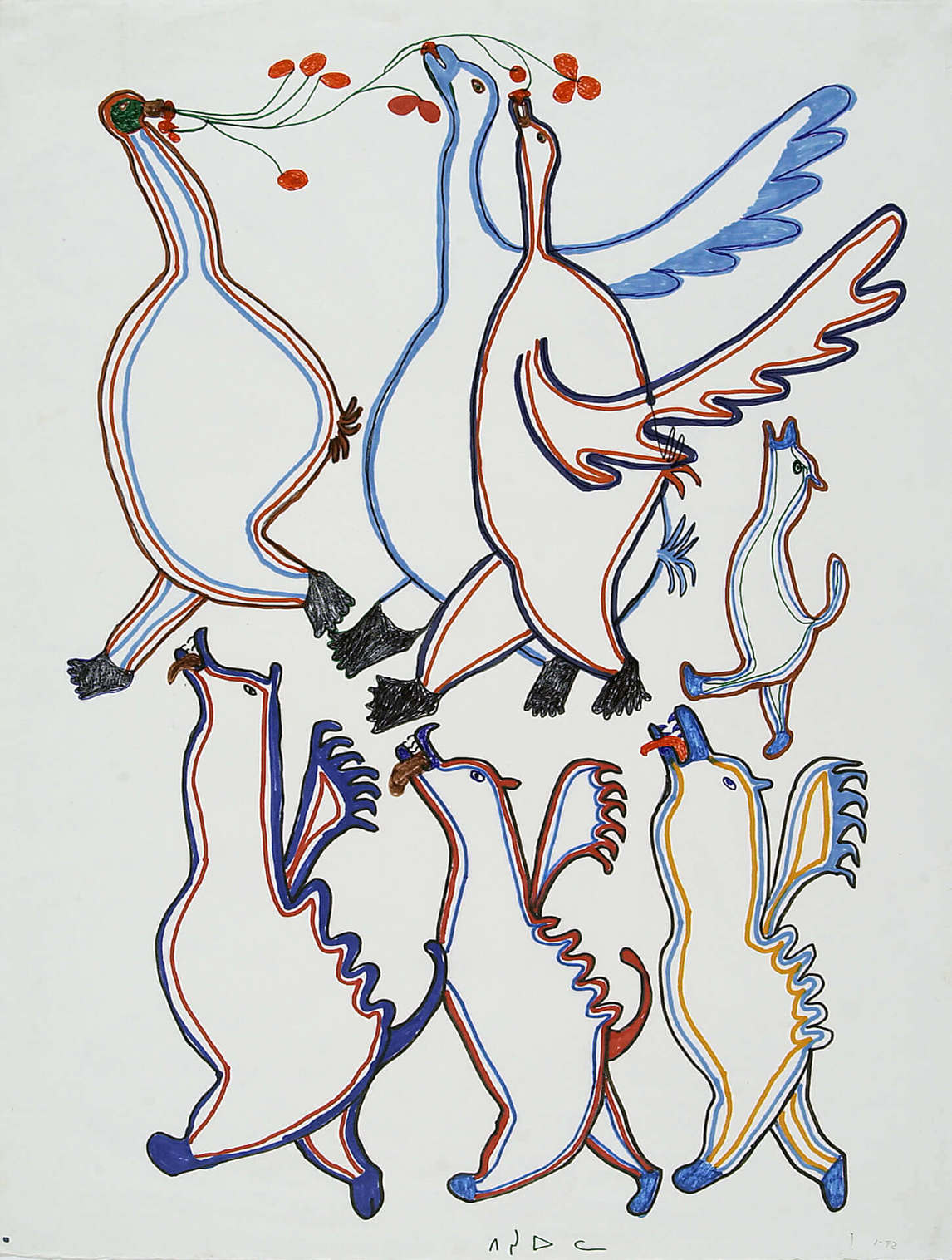 The image in Untitled (Birds Flying Overhead) is one that Pitseolak repeats in drawings throughout the 1970s and early 1980s, with many variations—a solitary woman sitting, running, or straining with both arms toward birds in the sky. Of her more than eight thousand drawings, more than half include birds as the primary subject in a multitude of contexts: the hunting of birds or the gathering of their eggs, fantastic and decorative birds, nesting birds and their young, winged human-birds, legends featuring birds, and often simply lone figures with birds. Birds as subject matter are well suited to Pitseolak's animated line, with which she conveys the spirited and quirky nature of different species. She relied more on her imagination than on naturalistic observation, however, allowing for endless creative possibilities.
Pitseolak's name may have given her a personal affinity for birds: "My name is Pitseolak, the Eskimo word for the sea pigeon. When I see pitseolaks over the sea, I say, There go those lovely birds—that's me, flying!" She continued, describing her work almost as a flock: "I don't know how many drawings I have done, but more than a thousand. There are many Pitseolaks now—I have signed my name many times."
More poignantly, her memories of the time following the death of her husband, Ashoona, hint at the depth of her feeling and her connection to birds:
When my husband died at Netsilik, even though I had relatives, it was as if my whole family had died…. When the geese were coming south and flying overhead down here past Cape Dorset, I used to think, "These geese have been with Ashoona back in Netsilik. They've been at Ashoona's grave." When it was really dark and I could hear the geese overhead, I'd go outside and I'd yell "Goodbye, goodbye!"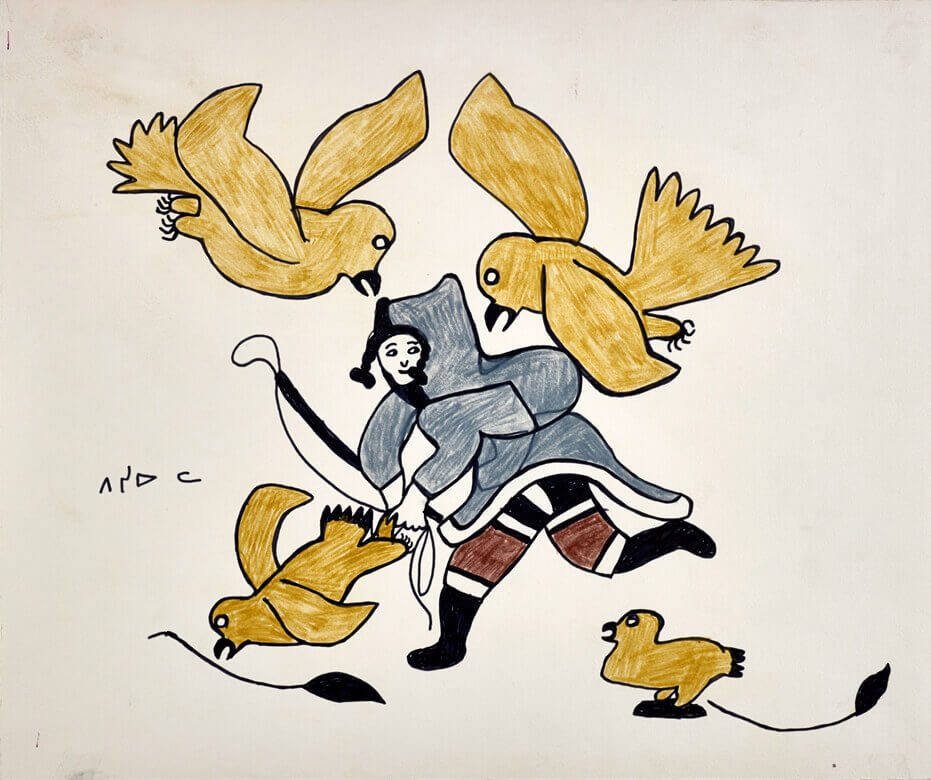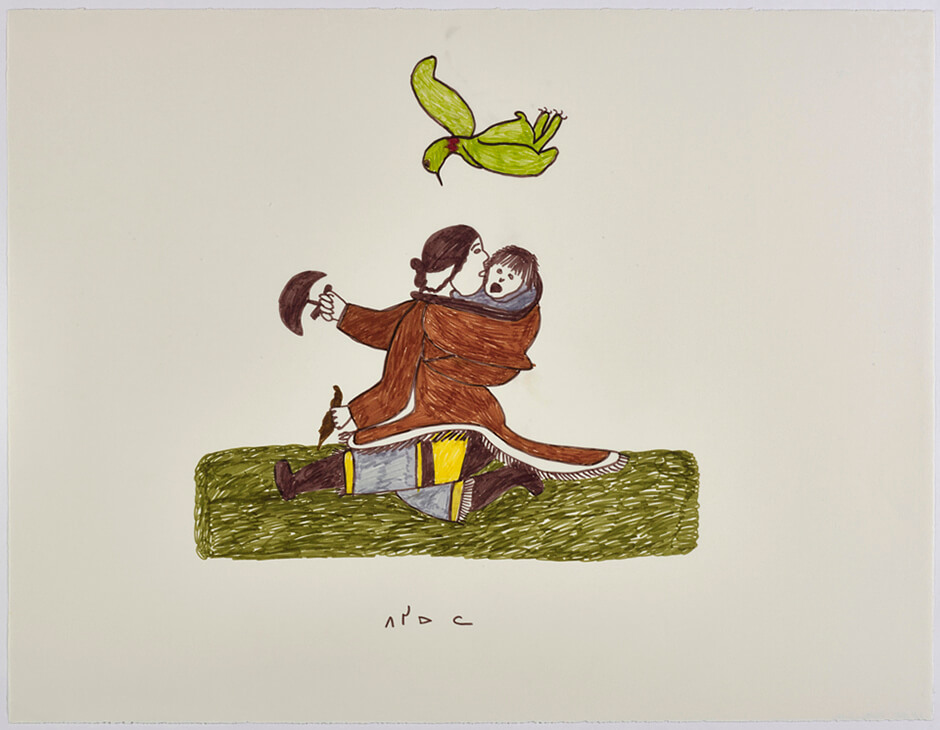 Within this theme, many of Pitseolak's bird images convey a special interaction between women and birds. While men were gone for long periods hunting larger game, women could capture birds and gather eggs close to home to provide food for their families. The return of migratory birds in the spring was a time of rebirth and plenty. As mothers, women might have felt an affinity for the nesting birds and their young. Often Pitseolak would picture women's implements, such as an ulu, in a nest among the chicks.
Many of her drawings of birds were made into prints, and Pitseolak became known for her joyful depictions of fantastically coloured and vibrant creatures in flight.