A Copse, Evening 1918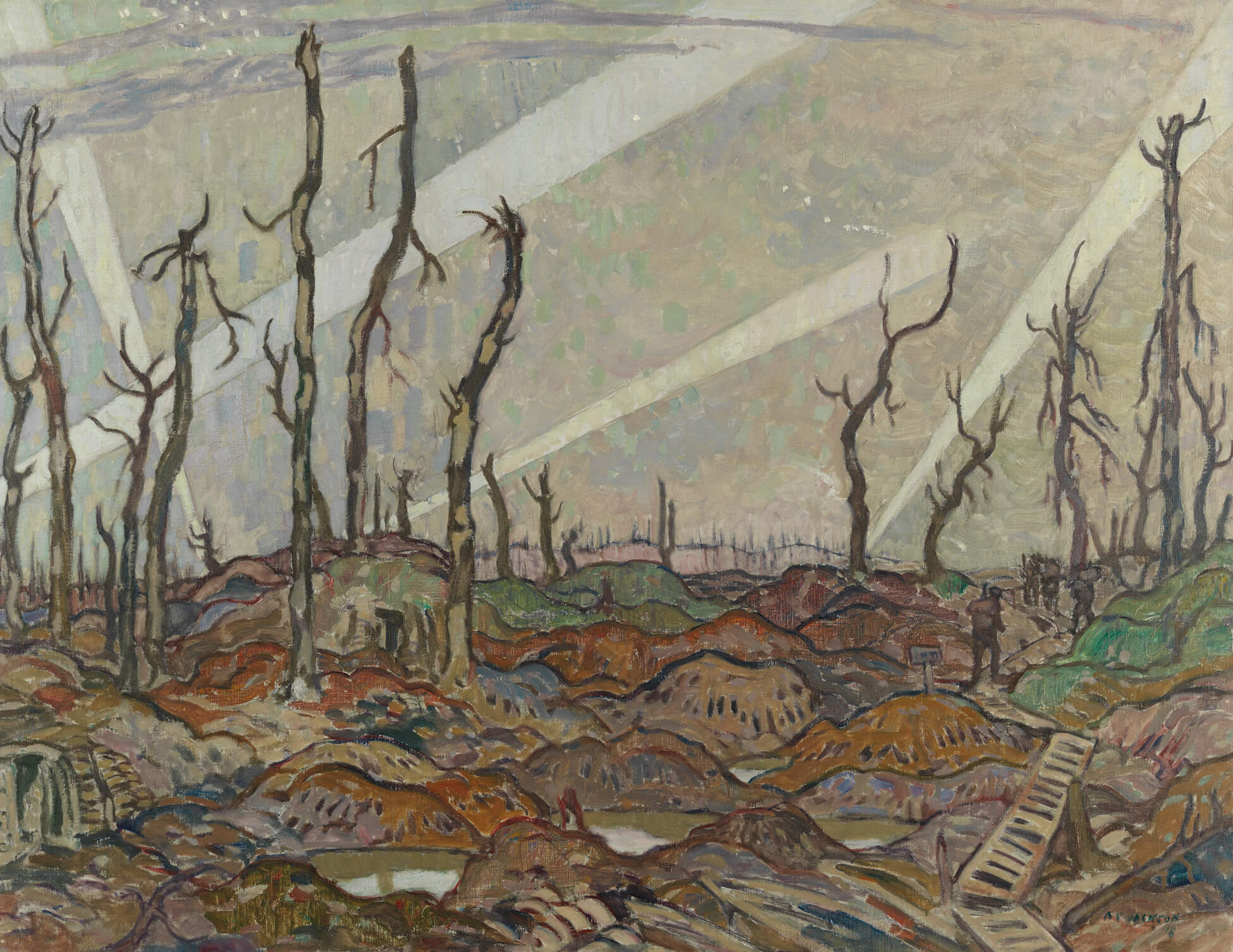 This grim painting depicts stalwart tree trunks standing stiff and upright within a surrounding landscape of water, searchlights, zigzagging duckboard, and battle detritus. It magnificently evokes the catastrophic effects of the First World War on the Belgian landscape. It also shows how, like many of his fellow artists, A.Y. Jackson (1882–1974) avoided depicting the human cost of war by eschewing the representation of wounded men and corpses. Based on a quick on-the-spot sketch, the image likely reminded Jackson of the time he was wounded close to Maple Copse in the vicinity of Ypres.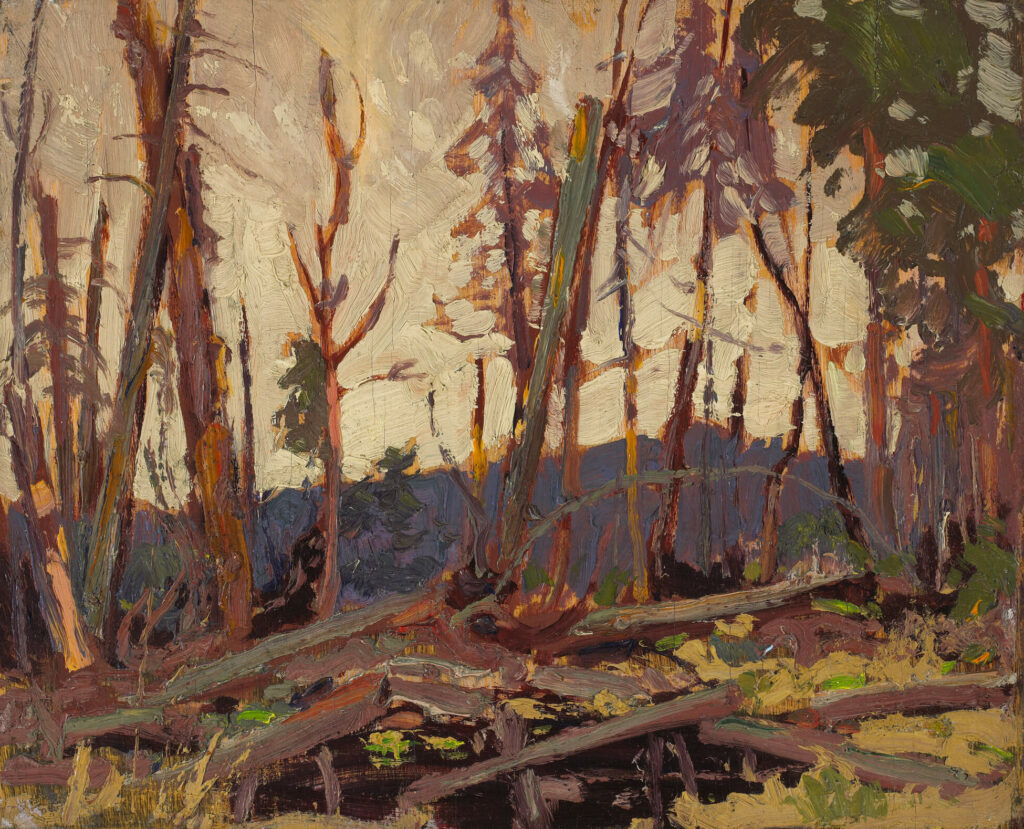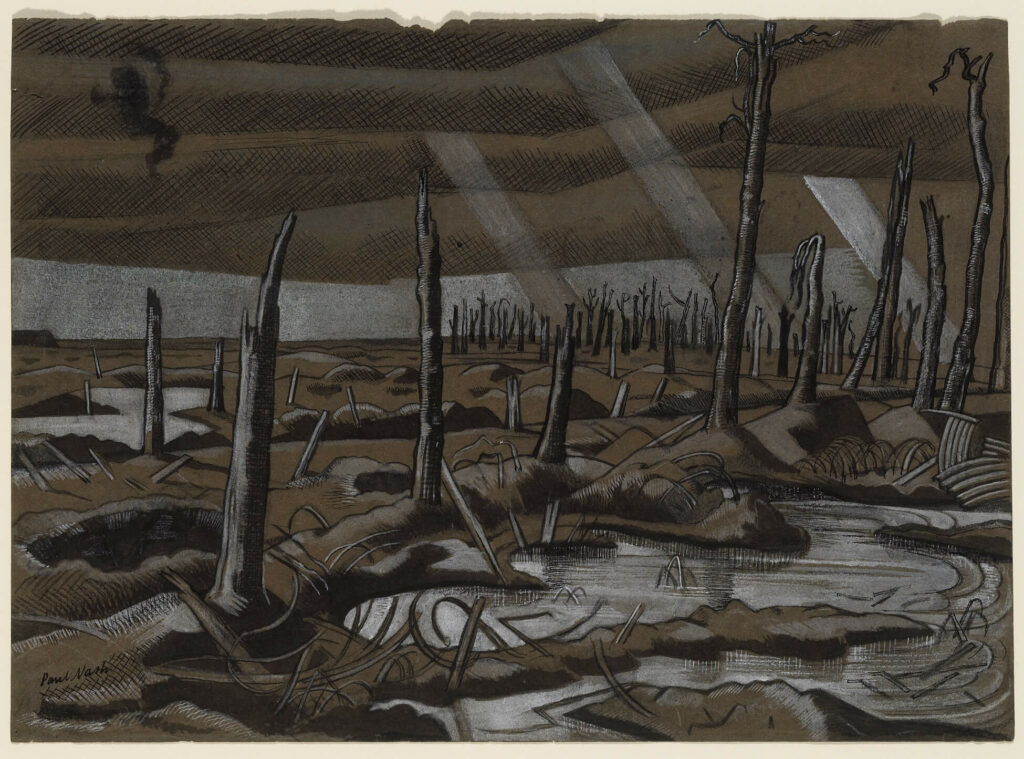 A Copse, Evening also possibly alludes to the recent death of Jackson's colleague Tom Thomson (1877–1917). Jackson may have been recalling the tragic beauty of Thomson's wilder and more expressive Algonquin Park paintings—perhaps Burnt Country, Evening, 1914—that he had last seen when they painted in the park that year. In that work, Thomson reduces a close-up view of fire-swept forest to a stark autumnal web of leafless branches, broken tree trunks, and fallen brushwood.
Jackson's powerful landscape also draws on his knowledge of the dramatic brushwork and colour associated with Expressionism. His composition is enlivened by the twisting, leafless tree trunks that seemingly cry out against their fate in the way agonized figures do in Christian damnation scenes in historical European art. The sky is an anomaly: with its pale yellow and violet pastel hues, it betrays Jackson's ongoing interest in Impressionism following his brief training in Paris and travels in Europe. At the same time, the dissecting searchlights show the artist's indebtedness to dramatic warscapes, such as The Menin Road II, c.1917–18, by British war artist Paul Nash (1889–1946), with which he was familiar.
Jackson painted A Copse, Evening as a war artist, but the subject came from his experiences as a soldier. In June 1915 he had enlisted as a private in the 60th Battalion of the Canadian Expeditionary Force. The following June, in 1916, he was invalided back to England. Although he had not painted for nearly two years, in August 1917 the Canadian War Memorials Fund appointed him to record Canada's participation in the war. The first Canadian to be so employed, Jackson produced forty-five artworks for the organization.