A View of Fort La Galette, Indian Castle 1760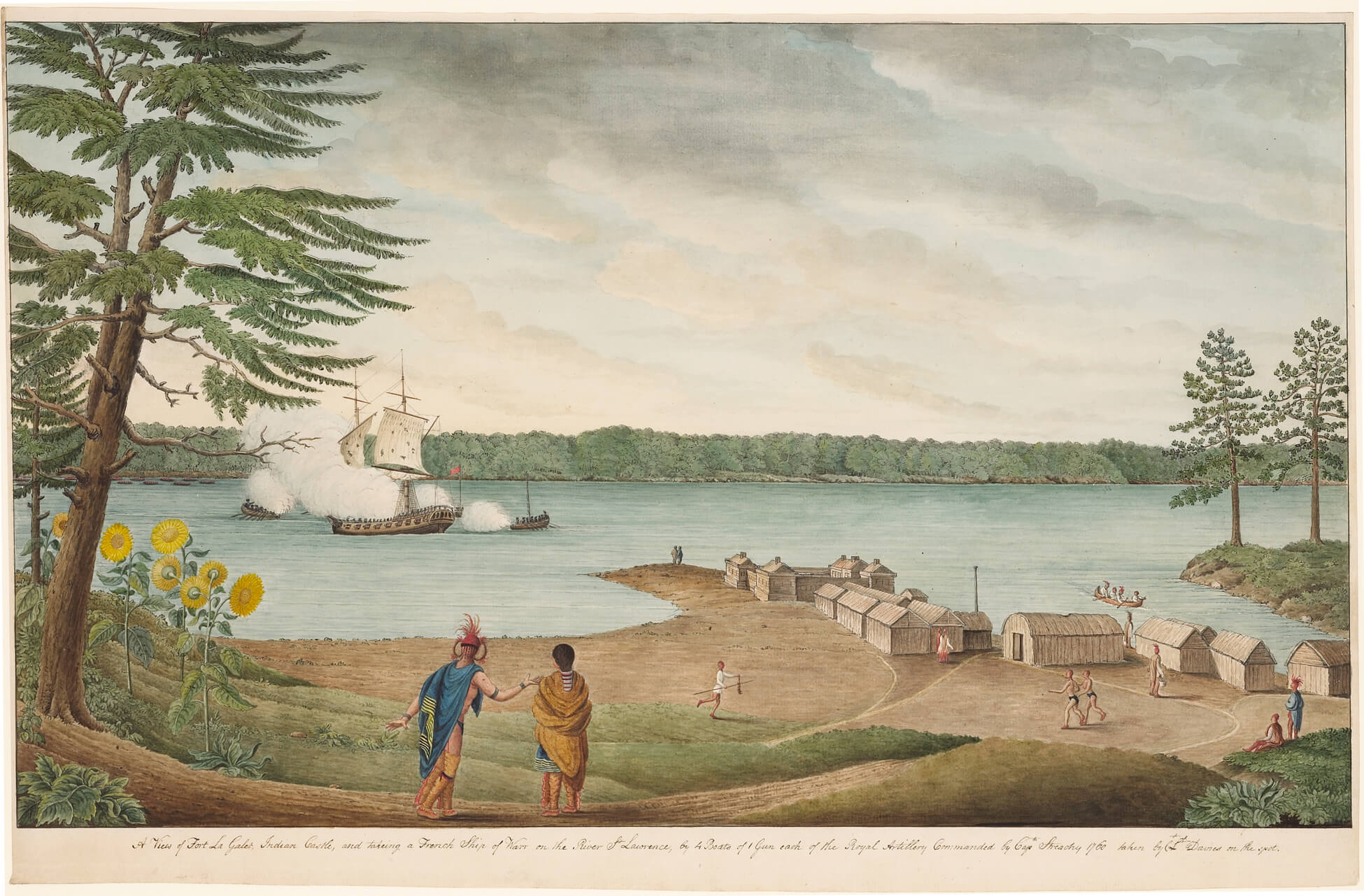 Thomas Davies (1737–1812), a British Royal Artillery officer, painted A View of Fort La Galette, Indian Castle, and Taking a French Ship of War on the River St. Lawrence, by Four Boats of One Gun Each of the Royal Artillery Commanded by Captain Streachy following the Battle of the Thousand Islands during the Seven Years' War. In this engagement, a large British force eventually defeated a far smaller French one that was delaying their progress to Montreal. As the title of the watercolour suggests, it contains a large amount of documentary information—not only about the fort, but also the river battle and the clothing worn by Indigenous observers.
Originally a French mission, Fort La Galette is in present-day New York State, and is now named Ogdensburg. In 1755, 3,000 Haudenosaunee lived there, which explains the presence of the two Indigenous observers in the foreground and, in the background, a number of other Indigenous residents and a canoe. The sunflowers depicted on the left were at the time a staple Indigenous crop. In the conflict depicted, clouds of gun smoke hide two of the four British row-galleys as they successfully capture the French sloop L'Ouaouaise in calm waters.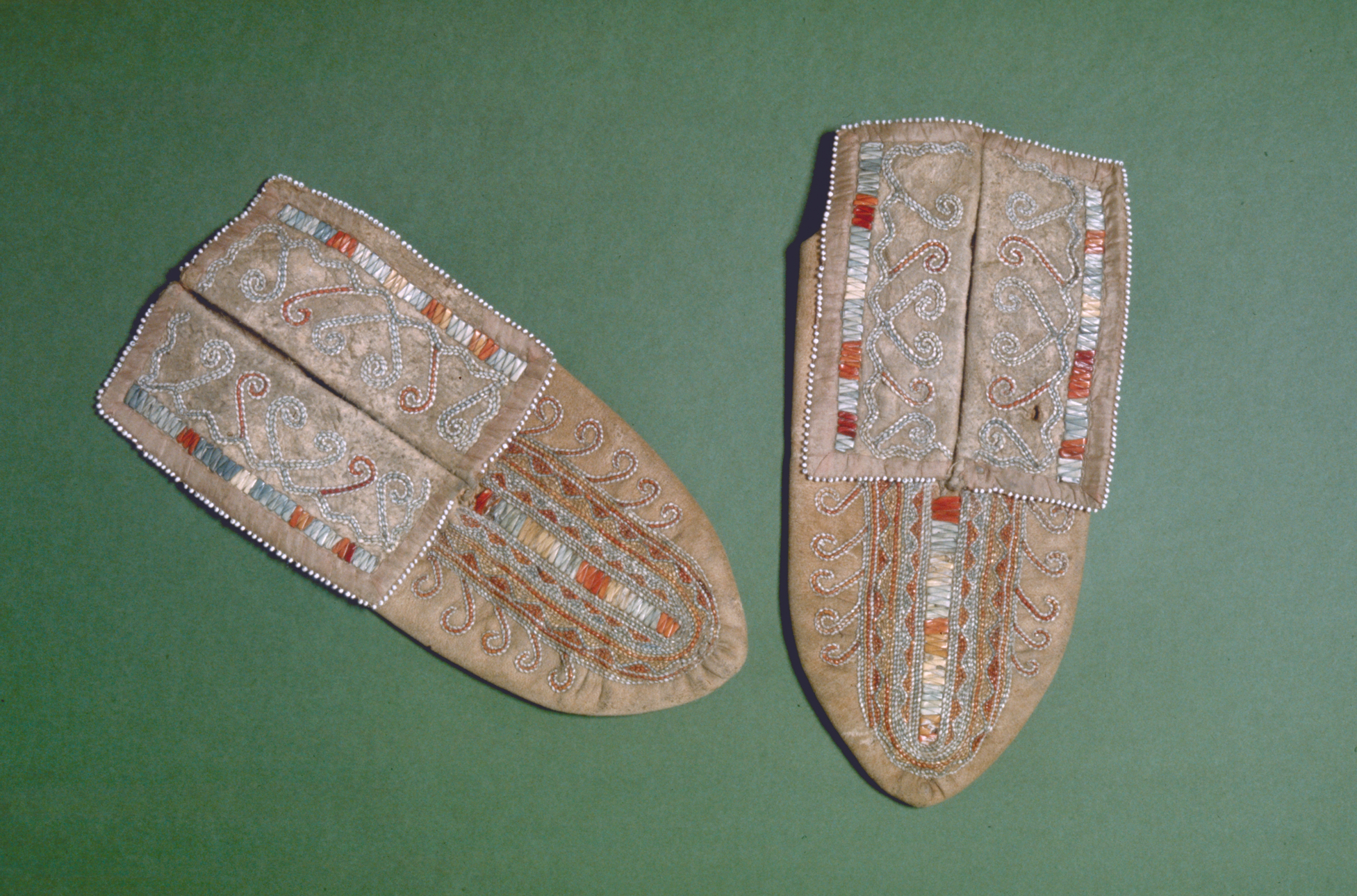 Davies, one of the first of the British Army's topographical artists, was present at this event and commanded one of the galleys. He had begun his military service at the Royal Military Academy, Woolwich, England, where he received training in topographical drawing. Photography was yet to be invented, so the military authorities relied on precise, accurate drawings of forts and terrain to help them wage war. To supplement their meagre pensions on their return to England, military officers were often able to take advantage of the then burgeoning reproduction market by arranging to have some of their more evocative sketches transformed into prints for sale. Others painted specific experiences for superior officers in the hopes of preferment, and this may have been the origin of Davies's painting, though he incorrectly spelled his commanding officer Captain Samuel Strachey's name.
Whatever Davies's goals might have been, his work is detailed. One important element is that the two Haudenosaunee in the foreground are clearly wearing moccasins. To be able to run fast and safely along forest trails was a critical attribute of the Haudenosaunee when it came to carrying messages of war and peace throughout their territory, now New York State and southwestern Ontario. Well-made moccasins were essential and were generally decorated with traditional and cosmological symbols. The moccasins shown here are Nun-da'-wä-o-no' (Seneca) and of unknown date. Because they include silk and beads in their design, this pair is likely nineteenth-century, but their essential structure and the requirement for decoration are unchanged from their predecessors' porcupine-quill–decorated mammal skin and sinew versions. At the time the moccasins were made, the Nun-da'-wä-o-no' lived near what is now Rochester, New York, two hundred miles away from Ogdensburg.