Bodies in a Grave 1946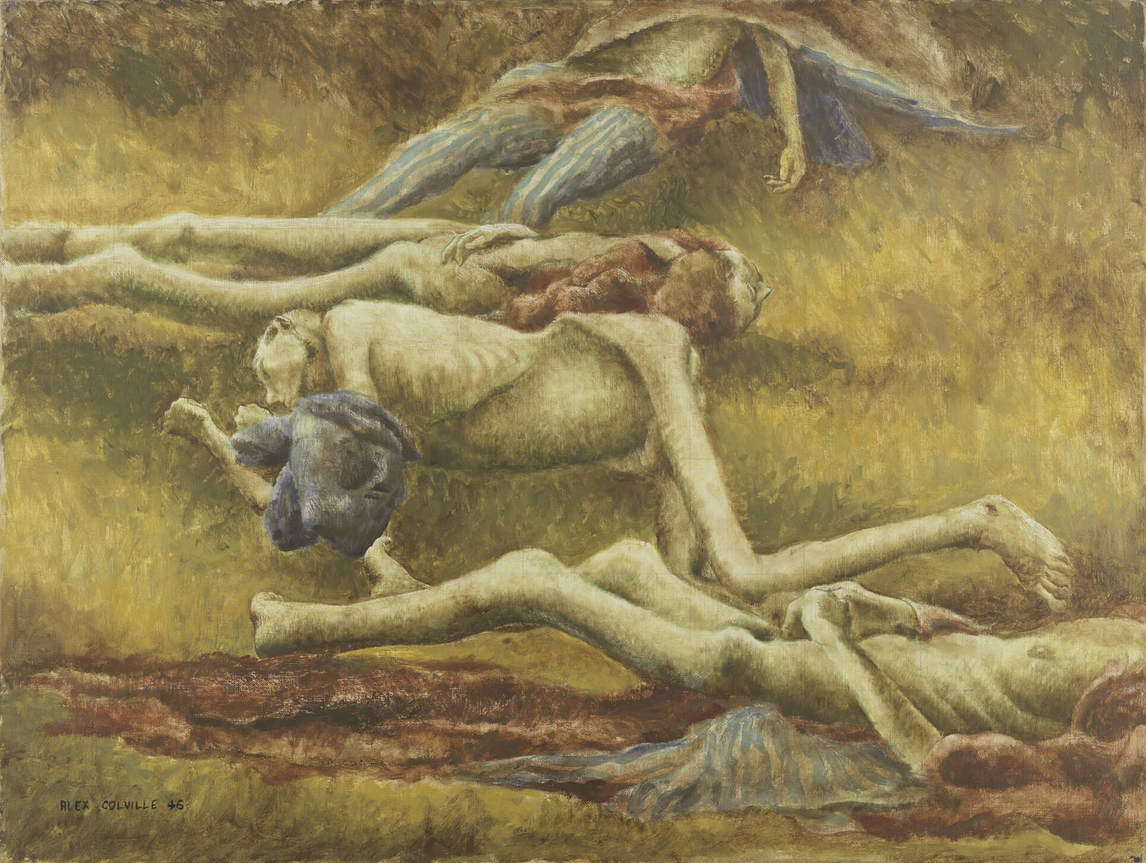 The gentle, dreamlike quality of Bodies in a Grave, a scene of emaciated corpses in a Bergen-Belsen burial pit, belies the horror of the 10,000 and more unburied bodies found in the concentration camp after its liberation in 1945. Since 2013, with the discovery of a series of photographs Alex Colville (1920–2013) took at the camp, we have known that the figures in this painting derive from images he captured with his army-issue camera. Using these photographs while painting Bodies in a Grave in Ottawa a year later, Colville was able to move beyond the moment of direct experience and rework his recollections into a composition. He made sketches of some of the figures in his photographs and rearranged them in the painting in an effort to find the necessary clarity his composition demanded.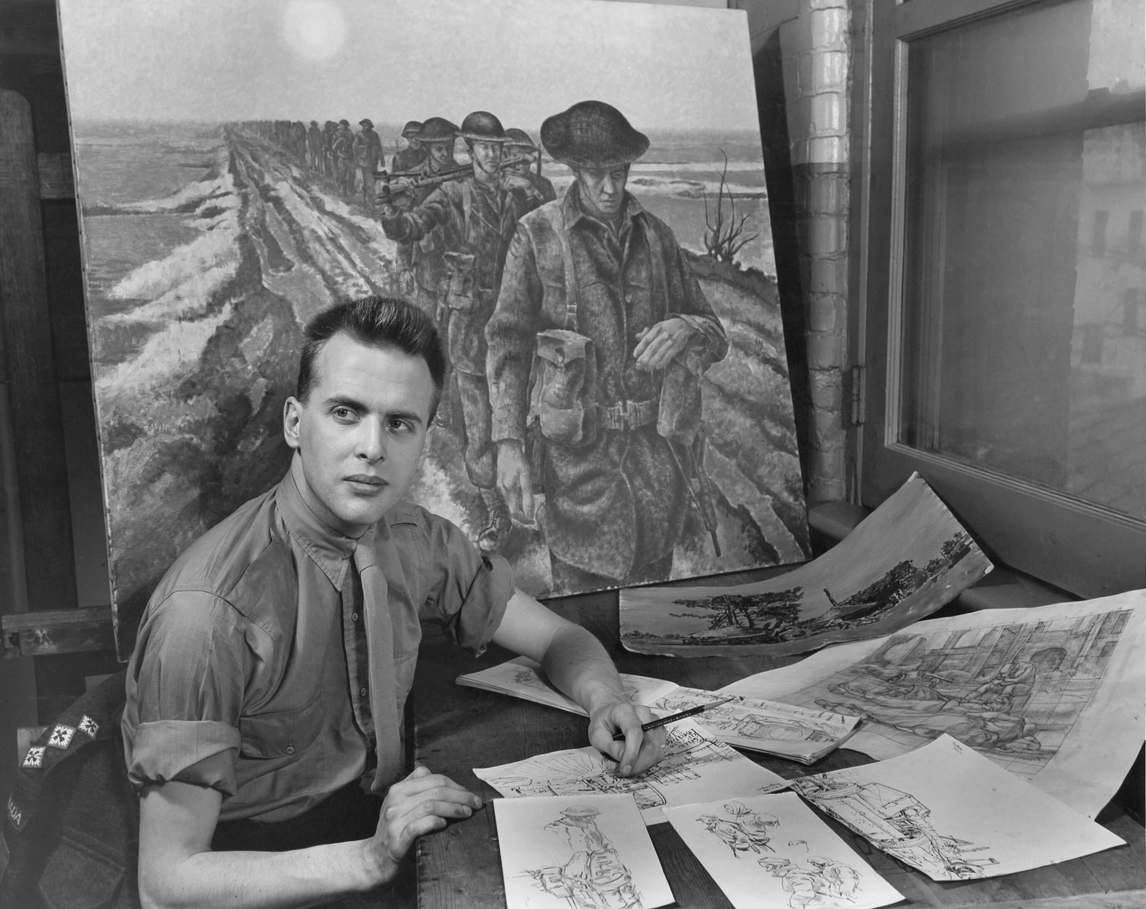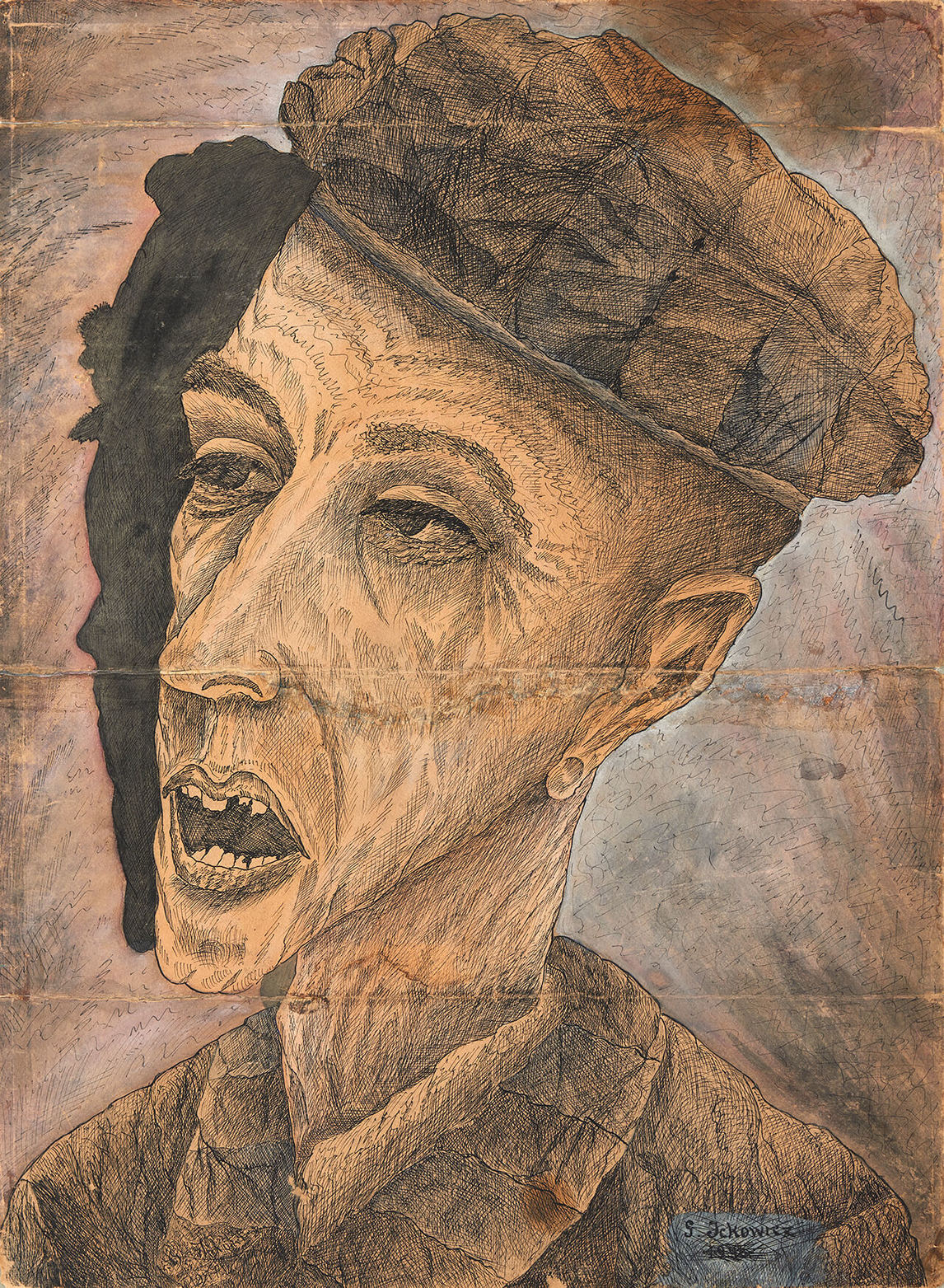 Perhaps this approach permitted Colville some distance from the horror. This aspect of his war art has been criticized for minimizing any personal emotion he might have originally felt. He argued instead that this distancing resulted from his body's own defence mechanism, preventing the full shock of what he witnessed to take root in his psyche. It may have been in this spirit that in an interview a decade before he died, he said that the war did not have a major impact on his work or his life.
Appointed an official Second World War Canadian war artist in 1944, Colville travelled with the Canadian Army to France, Belgium, the Netherlands, and Germany. In Germany he visited Bergen-Belsen after its liberation by the British in April 1945. Like other Canadian artists such as Aba Bayefsky (1923–2001), who painted Belsen Concentration Camp Pit, 1945, he previously knew almost nothing about the Holocaust. "This being in Bergen-Belsen was strange," he recalled. "As I've said to a number of people… one felt badly that one didn't feel worse. That is to say, you see one dead person and it is too bad, but seeing five hundred is not five hundred times worse. There is a point at which you begin to feel nothing."
Colville's response to such a traumatic experience can be compared with that of other artists. For his contemporary Jack Shadbolt (1909–1998), who catalogued photographs of Nazi atrocities for the Canadian Army in 1945–46, the Holocaust was an event so disturbing that it dominated his non-war art throughout the following decade, as can be seen in the skeletal, beaten forms in Dog Among the Ruins and Image in Cedar Slash, both 1947. For Elaine Goble (b.1956), the consequences of the Holocaust in her own Ottawa neighbourhood inspired The Holocaust: A Family Album, 2001, which depicts a couple whose entire family was killed or died before 1945 and exists today only in faded photographs. Perhaps the most moving responses come from those who directly experienced the horrors and were able to depict them in art, as Gershon Iskowitz (1920/21–1988) did in Condemned, c.1944–46, a grim portrait drawn from his experiences in the Nazi concentration camp of Buchenwald.