Convoy in Bedford Basin c.1919

The large and ebullient Convoy in Bedford Basin by Arthur Lismer (1885–1969) depicts merchant ships forming a transatlantic convoy near Halifax. This city was a vital naval base for vessels travelling from North America to bring food, supplies, and personnel to Britain and Europe. In 1917, the increasing loss of these ships to German U-boat (submarine) attacks led to the introduction of convoys, which banded together merchant ships and their escorting warships. The camouflage patterns depicted here, called "dazzle," were intended to help protect ships at sea. Lismer's emphasis on these patterns obscures the crowded harbour scene as a whole, reducing it to a shifting mosaic of curved and geometric shapes and colours.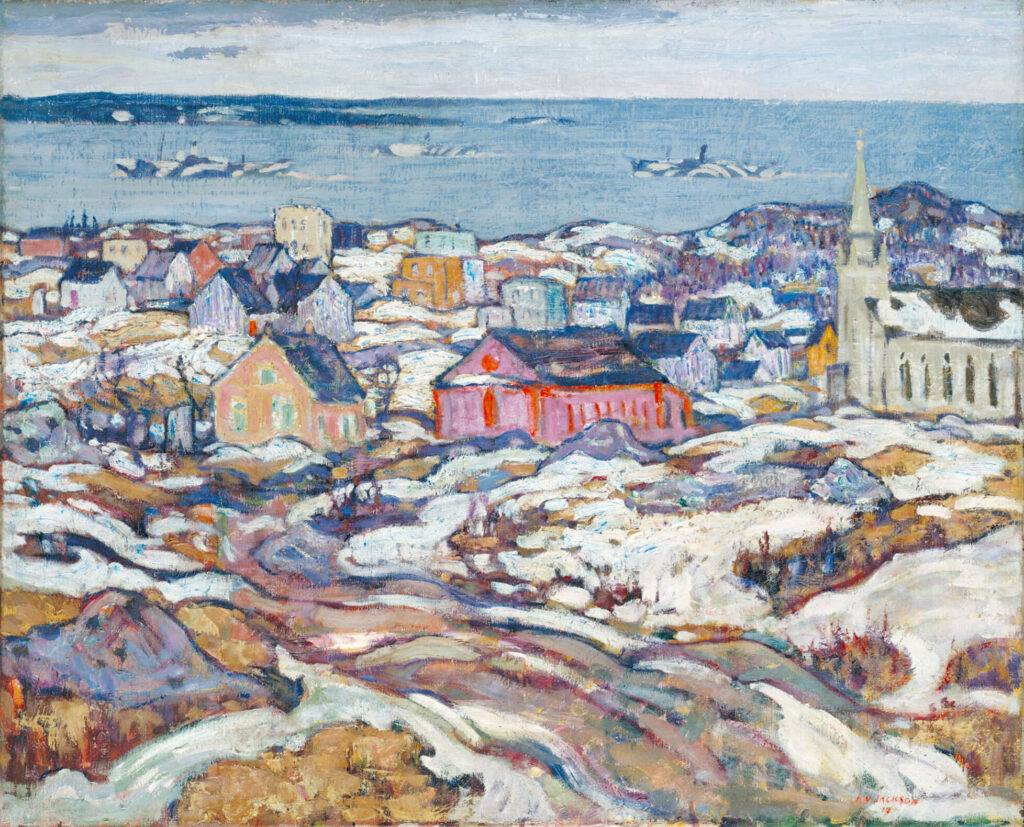 With its nods to Impressionism, Expressionism, and Cubism, Convoy in Bedford Basin exemplifies the impact of modern European art on the work of a number of Canadian artists during the years around the First World War and is one of the most experimental of the official war paintings. It influenced Lismer's friend and colleague A.Y. Jackson (1882–1974) to paint more contemporary war art than he had undertaken previously. Demobilized in Halifax, Lismer's home, Jackson painted the similarly themed and composed The Convoy and The Entrance to Halifax Harbour, both 1919.
The Canadian War Memorials Fund (CWMF) commissioned Lismer to portray naval activity in Halifax in 1918. He had earlier been employed as a commercial artist in Toronto but, in 1916, had become principal of the Victoria College of Art in the Nova Scotia capital. Lismer completed a number of oil studies and finished several major canvases during 1918 and 1919, including Convoy in Bedford Basin. The CWMF also commissioned and sold original prints he had prepared. In October 1918, sailing in Halifax Harbour on a minesweeper, Lismer directly experienced some of the subjects he painted and drew.