Error 1993
Many contemporary military artists, including Allan Harding MacKay (b.1944), work both independently and on projects with the official government program of the day. In the early 1990s, the Canadian Forces participated in a United Nations–sponsored peacekeeping mission in Somalia, escorting famine relief convoys, removing landmines, and destroying thousands of confiscated weapons. Canada's otherwise successful military mission was marred by the 1993 torture and death of Somali teenager Shidane Arone at the hands of two Canadian soldiers. Error is based on MacKay's photograph of the building where military authorities detained Master Corporal Clayton Matchee, the soldier who, along with Private Kyle Brown, had tortured and killed Arone.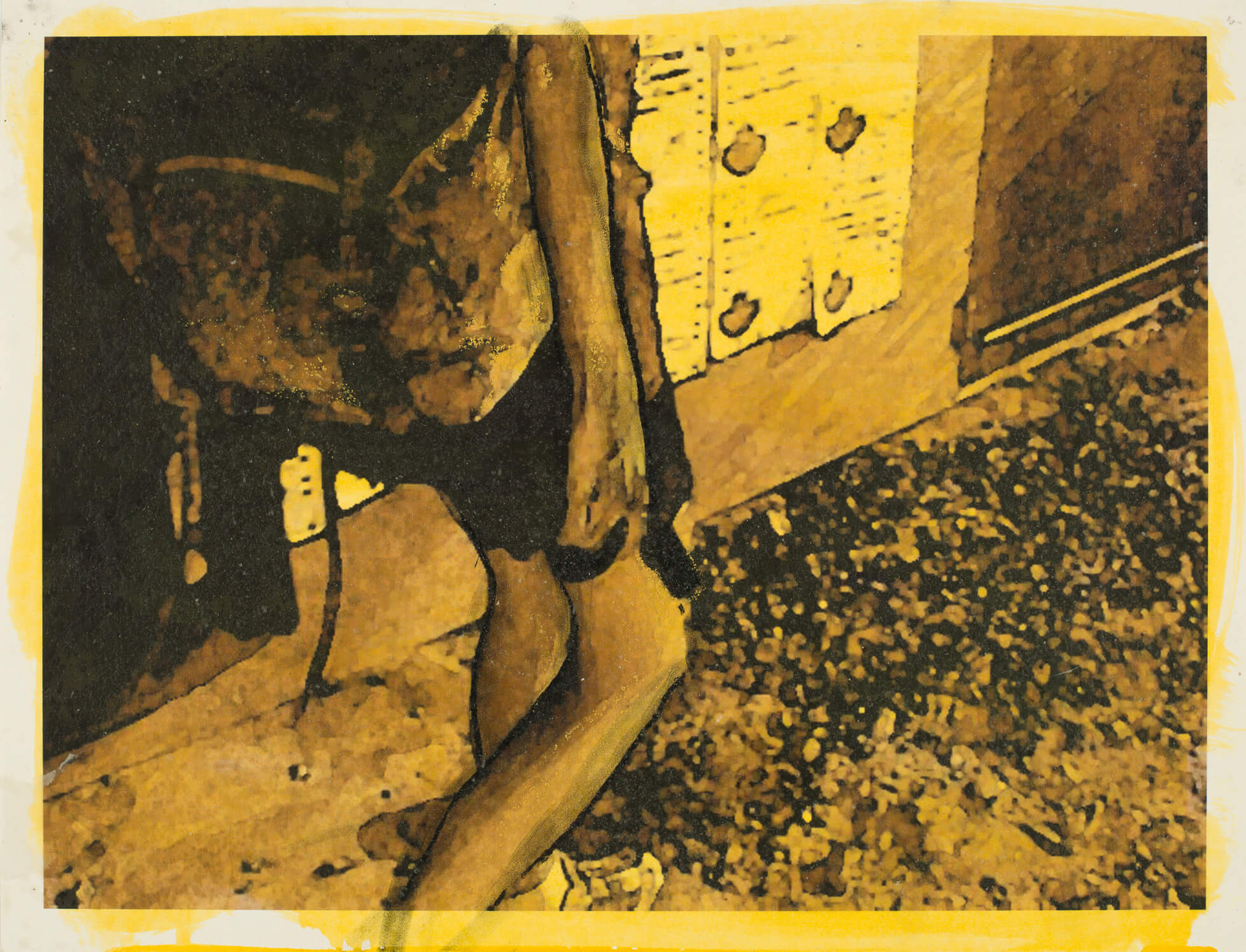 Embedded in the mixed-media composition is a piece of newspaper bearing the words, "We may have thought it was public knowledge over there and it would make its way here." This sentence refers to MacKay's belief that the contemporary public would not comprehend that its armed forces might choose to cover up this event. In fact, the murder became a serious scandal and led to the appointment of a commission of inquiry.
Although MacKay had gone to Somalia as part of the Canadian Armed Forces Civilian Artists Program (CAFCAP), his work as a military artist pointedly pierces the boundary between official Canadian government-subsidized art and protest art. Recognizing the public value placed on his official war art, he deliberately destroys it to draw attention to military activities he wishes to dispute. More specifically, he uses the works he has created while participating in peacekeeping missions to protest what he views as non-peaceful Canadian military interventions.
In the late 1990s, Canadian Forces based in Italy participated in the North Atlantic Treaty Organization (NATO) air campaign over Serbia to end the political and humanitarian crisis in Kosovo. In 1999, clashes between Serbian military forces and ethnic Albanian militias threatened to plunge the region into renewed conflict and racial cleansing reminiscent of that carried out elsewhere in the Balkans earlier in the 1990s. MacKay opposed Canada's military role in Kosovo and decided to destroy an original Somalia-themed artwork in protest for every day NATO bombed Serbian forces. He damaged his last of fifty-eight Somalia artworks on June 10, 1999—the day the bombing ceased. Error is one of the three Somalia compositions that escaped destruction, in part because it and the other two were already in the collection of the Canadian War Museum.
MacKay undertook a second war art assignment in Afghanistan in 2002 with the Canadian Forces Artists Program (CFAP). His movements were restricted to Kandahar Airfield and its surrounding environment. He made three videos about the difficulties of being a war artist there, which he collectively titled Afghan Vignettes, 2006. One shows how he had to learn of the conflict from the inside of his tent by interpreting the exterior surrounding sounds of military activity. He continued to make artworks even after he had left the war zone, seeking to illuminate the greater picture through something small. Afghanistan #132A, 2002–7, depicts the lower half of a barely identifiable thin figure carrying a backpack and the dusty ground below. An environment of poverty and an awareness of the ever-present danger of improvised explosive devices (IEDs) are all implied in this image. In 2012, MacKay destroyed a number of related works to protest the policies of the federal Conservative government.