Joseph Brant Monument 1886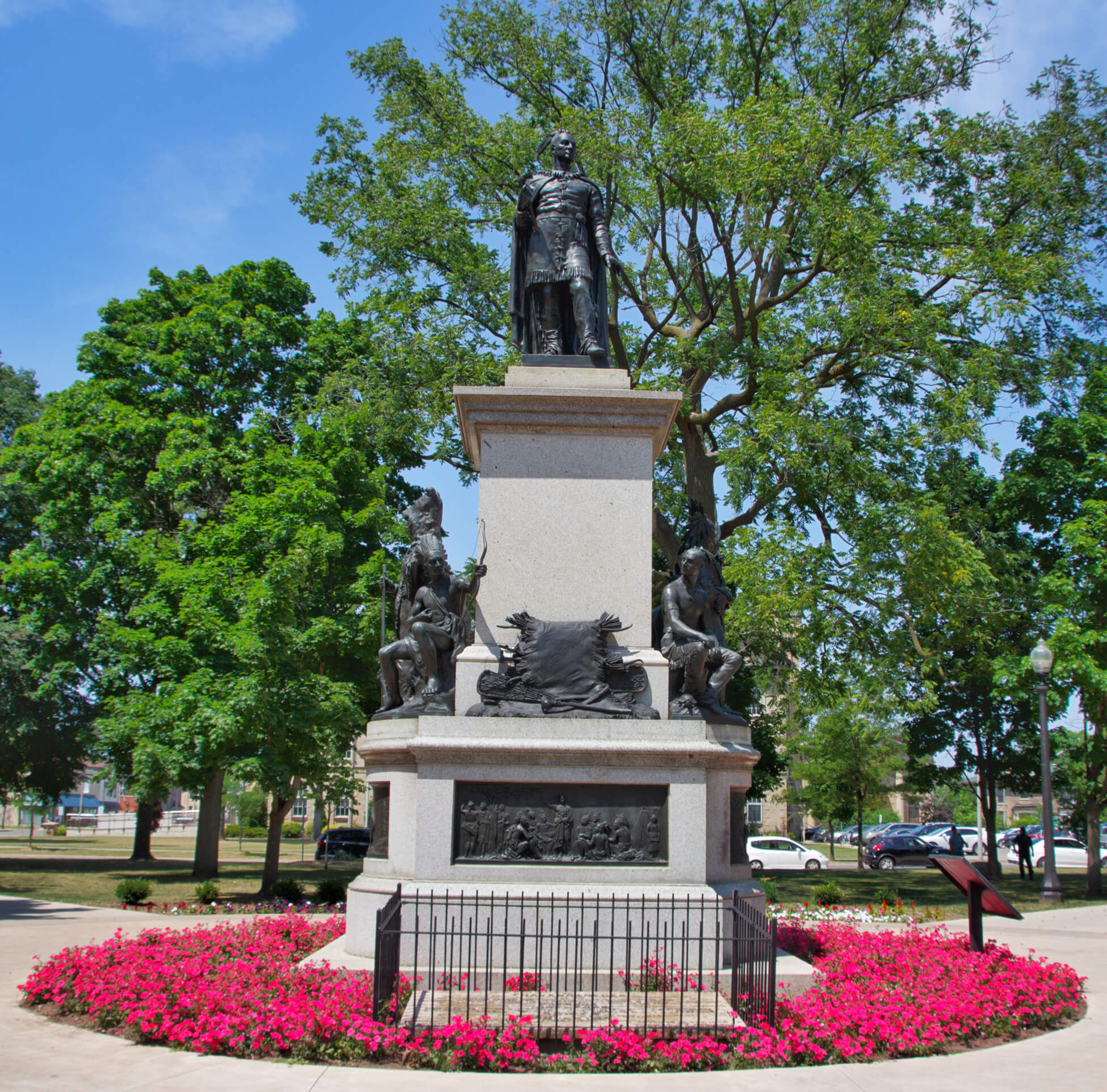 After Confederation in 1867, memorial sculptures commemorating significant figures in Canadian history were placed in several prominent locations as a nation-building exercise. The town of Brantford erected the Joseph Brant Monument to recognize Kanien'kehá:ka (Mohawk) leader Thayendanegea (Joseph Brant), who had fought with the British during the American War of Independence, 1775–83, and, following the British defeat, had been granted land for his people near Brantford as a restitution reward for his loyalty. In classical pose and Indigenous clothing, Thayendanegea dominates the monument and, below him, several more individuals represent the chiefs of the Six Nations: Kanien'kehá꞉ka, Onyota'a:ka (Oneida), Onoñda'gega' (Onondaga), Gayogohó:no' (Cayuga), Onödowa'ga:' (Seneca), and Skarù:rę (Tuscarora). Appropriately, as her grandfather Sakayengwaraton had fought alongside Thayendanegea during the War of Independence, Kanien'kehá:ka poet Tekahionwake (Pauline Johnson) recited at the unveiling. "Young Canada with mighty force sweeps on / To gain in power and strength before the dawn," she declaimed.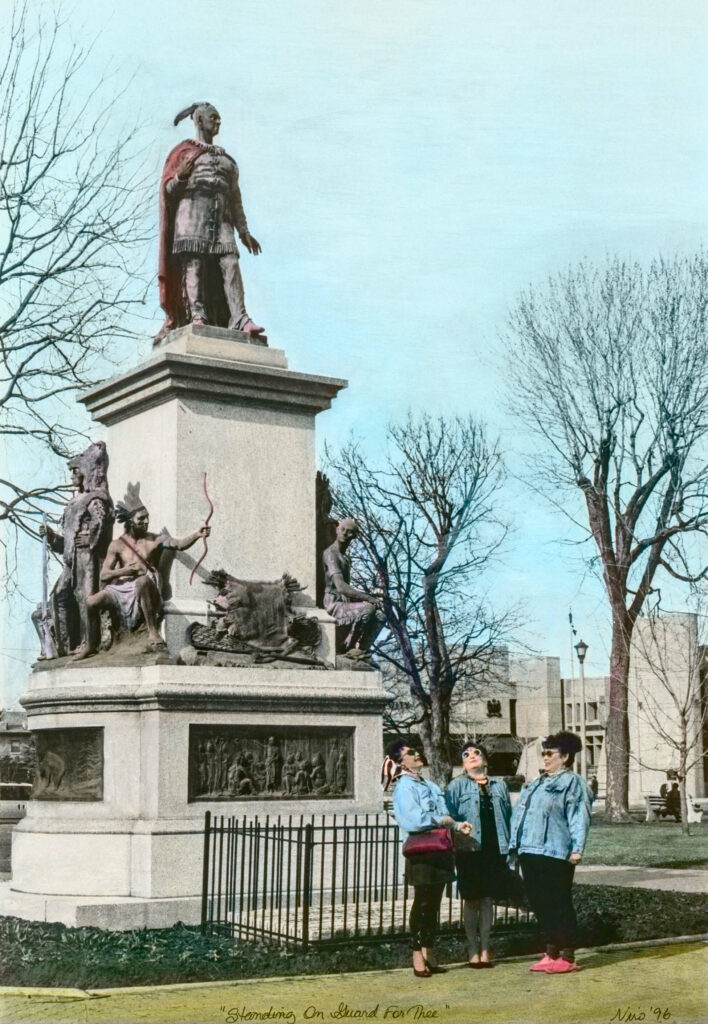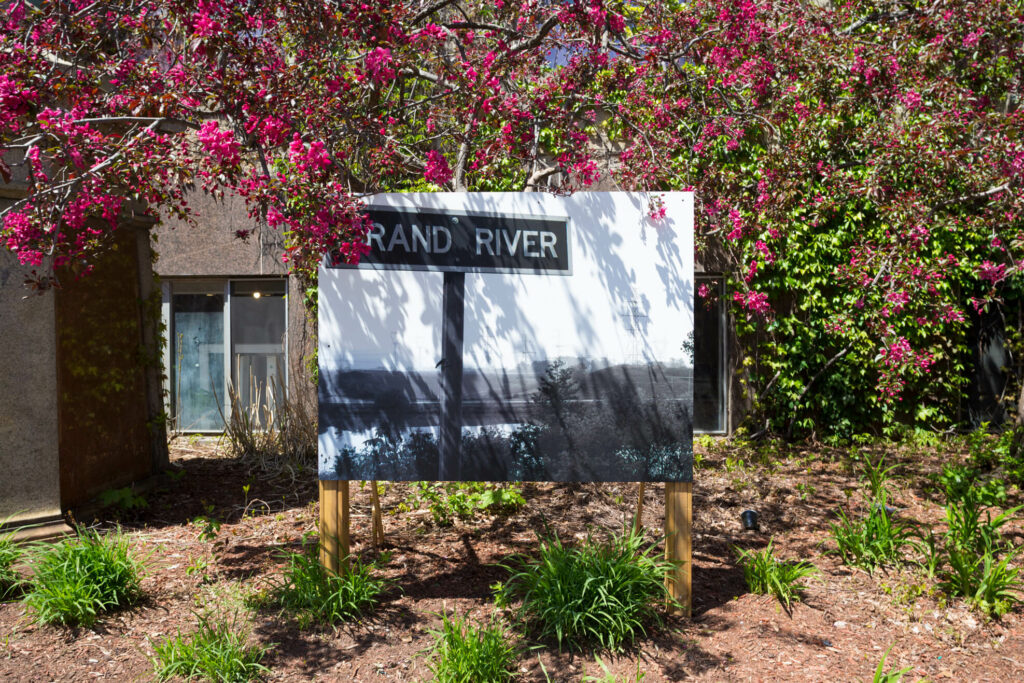 This memorial has no particular artistic merit itself, but the facts surrounding it make it interesting—both the way it was created and its reception over the years by Indigenous peoples in Canada. The monument's British sculptor, Percy Wood (1860–1904), made two visits to Canada to sketch the Six Nations chiefs. The resulting clay and then plaster figures were cast in bronze in England from cannons used at the Battle of Waterloo, 1815, and during the Crimean War, 1853–56. Although this was a colonial project, the Six Nations succeeded in their request to be represented in the monument's design in the form of bear and wolf totems. They also raised money for the commission.
Sites of memory of this kind are often contested, and there is no single interpretation of their meaning. In 1991, Kanien'kehá:ka artist Shelley Niro (b.1954) photographed her sisters in contemporary dress beside the monument as part of her Mohawks in Beehives series. With this photograph she stated that Indigenous culture is not just historical but also contemporary and that it cannot be held ransom to past assimilative practices. In so doing, she reclaimed a space from which a real Indigenous presence had been erased by colonial insistence on a Western sculptural art form to honour Thayendanegea. Her more recent work, Battlefields of My Ancestors – Grand River, 2017, takes this idea further and, using images and documents, interrogates the cross-border landscape that the American War of Independence took away from her people.