Second Strike 1981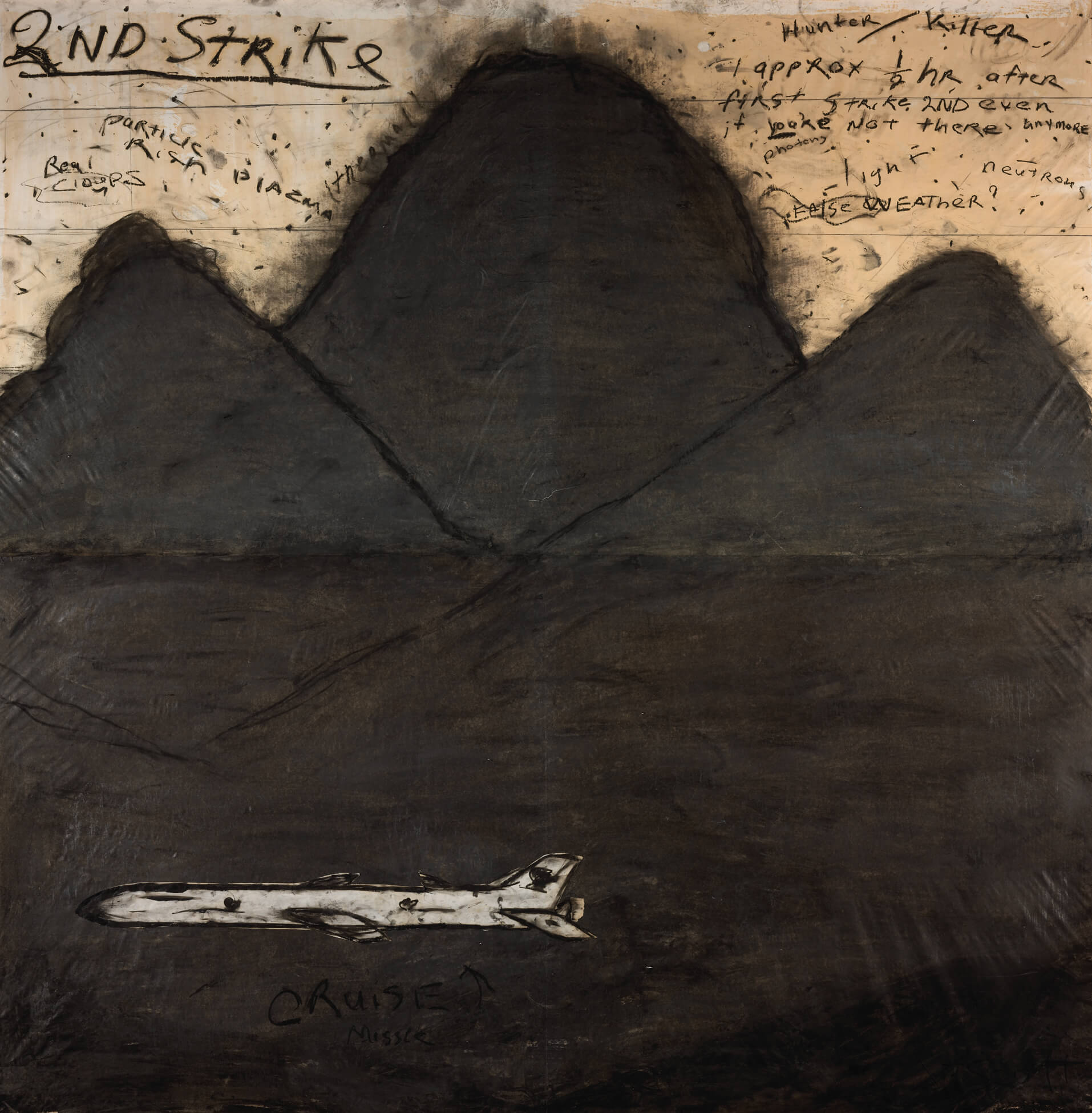 Few artists in Canada have protested war in their art as single-mindedly as John Scott (b.1950). In the large, bleak drawing Second Strike, he makes clear his objections to cruise missile testing. Dark, menacing mountains frame the flying missile weapon. The sky is filled with the angry words of those protesting the tests, and the lack of colour suggests the absence of life. The looming peaks, shaped like three gravestones, seemingly obliterate the words of objection in favour of an emphasis on the depressing prospect of nuclear annihilation for all living things.
Following informal discussions on a weapons testing agreement, in 1983 Canada and the United States established the Canada-U.S. Test and Evaluation Program. This agreement allowed Americans to test unarmed air-launched cruise missiles in Canada to simulate possible Russian encounters over the Arctic. The tests took place in parts of the Northwest Territories, British Columbia, Alberta, and Saskatchewan. This decision proved contentious, resulting in protest marches across the country and the establishment of peace camps, including one on Parliament Hill in Ottawa. In one dramatic incident on July 22, 1983, activist Peter Greyson stained The Proclamation of The Constitution Act with red paint, claiming that the cruise missile tests were a stain on Canadian rights.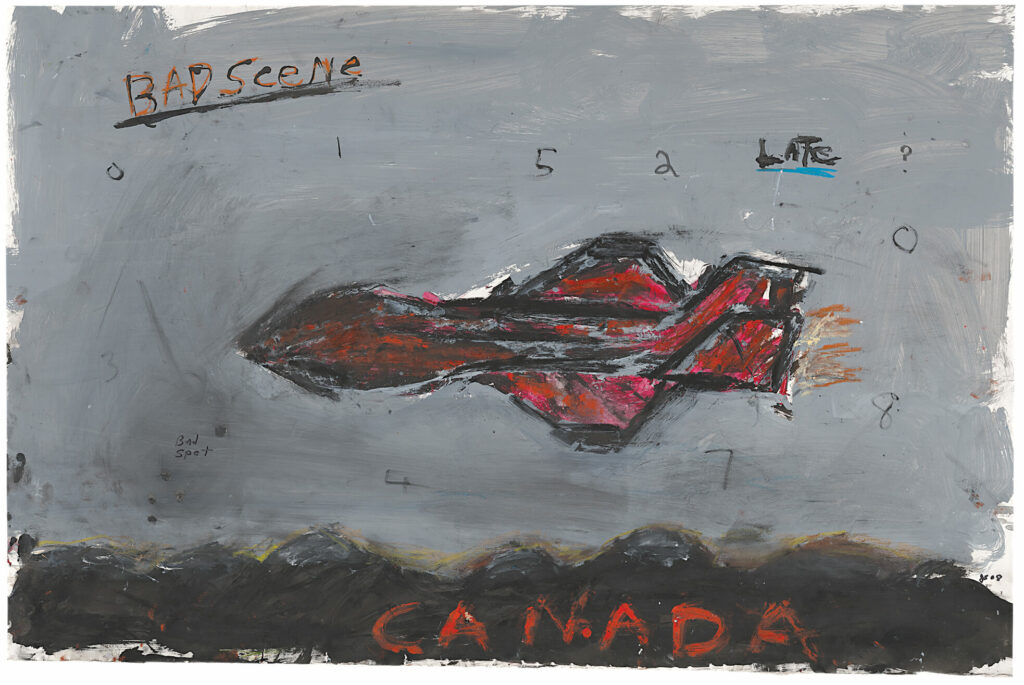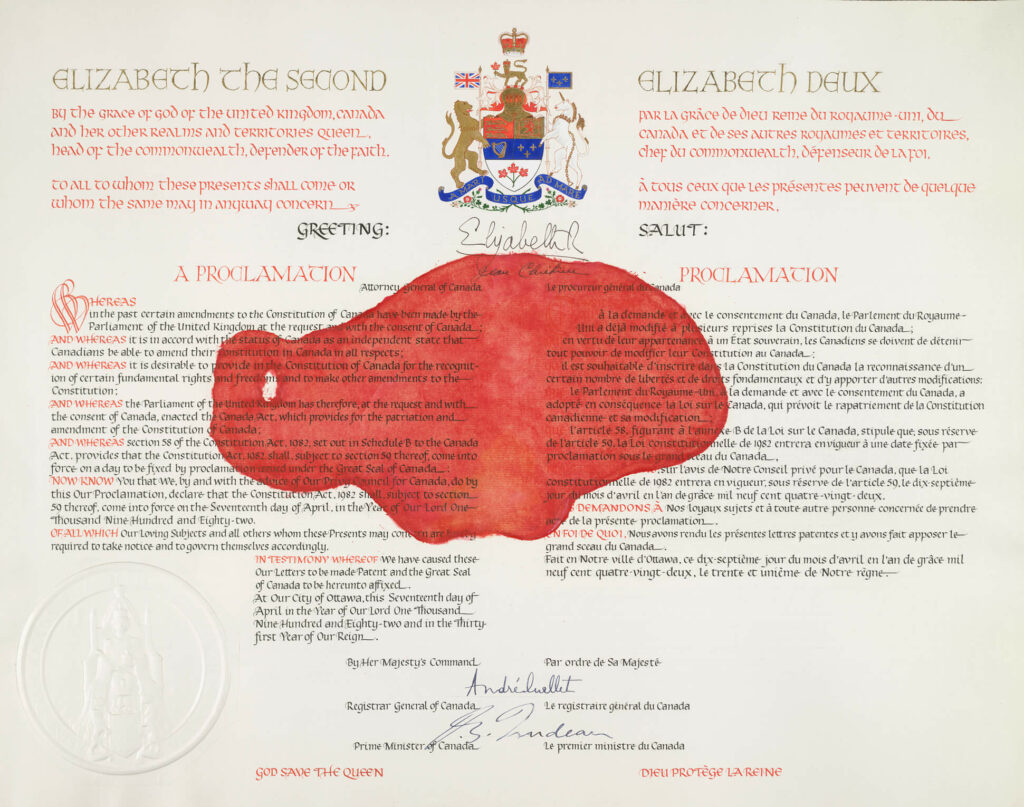 To this day, Scott combines his political activism and his art in apocalyptic drawings crudely drawn on cheap materials and in installations and transformed objects. Sometimes he soaks his paper in solvent and creates his image by grinding dark pigments, thick black paint, graphite, and charcoal into the wet surface. His view of society is dark; war and destruction threaten his world. The Campaign against Terrorism has been the subject of many of his drawings. Using the image of a blood-red fighter aircraft, Bad Scene Canada, 2008, critiqued Canada's combat mission in Afghanistan.
Scott left school in Grade 10 to work in a Windsor, Ontario, factory, where he became involved in union activity. His experiences there combined with his furious reactions to the Vietnam War and the Cold War to make him a lifelong anti-war artist and activist. Influenced by the Windsor car culture of his youth, his best-known work, now in the Art Gallery of Ontario, is Trans Am Apocalypse No. 2, 1993, a black, modified Pontiac Trans Am with text scratched into its surface from the Bible's Book of Revelations. Now based in Toronto, Scott received the Governor General's Award in Visual and Media Arts in 2000.