The Wall 1995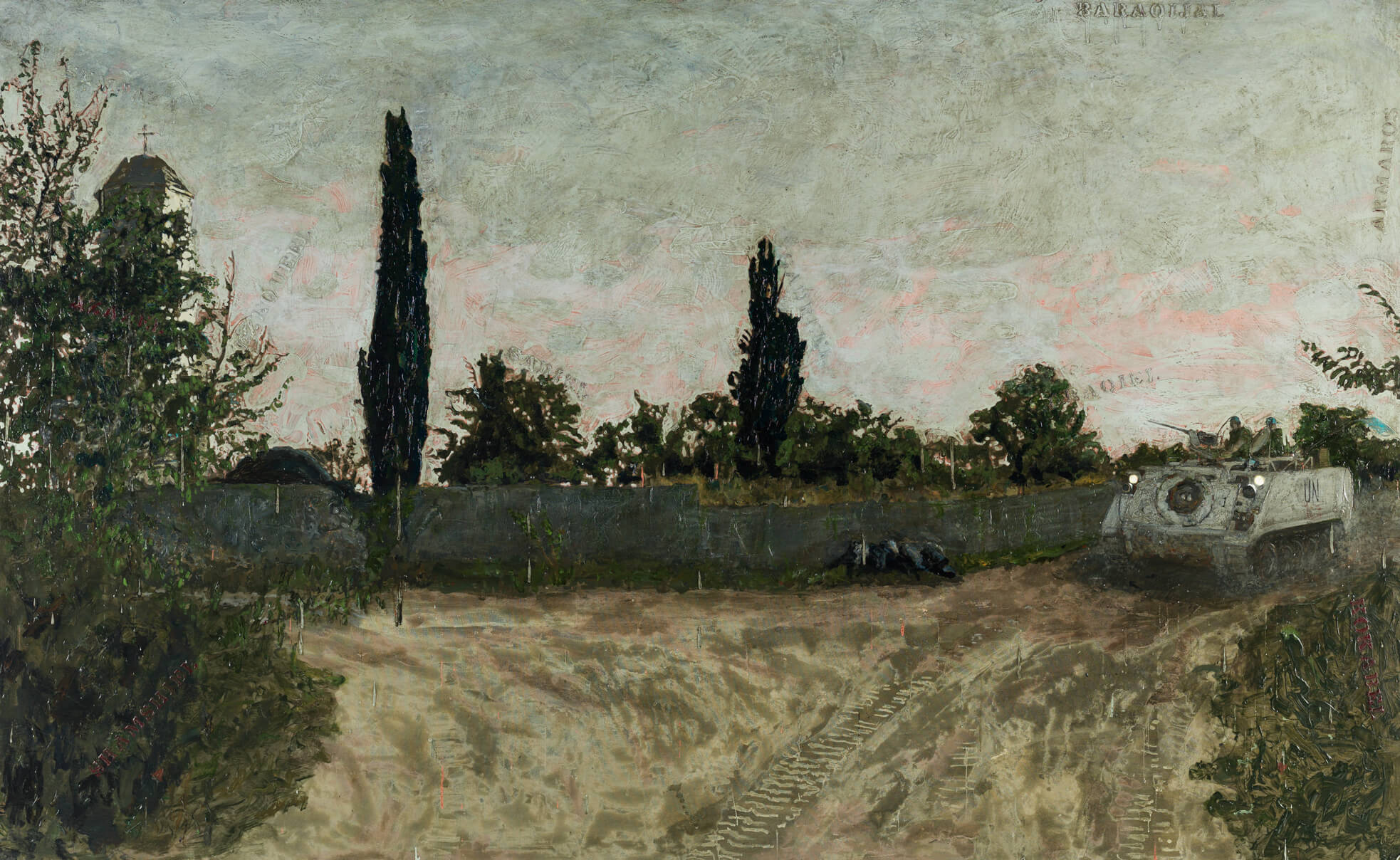 With characteristic impasto style, William MacDonnell (b.1943) in The Wall depicts a military vehicle in front of an enclosed but battered cemetery in Croatia. To the left, a church steeple stands guard. In a 1995 interview, MacDonnell described this image: "There was a town… it's a crossroads point. We went through about four times. It was completely destroyed. On the edge of the town there was what was left of a church. And in the cemetery there were desecrated tombs. Such hatred. All that culture destroyed. Even bodies. I've used the town as a symbol or metaphor for the war."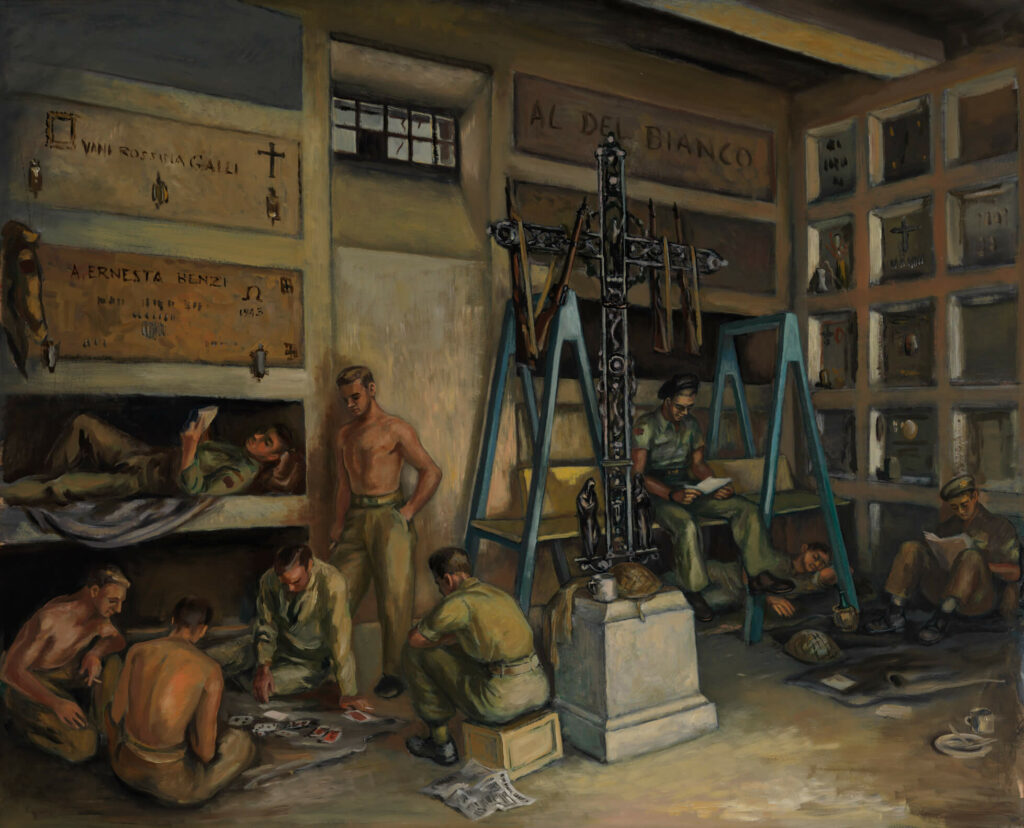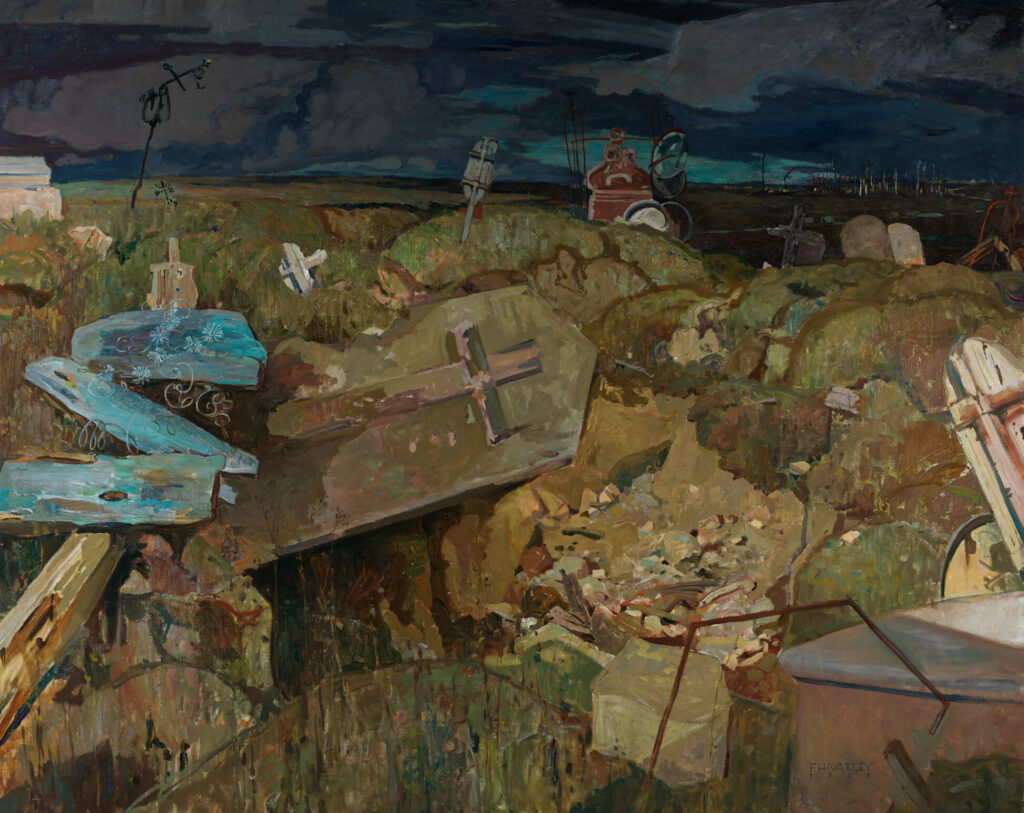 Cemeteries have always been a powerful motif in Canadian war art. Official First World War artist Frederick Varley (1881–1969) painted Some Day the People Will Return, 1918; in the Second World War, army artist George Pepper (1903–1962) painted Hitler's Youth, German Cemetery at Louvigny, Calvados, Normandy, 1944, and his colleague George Campbell Tinning (1910–1996), in a more humorous vein, painted In the Vault of the Cemetery, c.1945, showing a group of Canadian soldiers lounging around in a crypt.
MacDonnell is the historian-philosopher among contemporary war artists. His military art is framed by his ongoing interest in the importance of society's collective memory and, perhaps equally critically, in the dangers inherent in society's amnesia. His paintings attempt to link people's rememberings and forgettings to a sense of place. For this mission, he has travelled extensively in Bosnia, the Congo, Germany, India, Northern Ireland, Rwanda, Russia, the United States, and Vietnam to research areas of historic military significance. The resulting artworks draw attention to the events that happened in these places. For example, Modernizing Mostar, 2001, is about the wanton destruction of Mostar's original centuries-old bridge during the wars in the former Yugloslavia in the 1990s as well as the reunification represented by the town's temporary edifice. (The old bridge has since been rebuilt.)
From 1992 to 1995, Canadian Forces units formed part of several United Nations missions providing peace support in Croatia in the former Yugoslavia. In 1994, the Princess Patricia's Canadian Light Infantry hired three artists to depict their work in that country, including MacDonnell, who spent ten days with the regiment. Once back in Canada, he painted fifteen images of his experiences. In all of them, the embossed names of watcher angels from the Book of Enoch (from ancient Jewish literature) fill the sky over the scenes he depicted. MacDonnell views the angel names as symbolic of the safeguarding purposes of UN forces and also as metaphors for his own work as the artist-observer.
MacDonnell is a former officer cadet in the Royal Canadian Corps of Signals. In 2007, twelve years after he visited Croatia as a war artist, he spent a month in Afghanistan with the Canadian Forces Artists Program, working at Kandahar Airfield and in the area around Kabul.