Skating Carnival, Victoria Rink 1870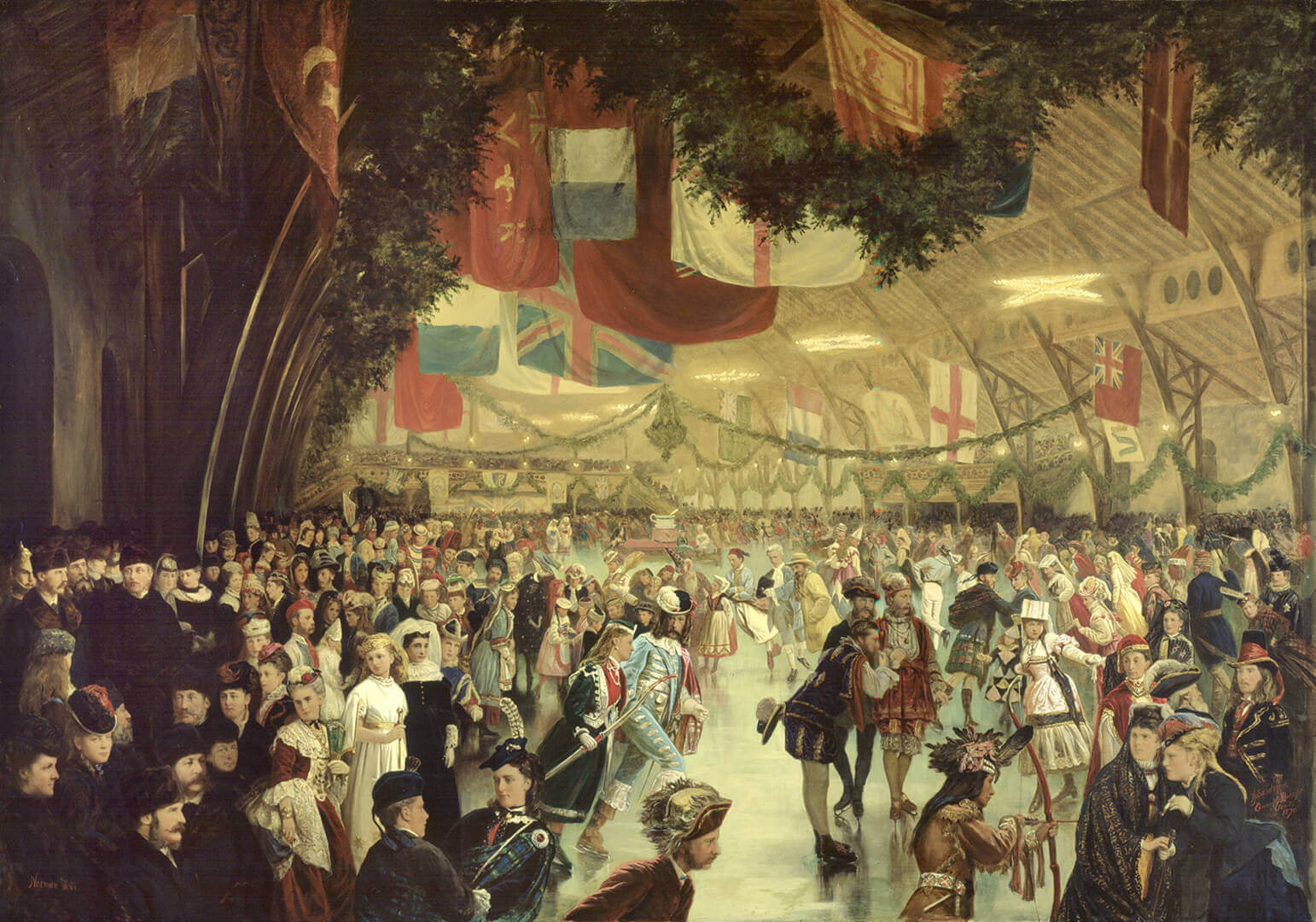 Skating Carnival was Notman's most ambitious undertaking in composite photography, a technique he is credited with developing and popularizing. The process began with an overall design for the finished picture, and then individual or small group portraits were made—prints of which would eventually be cut out and pasted onto a composite negative and then printed again. Skating Carnival was made from more than three hundred individual photographs, and its creation makes evident Notman's keen sense of marketing. In one fell swoop he advertised his studio and its impressive access to key events, while appealing to the social aspirations of both his established and potential clientele.
A paid notice in the Gazette, February 25, 1870, reads:
BLEURY STREET, FEBRUARY, 1870.

The approaching CARNIVAL at the Skating rink is likely to be one of more than ordinary interest from the fact that His Royal Highness Prince Arthur is expected to grace the occasion with his presence.

I have therefore selected this opportunity as one offering many advantages, to carry out what has long been my intention; To get up an effective PICTURE OF THE RINK, for which purpose I beg to request that you will give me an early sitting, before or as soon after the event as possible, in the Costume you intend to use on the occasion.

The Directors have kindly consented to give me every facility in their power, so as to ensure a successful Picture.

Your obedient servant,
WILLIAM NOTMAN
Large group portraits are a notoriously awkward genre, whether in paint or photography, requiring recognizable individuals and some sense of the overall activity or structure of the group. The setting tends to be shallow and stagelike, but in this composition, Notman mediates the often competing priorities of the group portrait by including a lush and detailed representation of the elaborate venue and by creating a convincing sense of perspective. Such a structure enabled Notman to include many figures in the background whose faces are not clearly recognizable yet who anchor the elegant clusters of recognizable figures in the foreground.
This balance works best in enlarged prints like this one, which enable us to read the faces of the three hundred or so participants while still getting a sense of the pomp and circumstance of the occasion, one of many winter-themed events that provided a focus for bourgeois civic life in Montreal and attracted many visitors. The original wet collodion negative measured 10 by 13 centimetres, but prints were available in a range of sizes. As he did with all of his photographs, Notman offered the option of a hand-painted version of Skating Carnival, which was essentially a hybrid in that it was not just a painted photograph but also a large-scale oil on canvas. A numbered key was also drawn up and provided to purchasers.