Sara Angel
Founder, Executive Director & Publisher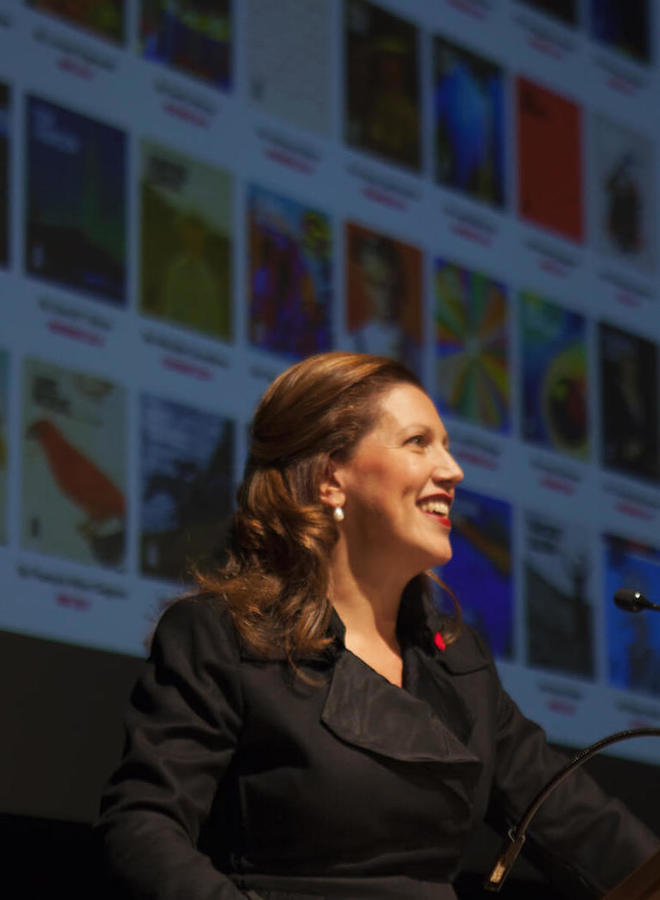 In 2011, when Sara Angel started her PhD in art history at the University of Toronto, she had a fifteen-year career in arts publishing and journalism under her belt. Her pre-academic life included being a senior editor for the London-based art publisher Phaidon Press and an editorial director at the internationally renowned Bruce Mau Design. As well, Sara had been a commentator for CBC television's On the Arts, an editor for Saturday Night magazine, a columnist for the National Post, and editor-in-chief of Chatelaine.
When Sara began teaching art history at the University of Toronto, she searched all over for Canadian art content to use in her class lectures. She found next to nothing online or in libraries: no comprehensive series on Canada's visual artists existed, digitally or in print. Drawing on her extensive professional experience, she decided to change the Canadian cultural landscape in order to create a resource where Canadians could find up-to-date, expert-authored, and audience-friendly content about the country's art history.
Using funds she received as a recipient of a Trudeau Doctoral Scholarship, the most competitive and prestigious award of its kind in Canada (given to PhD candidates whose innovative ideas help solve issues of critical importance to Canadians), she founded the not-for-profit Art Canada Institute (ACI) in 2013 and launched the organization a year later.
Why? Because cultural expression is a need and a human right—one so fundamental that the United Nations General Assembly enshrined it in the Universal Declaration of Human Rights in 1948. Yet it is something that only 30 per cent of Canadians are actively interested in or reached by.
Sara's vision for the ACI was simple: make Canadian art history accessible to twenty-first century audiences by creating a multi-vocal, bilingual, comprehensive web resource about the country's visual culture—one that would enable audiences around the world to learn about Canadian art regardless of their accessibility to a bricks-and-mortar museum.
Sara now holds a PhD in art history and serves as the founder and executive director of the ACI. She has been a guest lecturer at Harvard University, the University of Toronto, Ryerson University, the Royal Ontario Museum, the Art Gallery of Ontario, the National Gallery of Canada, and the Israel Museum.
Today, the ACI has become the go-to resource for anyone interested in this country's visual art. In less than five years the ACI has published more than forty books—each one available free of charge and available in French and English—by the country's leading art experts. The ACI's work has become renowned for redefining the conversation about Canadian art history for a twenty-first century audience.