The Critic c. 1963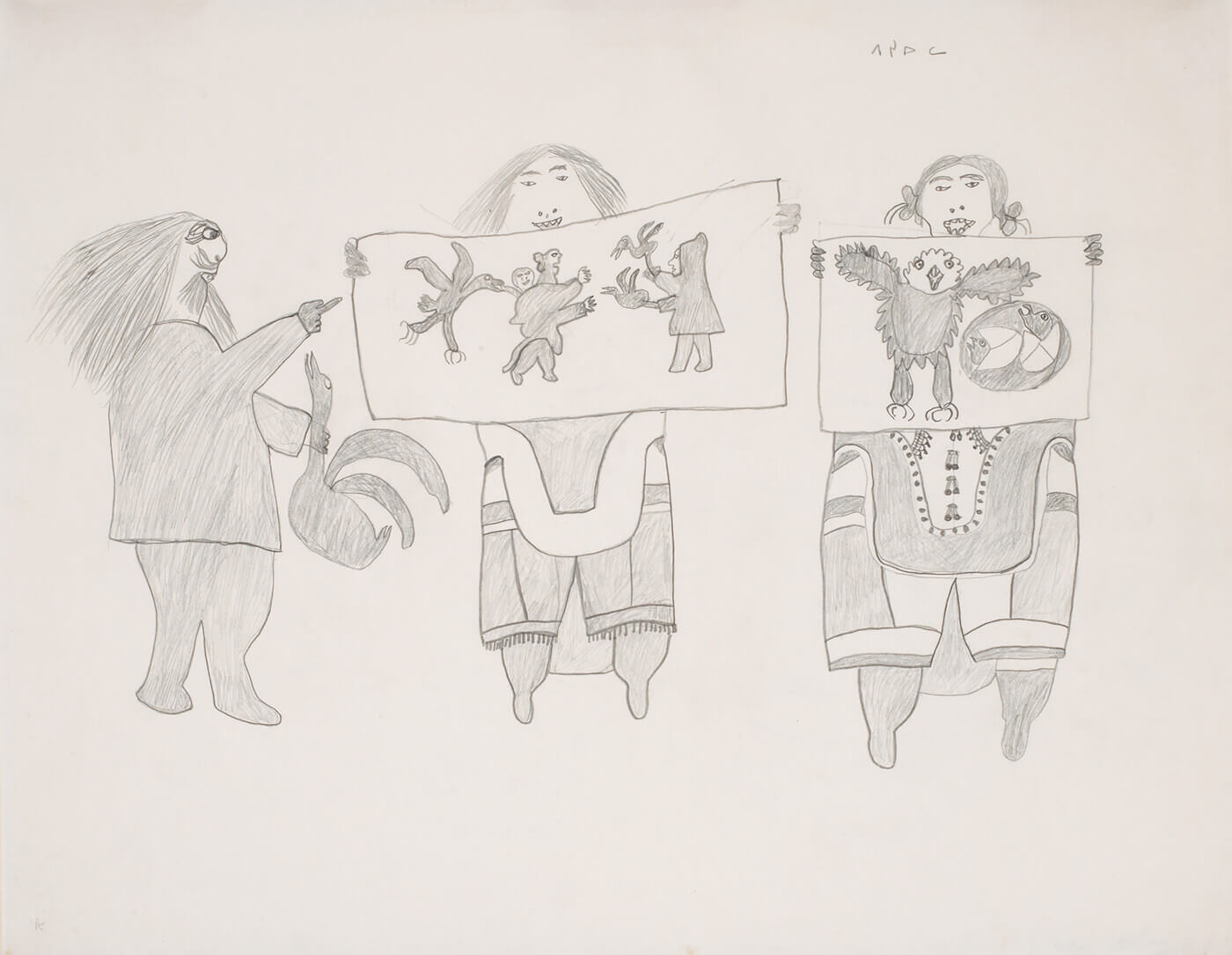 The Critic is an early example of Pitseolak's commentary on the art world. The liveliness of her line drawing captures both the comedy and the awkwardness of this novel exchange of a bird for artwork. The excitement of the "buyer" (holding the bird by the neck) is expressed in his gestures and the agitated movement of his hair, while the two Inuit figures serenely hold up drawings, done in Pitseolak's style, for his selection. Her usual attention to detail is exhibited in the elaborately decorated clothing of the Inuit figures—no doubt based on her memories of sewing clothing for her family.
Many in the first wave of Inuit artists were unaware of the art world and did not consider themselves artists as such. Pitseolak was an exception: she included images of her own drawings in her artwork, and she often spoke of herself as an artist. She was proud of her artistic accomplishments and at the same time amused: "Sometimes when I see pictures in books of my drawings and prints, I laugh. I laugh to think they have become something," she said. Drawings within drawings became a recurring theme in her work, yet they were never selected to be made into prints, and The Critic was not exhibited until her retrospective in 1975–77.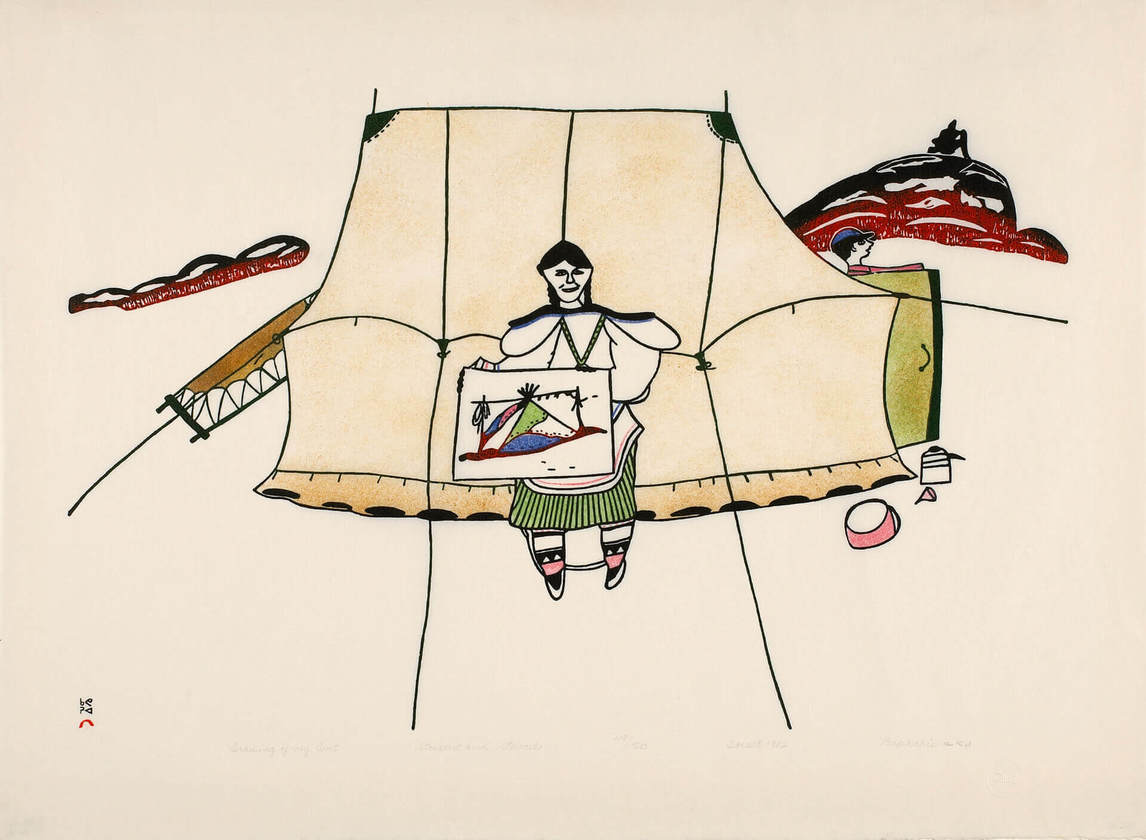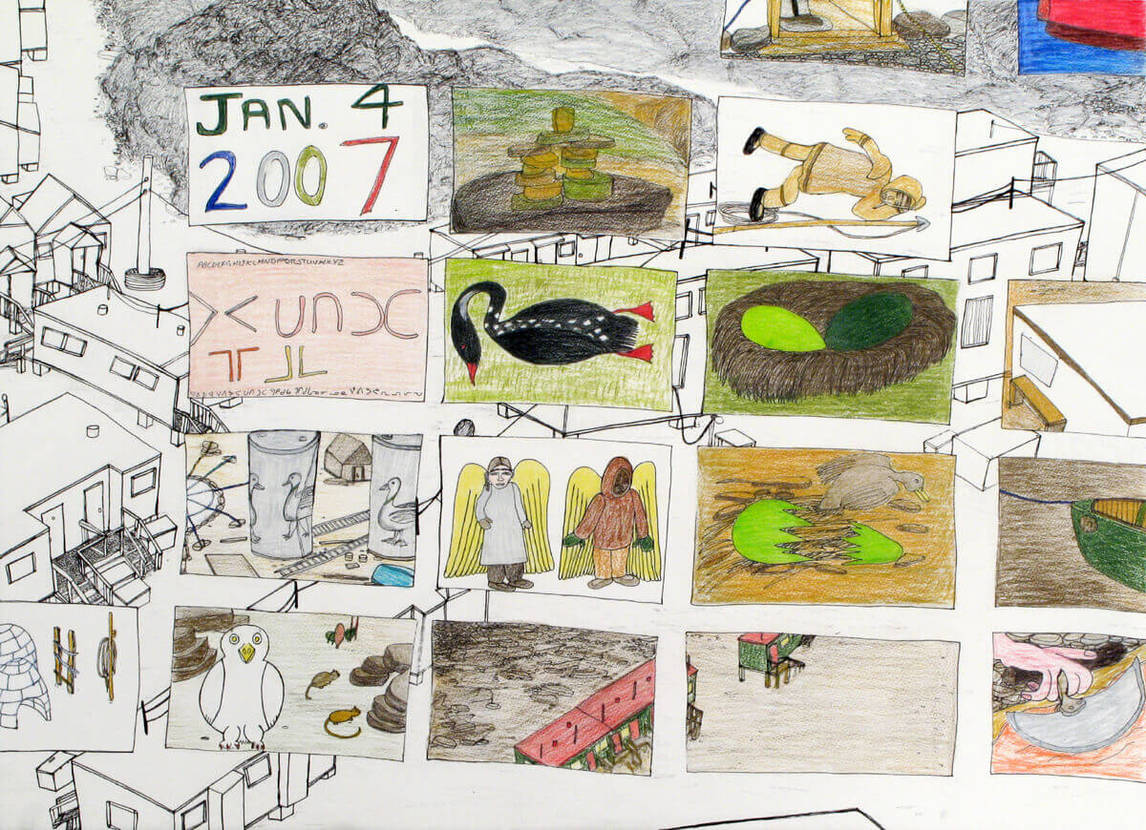 Pitseolak's interest in a form of artistic autobiography was shared with her daughter, Napachie Pootoogook (1938–2002), as seen in Drawing of My Tent, 1982, in which the artist holds up a drawing of a skin tent—much the way Pitseolak's figures hold up drawings in The Critic—while standing in front of her contemporary canvas tent. For Pitseolak, the autobiographical subject became a preoccupation, one that Napachie later expanded to self-portraits and portraits of her fellow artists working in the studio. This distinctive theme appears in more recent works by Pitseolak's granddaughters, the groundbreaking artists Annie Pootoogook (b. 1969) and Shuvinai Ashoona (b. 1961), and has been more widely explored by contemporary Inuit artists in general.