Commemorative Plate n.d.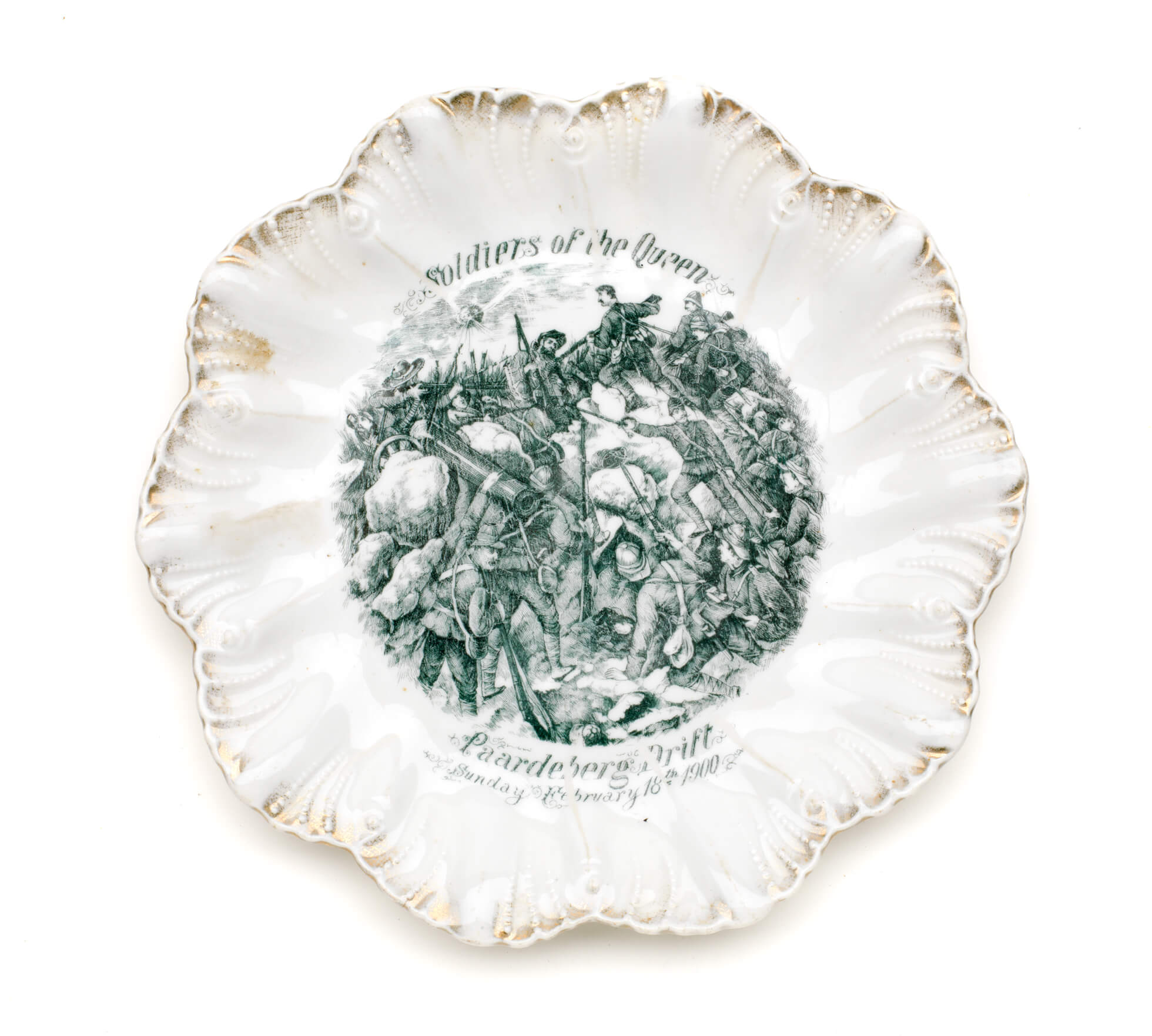 In February 1900, Canadian soldiers played an important role in the first major British victory of the South African War, the Battle of Paardeberg. A commemorative plate in the Canadian War Museum's collection celebrates the initial battle at Paardeberg Drift on February 18, 1900, when eighteen Canadians died and sixty were wounded, the worst result for Canada during the entire conflict. The artist is unknown, but the jingoism encapsulated in the mass of committed soldiers moving forward to meet the implacable Boer forces—no river in sight—belies the initial failure of the operation. After regrouping, British and Canadian troops forced the Boers into surrendering on February 27―a day with 4,000 Boer casualties.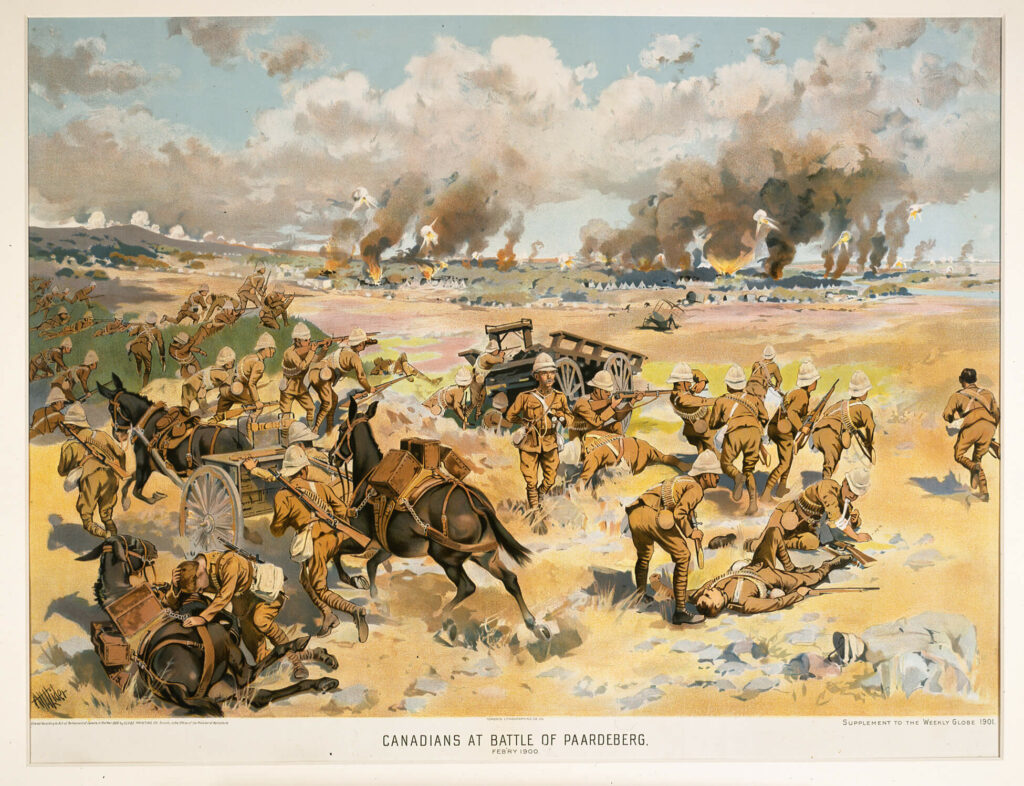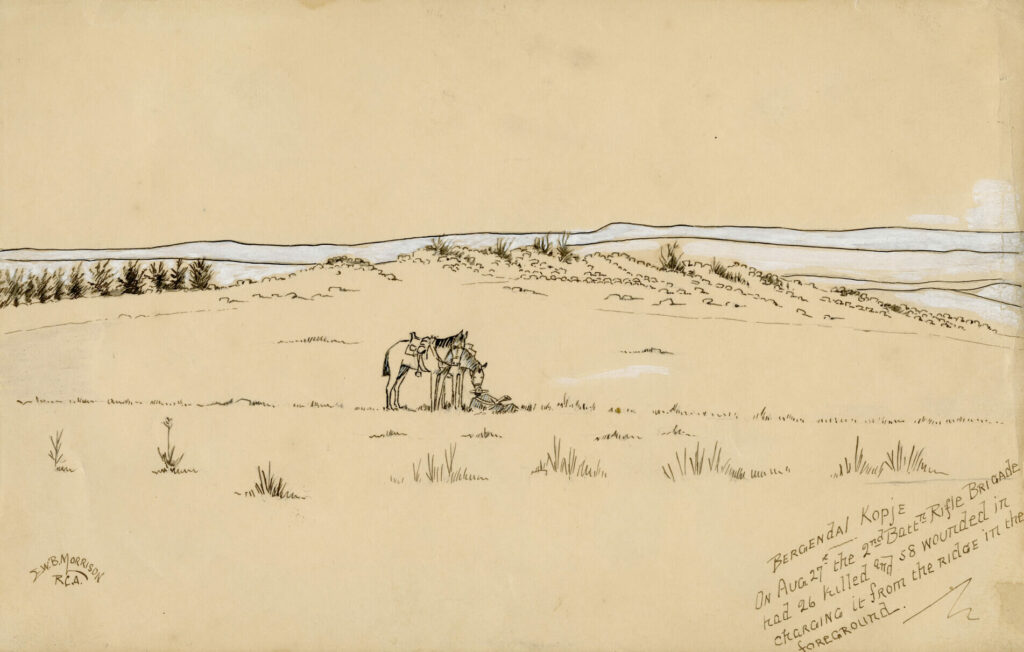 Graphic designer Arthur Hider's (1870–1952) colour print Canadians at the Battle of Paardeberg, February 1900, 1901, was an insert in the Globe (Toronto) on the first Paardeberg Day, the anniversary of the battle and the date Canadians reserved for annual commemorations of the dead until the end of the First World War. It is in the same vein as the commemorative plate, depicting much action and derring-do, which the artist never personally saw.
As eyewitnesses, soldier-artists can offer alternative perspectives on particular conflicts. Edward Whipple Bancroft Morrison (1867–1925), editor-in-chief of the Ottawa Citizen from 1898 to 1913, took a leave of absence from the paper in 1900 to serve in the South African War. There he made drawings that project an entirely different view of the conflict in comparison to the Paardeberg commemorative plate and Hider's colour print. Generally devoid of people, Morrison's works depict a dry and rocky landscape that stretches as far as the eye can see as, for example, in Bergendal Kopje, n.d. Inscribed on his drawing are words that belie this seeming tranquillity: "On Aug 27th [1900] the 2nd Battn [Battalion] Rifle Brigade had 26 killed and 58 wounded in charging it from the ridge in the foreground," a caption that refers to the Battle of Bergendal. Morrison went on to serve in the First World War and, in 1918, the authorities promoted him to the rank of major-general.