Inner Structure 1956
Inner Structure presents a seemingly chaotic pattern of lines in a nebulous blue field. It is one of a number of works that are all similar in composition and colouring, although occasionally Kazuo Nakamura painted the lines on an orange/yellow field, as with Inner Movement, 1954. Collectively these works are known as the Inner Structure series. They distill the essence of what is hinted at in works like Autumn, c.1950, Morning Mist, 1951, and Hillside, 1954—the internal structure of nature—which Nakamura had been exploring through a natural progression of artistic styles from figuration to abstraction. Inner Structure therefore represents a culmination of sorts, or at least a reflection of his investigations up to that moment.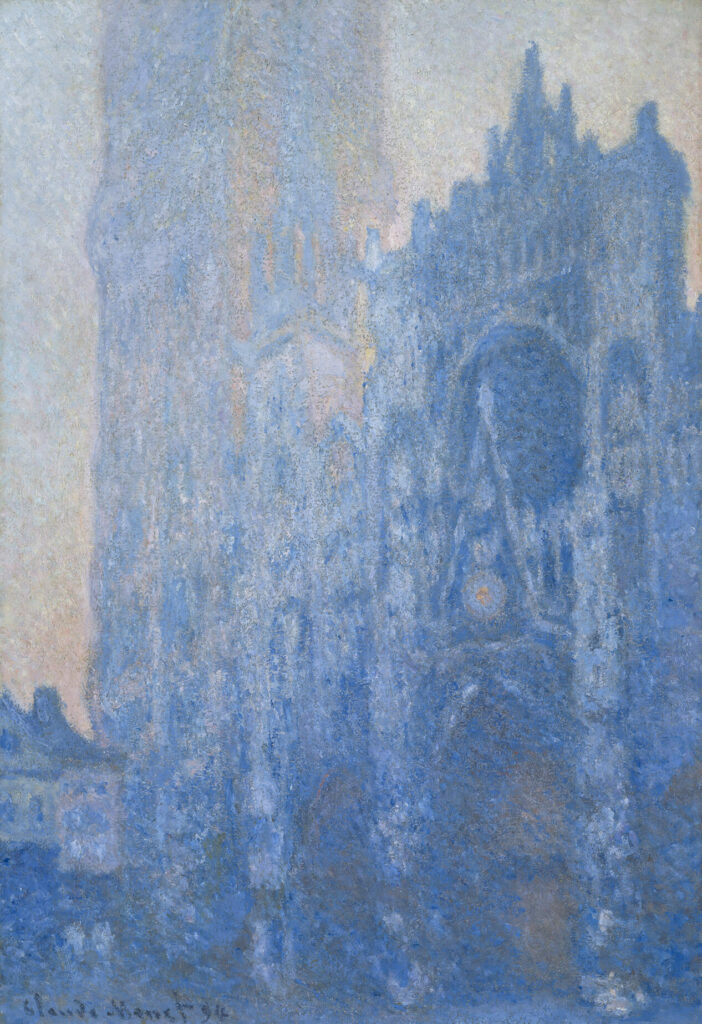 The painting reflects Nakamura's interest in the motion of the structural foundation of the world. It is a point he made in 1993, stating, "we are living in an age where we can see a structure, a structure based on atomic structure and motion." That motion is a component of these works is made explicit in the title of Inner Movement. Here, abstraction allows Nakamura to obscure the surface elements and attempt to capture the underlying atoms in motion.
The riveting haziness of the colour and lines in Inner Structure echoes the atmospheric effects of the famous series of paintings of the facade of Rouen Cathedral by Claude Monet (1840–1926), for example, or the landscapes of Japanese painters like Kawabata Gyokushō (1842–1913). Bryce Kanbara notes that Nakamura "saved folded clippings of pictures of French Impressionist paintings of Notre Dame Cathedral and 20th-century Japanese landscape paintings." Both the haze of Monet's facades and Gyokushō's landscapes are a record of the passage of time and the effects of light on our visible world, just as Nakamura's efforts to capture atoms in motion are also temporal.
Inner Structure also takes a cue from Piet Mondrian (1872–1944), who was an important influence. Mondrian's Composition No. II Line and Color, 1913, shows a linear pattern that is more tightly structured than Nakamura's. The Dutch artist would eventually aim for a higher level of geometric clarity and simplicity, which Nakamura stressed was no longer a reality in the atomic age.
The String paintings that followed the Inner Structure series marked yet another stylistic departure, yet they are related to an extent and may represent a further step in Nakamura's quest to reveal the essence of the structure underlying our visible universe. In 1961 Nakamura would produce one last Inner Structure painting, merging the off-white field of the String paintings with a linear structure, although more tightly organized, thus continuing the ongoing dialogue between his different styles.