Jinny Yu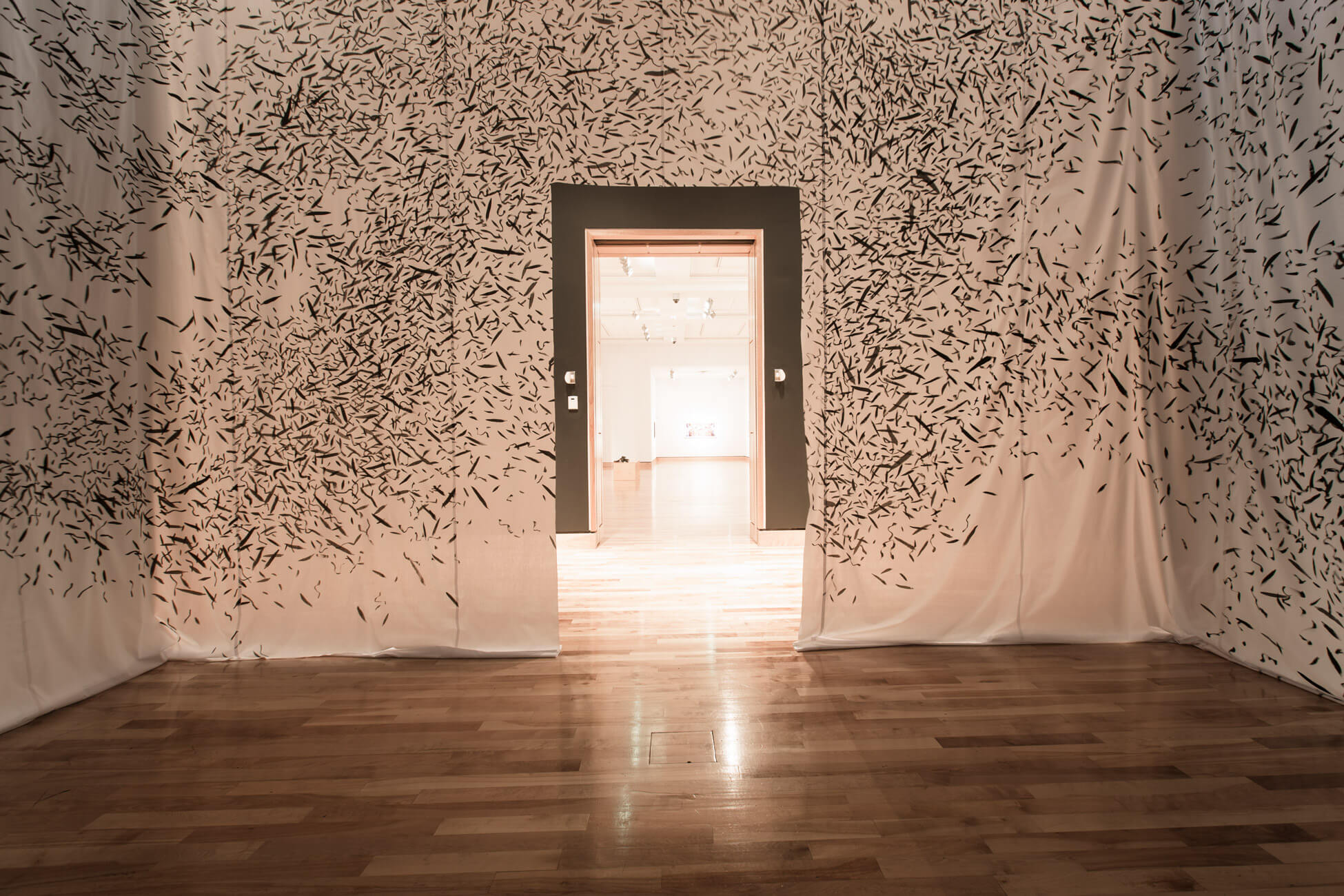 Working in both sculpture and painting, Jinny Yu (b.1976) has an artistic practice that reflects the "tensions between the sense of belonging…and sense of non- and/or un-belonging."  Her project Don't They Ever Stop Migrating? was exhibited in Venice during the 2015 Biennale in a site-specific installation at the Oratorio di San Ludovico. Described as a reflection of recent migration crises in the Mediterranean Sea and Bay of Bengal, it used Alfred Hitchcock's film The Birds (1963) as a metaphor and evoked a range of emotional responses toward mass migration. Ottawa Art Gallery curator Ola Wlusek noted that the abstracted marks and collaged sounds in the installation acted as a vocabulary to describe the common response of animosity and suspicion toward migrants, pointing to the social and political response at the crux of the work.
Jinny Yu, Story of a Global Nomad (Crazy Hokusai), 2007
Oil on aluminum, 182.8 x 182.8 cm

Jinny Yu, Sequence, 2009
Oil on aluminum and latex paint on wall, 518 x 1138 cm total
Sequence was a site-specific installation at the Carleton University Art Gallery, Ottawa.
Immigrant artists, including Yousuf Karsh (1908–2002), Victor Tolgesy (1928–1980), Farouk Kaspaules (b.1950), nichola feldman-kiss, and Dipna Horra, bring with them different approaches, philosophies, and practices to the Ottawa community.  Yu was born in Seoul, Korea, but came to Canada with her family as a child, settling in Montreal in 1988.  She studied art at Dawson College and Concordia University before pursuing an MFA at York University in Toronto. Her earlier large-scale abstract works, such as Story of a Global Nomad (Crazy Hokusai), 2007, and Sequence, 2009, made her reputation as an artist of consequence.
Yu undertook several artist residencies—in Berlin and Beijing, and at the Banff Centre in Alberta—before she was hired as a professor in the Department of Visual Arts at the University of Ottawa in 2007. Although she is primarily a conceptual artist, her practice has evolved with the use of installations, video, and other formats, as she tries to understand the world around her. She has exhibited widely and is represented in the holdings of the Ottawa Art Gallery, the City of Ottawa, the Canada Council for the Arts, the Agnes Etherington Art Centre at Queen's University in Kingston, Ontario, and other institutions throughout Canada.